This is a sponsored post on behalf of Cost Plus World Market and I have been compensated. All opinions are 100% my own.


A bunny themed Carrot cake with hints of Orange; this one has a SWEET surprise within. Make this once and you will want it everyday!
February is coming to an end already? I just got used to writing 2018 instead of 2017 everywhere and we are already at the end of TWO months! Time is flying for sure in our world. However, it is a different case in the bunny world!
Bunny world you ask? Yes I am talking about the cutest bunny movie Peter Rabbit! I am a BIG fan of animation movies as they are the most colorful and fun things to watch. The last couple of times I watched movies at the theatre, I saw the trailer of Peter Rabbit. Since then I was super excited to watch the movie with my girlfriends. A movie themed on a rabbit has no better time to release than just before Easter. And Peter Rabbit is just that!
Perfectly timed, super fun movie revolving around a rabbit dressed in human like clothes, and his troop that supports all his moves; I love every bit of the movie. The most interesting part I found of this one is how they show the rabbits dress and talk just like humans. I love the blue jacket clad Peter Rabbit.
If not for anything else, you HAVE to watch it to see what all Peter Rabbit does to outsmart the neighbor. From traps in his bed and adding a couple of things to the electric fence to give him multiple shocks, you cannot miss any of these tricks!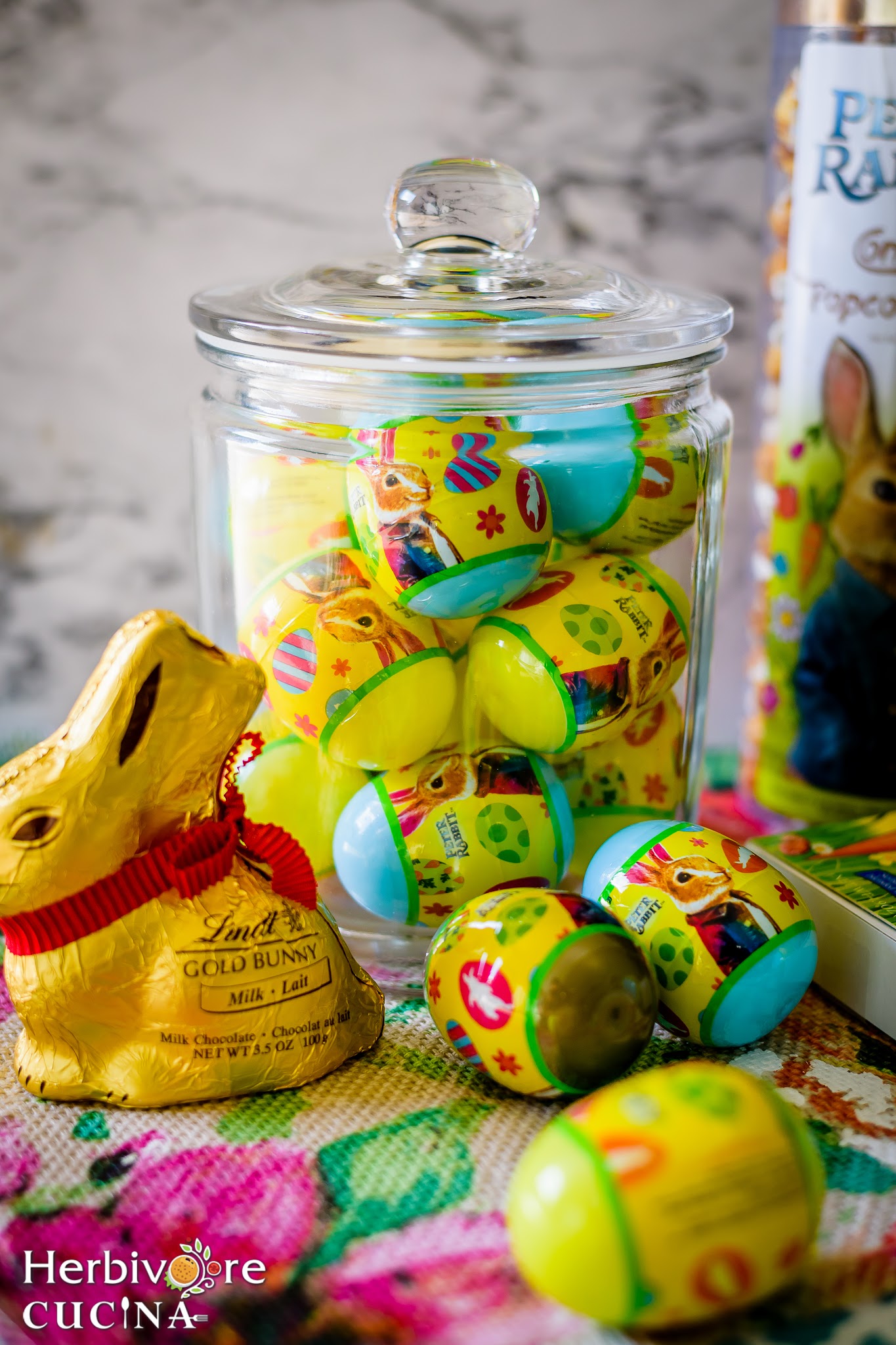 Wondering why I am talking about the movie here? It is because today's post is dedicated to the bunny and is perfect to make for any Easter party! It is a cake made with the ingredient we associate with bunnies the most; CARROTS.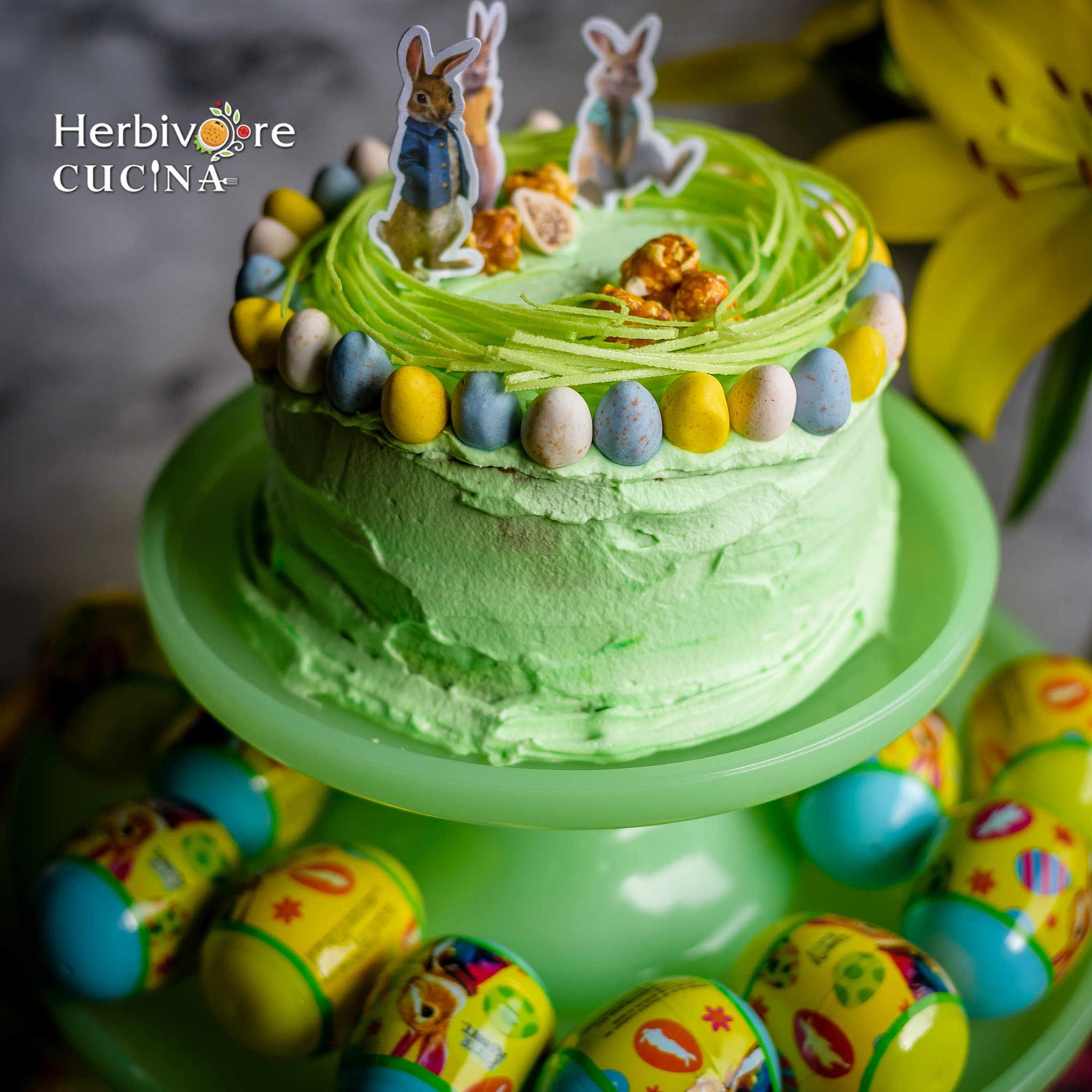 When thinking of Easter and bunnies, what comes to your mind in a jiffy? To me it is burrows, hidden Easter eggs and treasure! Plus a Spring themed post that will help you plan your Peter Rabbit viewing parties or Easter lunch.
Coming to the recipe, this one is an Easter perfect cake that is super easy to make. A sponge with LOTS of carrots and Orange flavor, and icing that has only three ingredients and decorations that connect with rabbits, this is my favorite post in a long time.
I was planning something based on movies for a while and decided to make something bunny themed. This cake is great for a number of parties; Peter Rabbit viewing, Easter, Bunny themed birthday or even a gender reveal party when you fill up the cake with candies of pink or blue color. Yes, the center of the cake has a truckload of Jordan Almonds; and they tumble out when you cut the cake! Super fun, isn't it?
I got all my supplies from the San Jose Cost Plus World Market store. They have everything Easter and specially themed for Peter Rabbit. Find your closest store here.
Coming back to the recipe; this is the easiest carrot cake ever. I swapped the regular Vanilla Extract with Orange Extract and made this cake. The tinge of orange gives the cake a Spring feel and makes it super delicious too. I also added some extract in the icing. The icing was super tasty too. And the truckload of Easter candies I got home were used to decorate the cake and make it pretty. Not to forget my new favorite ingredient; Green Apple flavored Edible Grass! Yes the grass I picked from the store is delicious and amazing for all kinds of Easter recipes! If you cannot find that, use green sprinkles or coconut flakes colored green.
I added a lot of shredded carrot to the cake. However, if you are not a fan, skip that. I made the icing of a light green color. If you like a bright one, add some more color. Adding a couple of drops of Vanilla Extract to the icing is a great idea too.
Finally, the piñata and the decoration. I used Jordan Almonds to stuff the cake and used Peter Rabbit Figurines, Confetti Popcorn and Mini Eggs. They can be substituted with your favorite toppings.
Wait no further, make this cake soon and surprise your kids. The hidden treasure is yummy and will definitely bring a smile on their faces!
Here is something more! Cost Plus World Market is hosting a Peter Rabbit Sweepstakes. One lucky winner will win a trip for two (2) to London, England! Enter now for your chance to win this amazing Grand Prize!
Grand Prize includes airfare for two (2), hotel, chauffeured tour of the English Gardens and a $1,000 World Market Gift Card.
Three (3) First Prizes will be awarded as well. Winners will receive a $500 World Market Gift Card! Enter the Peter Rabbit Sweepstakes online at www.worldmarketsweepstakes.com between February 1, 2018 – March 30, 2018.
Pin for Later





Ingredients
For the cake
All purpose Flour 1 ½ cup + 2 tbsp
Sugar 1 cup
Carrot ½ cup, shredded
Buttermilk 1 cup (Can be substituted by 1 cup milk+1 teaspoon vinegar)
Oil ½ cup
Baking Soda 1 tsp
Orange Extract 1 tsp
Salt a pinch

For the Icing and Decoration


Heavy Whipping Cream 1 ½ cup
Confectioners' Sugar 4 tbsp
Orange Extract 1 tsp
Green Gel color a pinch
Jordan Almonds 1 cup
Mini Eggs, Edible Grass, Confetti Popcorn and Peter Rabbit Figurines to decorate
Method
To make the cake
Mix together milk and vinegar and let stand for 5-6 minutes. Preheat oven to 350 F/ 180 C. Line two 6-inch round pans with non-stick spray or parchment paper.
In a bowl sift together flour, sugar, baking powder and salt.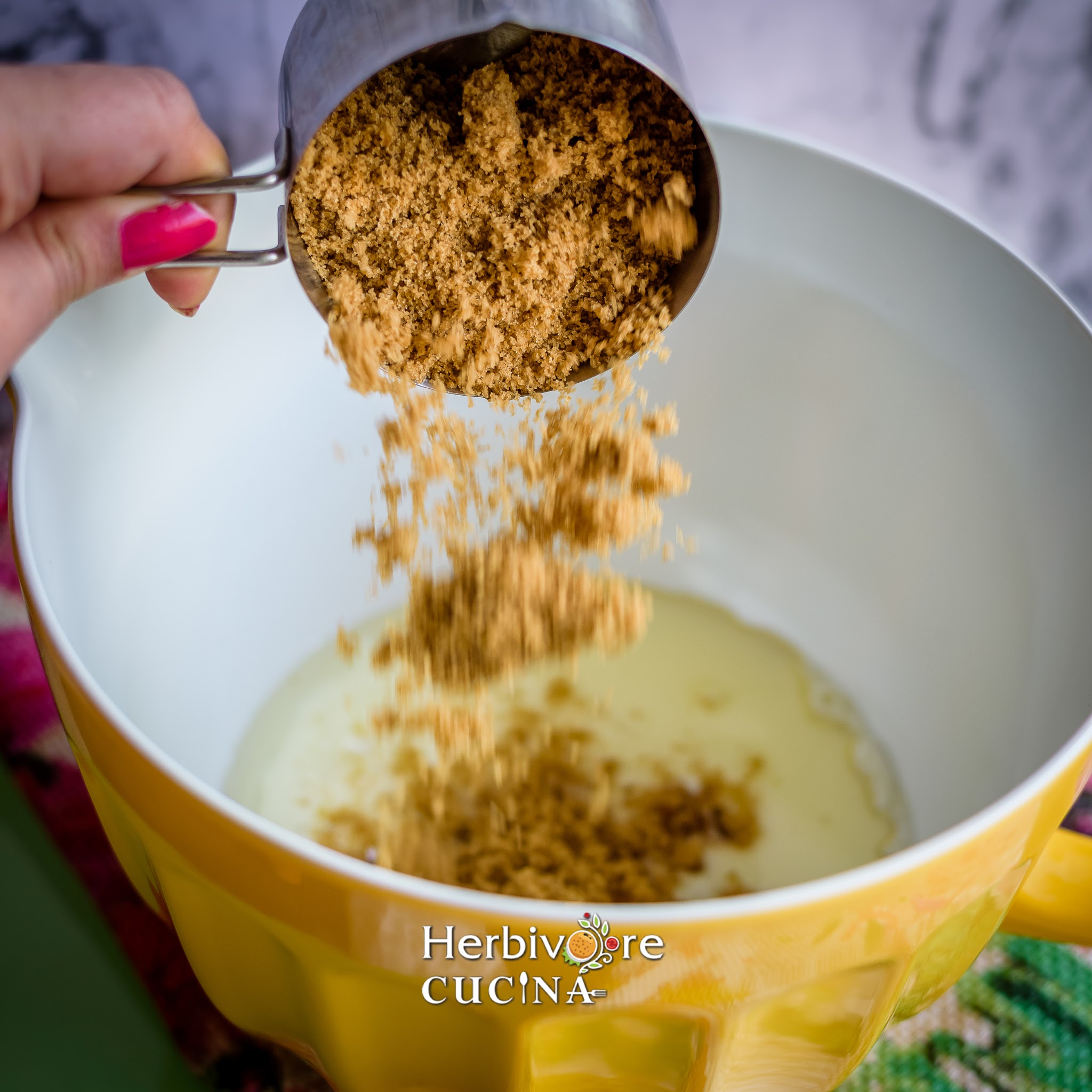 In the base of the stand mixer or in a big bowl mix together buttermilk, Orange extract and oil. Whip till combined. Add in the dry ingredients and mix well.
Add the shredded carrot to the batter and gently fold it in.
Transfer the batter to the prepared molds. Bake for 20-22 minutes, till a toothpick inserted in the centre comes out clean.
Remove and cool on a cooling rack till the cake is completely cool.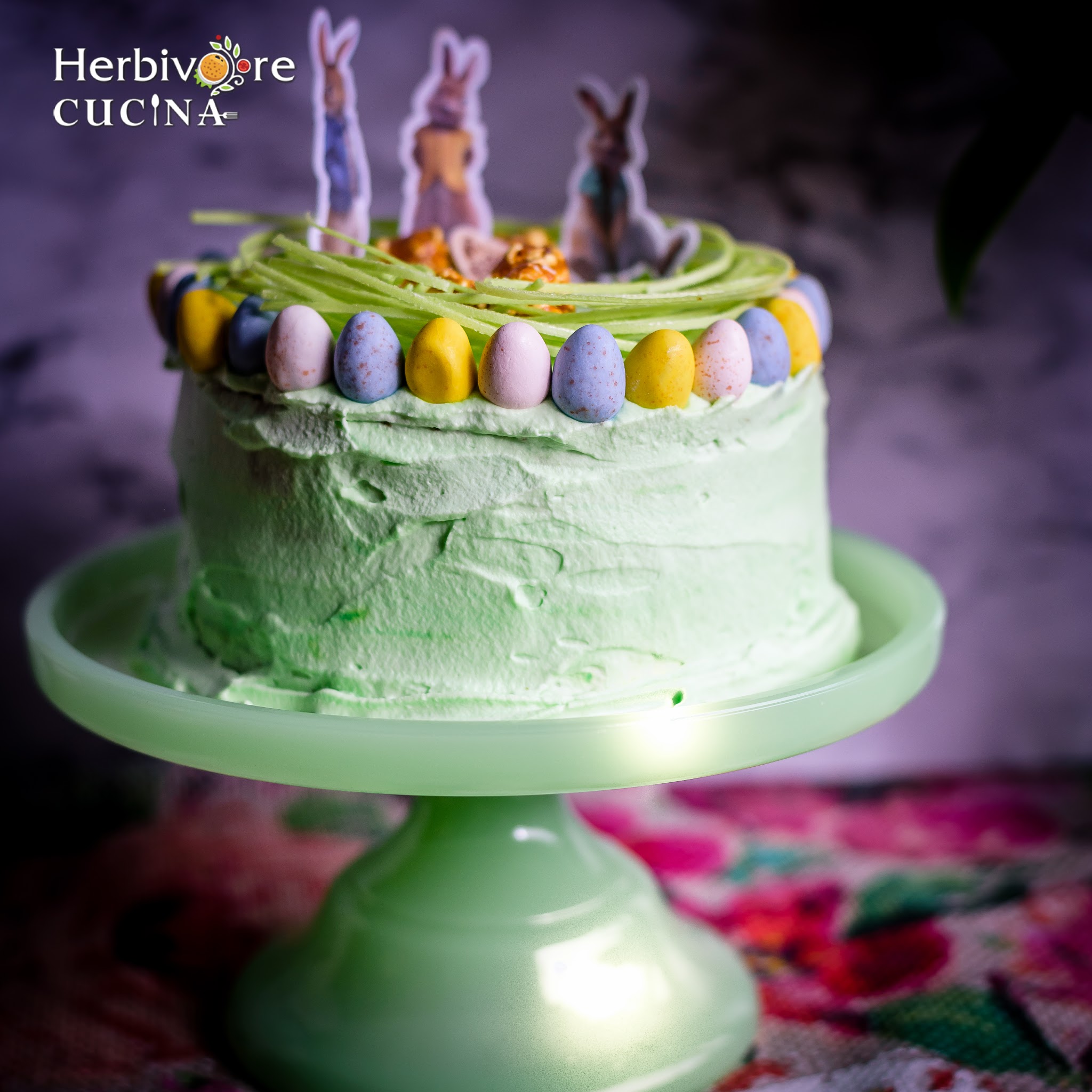 To make the icing


In the base of a stand mixer add cream and confectioners' sugar. Beat till it has hard peaks. Put in the color and create a marbled effect by just mixing for a second.

To complete the cake

Using a cookie cutter make a round hole in the center of the two cakes. Reserve a small piece of the cut out cake.

Add some icing on the cake pan. Place one cake and add a layer of the whipped cream icing.

Place the other cake on top and pour in the Jordan Almonds into the hole. Cover the hole with a small piece of the reserved cake.

Using the marbled icing complete the cake sides and top.

Decorate using Edible Grass, Mini Eggs and the Peter Rabbit figurines. Enjoy your Peter Rabbit Party!


Shop this post


Chocolate Bunny | Chocolate Carrots | Jordan Almonds | Blue Spatula | Peter Rabbit Cake Toppers | Floral Table Mats | Peter Rabbit Egg hunt kit | Melamine Bowl | Glass Storage Jar | Jade Pedestal | Peter Rabbit Plates | Peter Rabbit Confetti Popcorn | Edible Grass | Mini Eggs