July is National Blueberry Month, and rightly so! It is that time of the year when the delicious, tart berries are in season. You will find them on the aisles of almost every store, on every fruit stand by the highway and most of all, on all websites featuring food and collections of recipes related to a season or ingredient.
Blueberries are sweet, plump, juicy little orbs, and one of the most perfect fruits. Low in calories, high in fiber and antioxidants, and completely delicious. No need even to peel or pit them. They are versatile and hence there are plenty of recipes that can be made with these brightly colored berries: muffins, desserts, scones, ice-creams, yogurt, breakfast oats. The list is endless!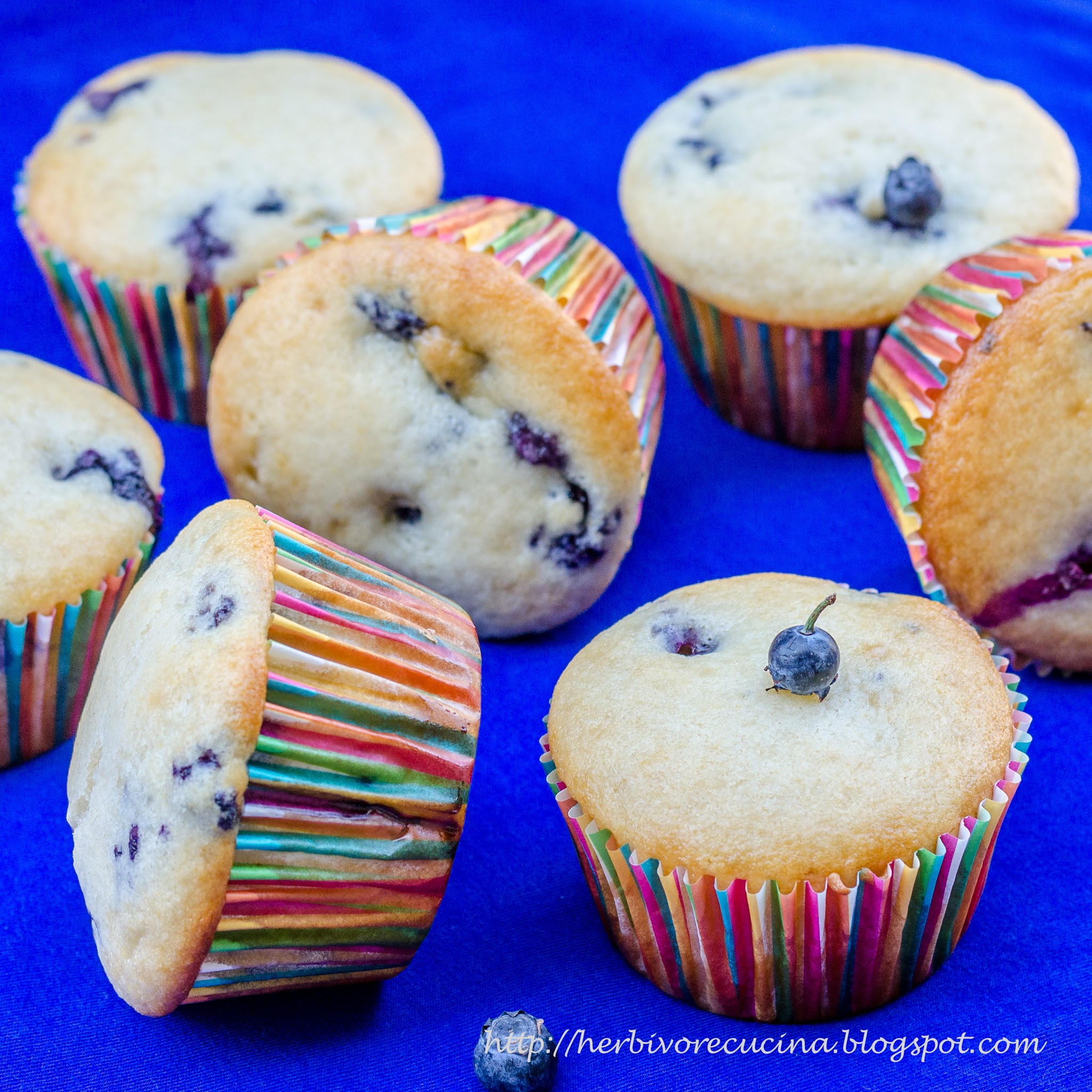 I woke up last morning and a look at the calendar reminded me that this blog will be a year old in exactly two days! The occasion was right and so was the season. My luck to find a big box of blueberries between the boxed vegetables in my refrigerator. And it was almost certain that these fruits need to be converted to muffins to bring in the anniversary week of Herbivore Cucina.
Most of my cakes, muffins and cupcakes have been with eggs. However, I thought of trying these muffins without the eggs. A natural replacement of egg is either applesauce or flax seeds, however I have used Greek Yogurt and the result was better than I expected. The muffins were dense, flavorful and yummy. So good that I popped in another batch of 12 muffins almost instantly and let them bake while I pictured the first lot! Here is how I made them:
Ingredients
All purpose flour 2 cup
Greek yogurt or any thick yogurt 1 ¼ cup
Blueberries ¾ cup
Confectioner's Sugar ½ cup
Powdered Brown Sugar ¼ cup
Baking Soda ¾ tsp
Baking Powder ¾ tsp
Salt a pinch
Vegetable Oil 2 tbsp
Vanilla Extract 1 tsp
Method
Wash the blueberries and pat them dry. lay flat on a kitchen towel to dry. Once dry, add a tablespoon of all purpose flour or maida and mix well. This coating of flour helps in keeping the berries intact and not burst completely in the muffins.
In a large mixing bowl whisk the flour, baking soda, baking powder and salt to form a homogeneous mixture. Set aside. In another mixing bowl whisk sugars with greek yogurt and oil. Add vanilla extract and homogenize into a smooth mixture. Pour half the wet mixture into the dry ingredients and whisk. Once combined, repeat with the remaining mixture and whisk on medium speed to form a smooth batter. Finally add the floured blueberries and fold them in gently.
Preheat oven to 375 F and line the cupcake/muffin mold with 12 liners. Divide the mixture equally among the 12 liners, and bake for 15 minutes. Test with a toothpick, if it comes out clean, the muffins are done. If you do not like blueberries or cannot find them, you can use other fruits like raspberries, cherries and cranberries.
Serve these muffins as breakfast with a cup of milk or coffee. They are perfect to be taken on a trip this summer and enjoyed by themselves. Make a large lot and enjoy these blueberry muffins as a guilt free dessert with vanilla ice-cream!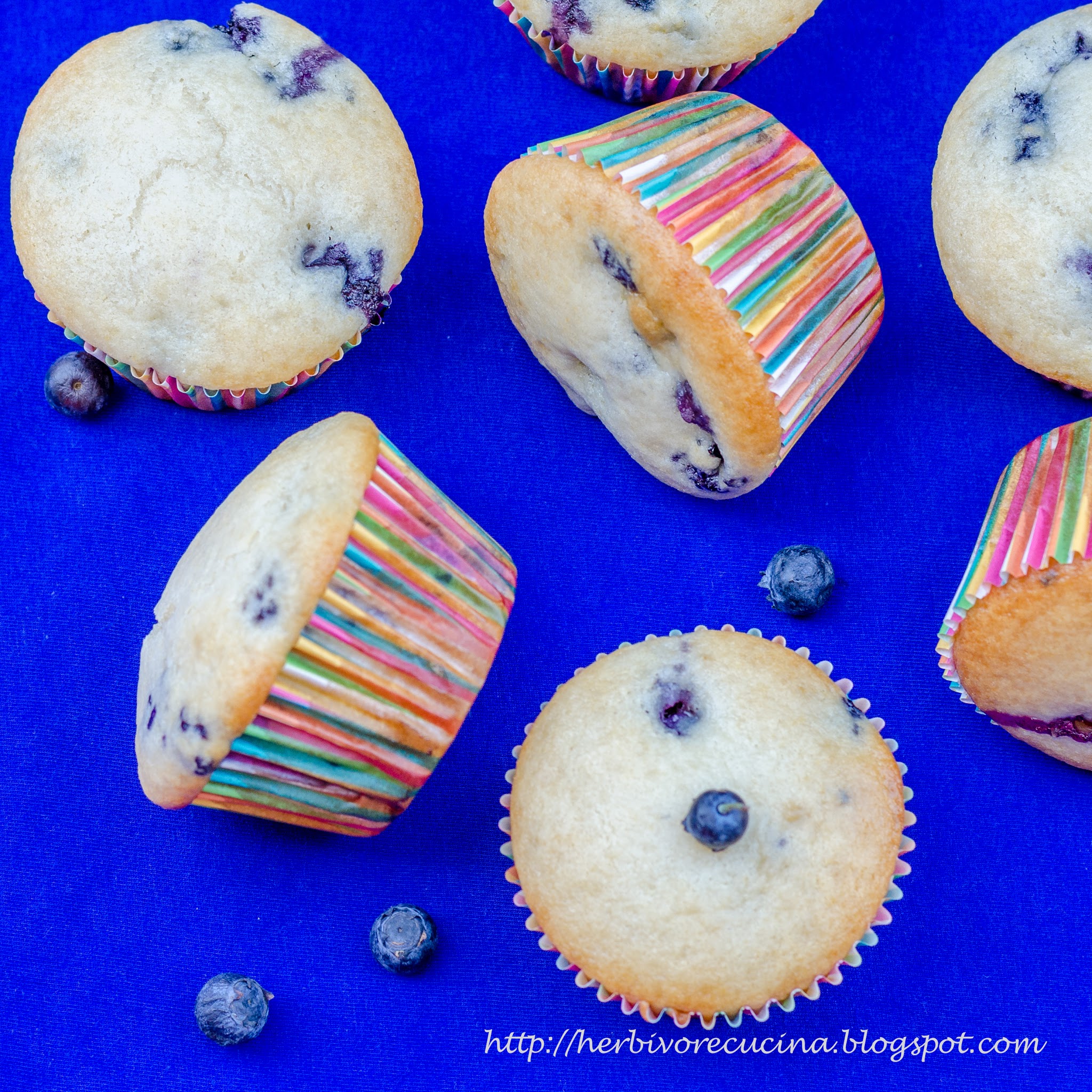 For more cake recipes, head straight to this link: Cakes, Muffins and Cupcakes!