It is August and the amount of blueberries in the market does not seem to decline. I made these Eggless Yogurt muffins from one box, a big bowl of tasty Blueberry and Rice pudding from the next one. I have just about two more boxes now. And the weekend mood called for something that was yummy, yet not overpowering in sweetness. After a lot of thinking I decided to make Blueberry and Orange cake.
The recipe is the second eggless cake in recent times. I made this amazing loaf of Cranberry Orange bread during Thanksgiving last year, and this is another yummy recipe quite similar to the first one, save the egg. Lately I have started using a lot of Greek Yogurt in my baking and simple thrilled with the outcome. The cakes come out soft and great. So putting all these things together, here is a recipe of Eggless Blueberry Orange cake.
Make a loaf or two for yourself if you like. Eat one and if you can resist, freeze the other loaf for another tea party. You can go ahead and make the same one as a bundt cake and top it with orange glaze. It tastes divine. I also like to bake a big loaf and cut it into slices and bake them to make cake toast. If you are headed for a summer party you could wrap a loaf in plastic and attach a cute bow to make a chic gift!! Do all this, but first, lets bake 🙂
Ingredients
All purpose flour 2 cup
Greek yogurt or any thick yogurt ½ cup
Blueberries ¾ cup
Orange Juice ¾ cup
Orange Zest 2 tsp
Confectioner's Sugar ½ cup
Powdered Brown Sugar ¼ cup
Baking Powder 2 tsp
Salt ¼ tsp
Vegetable Oil 2 tbsp
Vanilla Extract 1 tsp
Method
Wash the blueberries and pat them dry. Lay them flat on a kitchen towel to dry. Once dry, add a tablespoon of all purpose flour or maida and mix well. This coating of flour helps in keeping the berries intact and not burst completely in the cake. Zest one orange ensuring that the white portion does not come with it. It should approximately be 2-3 tsp. Remove the juice of one orange or use store bought juice. If using store bought, full pulp will be your best bet.
In a large mixing bowl whisk the flour, baking powder and salt to form a homogeneous mixture. Set aside. In another mixing bowl whisk sugars with greek yogurt and oil. Add the orange juice and vanilla extract and homogenize into a smooth mixture. Pour half the wet mixture into the dry ingredients and whisk. Once combined, repeat with the remaining mixture and whisk on medium speed to form a smooth batter. Do not overmix. Finally add the orange zest and the floured blueberries and fold them in gently.
Preheat oven to 375F/ 190C and grease the loaf pan or cake mold. Add some dry flour and spread it all around. Now add the batter, preferably with the blueberries towards the bottom of the pan. Bake for 40-45 minutes, till the top is brown and test with a toothpick, if it comes out clean, the cake is done. If you see that the top is browning too fast, wrap an aluminium foil on the top and bake. This ensures the cake cooks through. If you do not like blueberries or cannot find them, you can use other fruits like raspberries, cherries and cranberries.
Serve this cake as breakfast with a cup of milk or coffee. It is also perfect to be taken on a trip this summer and enjoyed with a juice. Make a large lot and enjoy this orange blueberry cake as a guilt free dessert with vanilla ice-cream! Bake a loaf and wrap it with a cute wrap and a bow. You just created a chic gift for a summer party!!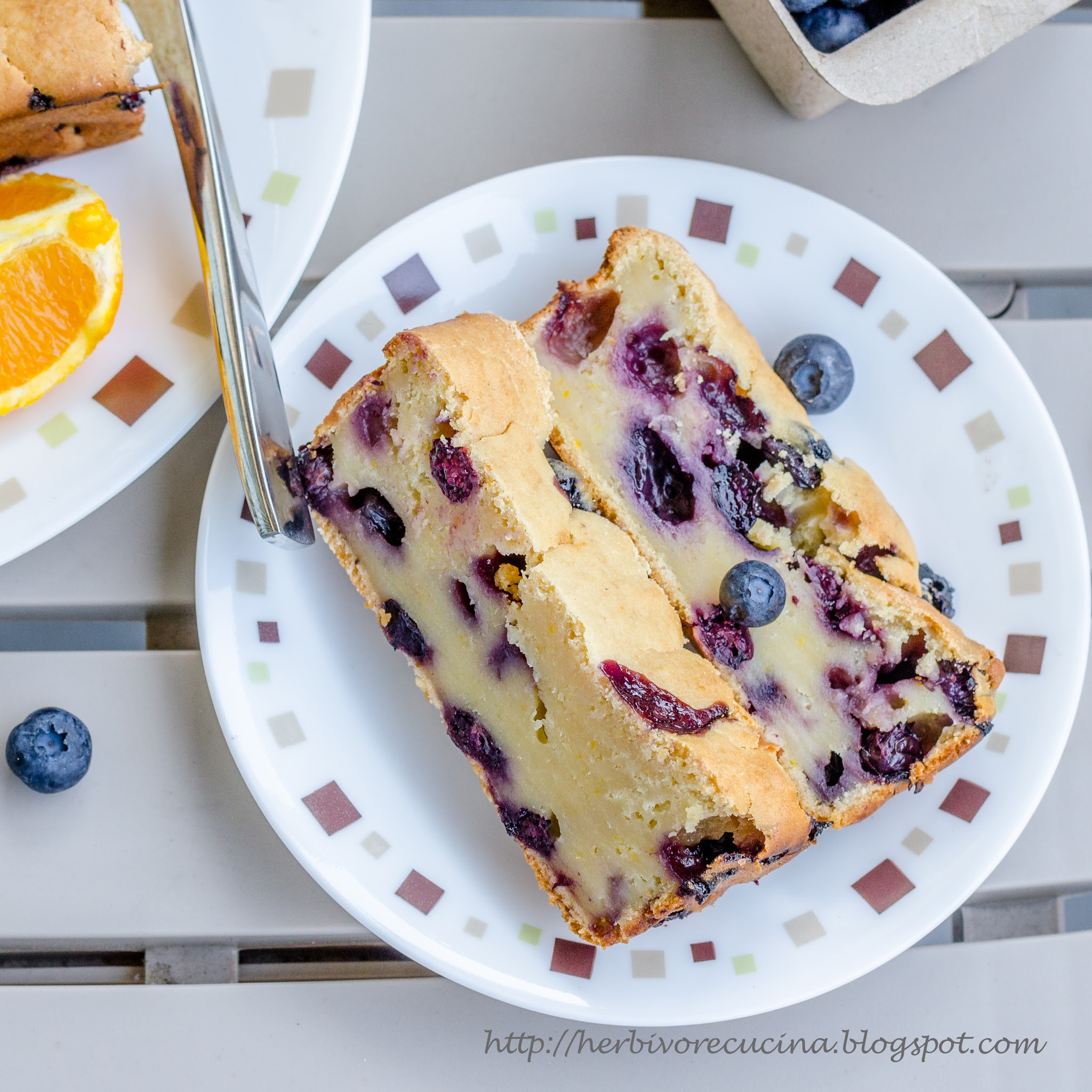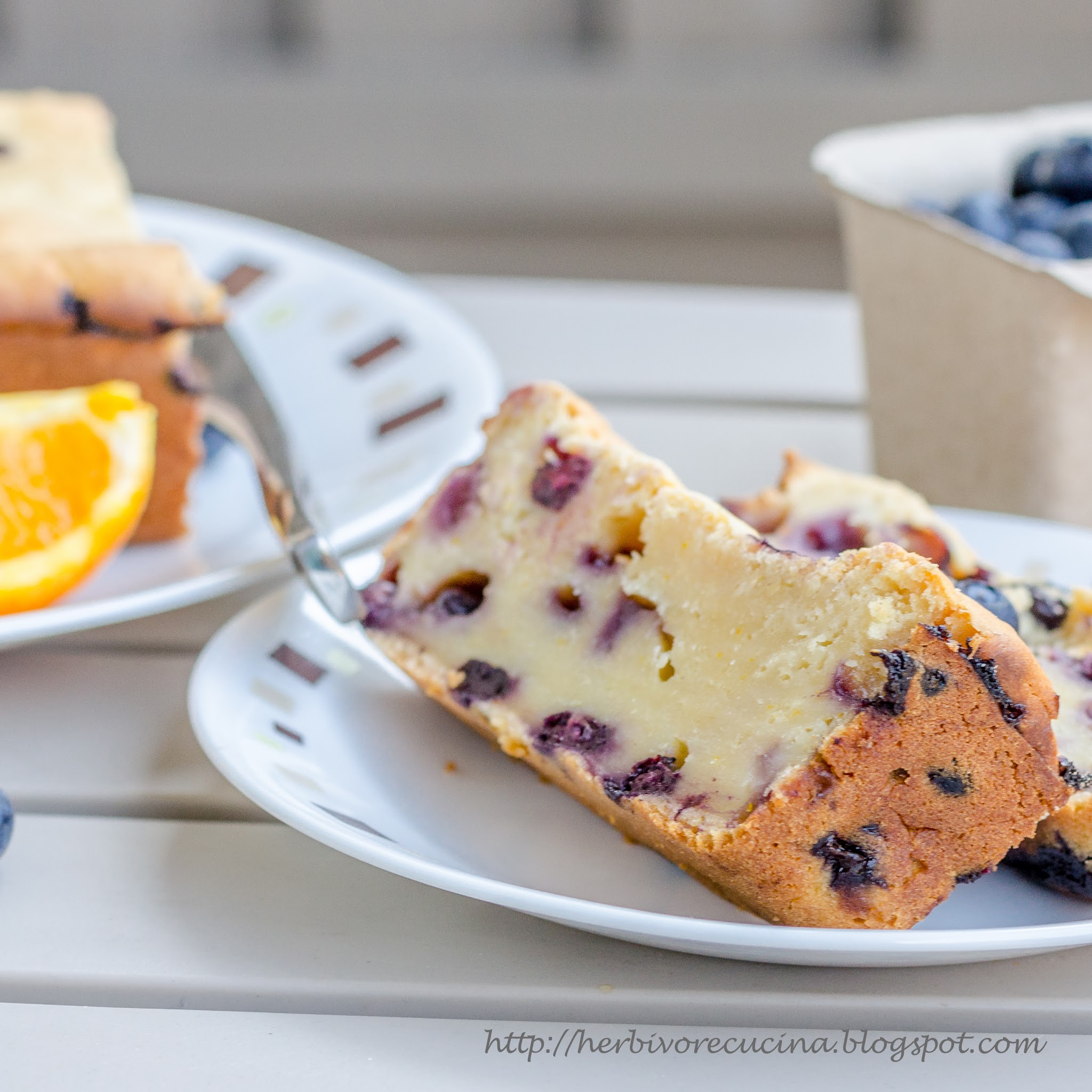 For more cake recipes, head straight to this link: Cakes, Muffins and Cupcakes!