We have entered the month of November, and are just days away from Thanksgiving! Today, we celebrate cranberries as they come into the peak of their season. The appearance of these tart red cousins of blueberries is a sure sign that the holiday season is just around the corner. Cranberries not only add beautiful color and taste to your table, they are also one of the richest sources of health-promoting antioxidants.
This loaf of Cranberry Orange bread is made unique in flavor, with the sweetness of orange neutralizing the tartness of cranberries and the orange zest enhancing the flavor. Instead of the use of milk as all traditional breads, I have used orange juice to make this one. The fresh cranberries give the loaf its cute pink tinge and tart taste. Enjoy this bread all holiday season and freeze it for later too!!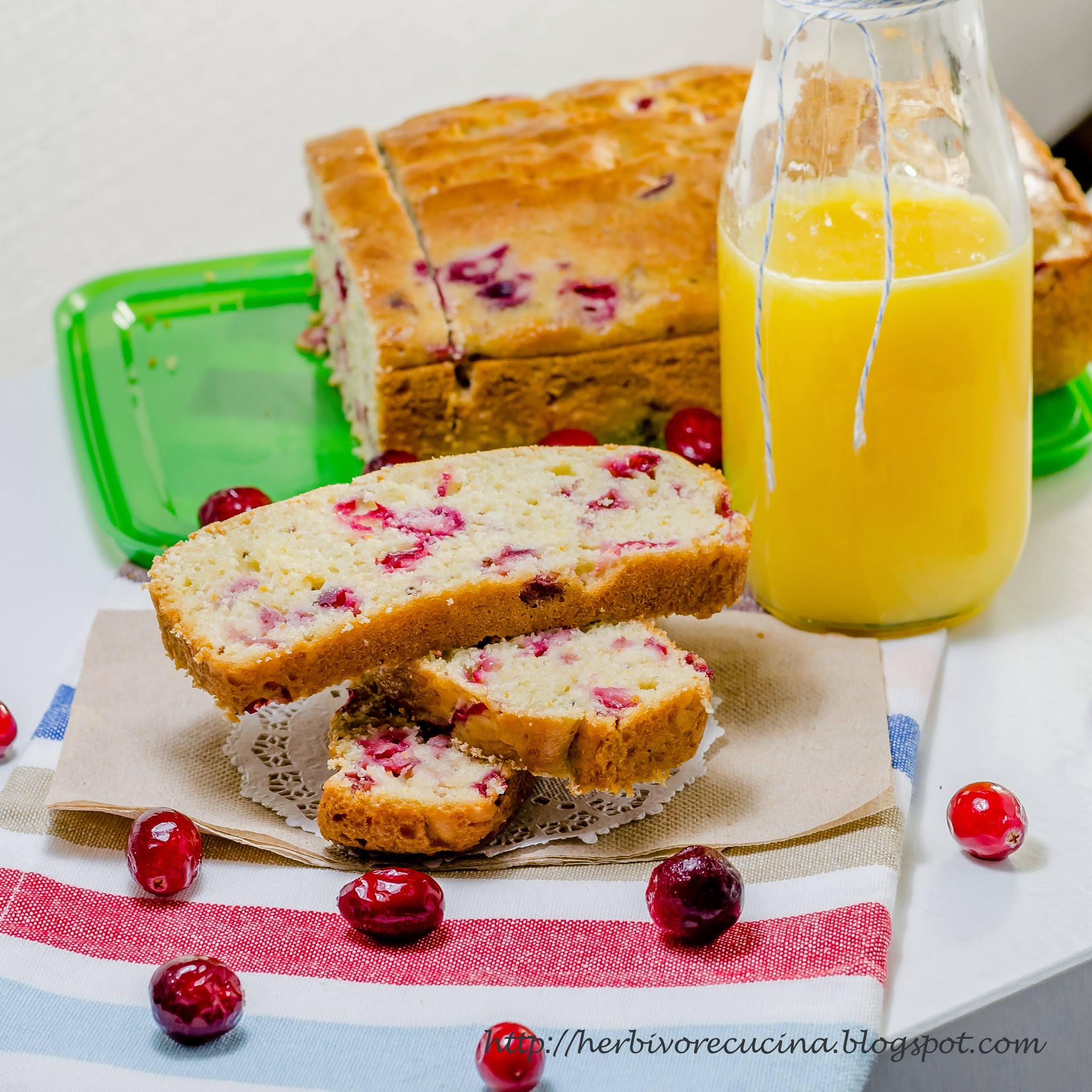 Ingredients
All-purpose flour 2 cups
Fresh or frozen Cranberries 1 cup
Confectioner's sugar 1 cup
Orange zest 1 ½ tbsp
Baking powder 1 ½ tsp
Baking soda ½ tsp
Butter 3 tbsp
Egg 1
Fresh or packaged Orange juice ¾ cup
Pure Vanilla extract 1 tsp
Method
Preheat oven to 350 F/ 180 C. In a mixing bowl, beat egg. Add in orange juice and vanilla extract and beat well. In a large mixing bowl, sift all purpose flour with sugar, baking powder and baking soda. Add in orange zest and mix. The orange zest gives this bread its characteristic flavor. You can substitute with lemon zest if you like. Cut butter into small bits and mix in. Make a crumbly dough of the mixture.
Fold the wet ingredients into the dry ingredients and beat well. Combine cranberries into the mixture and make a dough of cake mix consistency. Spray a bread tin of 9*5 inch with cooking spray and pour the dough into it. Bake the bread for 50-60 minutes till the top is crisp and a toothpick inserted in the centre comes out clean.
If you observe that the sides are getting brown but the centre is still wobbly, cover the pan with foil and seal the edges. This ensures the bread gets cooked evenly and slowly. In order to get a nice brown crust, set the oven to broil on high for the last 2-3 minutes of the 60 minutes.
Remove the bread from the oven and let it cool in the bread pan for sometime. After 5-10 minutes, transfer to a cooling rack and let it cool.
Ensure the bread cools down completely. Slice into thin slices and serve with orange juice or a glass of milk. The bread can be frozen very easily. Also, wrap it up in shrink wrap and it makes a pretty thanksgiving gift!!
Also try these cute Rose shaped buns to decorate the holiday dinner table.