July is almost coming to an end but the heat is here to stay. With temperatures nearing 100F in the Bay area, anything that is cold and refreshing is welcome. Whether it is popsicles or ice-cream or any dessert that is frozen, they all provide a soothing effect in this scorching heat. With the heat in mind, I was digging into my refrigerator to make something nice and cool. And out came the blueberries. I have already made these eggless yogurt muffins out of it and it is too warm to fire up the oven now.
So i settled for this quick kheer or pudding made from our humble Basmati rice, milk and added blueberries to it. The result was gorgeous. Light violet colored milk flavored with a hint of vanilla extract gave me this amazing pudding or dessert that I chilled and enjoyed with my husband. The recipe is almost similar to the age-old kheer our grandmothers and mothers made all the time, but it has a couple of variations to it.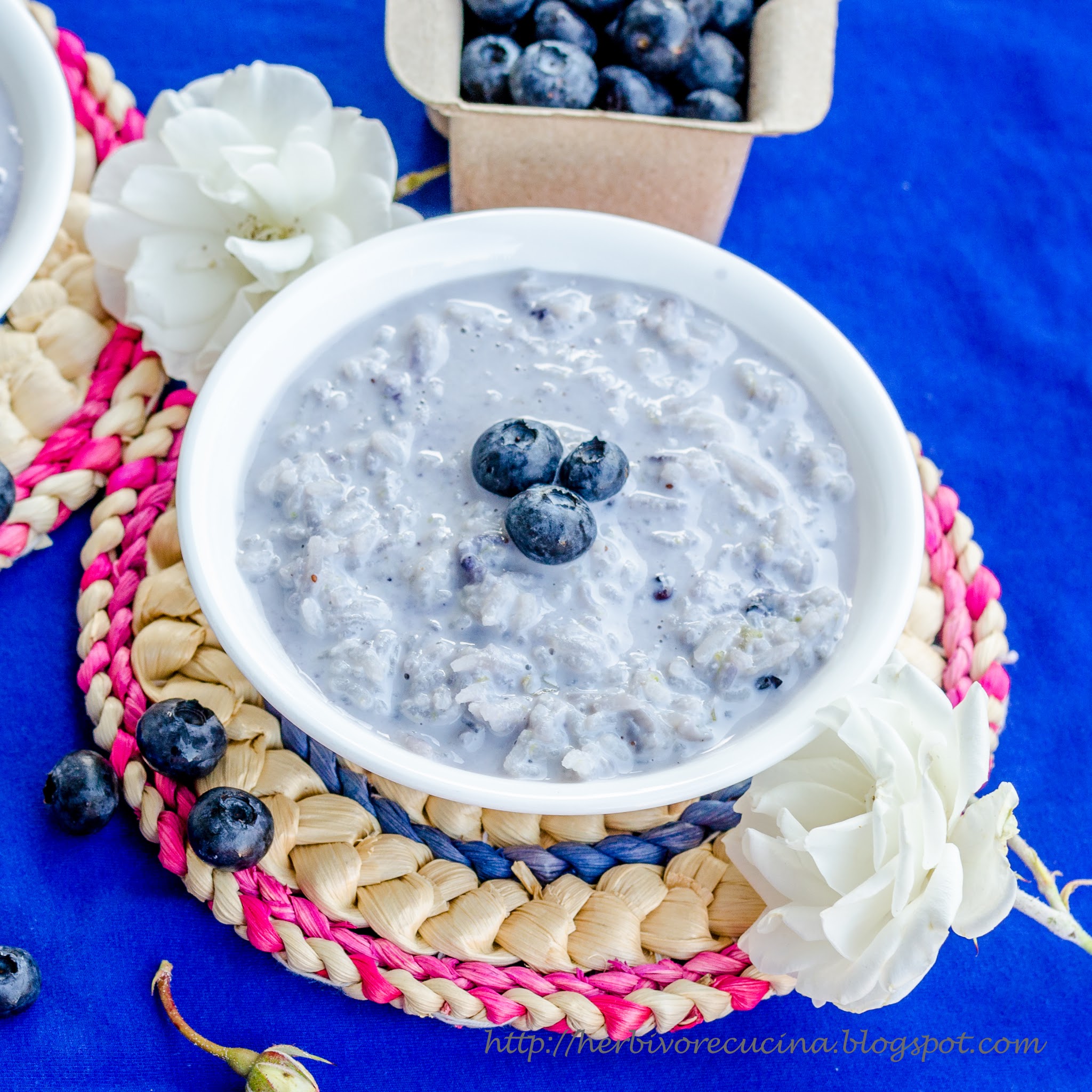 First, I did not use whole milk to make it. Most recipes for kheer will call for whole milk and cream etc. But I opted for a lighter version of the sweet using 2% milk and absolutely no cream. Second, I boiled the milk in a pan, no pressure cooker etc used. And lastly, the sugar is pretty less in the kheer compared to the traditional proportion. This is because I had sweet blueberries and so needed just that amount to bring in the sweetness.
I have added Vanilla extract to flavor the milk but you may choose to skip it and still get the amazing taste of just blueberries in your kheer. Also, this recipe is for a slightly flowy kheer that has milk. If you like a more set version of the same, dissolve custard powder in milk (just as I did in this Sabudana Kheer) and add it to the boiled milk. The kheer will turn into an amazing dessert! Lastly, choose blueberries that are plump, meaty and fresh so that you also get the same violet color, off course without any colorants!! Enjoy the summer.
Ingredients
Rice 1 cup
Milk 4 cups (I used 2%)
Blueberries 1 cup
Sugar ¾ cup
Vanilla Extract 1-2 tsp
Method
Boil the four cups of milk in a heavy bottom pan. I have used 2% milk as I did not want a very thick pudding. However, if you like your kheer to be rich and creamy, use whole milk instead. Keep stirring the milk so that it does not stick to the bottom. Bring the milk to a boil on high flame. At this stage, add the washed and drained rice and mix well. I have used basmati, but any rice of daily use is perfectly fine. Now let the milk boil on medium flame and reduce in volume to three-fourths. Check if the rice is cooked through. Once done, add ¾ to one cup of sugar and mix well. The amount of sugar can be later adjusted depending on sweetness or tartness of the blueberries.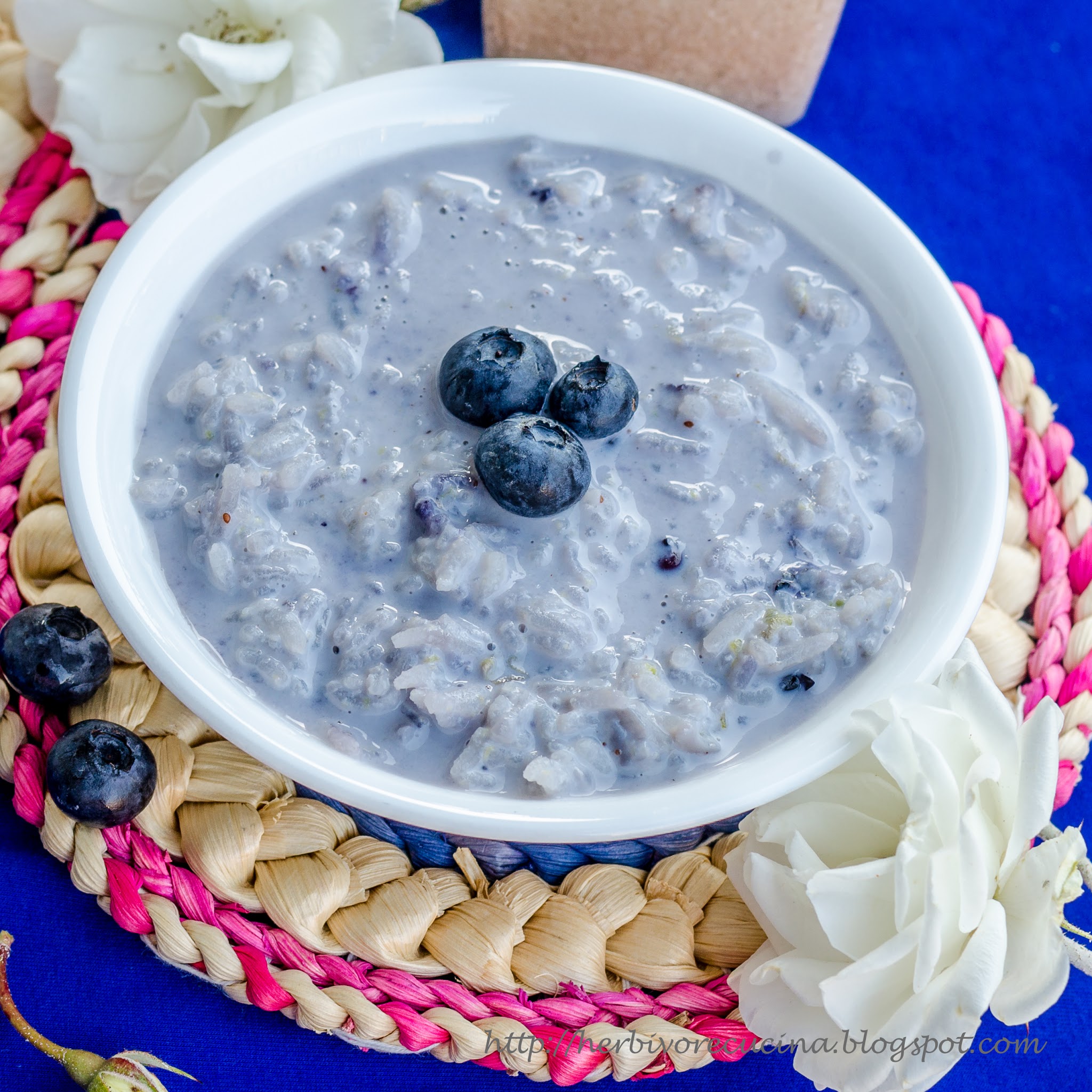 Once it all comes together, add the vanilla extract and the blueberries and mix well. Let the mixture simmer on medium flame for about 10-15 minutes, till the berries pop and stain the milk light violet. Taste and adjust the sugar if needed. Once the consistency is as per your preference, turn down the flame and transfer to another bowl.
This pudding can be served hot as a sweet along with lunch or dinner. Else, chill it for a few hours and serve it as a dessert garnished with fresh blueberries. I have used fresh berries here, but frozen ones will work just fine.