This post is in partnership with Cost Plus World Market. All opinions are mine alone. 
Planning a Fall party? You need these mini bundt cakes bursting with the flavor of PUMPKINS!!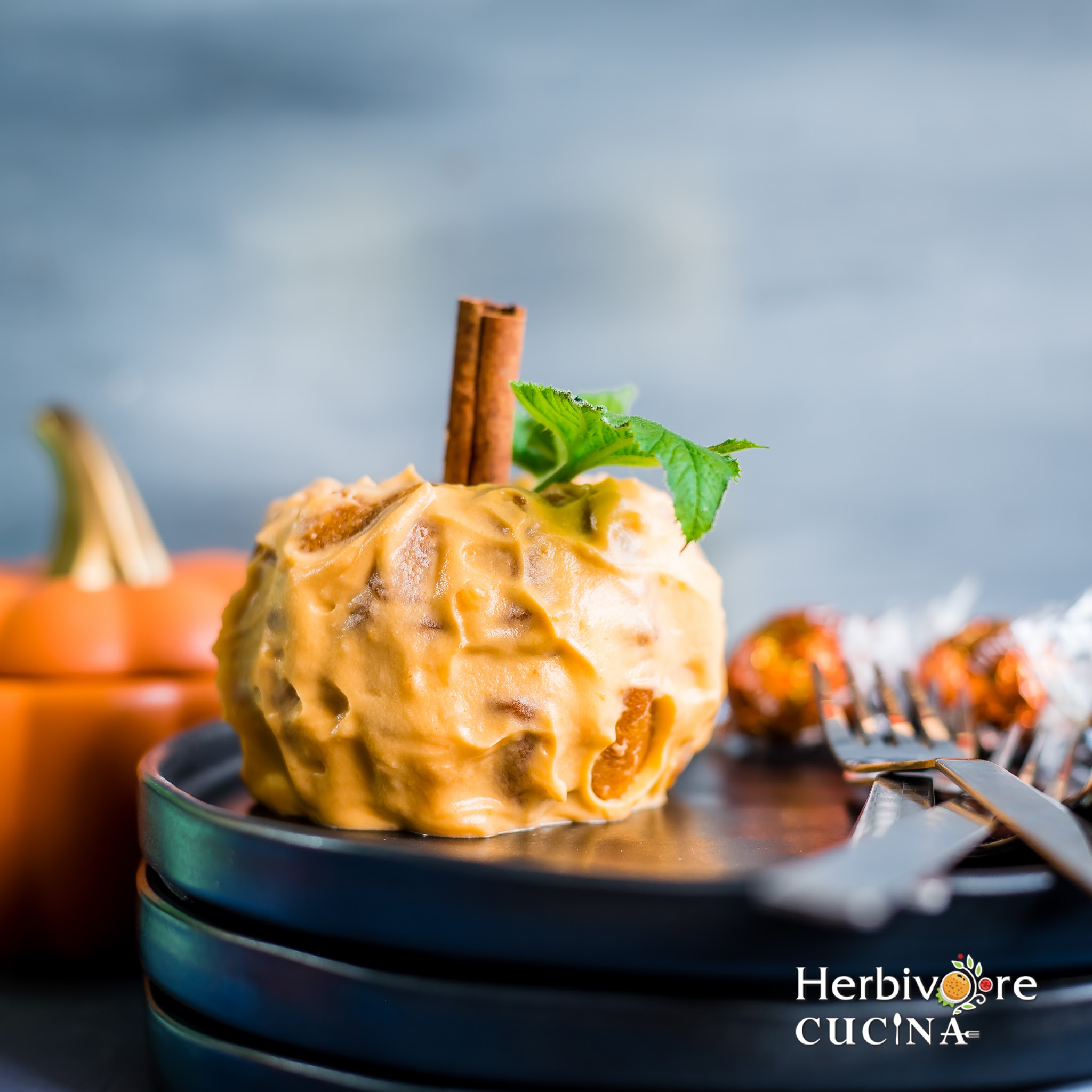 Who is celebrating Fall already? We definitely cannot wait for Fall. It is BOILING in California, with 105 F being the new normal. Can barely wait to get away from all the heat and step into Fall.
While the weather plays spoilsport, we are having some Fall desserts to keep our spirits high. This recipe is perfect for many celebrations; Fall parties, Halloween, Thanksgiving and Fall birthdays. As we kick off September, we have a TON of birthdays coming up and I can barely wait to make these again. 
Still wondering why I LOVE this recipe? This recipe screams FALL from all over. I made mini Bundt cakes flavored with two kinds of pumpkin flavors, spice and syrup. I stuck the bundts to each other using pumpkin maple butter. And finally, they were decorated using orange colored cream, cinnamon and leaves from my pumpkin plant!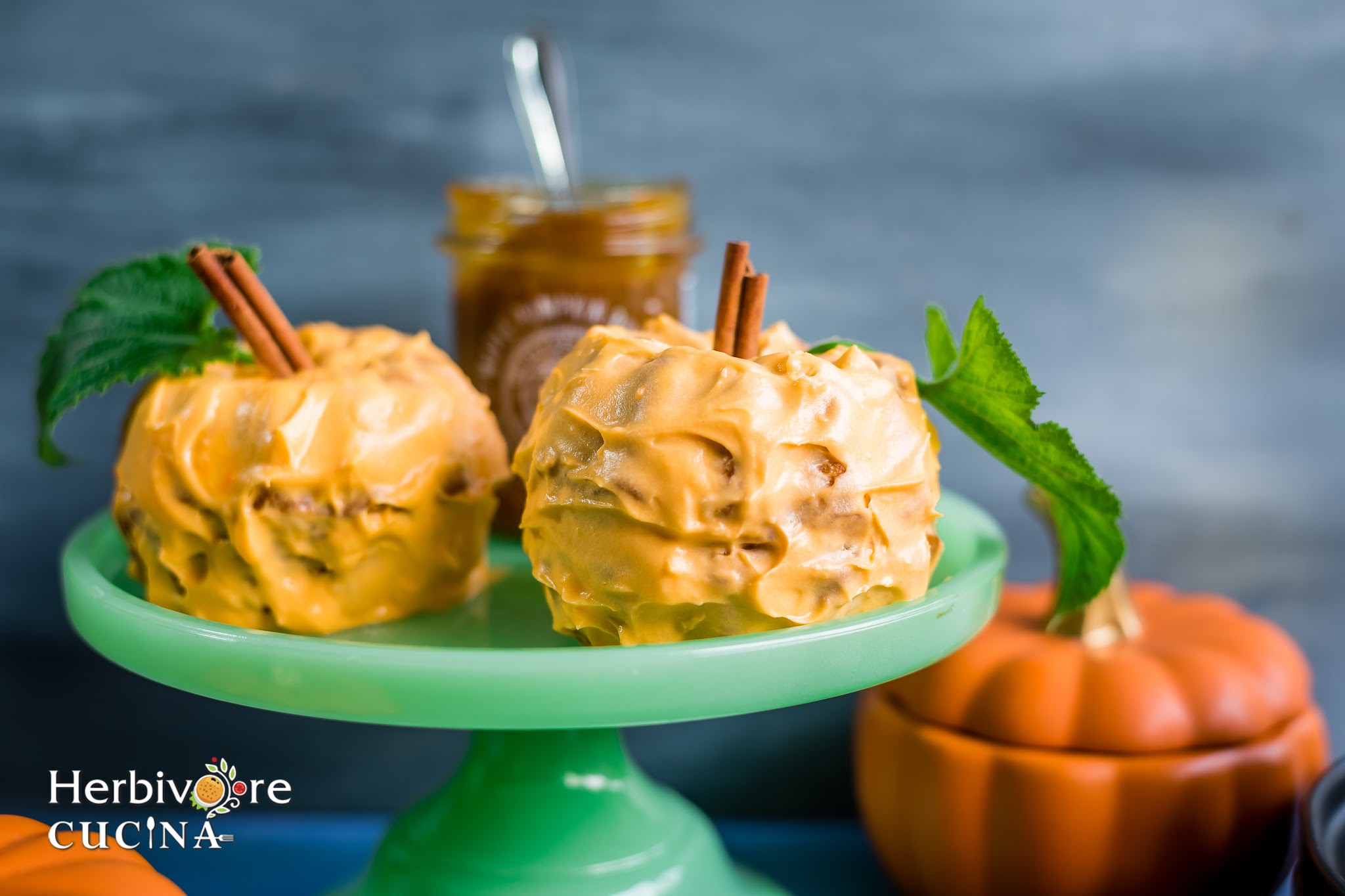 The recipe might look intimidating at first, but I promise you it is super simple! And when you are done, you won't believe it was so simple. I made these cakes yesterday, and it coincided with my father's birthday! Though my parents live miles away, we had a great time enjoying these Fall special cakes on his behalf! 
Do you know how this recipe became so simple? I walked into the Cost Plus World Market store in Mountain View, CA and picked everything from there in one trip! From Fall Decorations to all things Pumpkin, and from Entertaining Essentials to Fall Foods; they HAVE IT ALL!! Go now to your closest store. Find more details here: World Market Store Locater.
So once I had all the ingredients and the decor essentials, I started with the recipe. I chose the most inappropriate day to bake; it was 105 F yesterday and the whole house felt like an oven! But the end result made me forget all the heat and look forward for fall to arrive.


PERFECT Fall Dessert


Are you hosting a Fall inspired party soon? Then you need these mini rounds of joy! Party planning may be a tough and time consuming task, not if you can make single serve desserts before it is time for the party. 
I would say you should make the mini bundts upto 24 hours before the party, the pumpkin flavor becomes bold after resting for a few hours. You can even ice the cakes a few hours before the party and refrigerate till ready to serve. 
Being single serve desserts, you do not need to cut, slice or divide the dessert to serve. Just pick them up and serve right away. Plus, the flavors are liked by adults and kids alike! 


Variations


I know I am all up for Fall, but I know a TON of people who do not look at Pumpkin the way I do. If you are one of those, replace the pumpkin purée with apple purée and make a yummy apple pie cake. 
Plus, if you like a lightened version of the dessert, ditch all the icing and enjoy naked pumpkin cakes. They taste just as good! 
Last; if you are looking for a party centerpiece, make two BIG bundt cakes using all the batter and make a large pumpkin cake. It will be really awesome too! 
Pin for later



Ingredients 


For the Cake
All purpose flour/Maida 1 ¾ cup
Coconut Sugar ¾ cup
Pumpkin Purée  1 cup
Buttermilk ½ cup ( or Milk ½ cup + Vinegar 1 tsp)
Unsalted Butter 3 tbsp
Pumpkin Spice Syrup 1 tbsp
Pumpkin Spice Blend 3 tsp
Baking Powder 2 ¼ tsp
Baking Soda ¼ tsp
Salt ¼ tsp
For the Icing and Topping


Maple Pumpkin Butter ¼ cup
Heavy Whipping Cream 1 cup
Sugar 3 tbsp
Dr. Oetker Whip-It 1 sachet
Orange Gel Color a pinch
Whole Cinnamon sticks as required
Pumpkin Leaves to decorate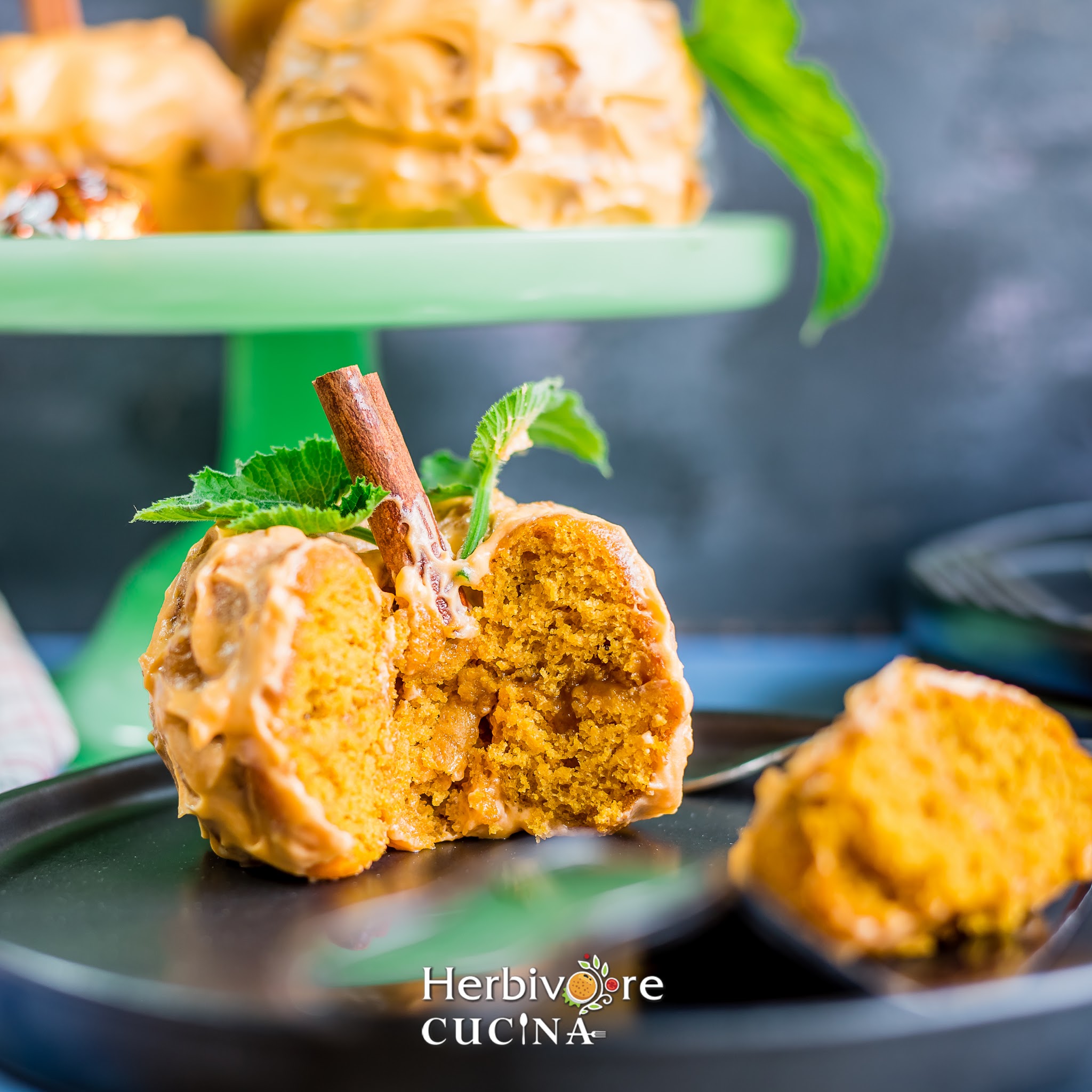 Method


To make the Cake
Preheat oven to 350 F/ 180 C. Line a mini bundt pan with oil/ non stick spray.
In the base of the stand mixer add the buttermilk (or room temperature milk mixed with vinegar), unsalted butter, pumpkin pie syrup and pumpkin purée. Whip till smooth. Then add pumpkin spice blend and sugar. Mix again for a couple of minutes. 
In a bowl sieve together flour, baking powder, baking soda and salt. Transfer to the wet mixture and mix for a minute or so. Do not overmix. 
Transfer batter to a piping bag and divide the batter in the bundt cavities. Place the pan in the oven and bake for 25-30 minutes. If the sides start to harden and the center is wobbly, cover with some foil and bake. 
Once a toothpick or skewer comes out clean from the center, remove from oven and cool. Transfer to a cooling rack and cool completely.
To decorate the Cake


Once the cakes cool completely, align similar looking bundts together to resemble a pumpkin. If required, slice some part from the base to make them flat.
Using a spatula, apply some Maple Pumpkin Butter on the flat sides and stick the bundt cakes to each other. Set aside.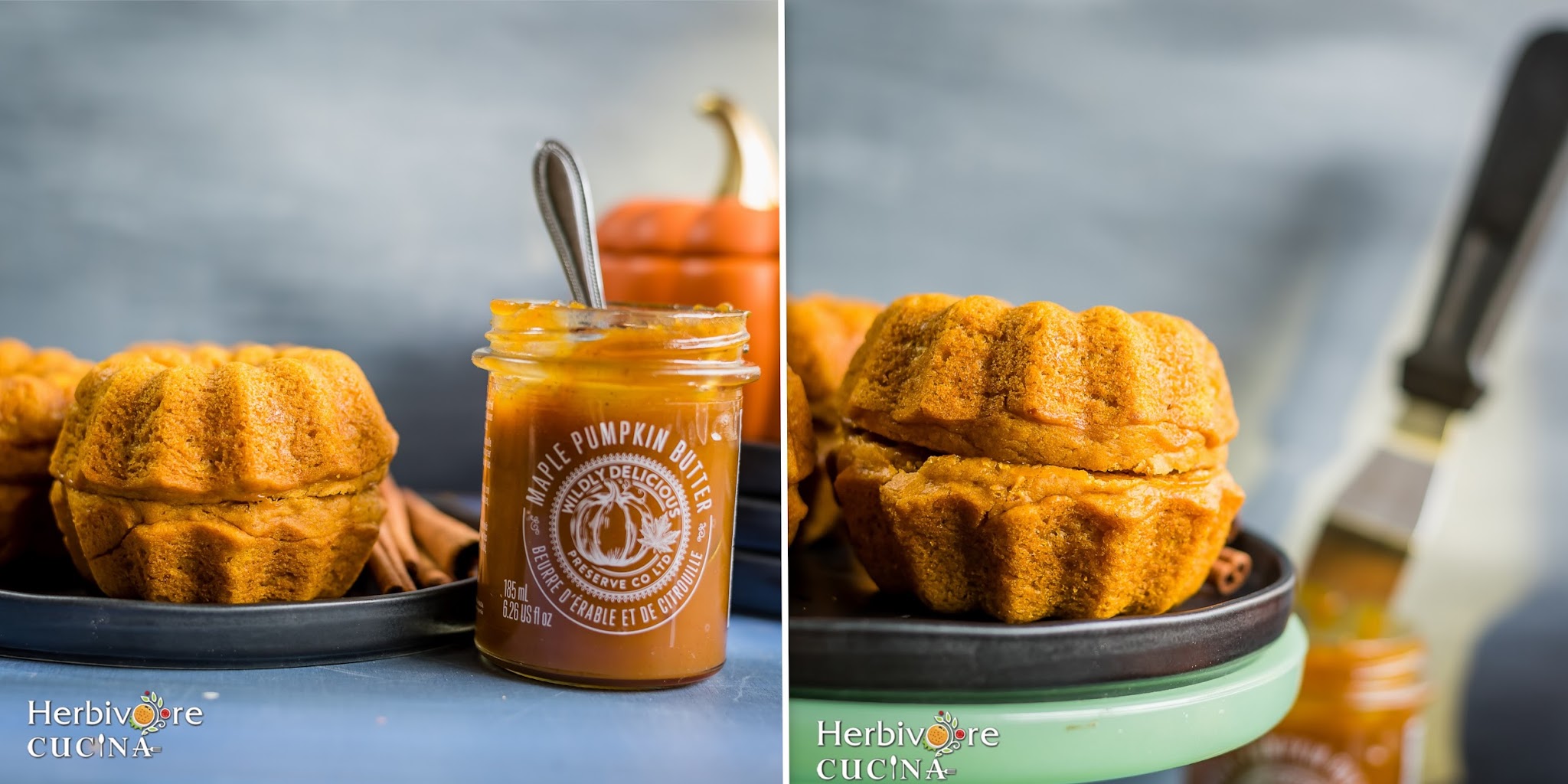 In the base of a stand mixer or using a handheld blender, whip the cream, whip-it and sugar to soft peaks. Add a pinch of orange color and mix well. 
Decorate the cakes with the orange color cream. Add a cinnamon stick on top to resemble stems and a couple of Pumpkin leaves. Serve!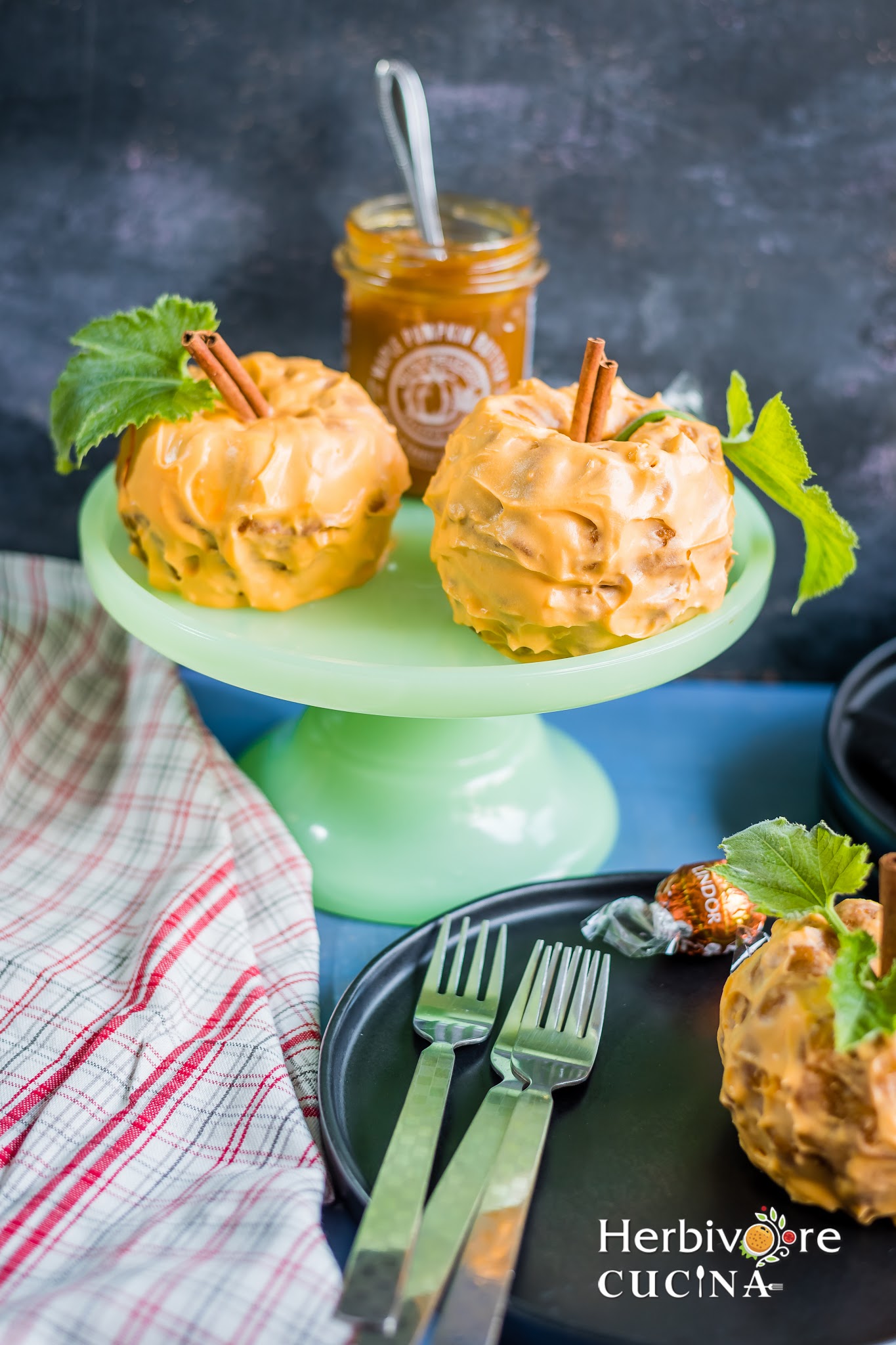 Shop this post
Maple Pumpkin Butter | Ceramic Pumpkin Bakers (set of 4) | Aspen Mulling Cider Spices | Jade Colored Glass Pedestal | Organic Coconut Sugar | Yellow Melamine Batter Bowl | Torani Pumpkin Pie Syrup | Cinnamon Sticks | Lindt Pumpkin Spice Truffles | Black Rimmed Plates | Dr. Oetker Whip-It