Your starting point for all drinks Fall, this super easy and time-saving Pumpkin Simple Syrup is a keeper!
It is Fall and time to make ALL things Pumpkin. I started off this season with this Eggless Quick Pumpkin Bread. Then I had a Fall favorite dessert; Mini Pumpkin Bundts and now we head to pumpkin drinks. When you are thinking of making any drink or otherwise, you need a simple syrup. Most people make it from scratch, some even buy it off the shelf.
The standard ingredients to make a simple syrup---> Sugar + Water. That is ALL you need to simplify making all your drinks. While that works well, I like to make a PUMPKIN Simple syrup and use it through Fall. It has the essentials of a simple syrup, plus pumpkin purèe and pumpkin spice. Once the syrup is ready, it makes a great way to flavor all drinks and even as a simple topping on pancakes and waffles.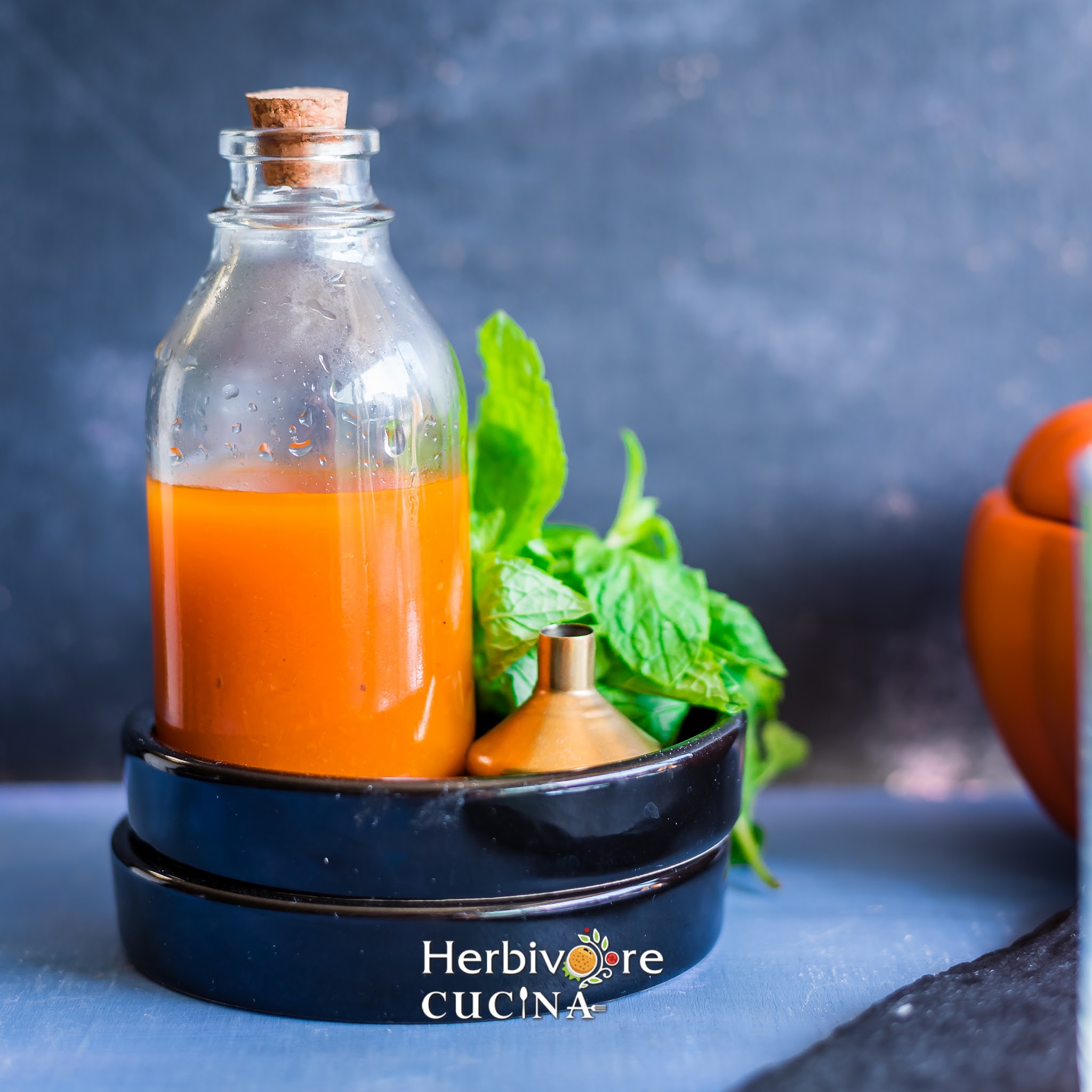 This year I barely waited for Fall to begin before I brought my pumpkins home! The local stores started stocking pumpkin since June and they were in my kitchen come July! It was hard to walk past them every time I shopped for veggies and leave them out. So I started Fall baking really early. Good thing, I got to make so many yummy dishes using the orange squashes and now I am going to concentrate on other winter squashes.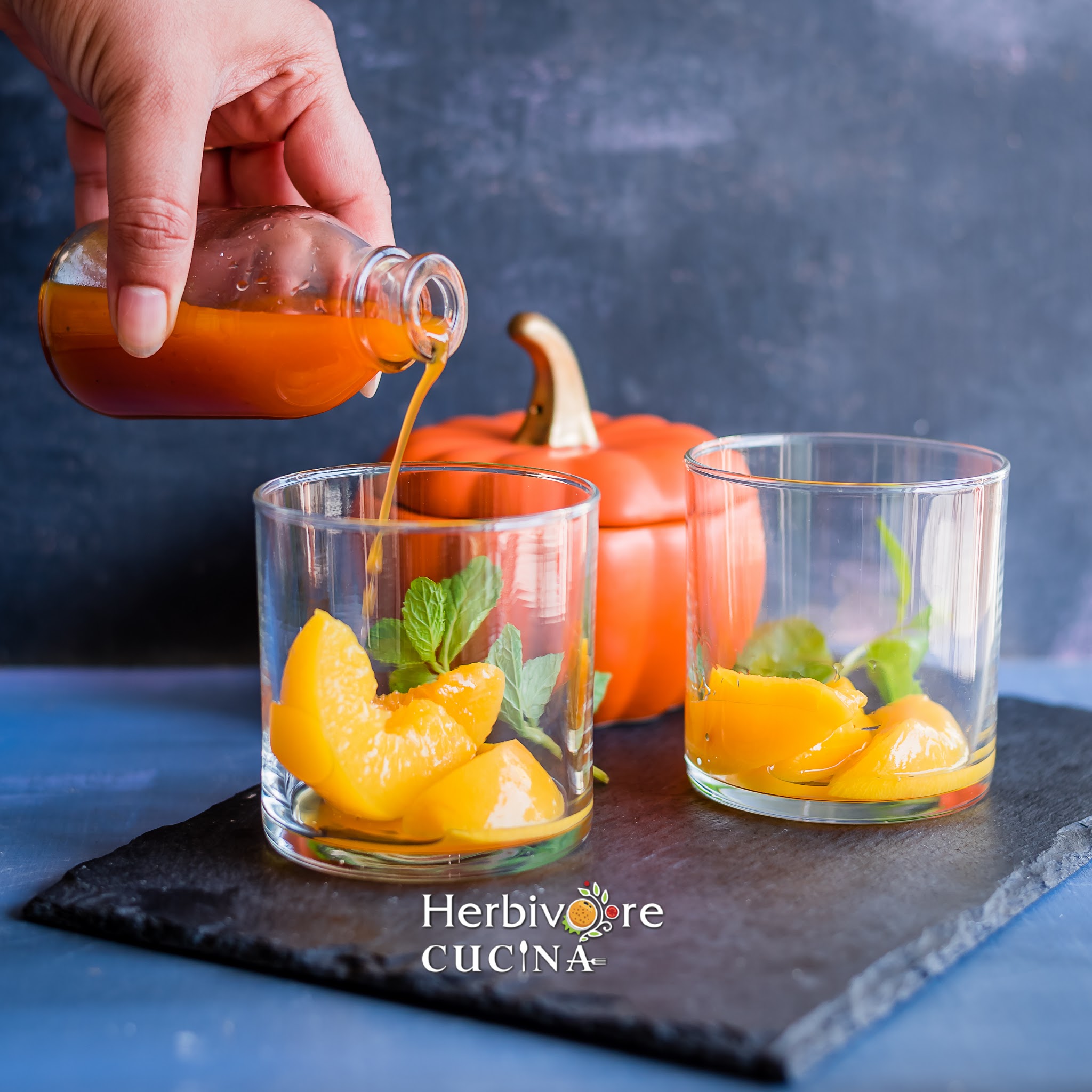 This recipe is super simple to make, yet comes in super handy when you are making drinks at a party. It reduces any pumpkin drink to just THREE steps: Add ice and this syrup, top with your favorite cider/soda/water, mix and serve!
I used this syrup in many drink recipes this season, plus; I also used it to top my slice of Eggless Quick Pumpkin Bread. The combination was PERFECT and we enjoyed a Fall special breakfast. Alcohol lovers?? I have a special recipe for you all. Just head straight to this recipe--> Sparkling Pumpkin Pie Mocktail and add in some Vodka. I promise you this will be the BEST Fall cocktail you have had in awhile!
The syrup is good for atleast a couple of weeks in the refrigerator. Though it is difficult to let the syrup stay for SO long without using it, you can definitely try! It gives about a cup of syrup and should be perfect for a party over the weekend. So look no further, up your Fall game NOW with this syrup and beyond!
Ingredients
Water 1 cup
Sugar ¾ cup
Pumpkin Purèe ¼ cup
Pumpkin Spice 1 tsp
Method
In a saucepan add sugar and water. Bring to a boil.
Mix in pumpkin purèe and simmer for 3-4 minutes. Mix well so that the pumpkin is evenly distributed.
Bring off the flame, stir in pumpkin spice and cool to room temperature.
Transfer to a bottle and store it in the refrigerator. Use it to make any drink of your choice!
Looking for Fall special drinks?? Head straight to the Target Made Me Do It website and grab a perfect recipe here ---> Sparkling Pumpkin Pie Mocktail.