An easy peasy bread made from Pumpkin Purée. Who knew TWO simple ingredients could make this Fall perfect bread SO MOIST and YUM?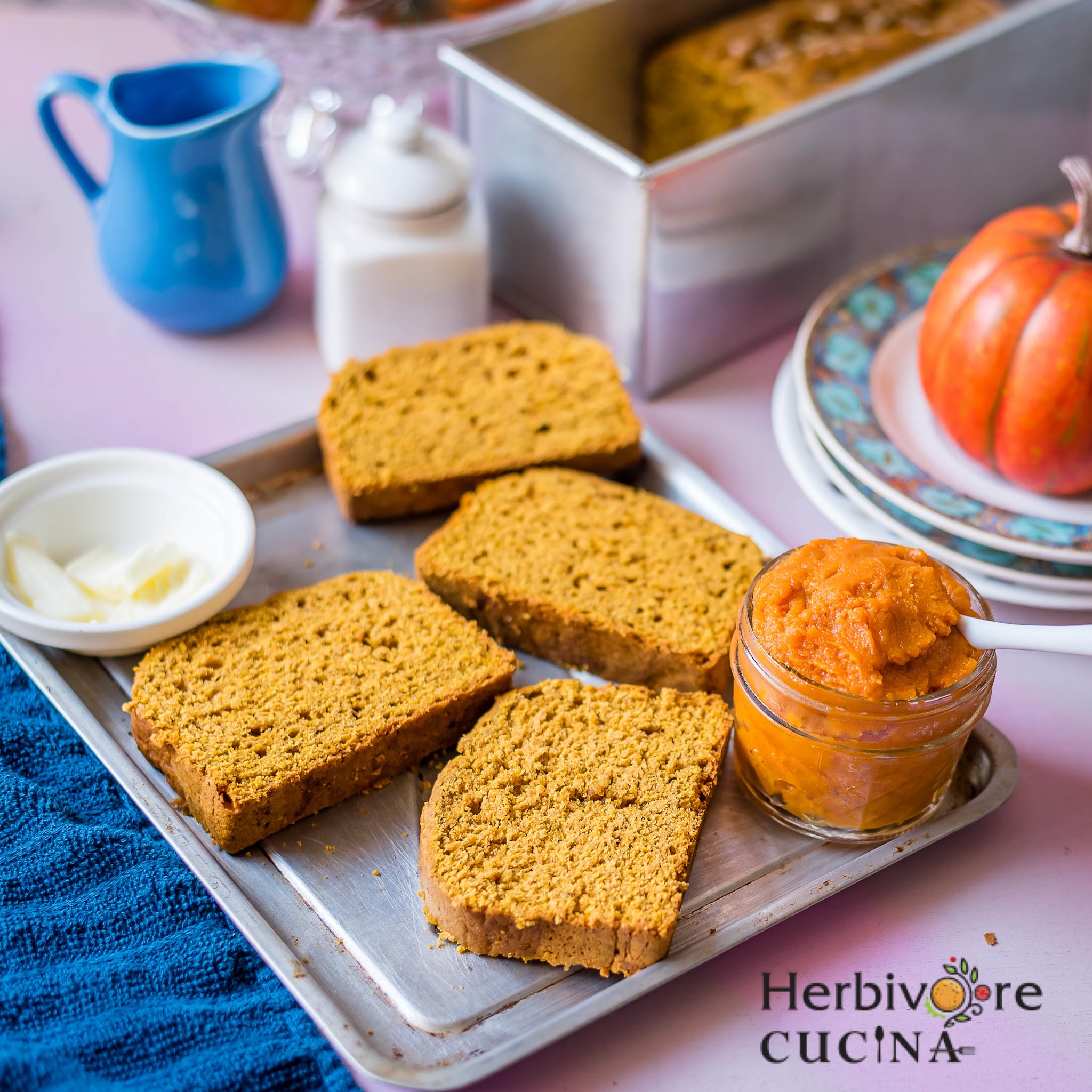 Pumpkin 🎃 🎃 in August? YES! I was not sure if I wanted to start making Squash and Pumpkin dishes this month but I finally did. On my last trip to Michael's Craft store I saw Fall decor, Pumpkin and a ton of other things for Halloween and Thanksgiving. Starbucks is advertising Pumpkin Spice Latte already and not to forget that Walmart and World Market is stocking up on Fall essentials.
Last year I wasn't happy seeing all these arrangements in August, but this year my love for squash is on a new high. I have already made one batch of this Pumpkin Soup, this loaf of Multigrain Pumpkin Bread and a few servings of Pumpkin Spice Latte. Yes, all this even before half of August has passed us by!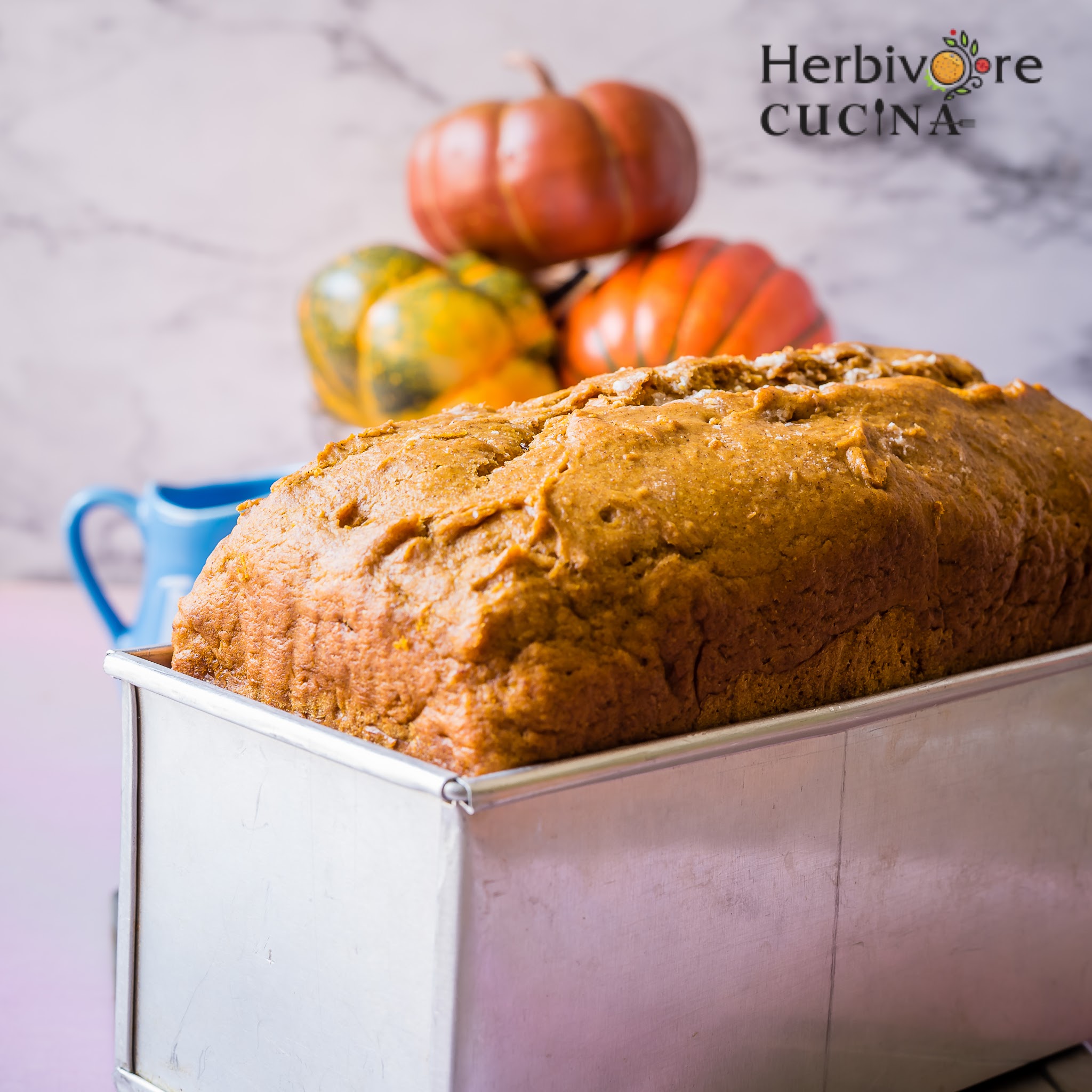 As I mentioned, last week I bought myself two cans of Pumpkin purée while shopping for other grocery items. The first thing I wanted to make was Pumpkin Dinner Rolls. However, I wanted to make something that needed twine. As I was out of it, I decided to make a sweet bread using the pumpkin.
This recipe is pretty similar to most other quick breads; uses flour, sugar, baking powder and pumpkin. I wanted to skip the eggs from the classic recipe so I used buttermilk instead. The result was fabulous; absolutely moist and soft bread thanks to the buttermilk and pumpkin purée.
The best part of this bread you ask? I used just the base of the stand mixer and ONE more bowl to make it all! No mess, no extra vessels and no complex procedures. It is as simple as mix, pour, bake!
If you want a Fall bread or something for Thanksgiving breakfast, I bet this one is for you. make a couple of loaves and serve with some maple syrup. I loved the combination and my husband even enjoyed some warm bread with Vanilla Ice cream! It was such a pleasure to have the same bread for breakfast and dessert! It is lovely how the kitchen smells when you just warm the bread, not to forget how lovely the house smells when it is baked! We finished the whole loaf in under 3 days; yes two people, one loaf of pumpkin bread and 3 days!
This recipe is really easy and convenient to make because I bet you have everything needed here in your pantry, and milk in the refrigerator! No complex ingredients, no exotic requirements. If you like a crunchy add-in in the bread, toss in some pumpkin seeds or chocolate chips in the bread. Better still, top the bread with a mixture of seeds like this Multigrain Pumpkin Bread. It makes the bread even better!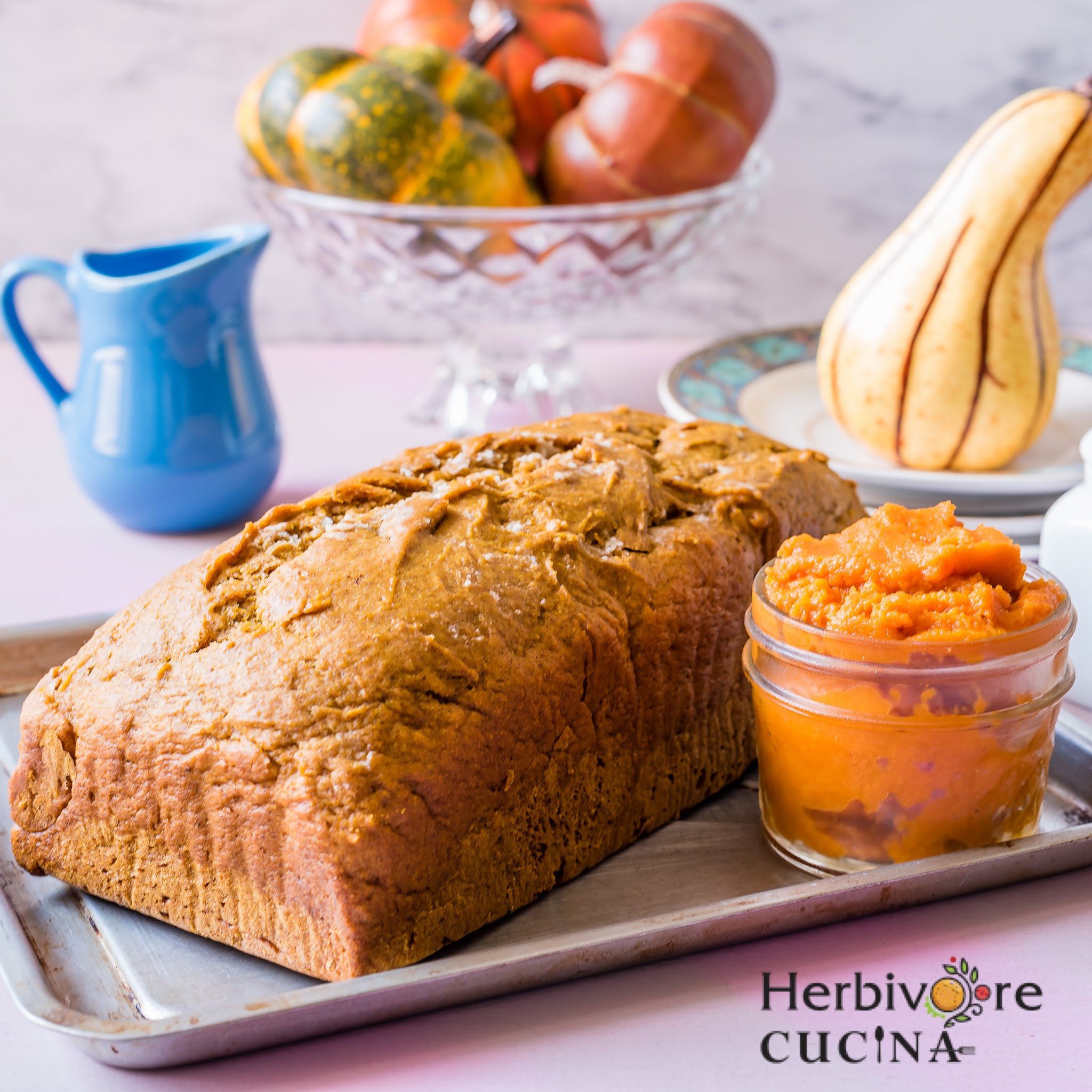 Not a Pumpkin Lover?


I urge you to try the squash a couple of times before giving up on it. It is pretty addictive I promise! But if you cannot get yourself to like it, you can very well make the bread using mashed banana or carrots. It works really well with those too.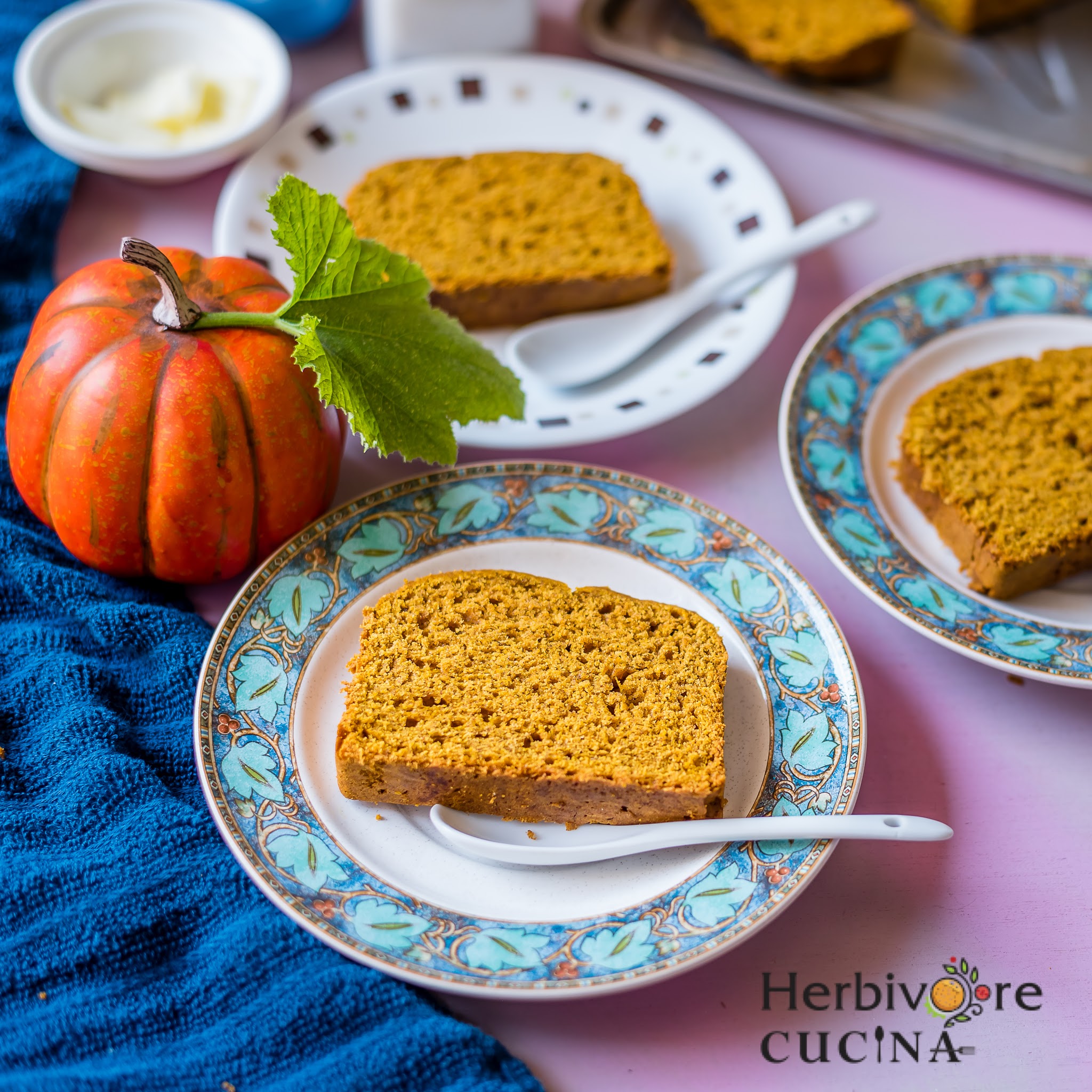 Pumpkin Lovers?

If you have a love for this orange squash, I bet you love the seeds et al! Don't forget to add some seeds in the batter or on it for texture. Better still try one of these recipe to go with this bread:


Ingredients
All purpose flour/Maida 1 ¾ cup
Brown/White Sugar ¾ cup
Pumpkin Purée 1 cup
Buttermilk ½ cup ( or Milk ½ cup + Vinegar 1 tsp)
Oil 3 tbsp
Pumpkin Pie Spice 3 tsp
Baking Powder 2 ¼ tsp
Baking Soda ¼ tsp
Salt ¼ tsp
Method
Preheat oven to 350 F/ 180 C. Line a loaf pan with parchment paper and keep ready.
In the base of the stand mixer add the buttermilk (or room temperature milk mixed with vinegar), oil and pumpkin purée. Whip till smooth. Then add pumpkin spice and sugar. Mix again for a couple of minutes.
In a bowl sieve together flour, baking powder, baking soda and salt. Transfer to the wet mixture and mix for a minute or so. Do not overmix.
Transfer batter to prepared loaf pan. Place in the oven and bake for 45-50 minutes. If the sides start to harden and the center is wobbly, cover with some foil and bake.
Once a toothpick or skewer comes out clean from the center, remove from oven and cool. Transfer to a cooling rack and cool completely before slicing.