Blogging Marathon #68 Week 4 Day 3
Theme: Rice Dishes
Dish: One Pot Pumpkin Risotto
The week of posting rice dishes in this month's Cooking Carnival is going super quickly. After posting two rice dishes over the last two days, it is time for another dish using a different variety of the grain. Arborio Rice is a short Italian grain of rice and is generally used to make Risotto or Arancini balls and sometimes even rice pudding.

I remember when I was in India, there were very few places selling the rice grains. The Crawford Market had a few stores that sold the imported grain and I would haul it back home from there. Now I believe it is no longer so difficult to get it and her in US every store with bulk bins seem to carry it. I have only made risotto using it, though different flavored each time.

The basic ingredients of risotto are arborio rice, a liquid to cook the rice like vegetable stock, wine for flavor and cheese. All this combines to give a nice flavorful dish that can be enjoyed as a meal. My husband is not very fond of risotto so it is not made too often, but when I had pumpkin puree a few days ago, I HAD to make this orange colored risotto.

Though most people swear by the wine in the dish and disagree to have risotto that is made without wine, we are pretty okay with the flavors even without wine. I generally add either grape juice or apple juice instead of wine. You may choose to add any liquid of your choice. While most ingredients can be suitably modified in the recipe, I would not suggest any changes to the butter content. The rice grains should be coated with butter before they start cooking. So do not modify that. And yes, it takes about 45-60 minutes to make the dish. So plan ahead of time and make it on slow flame.


Ingredients


Arborio Rice 1 cup
Pumpkin puree 1 cup
Vegetable stock/ water 2 -3 cups
Wine/ Grape Juice ¾ cup
Onion 1 medium diced
Garlic 2-3 cloves, minced
Parmesan Cheese 4 tbsp
Butter 2 tbsp
Salt and Pepper to taste
Roasted Pumpkin Seeds to top

Method
In a pan heat the butter. Once molten, add garlic and saute till it does not smell raw. Then add onion and cook until tender. Next, add the arborio rice and coat them with the butter. This is essential to get a creamy risotto.
Next, add the pumpkin puree, 1 teaspoon salt and 1 cup vegetable stock or water. Cook on medium flame till all the water is absorbed. Then add one more cup of stock and cook. The stock should be slowly absorbed and not burn away. If the rice grains feel almost cooked, do not add more stock. Mix in the wine/ grape juice and cook till it is completely absorbed.
Add in the parmesan cheese and mix. The cheese will melt and mix in immediately. Season with salt if required and add 1 teaspoon pepper powder. Serve warm, topped with toasted pumpkin seeds. We enjoyed the risotto with a slice of Pumpkin Bread.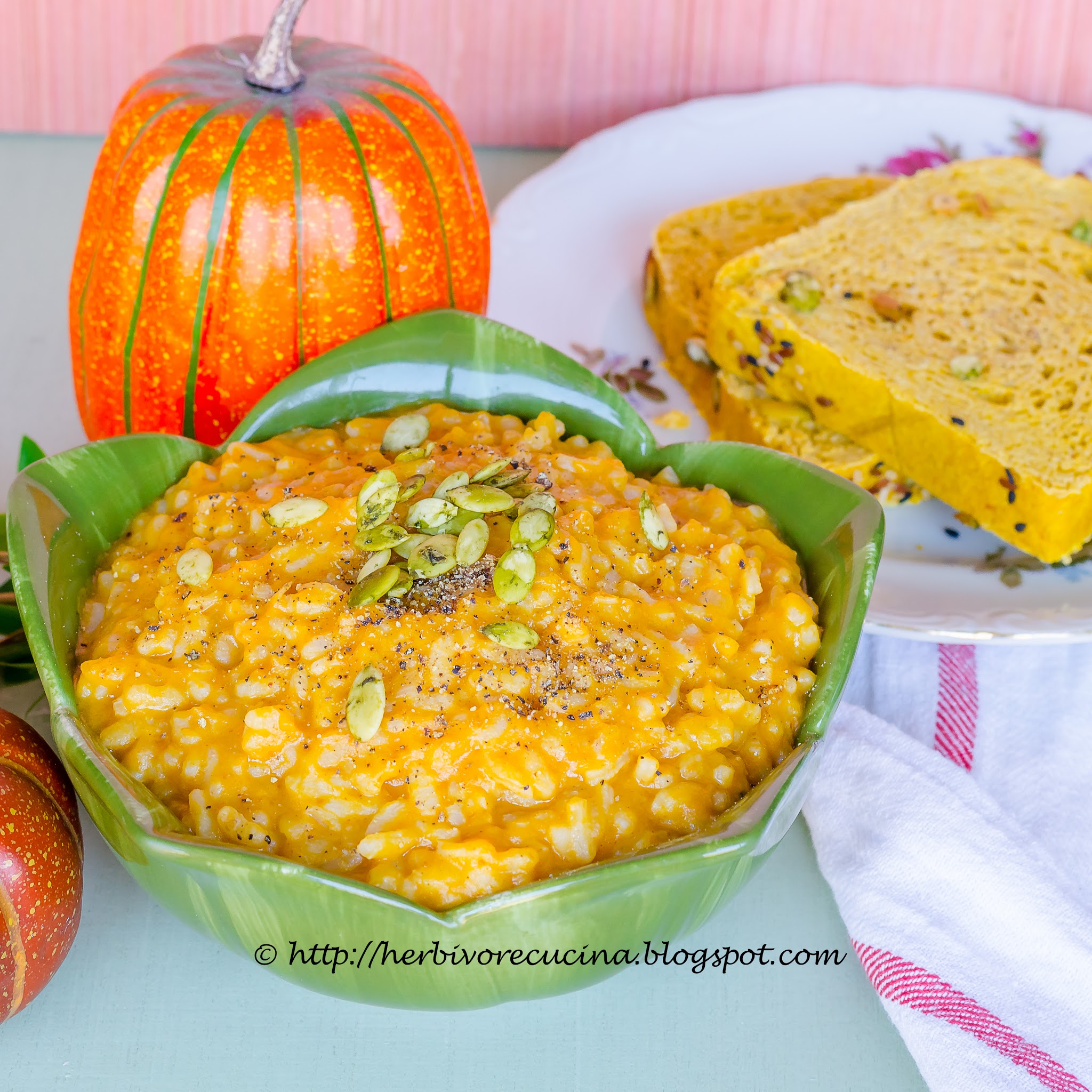 Check out the Blogging Marathon page to see what the other Blogging Marathoners are doing for BM# 68