It is officially Fall and pumpkins are in season. From the various farms around the Bay Area to the farmers market selling these squashes in multiple colors and sizes, it is all about pumpkins this month. We enjoy them all of October and it culminates in Halloween. So after these amazing dishes like Roasted Butternut Squash soup, Easy Pumpkin Soup, Pasta in Pumpkin Sauce and Pumpkin Cheesecake it is time for some pumpkin baking.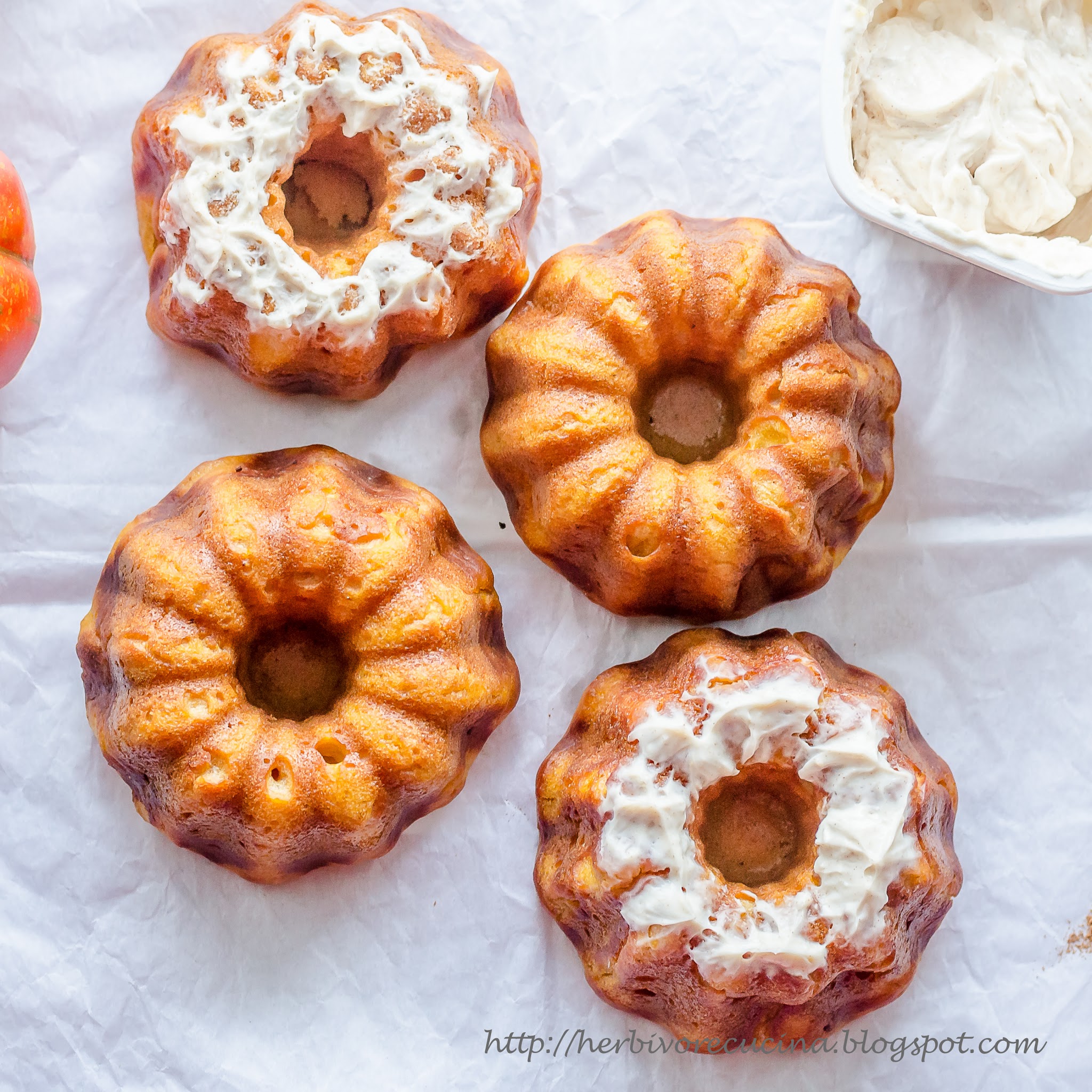 The thought of baking with pumpkin brought up a rustic bread with pumpkin seeds or oats muffins overloaded with pumpkin spice. But then I thought of the mini bundt pan that I have not used for a while. The shape and size resembles those cute pumpkins! So they seemed perfect to go with the season. So I baked these cute bundts to welcome Fall. If you do not have a bundt pan, use a muffin pan to bake them. The shape might be different, the taste still divine 🙂
Also, this recipe is an eggless one. I have been baking with eggs since the beginning. It is only lately that I have started baking without eggs. Sometimes I use crushed chia seeds to replace them and as in this recipe and these Blueberry Muffins, I have used Greek Yogurt. Both are perfect substitutes for eggs, but i personally prefer yogurt, because they give really creamy muffins and cakes. If you do not mind eggs, add 2 eggs instead of yogurt.
Baking the bundts was one part of the plan, and topping it with something nice was another. I did not want to use the conventional heavy cream, so I used ¼ cup of cream cheese. Flavor it with pumpkin spice, add some sugar and you have the perfect quantity to ice exactly 8 mini bundts. If you prefer to have them naked, ditch the topping and enjoy the bundts! Have a great Fall peeps!
Ingredients
For the Bundts
All purpose flour 2 cup
Greek yogurt 1 ¼ cup
Pumpkin Puree ¾ cup
Confectioner's Sugar ½ cup
Powdered Brown Sugar ¼ cup
Baking Soda ¾ tsp
Baking Powder ¾ tsp
Pumpkin Spice 1 tbsp
Vegetable Oil 2 tbsp
Vanilla Extract 1 tsp
Salt a pinch
For the Topping
Cream Cheese ¼ cup
Sugar ¼ cup
Pumpkin Spice 1 tsp
Method
In a large mixing bowl mix the flour, baking soda, baking powder, pumpkin spice and salt. Set aside. In another mixing bowl whisk sugars with greek yogurt and oil. Add vanilla extract and homogenize into a smooth mixture. Add pumpkin puree and mix well. Pour half the wet mixture into the dry ingredients and whisk. Once combined, repeat with the remaining mixture and whisk on medium speed to form a smooth batter.
Preheat oven to 375 F and line the bundt or muffin mold with nonstick spray or oil. Divide the mixture equally among the 8 bundts and bake for 35 minutes. Test with a toothpick, if it comes out clean, the bundts are done.
To make the topping, homogenize the cream cheese, add sugar and pumpkin spice. Beat again to a smooth mixture. Refrigerate till ready to use.
Serve these bundts as breakfast with a cup of milk or coffee. Top the bundt with a spoonful of spiced cream cheese and sprinkle some extra spice on top. These bundts are perfect to be taken on a trip this fall and enjoyed by themselves. Make a large lot and enjoy these pumpkin bundts as a guilt free dessert with pumpkin ice-cream!