September is quickly coming to an end. And with that we know Fall is around the corner. Back are the days of Pumpkin spice and all things nice! The aisles in Michael are filled with Fall decor, Starbucks has announced the comeback of Pumpkin Spice Latte and the Halloween Spirit stores are open once again. Keeping up with Fall, I was looking to add a new Pumpkin recipe to the blog. So this pumpkin pie smoothie is here.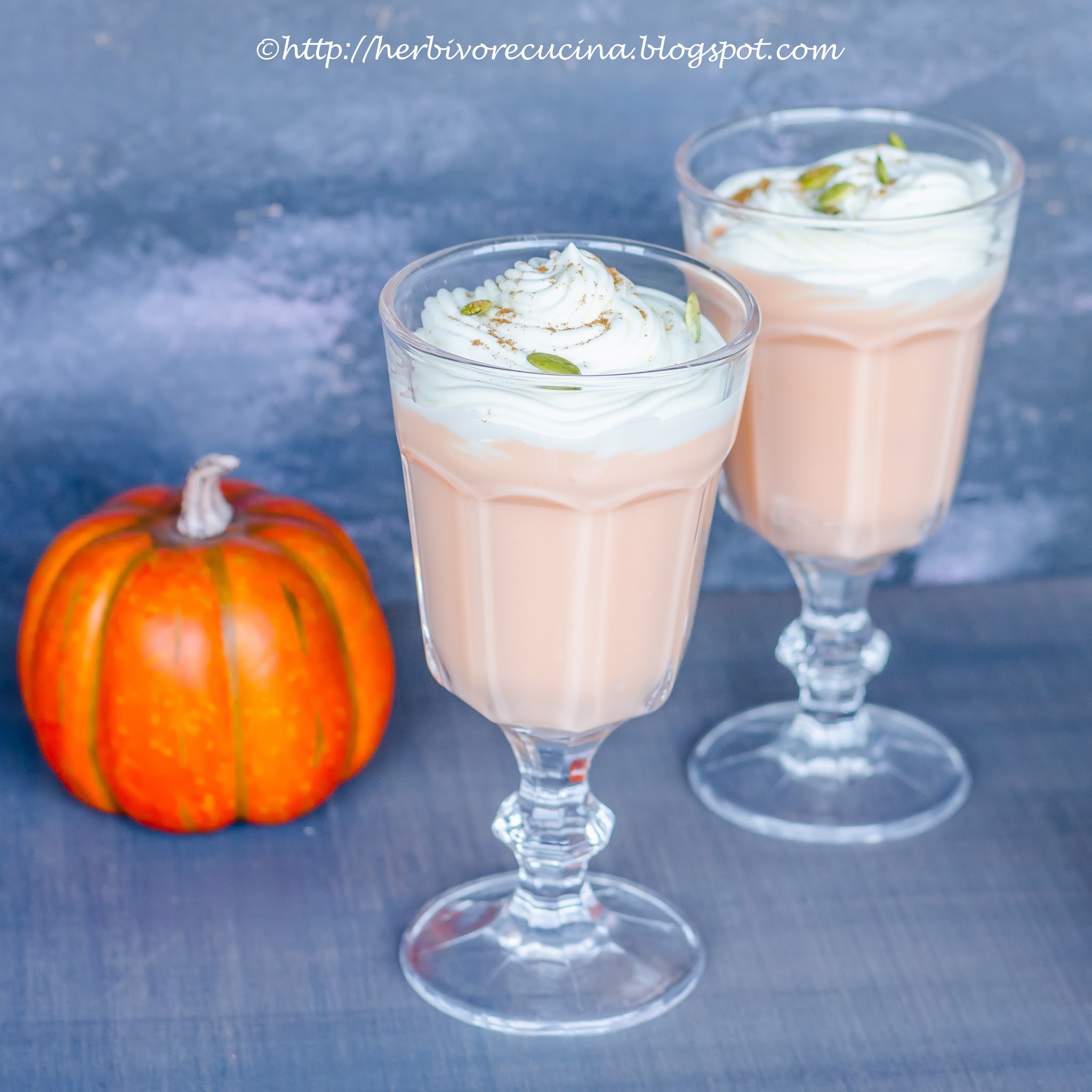 This month I joined a new blogging group Secret Recipe Club. The club is really great. We have a hostess, mine happens to be Sarah, who blogs at Fantastical Sharing of Recipes. She assigns each person a blog from one of the other participants. You have to select a recipe from their blog and post it on the reveal day. Today is my first reveal and the blog assigned to me is Natural Noshing by Nora. I saw the recipes she has on the blog and was rather amazed. I was pretty sure I shall make either this or this. But thinking of Fall, I decided on this Pumpkin Pie Smoothie.

The original recipe gives plenty of options and substitutions for all the ingredients. From all the options listed I made it with ingredients I had readily available and ones that we generally enjoy. While pumpkin puree is a must have in the recipe, I would love to try the recipe with carrot puree or even blueberries. I happened to find pumpkin flavored yogurt when I made this one so used it. However, vanilla or natural would work too. Honey is my go to sweetener but maple syrup would be a great option too.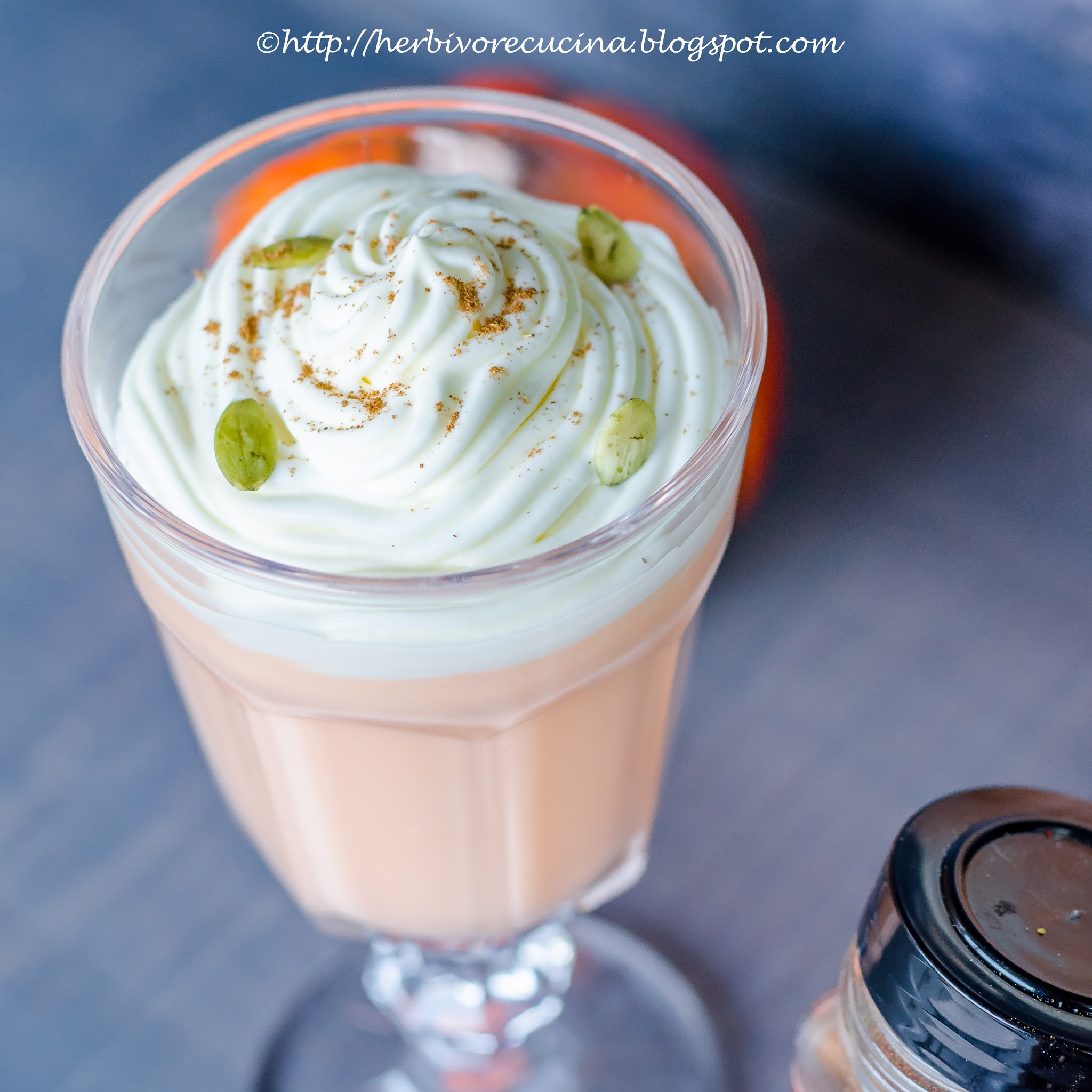 In the US everyone is a little crazy about Pumpkin Spice. It is a mixture of cinnamon, ground ginger, nutmeg, allspice and cloves. The mixture makes in appearance in coffees, chocolates, cheesecakes and even Fall special candles! If you cannot find the ready spice, just grab the proportions off the web for it and make your own! If you do not fancy it, add cinnamon and nutmeg powders. They work just as fine! Enjoy this recipe with pumpkin and yes, I have made quite a few pumpkin recipes this year. Come back for more recipes!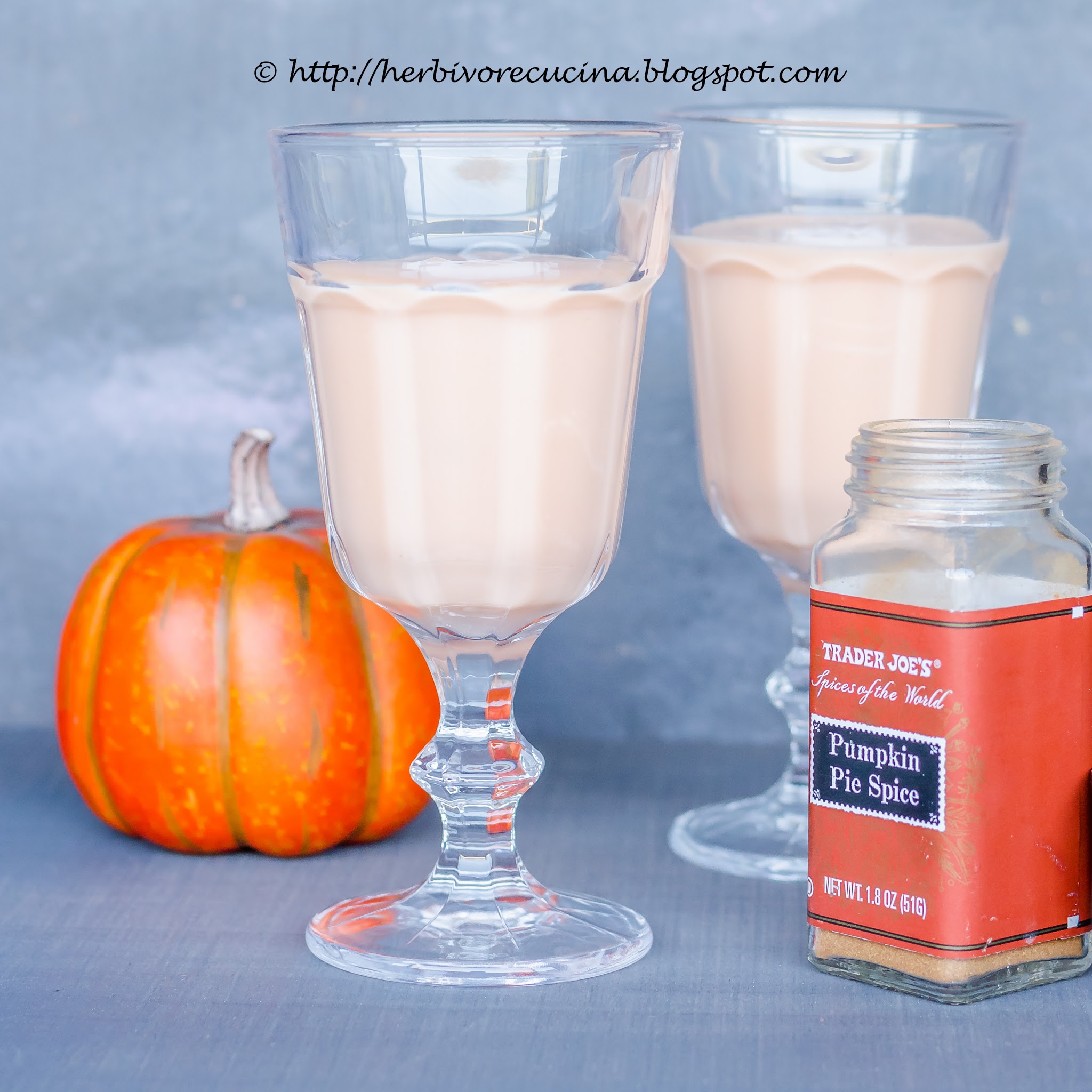 Ingredients
Pumpkin Puree ¼ cup
Greek Yogurt( Pumpkin or non flavored) ½ cup
Milk (Soy, almond or regular) ½ cup
Honey 1 tbsp
Ground Flax Seed 1 tsp
Pumpkin Spice Powder 1 tsp
Vanilla Extract ¼ tsp
Cream and pumpkin seeds to top
Method
Cook the pumpkin puree in a pan till it is almost dry. Remove and cool completely.
In a blender mix all the ingredients and process till smooth. In a glass add ice cubes. Pour out the smoothie and top with pumpkin spice or ground cinnamon. Topping with whipped cream and roasted pumpkin seeds works well too.