A super delicious recipe using eggplants; these Begun Bhaja are pan fried in just a little oil and work perfect as side dishes or appetizers!
Durga Puja is here and how I miss those days from India! Festival after Festival are passing us by as we rush towards the most exciting few months of the year! For those not familiar with the festival, Durga Puja is an Indian festival of Goddess Durga that is celebrated during this time.
Originally from Kolkata, this festival is celebrated all over the country and even in many parts of the world. People bring home an idol of the Goddess, worship it through the festival and immerse the idol into the ocean on the last day, Dussehra.
Wondering what a recipe has to do with this festival? The answer is simple, Bengalis LOVE their food and have a rich heritage of super delicious recipes, both vegetarian and non-vegetarian. From the list of their recipes, there are a select few that are made during the Puja and enjoyed by all folks, Bengali or not.
The most delicious dish (in my opinion) is their Roasted Moong Dal Khichuri, an amazing lentil and rice dish that has some vegetables for flavor and taste. Besides that they generally serve this dish, Begun Bhaja. Begun is essentially eggplant and Bhaja is fritters.
However, some places serve a non deep fried version of the fritter, that is made on a tava or pan. These pan fried slices of eggplant are super yummy when served with Khichuri. Another dish that is served is a mashed potato dish that has salt, dried red chilli sauteed in sesame oil and mashed potato.
If you have ever visited a Durga Puja anywhere in the world, you probably know what I am talking about. Even if you haven't, these dishes are super easy to make and taste awesome all year round!
The best part about these fritters is that they are non fried. They are ready in no time and need just 3-4 tablespoon oil to make a plate full! Yet they are crispy as they are thin and add a perfect texture to the smooth khichuri.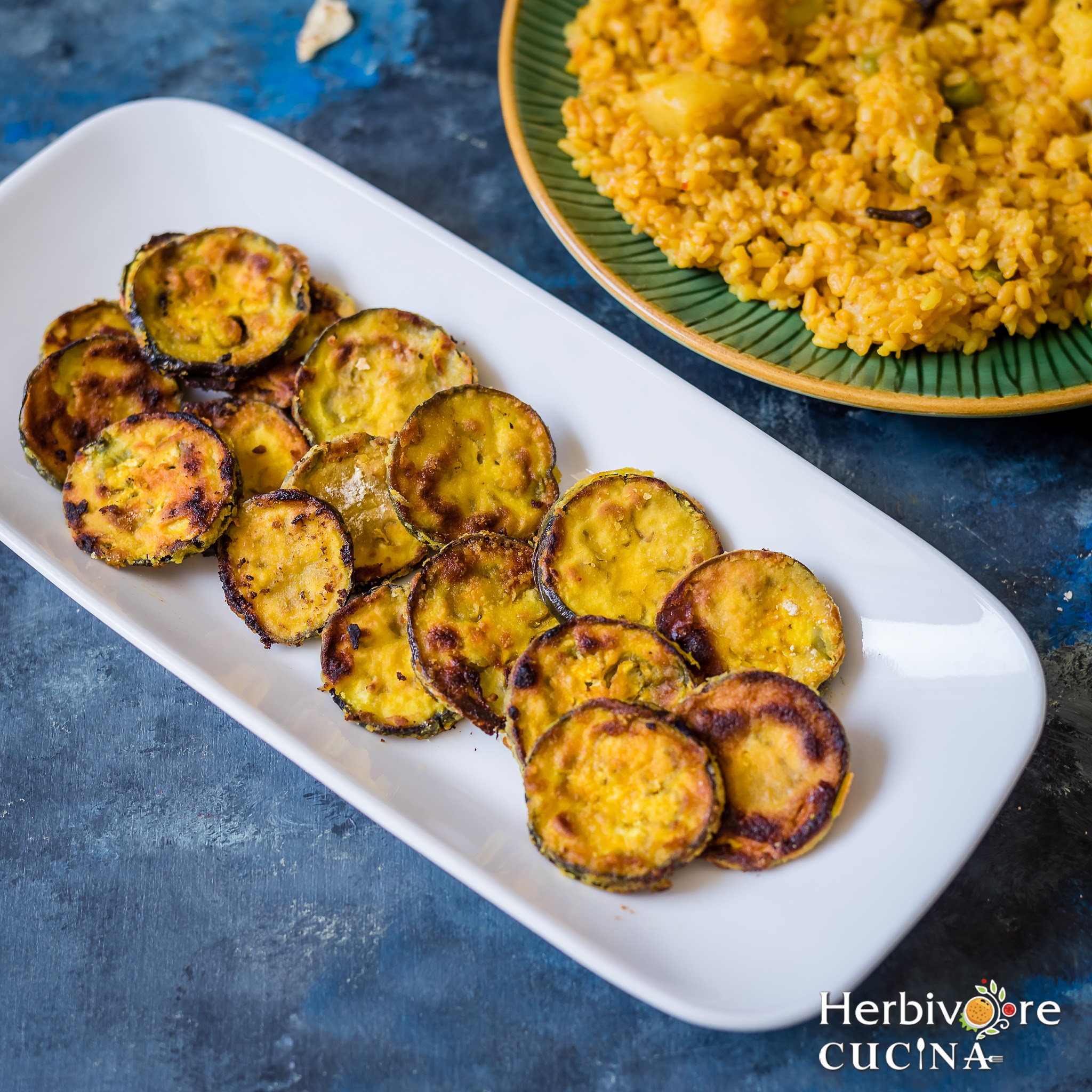 Variations
I have had different types of fritters at various places; some vertically sliced eggplants, some large rounds and some deep fried. They all taste equally yum but I am particularly in love with these in the recipe.
I chose the slimmest of the eggplants as they tend to have the minimum seeds. Plus, select an eggplant with just a dot at the bottom instead of the dash to get minimum seeds.
If you like a fleshy version of the fritters, make thick slices and pan fry them for a little longer. If you like a version with more flour, mix some water in the flour and dip the eggplants in them. These will come out best if you deep fry them. Besides, the same recipe can be used to make potato bhaja using thin slices of potato.
Pin for Later

Ingredients
Eggplant 1-2 medium
Gram Flour/Besan ¼ cup
Salt 1 tbsp
Turmeric Powder 1 tsp
Red Chilli Powder ½ tsp
Oil 3-4 tbsp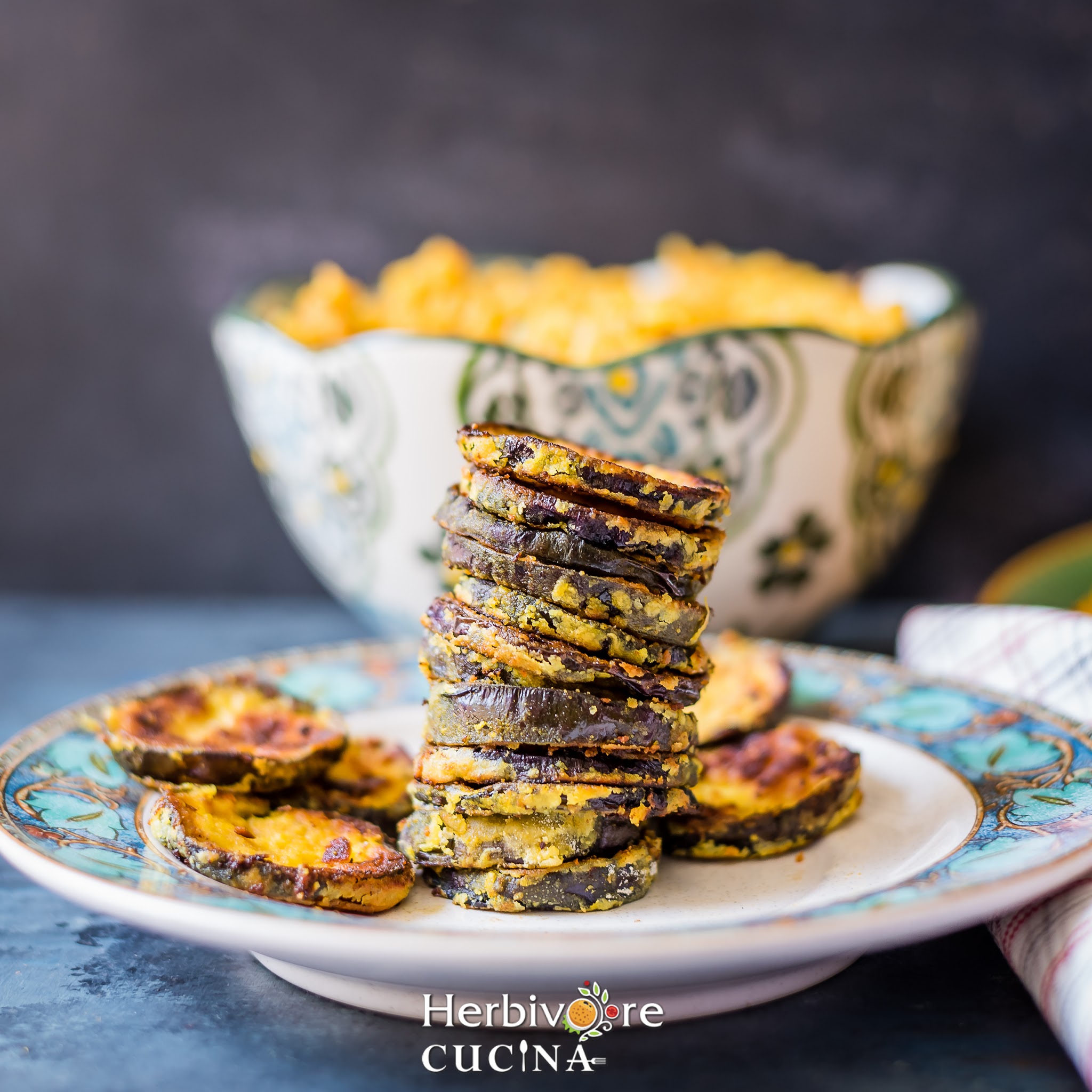 Method
Wash and slice the eggplant into thin slices. In a bowl add the slices, turmeric and salt. Mix well and rest for 15-20 minutes.
Place the besan flour mixed with chilli powder in a plate. Heat a pan or tava and keep ready. Remove the slices from the salt and turmeric mixture and roll in the flour.
Place the slices on the tava and cook covered for 3-4 minutes. Turn over and add more oil if required. Cook covered for another 5-6 minutes and remove.
Serve it with this Roasted Moong Dal Khichuri, roasted papad and mashed potato mixed with some sesame oil and red chilli.