An easy to make Thai Curry with tofu; this Peanut based sauce is super yummy and easy to make. Plus the recipe makes the curry and rice together in UNDER 30 minutes!
One Pot meals are always on my mind. From recipes that make a rice with add ins to pasta and soups. I love them all! They save me a LOT of time, effort and yet make a satisfying meal.
Since I bought my Instant Pot, I have been using it for MANY recipes that come together in a jiffy. Most of the recipes I have on the blog using the Instant Pot are made using just the base. This is the FIRST recipe that makes a complete meal using the pot-in-pot method. And I am in LOVE with this. Getting together a meal in under 30 minutes is always a great idea, especially on weeknights.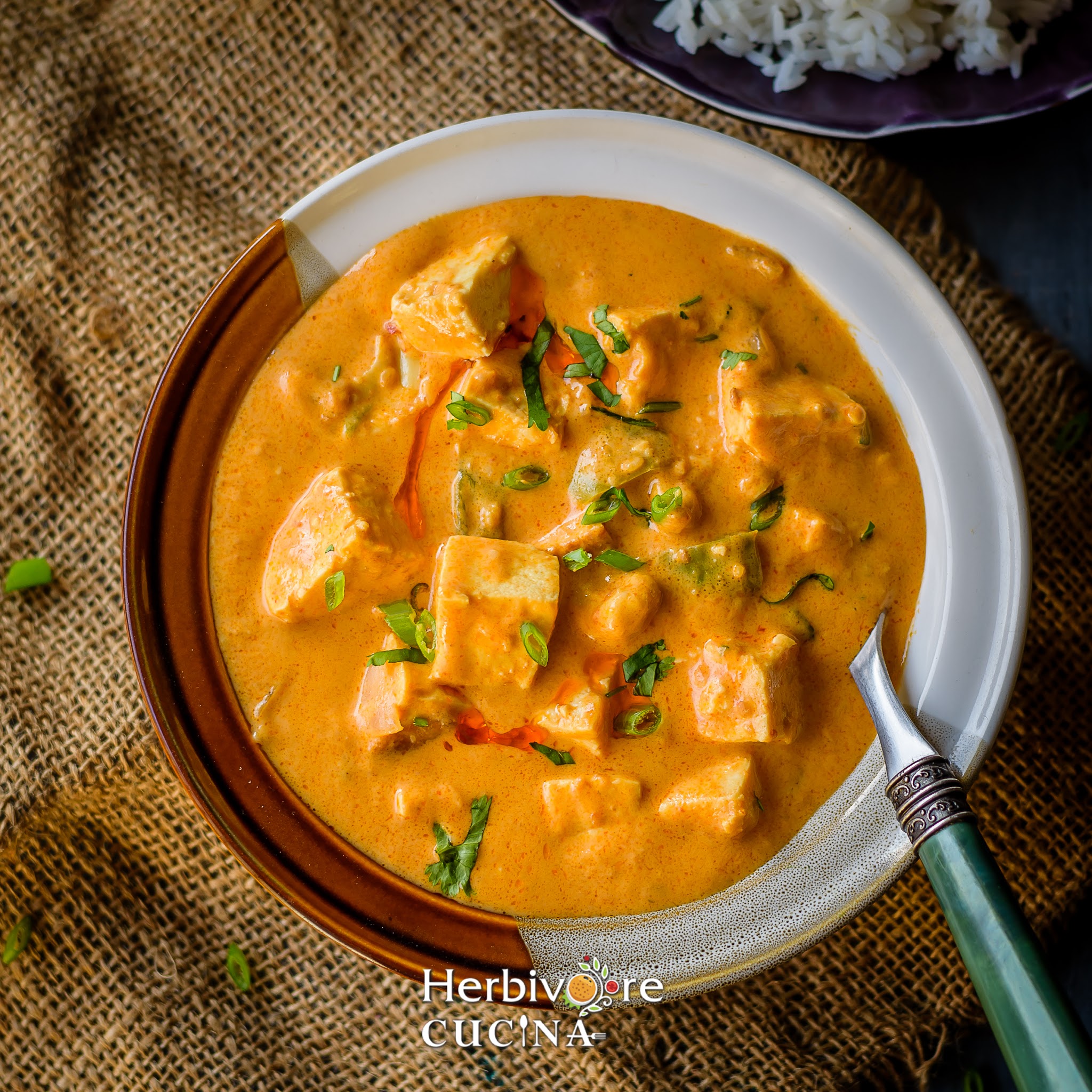 Tofu is the protein of choice in our house and we enjoy it in all cuisines. From Indian to Mexican and Thai to other Asian cuisines; we love tofu in ALL these! I have a ton of tofu recipes on the blog that you can check out: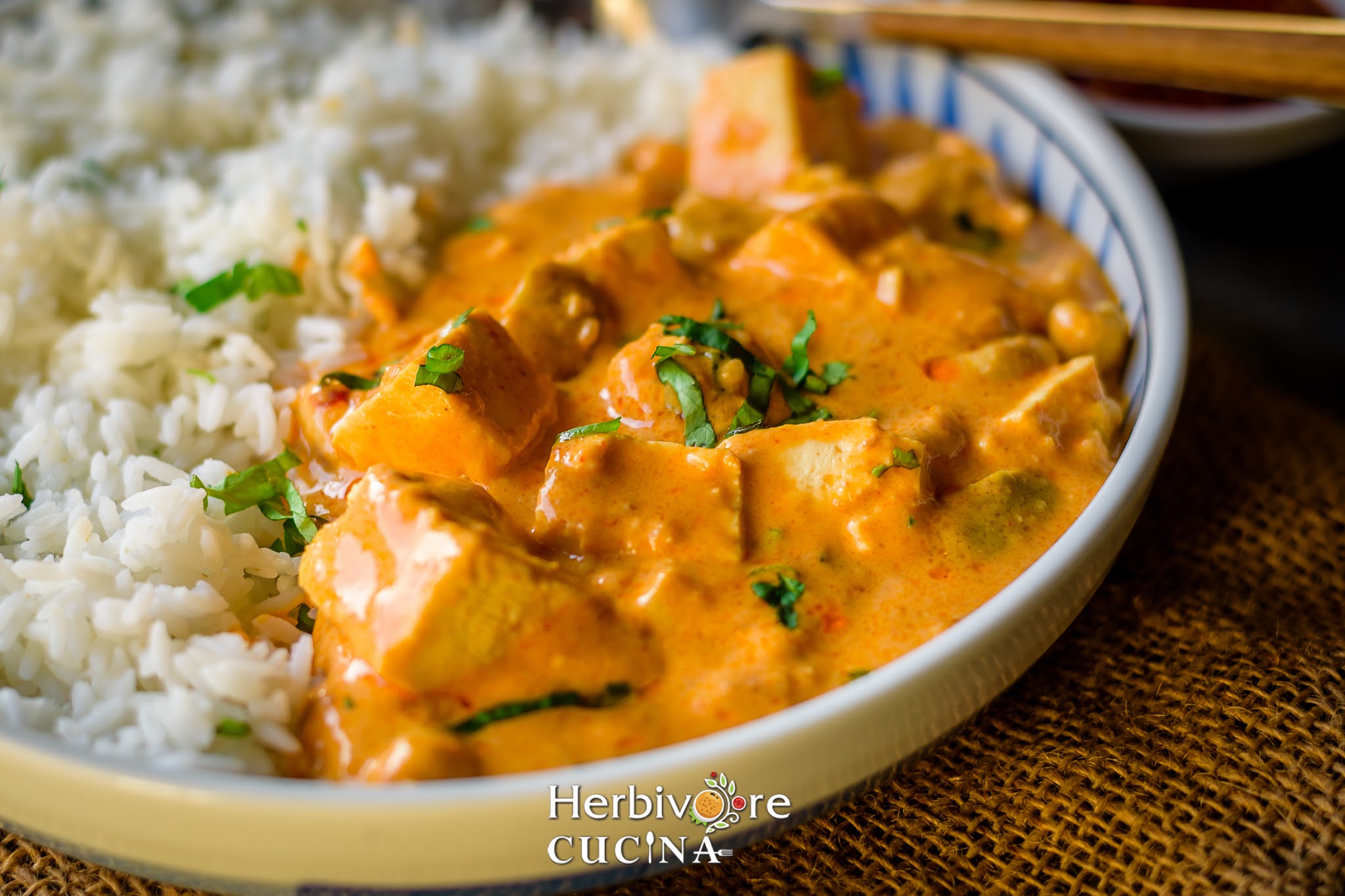 Coming to the recipe, this is a variation of a Thai classic. I used peanut butter to make make a thick and creamy curry for the tofu. With the addition of Red Curry paste and sriracha, I got the perfect orange color I was looking for and the great taste too.
The first time I made this recipe I used the smooth peanut butter and was not particularly fan of the texture. So this time I bought myself a small amount of freshly ground peanut butter that was not smooth. The curry turned out just like I wanted. However the choice of smoothness depends on your personal preference.
To complete the meal I made a bowl full of steamed white rice. I just used the regular rice but brown or jasmine rice tastes awesome too. The time taken for cooking the rice and the curry is just FOUR minutes, except the time taken to saute the vegetables. I love how the entire meal comes together in 30 minutes.
When I bough the Instant Pot I was not sure what I wanted to make in it. I started off with a few recipes that came in the book with the pot and once I had a hang of how to deal with the settings, I experimented other recipes. Now I love my Instant Pot so much, that I use it for dinner atleast 3-4 times a week! I customize recipes to make in the pot, I use it for fermenting batter and for yogurt. Here are some of my favorite IP recipes:
If you are a fan of Thai food, this recipe is going to be on your favorites in no time. I have used ingredients that are super easy to find and make this cheat recipe in no time. And the result is ALWAYS perfect using this one.
Variations
I made the curry with just tofu pieces. However, the same can be made using vegetables or your choice of protein. It works well with all these.
To make the curry I used a Curry paste from the store. You can make your own too. Plus if you like extra basil or lemongrass flavor, go ahead and add more. They can become overpowering so make sure you go slow!
The Pot-in-pot method helps to make the rice along with the curry. However, you can also make the rice separate. Mix and match the recipe with brown rice, jasmine rice or even quinoa. They all taste perfect with this curry.
Last, I used crunchy peanut butter but you can use either that or the smooth one. Only change would be in the consistency of the final curry. So look no further and make your version today! Hope you enjoy the meal!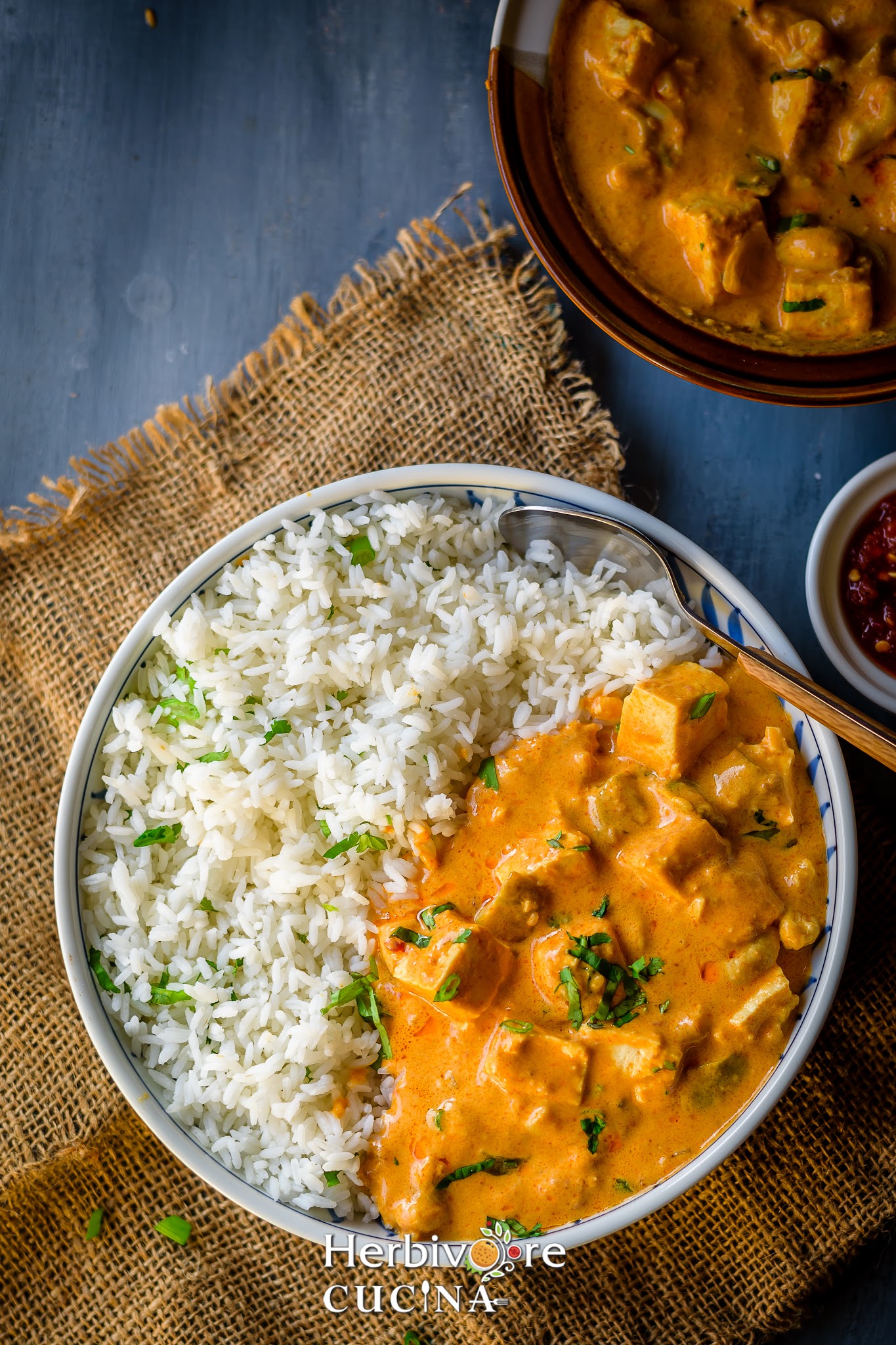 Ingredients
For the Curry
Firm Tofu 1 block (14 oz)
Onion ¼ medium, diced
Pepper ½ medium, diced
Garlic 2 cloves, minced
Peanut Butter 2 tbsp
Red Curry Paste 2 tbsp
Coconut Milk 1 cup
Cashew nuts 6-7
Chilli Oil 1 tsp
Vegetable Oil 2 tsp
Sriracha Garlic Sauce 1 tsp
Soy Sauce 1 teaspoon (tamari for Vegan)
Salt 1 tsp
Sugar ¼ tsp
Lime juice to taste
Spring Onion and cilantro to top
For the Rice
White Rice 1 cup
Water 1 cup and 2 tbsp
Oil 1 tsp
Salt ½ tsp
Pin for Later
Method
Press the tofu between a couple of paper napkins and place a heavy pan on it. Keep aside for 20 minutes. Then, make even sized cubes and keep ready.
In a bowl mix together peanut butter with ¼ cup water. Add in soy sauce, sriracha sauce, salt and sugar. Mix well.
In the base of the instant pot add the vegetable oil and chili oil. Set the mode to sauté and medium. Once hot, add minced garlic and sauté till fragrant. Add in onion, peppers and cashews. Mix and sauté for a couple of minutes.
Add Thai curry paste and sauté for a minute. Add the peanut butter mixture, and coconut milk. Add more water if desired. Mix well, add the tofu cubes and let it bubble.
Meanwhile, wash the rice till the water runs clean. Add to a steel bowl and pour in water. Add salt and oil and mix.
Place a trivet in the Instant Pot and place the rice bowl on it. Close the lid. Press cancel and then press Pressure Cook and High pressure. Set vent to sealing and time to 4 minutes.
Once the time is up, do a quick release. Remove the rice bowl and fluff using a fork.
Add in lime juice to the curry and mix well. Top with spring onions and cilantro and serve with the rice.