Vegan, easy to make and super delicious; this Black Pepper Tofu with steamed rice is my idea of comfort dinner. What is your favorite dish?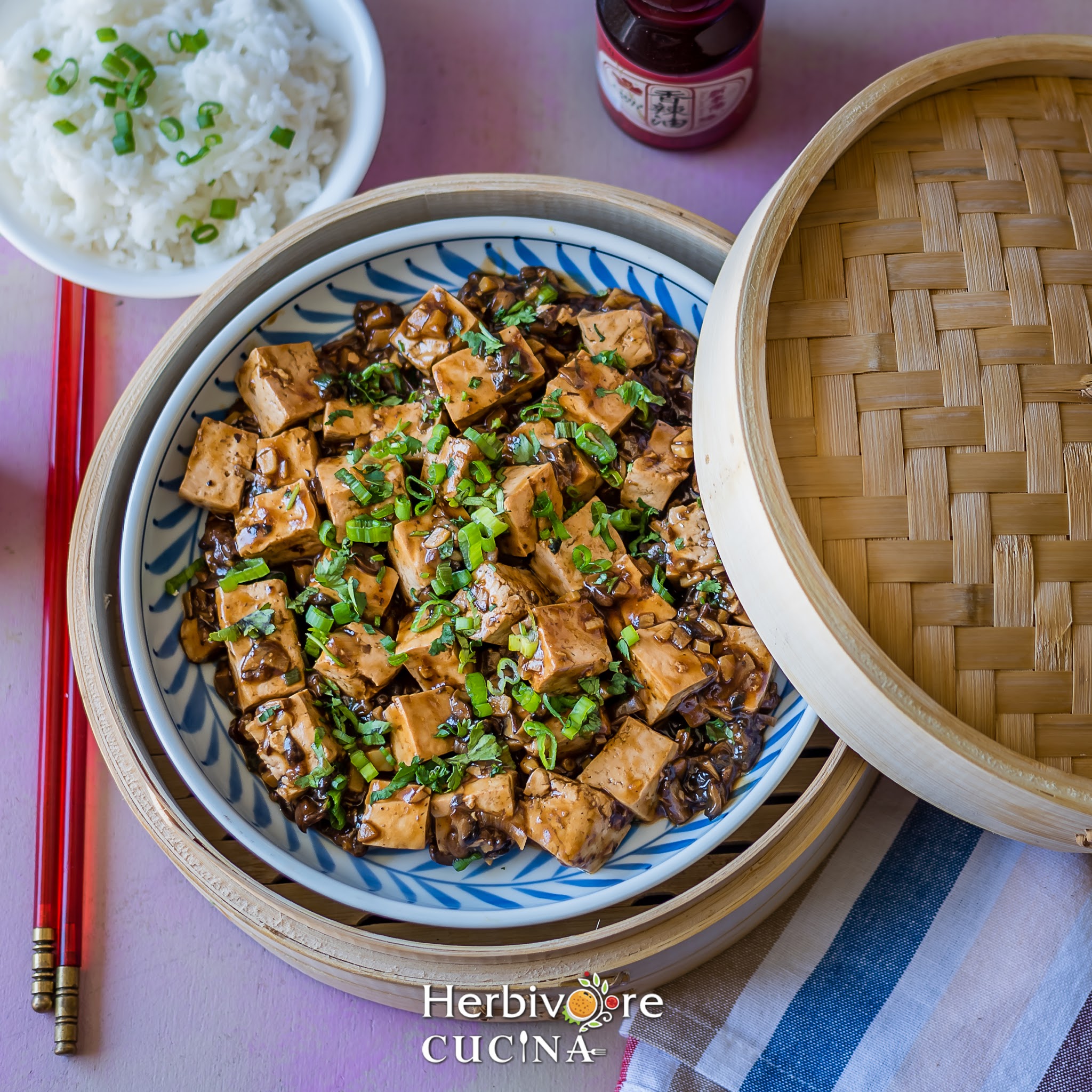 It has been pretty cold and boring in the last few days. And all I need to beat the weather is a bowl of comforting gravy and some steamed rice. Asian being my favorite cuisine, it wins whenever I am looking for something yummy.
Tofu, a Vegan replacement for paneer is a very versatile ingredient. That is the reason it is used in all the cuisines like Mexican, Indian, Italian, Chinese and it forms the base of the Vegan dishes. Tofu is available in various levels of firmness and the use of each type is fairly unique.
I use the softer varieties and the silken form in soups and stews, the firmer variety in most main courses like Garlic Tofu, Spicy Orange Tofu and Panang Curry as well as Dim Sums and the fried puffs in gravy based main courses like Tofu Puffs in Manchurian Gravy and hot-pot. It is amazing to see how well tofu blends with all kinds of spices from all the cuisines.
I have all kinds of tofu recipes on the blog and make them over and over again. However, this recipe is my favorite. Being full of black pepper and lightly pan fried tofu, this dish comes together in UNDER 15 minutes. Plus, it has ingredients that can easily be found in any pantry. No complex ingredients or steps to make this amazing dish. I serve it with any kind of Asian rice to make it a complete comfort meal!


Variations
If you are a tofu lover like me, you need to try this recipe soon! The main reasons why I love this recipe is because it does not have any complex sauce to make. The sauce for this is simply corn starch mixed with water and spices.
If you are not a fan of tofu, replace the tofu with paneer. Better still, add vegetables of your choice in the gravy and make a delicious Asian meal. And not to forget, add as much garlic as you like. I love my dish FULL of garlic, so I sometimes add twice as much as mentioned here!
Last, if you would want a thinner curry in this recipe, add more water to the corn starch and make the recipe. It will be perfect to serve with sticky rice! Or make a thick gravy and serve as an appetizer! No matter what you are making out of this, do try this recipe for sure!
Ingredients
Extra firm tofu 1 box
Garlic 5-6 pods
Ginger 1 inch grated
Green Chili 2-3 (adjust quantity to taste)
Spring Onion white and greens ½ cup
Cornstarch 3-4 tbsp
Vinegar ½ tsp
Soy Sauce (Tamar for Vegans) 1 tbsp
Oil 2 tbsp
Chili Oil ¼ tbsp
Ground black pepper 2 tbsp
Pin for Later




Method
Drain and press the tofu block between two kitchen napkins. Place a pan on it to squeeze out all the water content. Cut the tofu into equal sized cubes and saute them in a pan with 1 tablespoon of oil till it is brown on all sides. Remove, set aside.

In the same pan, add remaining oil and chili oil. The amount of chili oil will depend on how spicy you like the gravy. Add finely diced garlic, grated ginger and some minced green chili. Once the garlic loses its raw flavor, add the spring onion whites. Mix well. Let the onions become soft, and then add some black pepper powder. Add all the tofu cubes.
In a bowl mix together cornstarch, ¼ cup water, soy sauce, vinegar and black pepper. Make a homogeneous mixture, and pour in the pan. Keep stirring the gravy till it becomes glossy and deepens in color. Check the salt and spice. Adjust the salt, pepper and vinegar.
For serving, garnish with the spring onion greens and cilantro. Enjoy with Vegetable Fried Rice or Chili garlic Noodles. If you want to break away from the regular rice recipes, try this Mushroom Fried Rice. It is absolutely yummy!! Also, try this Paneer Chili Noodles.