What is the first thing that comes to your mind when you see Artichoke hearts in a grocery store? What crosses your mind when you look at a bag of tortilla chips and do not want to enjoy it with salsa? What is your favorite appetizer at the cheesecake factory? The answer to most of these questions for majority people is the same: Spinach Artichoke Dip! That warm dip which is so full of flavorful creamy white sauce with a lot of cheese, spinach and artichoke hearts.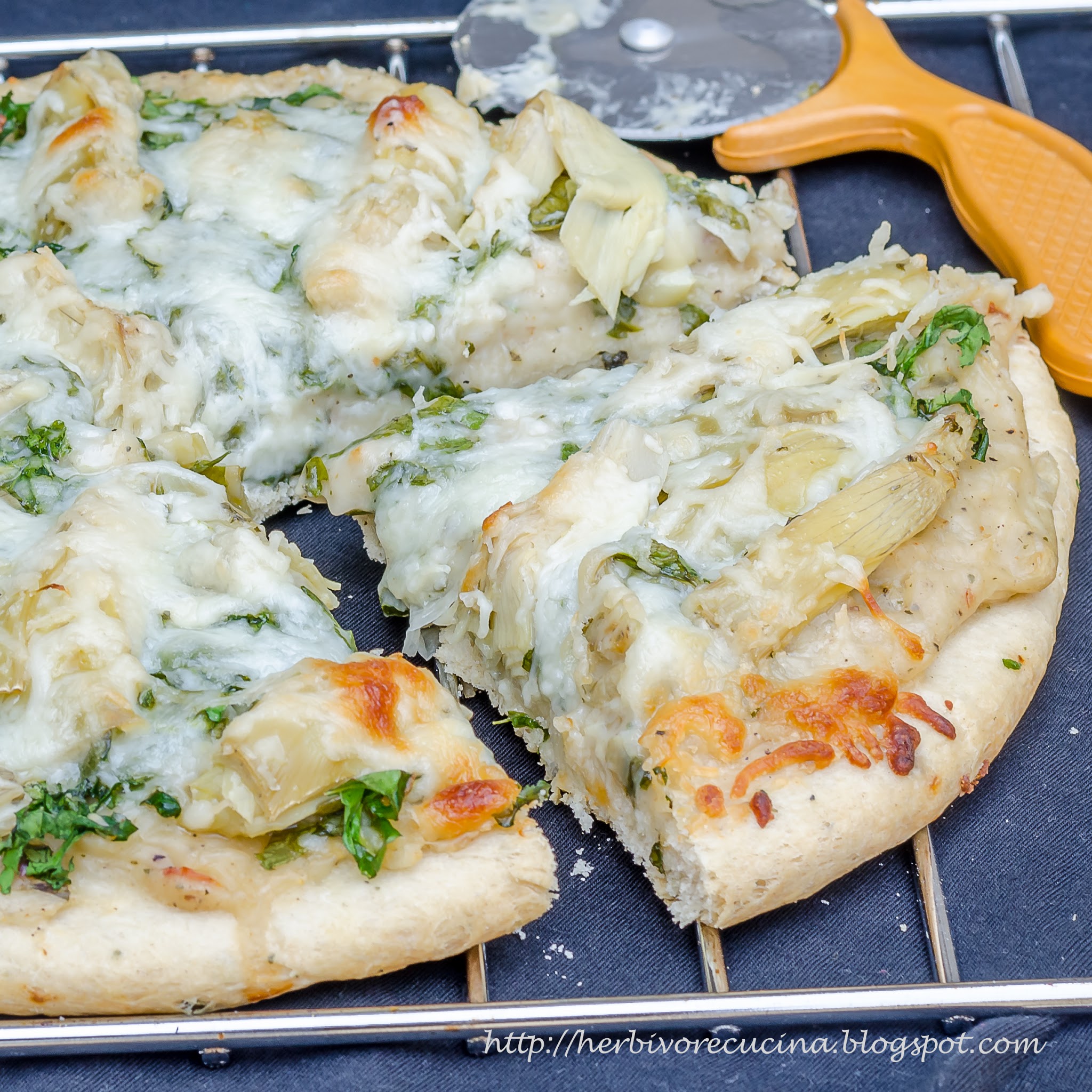 What if you could convert this dip to a pizza? Sounds great right? That was the exact thought in my mind when I made this pizza at home. We love pizza at home, but sometimes are bored of the run out of the mill tomato based vegetarian pizza. That is the reason that recipes like this pav bhaji pizza and this spinach artichoke pizza are a hit in our family.
The recipe of this pizza is fairly simple. I made the base from scratch, but you could buy one from the grocery store too. Then is the white sauce used to top the base instead of the tomato sauce. And finally the toppings, spinach artichoke hearts and mozzarella cheese. Just bring everything together and you are ready for your next pizza party! This recipe is enough for making two 12-14 inches pizzas. The thickness is moderate. However you can make a thick crust large and a thick crust personal pan size or about 5-6 thin crust pizzas. Depends on how you like it in your house!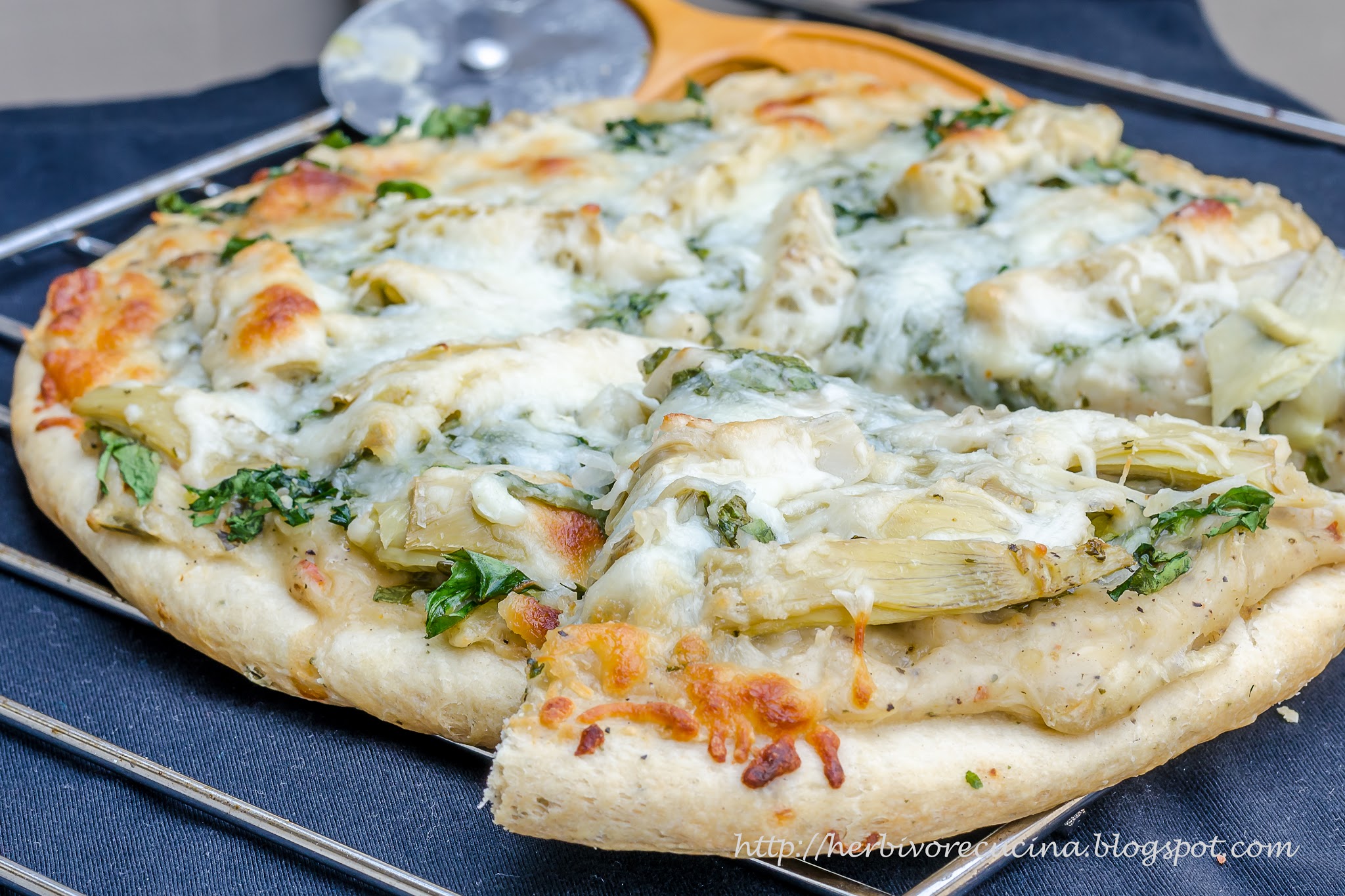 Ingredients
For the base
All purpose flour/maida 3 cups
Rapid Rise yeast 1 packet (2 ¼ tsp)
Salt 1 ½ tsp
Sugar 1 tsp
Unsalted Butter 3 tbsp
Warm water 1 cup
Dried Oregano 1 tbsp
For the Sauce
All purpose flour/maida ½ cup
Garlic 2-3 pods minced
Olive Oil/Butter 1 tbsp
Milk 1 cup
Cream ¼ cup
Mozzarella Cheese ¼ cup
Salt, Pepper, oregano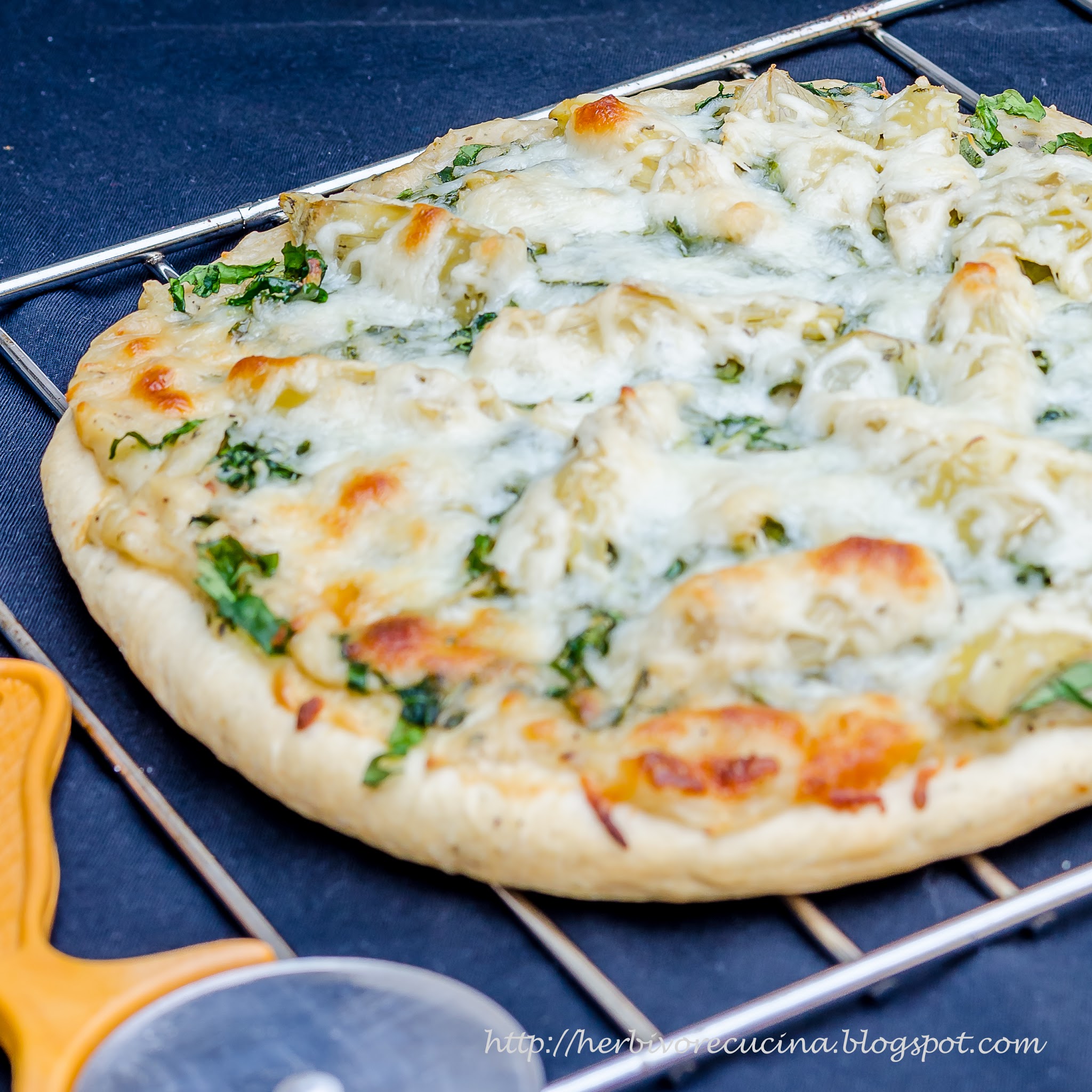 For the topping
Artichoke hearts 1 cup drained
Spinach 2 cups chopped
White Sauce 1 cup
Mozzarella Cheese ½ cup
Method
Making the base
Heat a cup of water for 30-45 seconds in the microwave. Stir in a teaspoon of salt, a teaspoon of sugar and yeast and let it stand in a warm place for 10-15 minutes till it becomes frothy. If the yeast refuses to bloom, there are a few reasons; either the water is too cold to activate it or the water is too hot and killed the yeast or that the yeast is too old. If that happens, discard the liquid and repeat with a fresh batch of water and yeast. Mix flour, remaining salt and oregano in a large mixing bowl. Melt the butter and pour it in the flour along with the activated yeast and form a soft dough. Add more water if needed to make a soft dough.
Let the dough rest for an hour covered in a bowl, with little oil or butter on it. After that time, the dough becomes double in size. Punch it down and divide into two parts. Take one ball, roll it out with a rolling pin or hand on a lightly floured surface. The base can be made of desired thickness and size. Let the base rest for another 20 minutes, covered with a wet kitchen towel.
Preheat oven to 380F / 200C. Spray cooking spray or oil on a pizza stone or pizza plate. Put the base on it and bake it for 5 minutes.
For the sauce
Heat the oil in a pan, saute garlic for a minute. Once the raw flavor vanishes, add the flour and cook for 4-5 minutes on medium flame. Add the milk and mix well ensuring no lumps form. Boil the sauce on medium high flame till it thickens. Add salt, pepper and oregano to taste. Add the cream and cheese and mix well. Once the cream mixes and cheese melts, remove from flame and set aside.
To make the pizza
To top the pizza, spread half the sauce on one base. Spread half the chopped spinach and drained artichoke hearts. Top with the cheese and sprinkle oregano or seasoning of your choice. Bake the pizza for 15-20 minutes or till the cheese melts. Remove and serve hot with some extra white sauce on the side.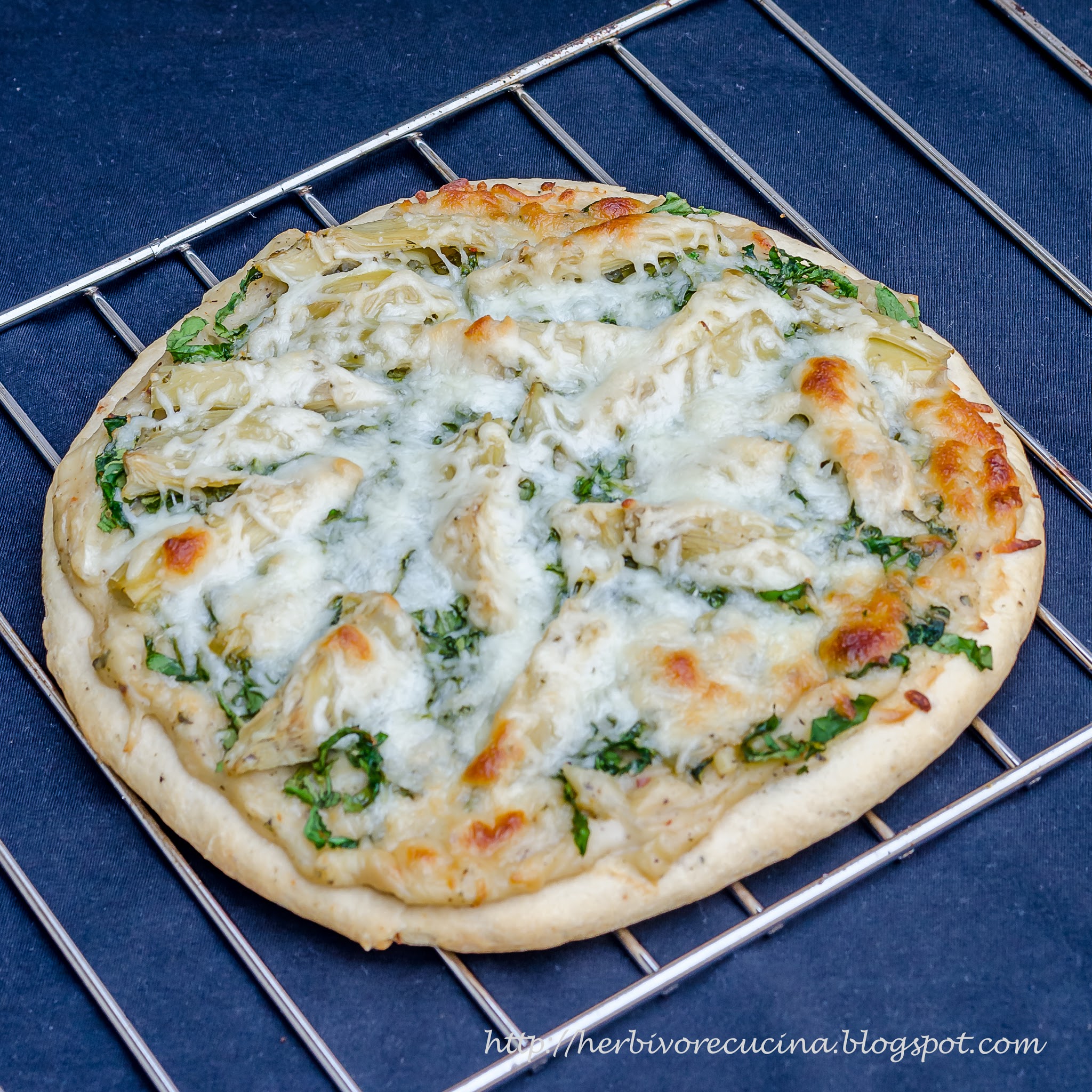 For the recipe of the traditional Spinach Artichoke Dip with Chips, head straight to this recipe.
For another exciting pizza recipe, try this Pav Bhaji Pizza!