Pav Bhaji, Mumbai's favorite street food is something that most of us love and enjoy having. A mixture of boiled and mashed vegetables, onion, pepper and tomatoes served with toasted bread and a side of onions and lemon. Whether it is a birthday party or dinner on weekends, this dish is amongst the first on the list to make at home or enjoy at a restaurant. So often we make pav bhaji for dinner and there is extra bhaji that is left for the next day. It happens so often to me. If pav is left too, I end up making Masala Pav or just having Pav Bhaji for lunch the following day. However, sometimes, the pav is over or everyone is bored to repeat the same meal for lunch.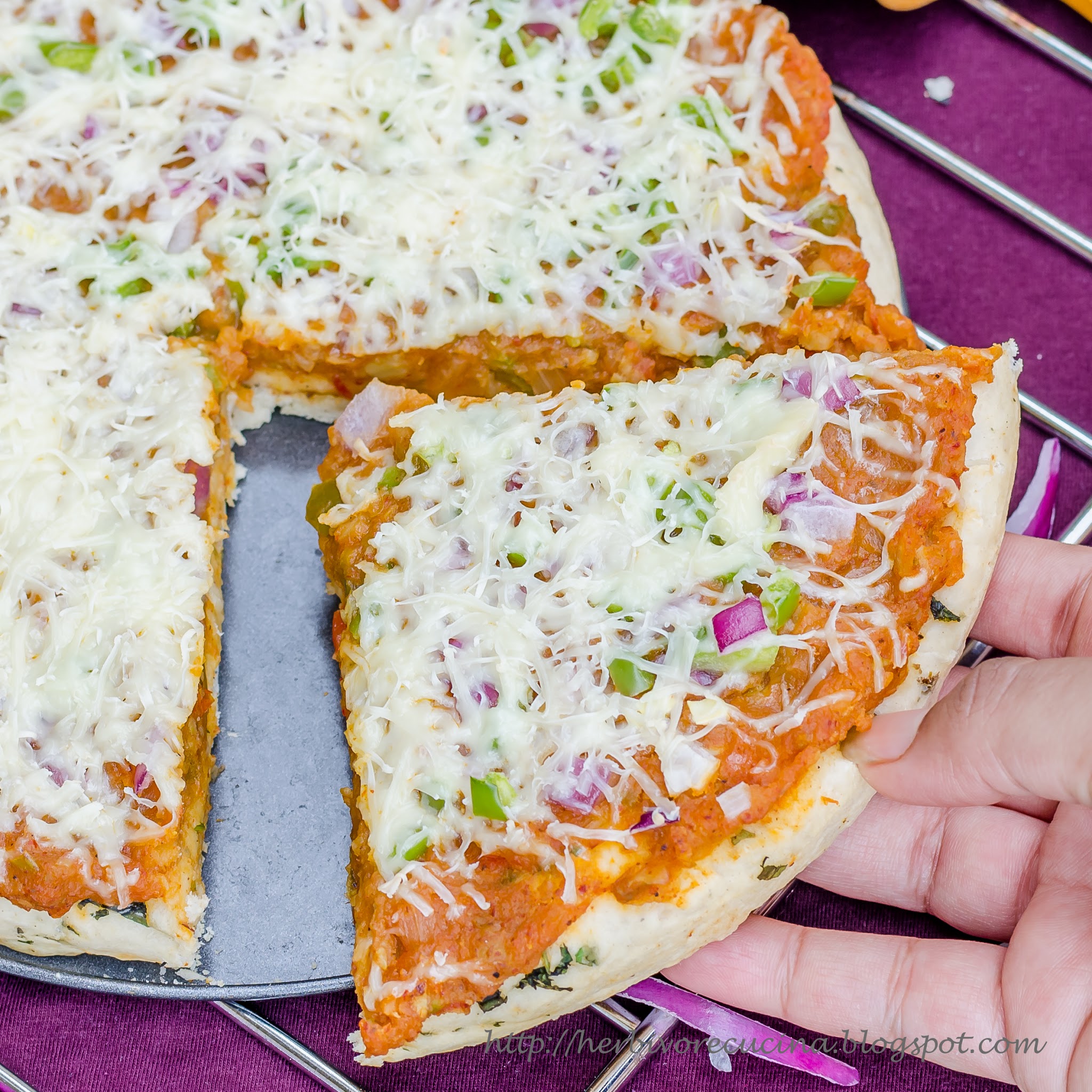 I was in this situation this weekend, I had leftover bhaji but no pav. Also, my refrigerator had a box of Amul Processed Cheese, a favorite from India. So I thought of making something that is interesting and tasty for lunch. So I got out the yeast, all purpose flour and few spices. The idea was to make a pizza base that had the flavors of pav bhaji, top it with bhaji, onions, green pepper, chopped cilantro and processed cheese and bake the pizza to get the same melted cheese as most restaurants serve back in India.
While making the dough, I added some chili garlic paste in it, along with some Pav Bhaji masala and chopped cilantro. This gives the dough the perfect taste of pav bhaji. It is a great way of getting Indian flavors in the base of the pizza that will soon be topped with bhaji and Indian cheese. Make a thick bhaji, top the base with it, add chopped onions, diced green pepper, chopped cilantro and a lot of processed cheese. Bake it well and enjoy with a side of soda. Enjoy this recipe with some garlic breadstick as well.




Ingredients
For the base
All purpose flour 3 cups
Rapid Rise yeast 1 packet (2 ¼ tsp)
Salt 1 ½ tsp
Sugar 1 tsp
Unsalted Butter 3 tbsp
Warm water 1 cup
Pav Bhaji masala 1 tsp
Chili Garlic paste 1 tsp
Cilantro
For the topping
Bhaji 1 cup
Onion ½
Green Pepper ½
Cilantro
Processed Cheese ½ cup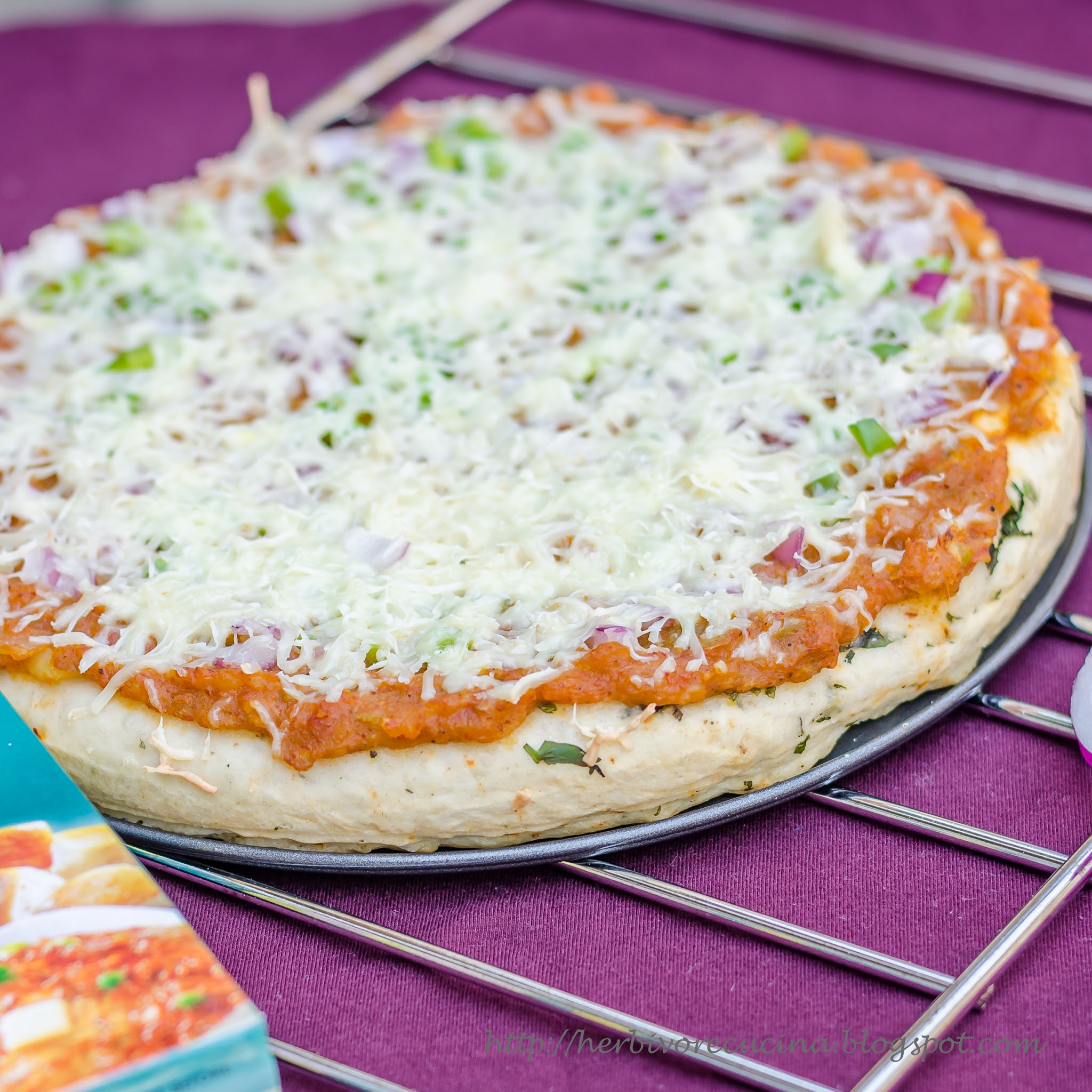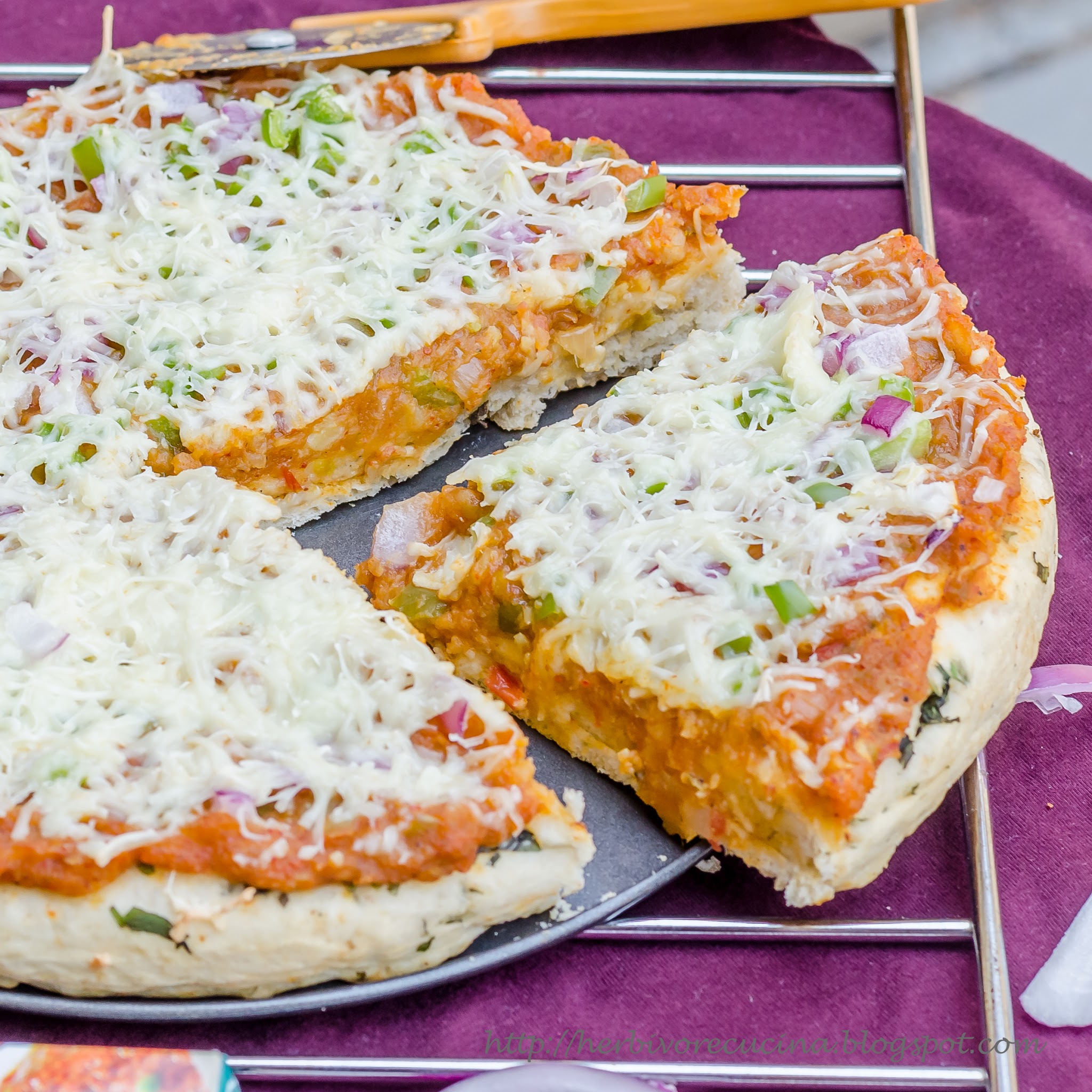 Method
Making the base
Heat a cup of water for 30-45 seconds in the microwave. Add a teaspoon of salt and a teaspoon of sugar and mix well. Add the yeast and give it a stir. Let the yeast stand in a warm place for 10-15 minutes till it becomes frothy. If the yeast refuses to bloom, there are a few reasons; either the water is too cold to activate it or the water is too hot and killed the yeast or that the yeast is too old. If that happens, discard the liquid and repeat with a fresh batch of water and yeast. Mix flour, remaining salt, chopped cilantro, chili garlic paste and pav bhaji masala in a large mixing bowl. Mix well. Melt the butter and pour it in the flour. And the activated yeast and form a soft dough. If more water is needed to bring the dough together, add it.
Knead the dough several times till a soft ball forms. Keep the formed dough in a bowl, apply little oil or butter on it and cover it. Let it rest for about thirty to forty five minutes. After that time, the dough becomes very soft and pliable. Make two parts of the dough and make small balls of each part. Take one ball, roll it out with a rolling pin or hand on a lightly floured surface. The base can be made of desired thickness and size. Let the base rest for another 20 minutes, covered with a wet kitchen towel.
Preheat oven to 380F / 200C. Spray cooking spray or oil on a pizza stone or pizza plate. Put the base on it and bake it for 5 minutes.
To make the pizza
In order to make the pizza, we need a cup of bhaji for pav bhaji. The bhaji required should be thick and not flowy. If your bhaji is flowy, the water will seep into the base and it will become soggy. So if your bhaji is not of the right consistency, heat it in a pan and keep stirring. The bhaji will become thick. Make sure the consistency is right to spread, just like peanut butter.
Remove one base and spread ½ cup of bhaji on it. Then sprinkle some diced onions and green pepper, add ¼ cup shredded cheese and sprinkle chopped cilantro on it. Place the pizza again in the oven at 350 F for 10-15 minutes, till the cheese melts and the base is brown from below. Repeat for the other base too. Remove from oven, and serve with a side of Garlic Breadsticks and Soda.