Vegetable Fried Rice..This is not Chinese, but close. Or maybe not even close! But we Indians have been eating this style of Indo-Chinese and are utterly, shamelessly biased about it. We do not care if that is the way the Chinese eat it too, but we relish every bit of this ever popular rice dish.
Whether it is served in elegant glassware in a five star hotel with remarkable garnish or in a scratched plastic plate with oil as a garnish by the roadside, all Indians go weak in the knees at the mention of fried rice. Here is a simple recipe that can be made at home, for packed lunch or for dinner. This dish can be paired with multiple main course dishes like Manchurian or tofu or paneer in flavored sauce or eaten just by itself! Also a dish that can help consume left over rice!!
Ingredients
2 cups white rice
2 tbsp. Oil
1 tsp. Chilli oil (optional)
½ cup chopped spring onion greens and white
¼ cup green pepper, diced
1 cup diced vegetables ( carrots, broccoli, french beans, cabbage)
2-3 cloves garlic, minced
Soy Sauce/Soy paste
Vinegar
Sriracha Garlic Sauce
Salt
Method
The rice for this recipe has to be dry and such that each grain is separate. Leftover rice work best for this delicacy. If you do not have leftover rice, cook two cups white rice in 2 cups water and a pinch of salt. Ensure that the rice is cooked a few hours before making the fried rice. Separate the rice grains in a plate and let them air dry and cool.
In a thick bottom wok/ wide saucepan, heat oil and chilli oil, put the garlic. Sauté the pepper and onion whites on high flame. Add the vegetables one by one in the following order, allowing a minute of cooking time between two vegetables: Broccoli, french beans, carrots, cabbage. Sauté for a couple of minutes, and add the rice. Mix well, add Soy Sauce, Vinegar and Garlic Sauce. Add salt as required and sauté for a minute or two.
Turn down the flame and add spring onion greens. To make spring onion curls: Slice spring onion into long thin slices. Put the slices in ice water and let it become firm for 5 10 minutes. Drain and garnish the rice. Serve with any main course dish like vegetables in soy sauce, tofu or manchurian.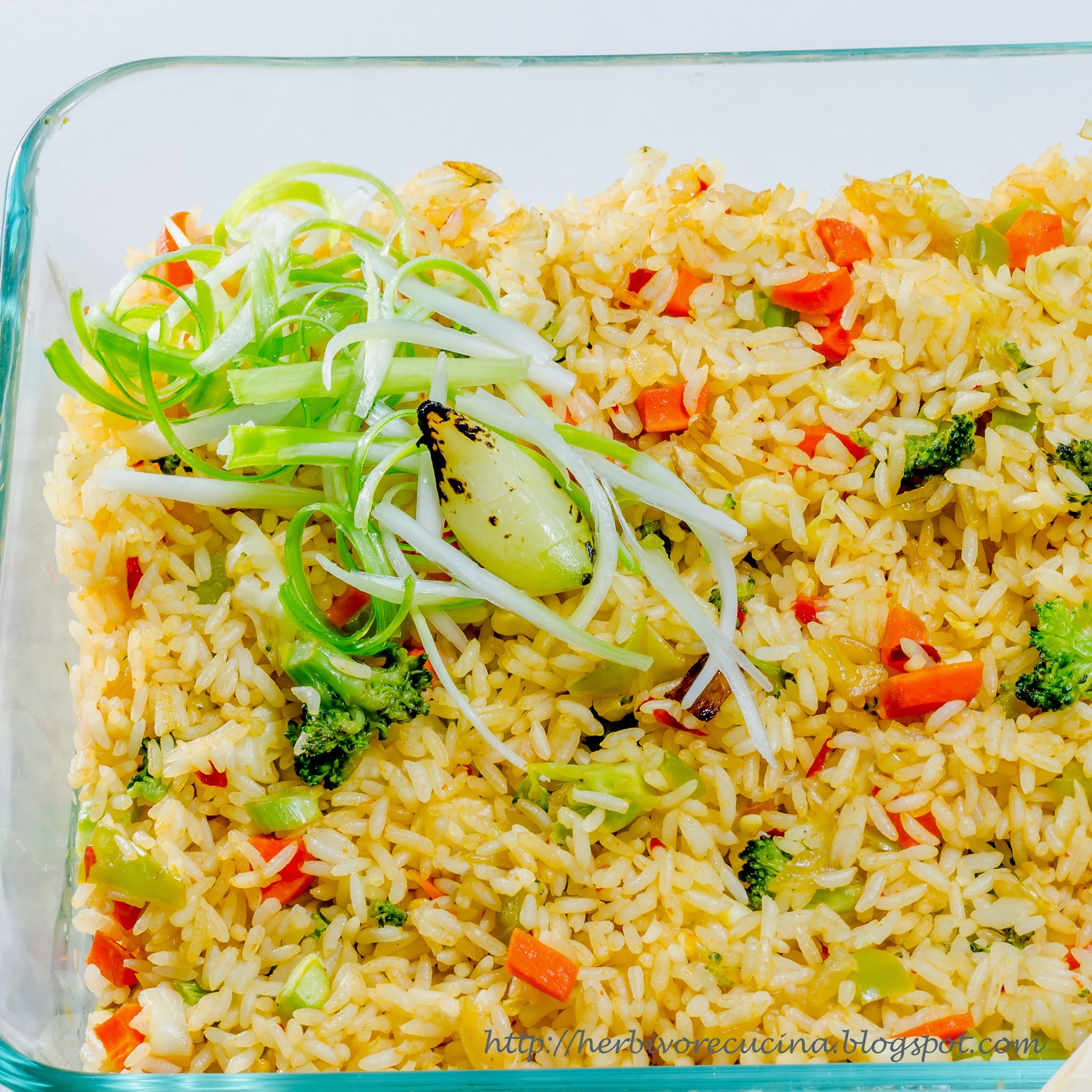 Try this vegetable fried rice with Tofu in Chilli Garlic Sauce or Babycorn Chilli. Another similar dish, Spicy Garlic Noodles recipe can be found here. Together, these dishes make a tasty Indo Chinese fare.