Tofu has a low calorie count and relatively large amounts of protein. It is high in iron and considered a healthy option to paneer. Eating tofu in India which used to be generally rubbery was not the most pleasant experience. But once I came to US and saw that the Asian stores sell six types of tofu, ranging from silken to extra firm, I thought of giving it another chance. And I am glad that it has replaced paneer in most of my Indo Chinese dishes!
This dish, Tofu in Hot Chilli Garlic Sauce is an adaption of Mumbai style Paneer in Chilli Sauce made healthy using tofu. A quick main course dish, it can be easily teamed with Fried Rice or Chilli Garlic noodles. Also, tofu can be replaced with anything of your choice, from cubed paneer to babycorn, asparagus or mixed vegetable balls.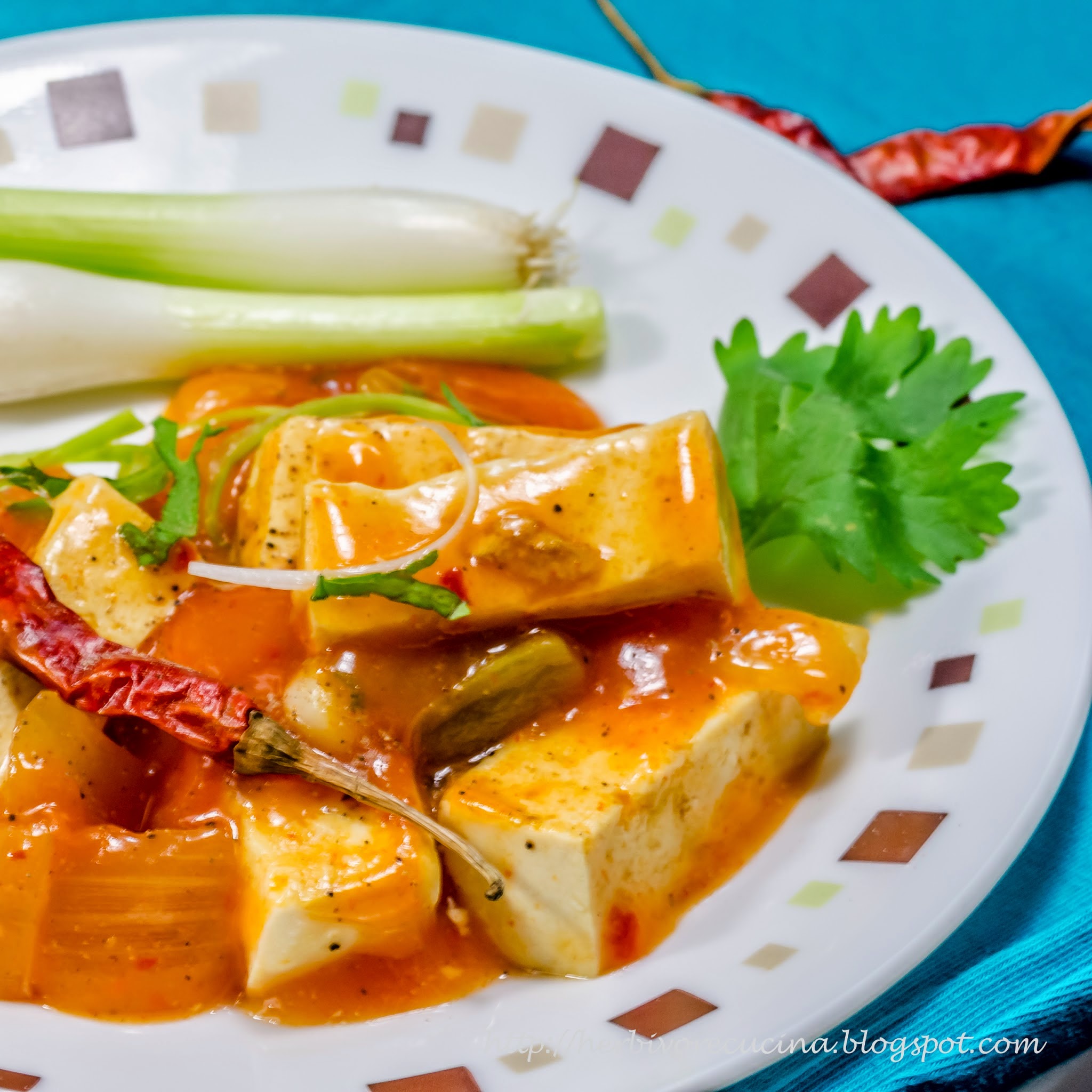 Ingredients
1 packet Firm or Extra Firm Tofu, diced
1 medium Onion, diced
1 medium Green Pepper, diced
3-4 cloves Garlic, minced
1 inch piece Ginger, minced
1-2 dry red Chilli
Spring Onions
Sauces(Soy, Chilli, Vinegar, Sriracha Garlic)
Corn starch
Salt, Pepper to taste
Cilantro
Chilli Oil
Vegetable Oil
Method
In a mixing bowl marinate tofu in a mixture of some garlic, half the ginger, sauces, salt and pepper. The proportions of sauces can be altered as per personal taste. Let the mixture stand for about half hour.
In a wok sauté garlic and ginger in vegetable oil mixed with chilli oil. Add the Onions, Pepper, dry chilli and sauté. Transfer the marinated tofu to the wok and gently mix, ensuring the tofu pieces do not break. Add some more Sriracha garlic sauce, salt, pepper and mix.
Dissolve 1-2 tsp. of Corn Starch in some cold water. Add the corn slurry to the wok and stir to ensure it does not stick to the bottom. Once the corn starch starts becoming transparent it is cooked. Adjust the water content to get the desired consistency of the sauce. Adjust the salt to taste. Turn off the gas and add chopped Spring Onions and Cilantro. Tofu in Chilli Garlic Sauce is ready!
Serve with Vegetable Fried Rice or Spicy Garlic Noodles to complete a delicious Indo-Chinese meal at home!!