Indo-Chinese is by far my favorite cuisine. In India we used to go to restaurants that serve this cuisine very often. From Dynasty in Mumbai to Mainland China, China Gate and Global Fusion, every restaurant was on my list of favorites. And even at home, I would demand that my mother make Chinese so often. Moving to the US, I still miss the Indo-Chinese food from Mumbai and that is probably the thing I crave the most! So here in the Bay Area there is Inchin Bamboo Garden and Red Hot Chili Pepper that serve Indo-Chinese food thats pretty close to the stuff from India. But getting reservation at both these places is in itself a great challenge. So in order to satisfy my cravings for this cuisine, I choose to make it at home, pretty often.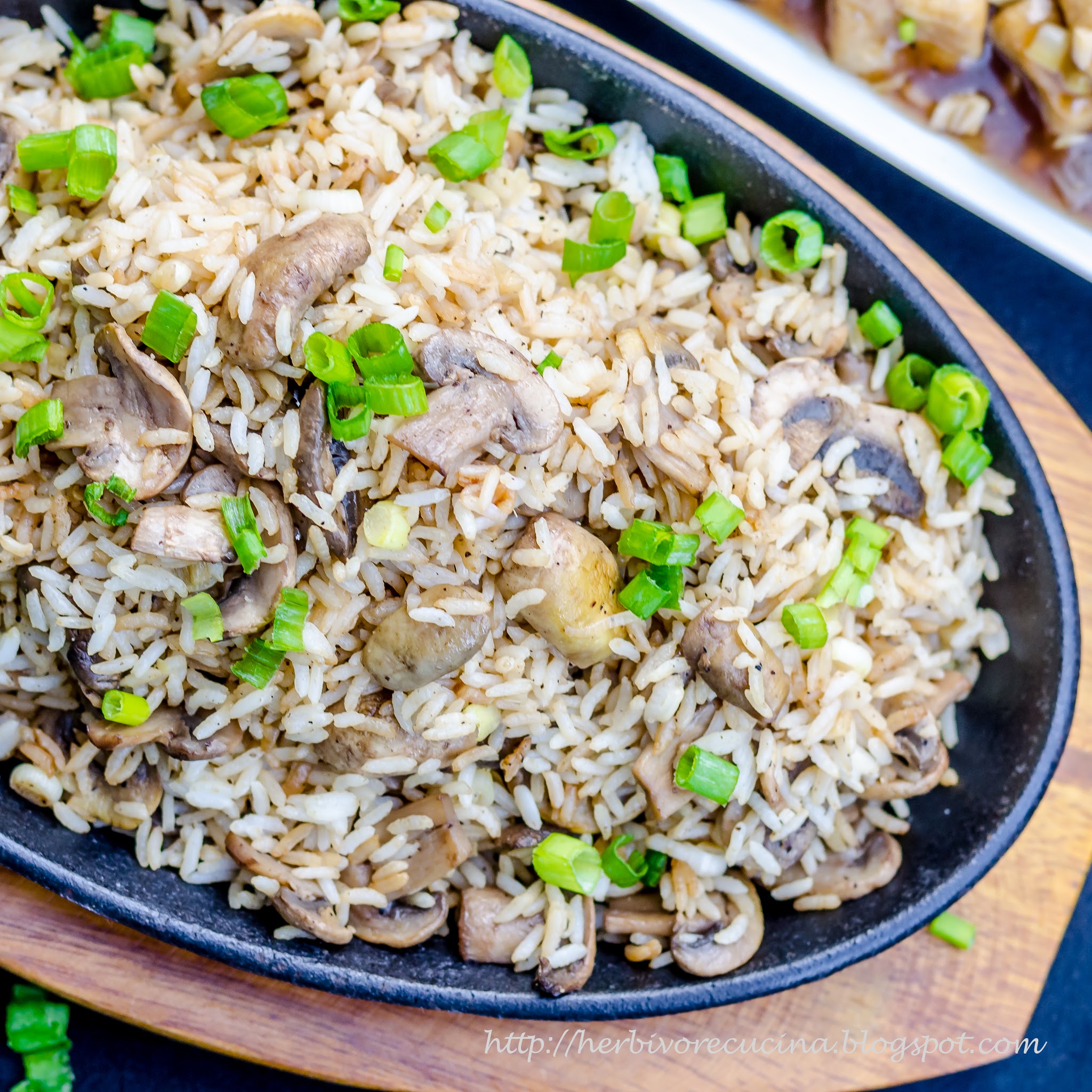 Last week I was thinking of making something tasty for dinner. A quick look inside my refrigerator revealed I have a few vegetables, but also a big box full of button mushrooms. Nice white and fresh just wanting to be used up! And I also happened to have a bag of fried tofu. So I pulled out the mushrooms, tofu, garlic and other things like spring onions and onions. Sat down to think what I can whip up with these ingredients.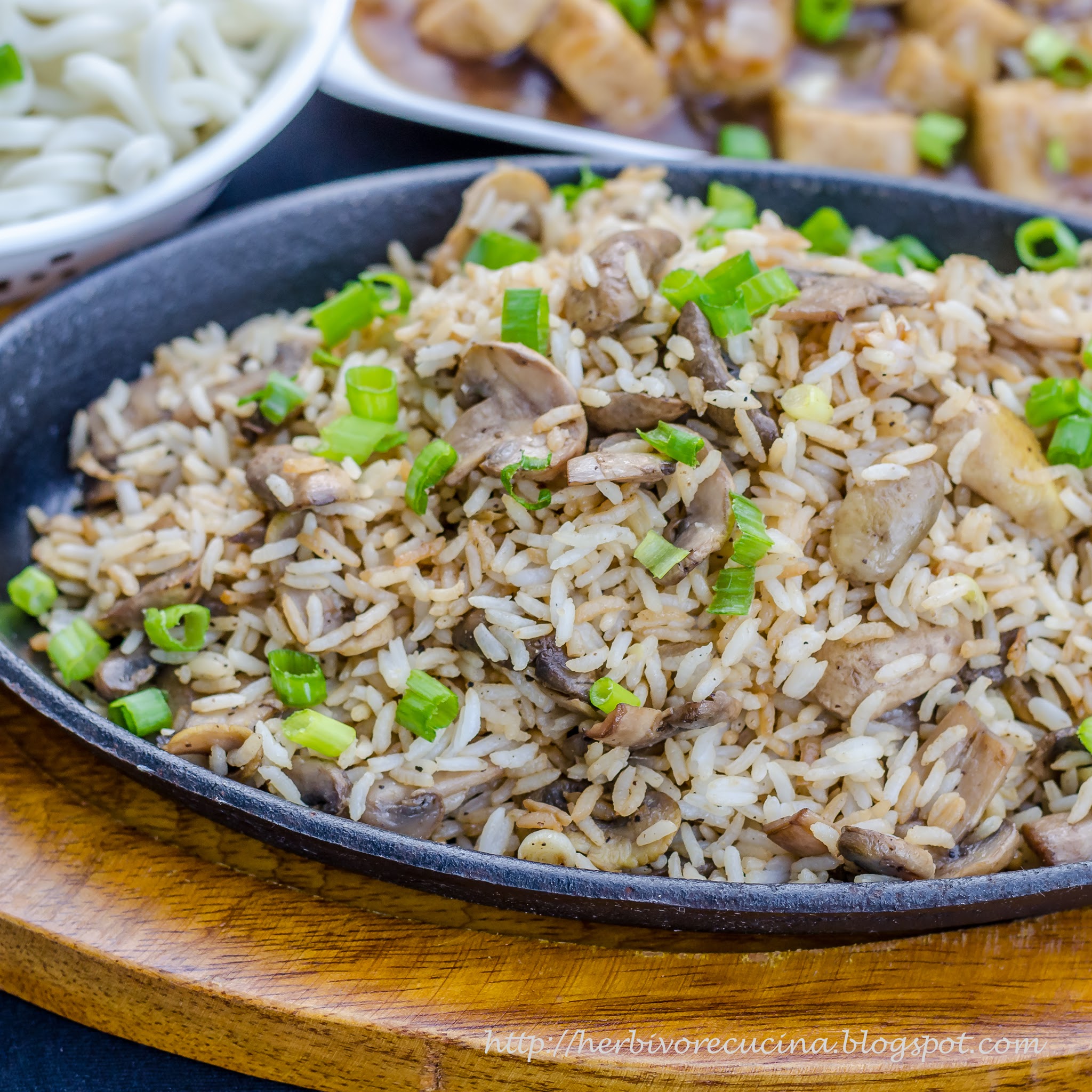 A short time later I had made up my mind, Mushroom Fried Rice, Thick noodles sauteed in Chili Oil and Fried Tofu in Manchurian Sauce. Simple recipes, few ingredients and it does not take too much time too. Here is the recipe for Mushroom Fried Rice, and the recipe for the tofu dish will come up shortly.
So back to the dish in discussion here, Mushroom Fried Rice is a substitute to the the traditional Vegetable Fried Rice or Schezwan Fried Rice. The flavors I used in this rice is more towards black pepper rather than using hot sauce or szechuan sauce to spice things up. The mushrooms are first sauteed in salt and pepper and then the rice is added. Adjust the seasonings, garnish with spring onions, and you have a plate full of goodness! Read on to find out how.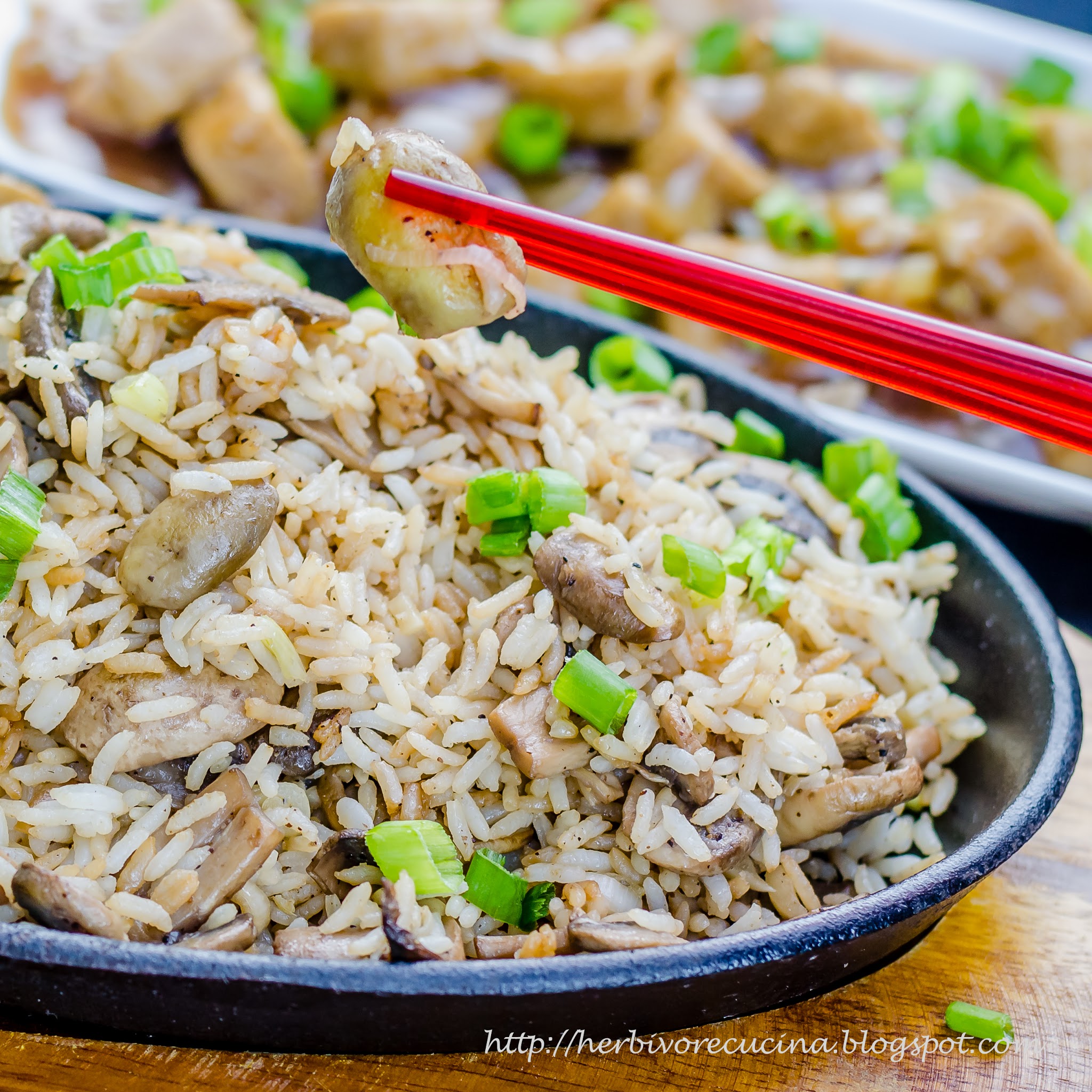 Ingredients
White rice 2 cups
Button Mushrooms 1 cup
Onion ½ cup
Garlic 2-3 cloves
Spring onion greens and white ¼ cup
Oil 2 tbsp
Chilli oil 1 tsp (optional)
Soy Sauce 2 tbsp
Vinegar 1 tsp
Salt, Pepper
Chinese five spice
Method
Wash and cook two cups rice (can be substituted with brown rice) in 3 cups water and a pinch of salt. Let the rice rest while you prepare for the dish. If you cook the rice at least a couple of hours before making it, it would be great. Wash and slice the mushrooms. Dice onions and mince garlic. Chop the spring onion greens and whites separately.
In a thick bottom wok/wide saucepan, heat oil and chilli oil, put the garlic. Sauté till the raw flavor vanishes. Next add the onion and mix well. In a couple of minutes add the spring onion whites and cook them on high flame for a minute or two. Add the salt, 1 teaspoon pepper and 1 teaspoon chinese five spice. Give it a stir and add the sliced mushrooms. Sauté for a couple of minutes and you will see that the mushroom sweats quite a bit. Keep stirring and cooking on high flame till the mushrooms are soft and the water evaporates. Add the rice, mix well and add Soy Sauce and Vinegar. Adjust salt and pepper as required and sauté for a minute or two. Turn down the flame.
Top with spring onion greens and serve with your choice of tofu or vegetable side dish. Tofu in Chili Garlic Sauce tastes very good with this rice. If you like you can also serve it with Vegetable Coins in Hot Garlic Sauce. For a sweet and spicy side dish, try this Spicy Orange Tofu. For other Indo-Chinese dishes, click here.