When you move from India to USA you probably learn very soon that paneer is a rare commodity and it is replaced by tofu in almost all cases. From Indian cuisine to Chinese, you will see tofu everywhere. Apart from that, a simple stroll in any Asian Market will make you think of tofu in an absolutely different way. From that one standard packet of tofu that you get in India, you can actually get confused which tofu to buy here. From the extra firm to firm, medium, soft and finally silken. Plus there is bean curd sheets, pods and tofu knots. I sometimes find myself standing in front of the frozen aisle staring at all the tofu packets. This recipe is for a little different type of tofu, the deep fried tofu pods.
Tofu puffs (tow-hu tawt in Thai) are deep-fried cubed or triangle-cut pieces of bean curd found in Asian supermarkets in the refrigerated section. Other names include bean kow. Deep-frying makes the tofu very chewy and absorbent, making them a perfect ingredient in stews. Light and spongy with hollow centers tofu puffs are also ideal for stuffing. I first tasted these amazing cubes at a Mongolian Hot Pot place and started buying them very often from the supermarket.
The only recipes I have seen from these pods is either in the form of stews and soups or as an appetizer, being stuffed with a variety of things ranging from mushroom to chili garlic sauce to minced vegetables. I had a big bag of tofu pods that were pretty small in size. So instead of stuffing and making an appetizer, I decided to try these pods with an Indo-Chinese sauce, manchurian sauce.
The combination turned out amazing, the crunchiness of the fried pods, the spice of the thai chilli and the strong garlic flavors. And the best thing about this recipe was that it comes together so quickly. I was in a mood to try non conventional items that day, and so I made a big batch of Mushroom Fried Rice and Chili Paneer Noodles to go with it. For appetizer, I made these totally indulgent Crispy Thread Paneer, logs of paneer wrapped with kataifi and fried to make perfect finger food.
Ingredients
Tofu puffs 3 cups
Garlic 5-6 pods
Ginger ½ inch grated
Green Chili 2-3 (adjust quantity to taste)
Spring Onion white and greens ½ cup
Cornstarch 3-4 tbsp
Vinegar ½ tsp
Soy Sauce 1 tbsp
Oil 1 tbsp
Chili Oil ¼ tbsp
Chinese Salt, Salt, pepper
Method
In a pan, add oil and chili oil. The amount of chili oil will depend on how spicy you like the gravy. Add finely diced garlic, grated ginger and some minced green chili. Once the garlic loses its raw flavor, add the spring onion whites and mix well. Let the onions become soft, and then add some chinese salt and pepper. Add all the tofu puffs and ½ cup water. Cover and simmer for 5-7 minutes till the water is absorbed by the tofu puffs. The puffs are such that they will absorb the garlic and chili flavor too, along with the water.
In a bowl mix together cornstarch, ½ cup water, soy sauce and vinegar. Make a homogeneous mixture, and pour it on the onions and tofu puffs. Keep stirring so that the corn starch does not stick to the bottom of the pan. Also ensure the flame is medium to medium low. Keep stirring the gravy till it becomes glossy and deepens in color. Check the salt and spice. Adjust the salt, pepper and vinegar.
For serving, garnish with the spring onion greens. Enjoy with Vegetable Fried Rice or Chili garlic Noodles. If you want to break away from the regular rice recipes, try this Mushroom Fried Rice. It is absolutely yummy!! And this Paneer Chili Noodles are equally great!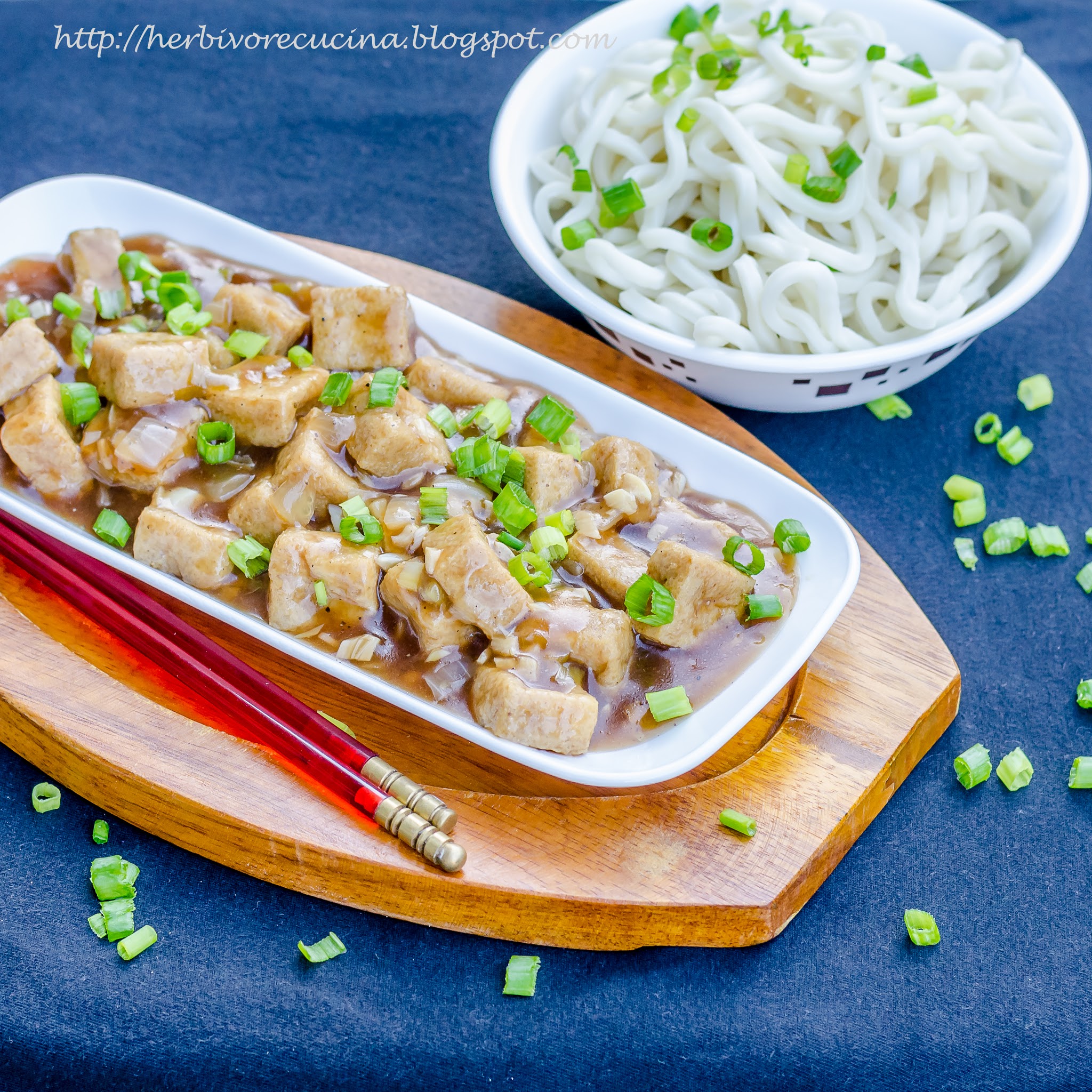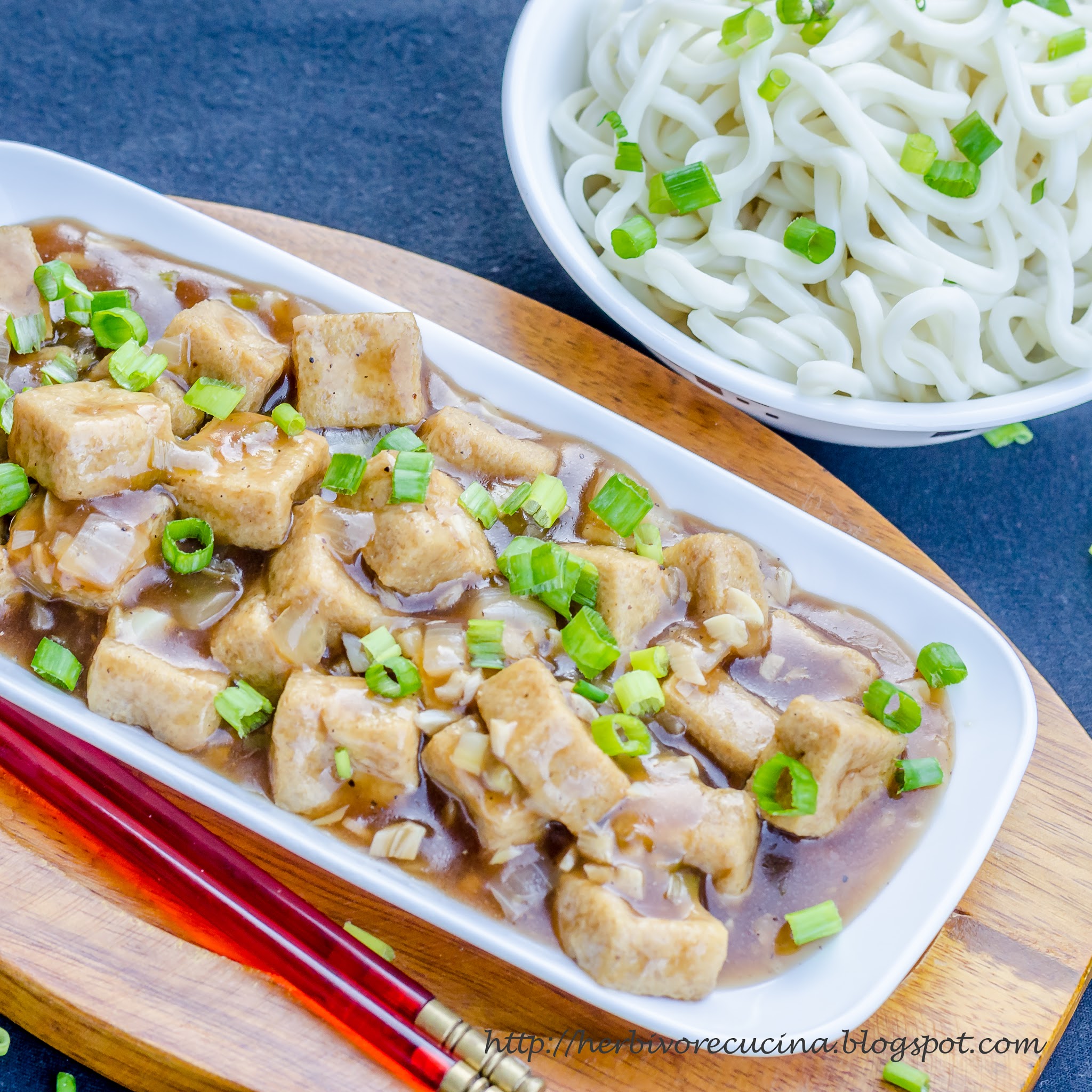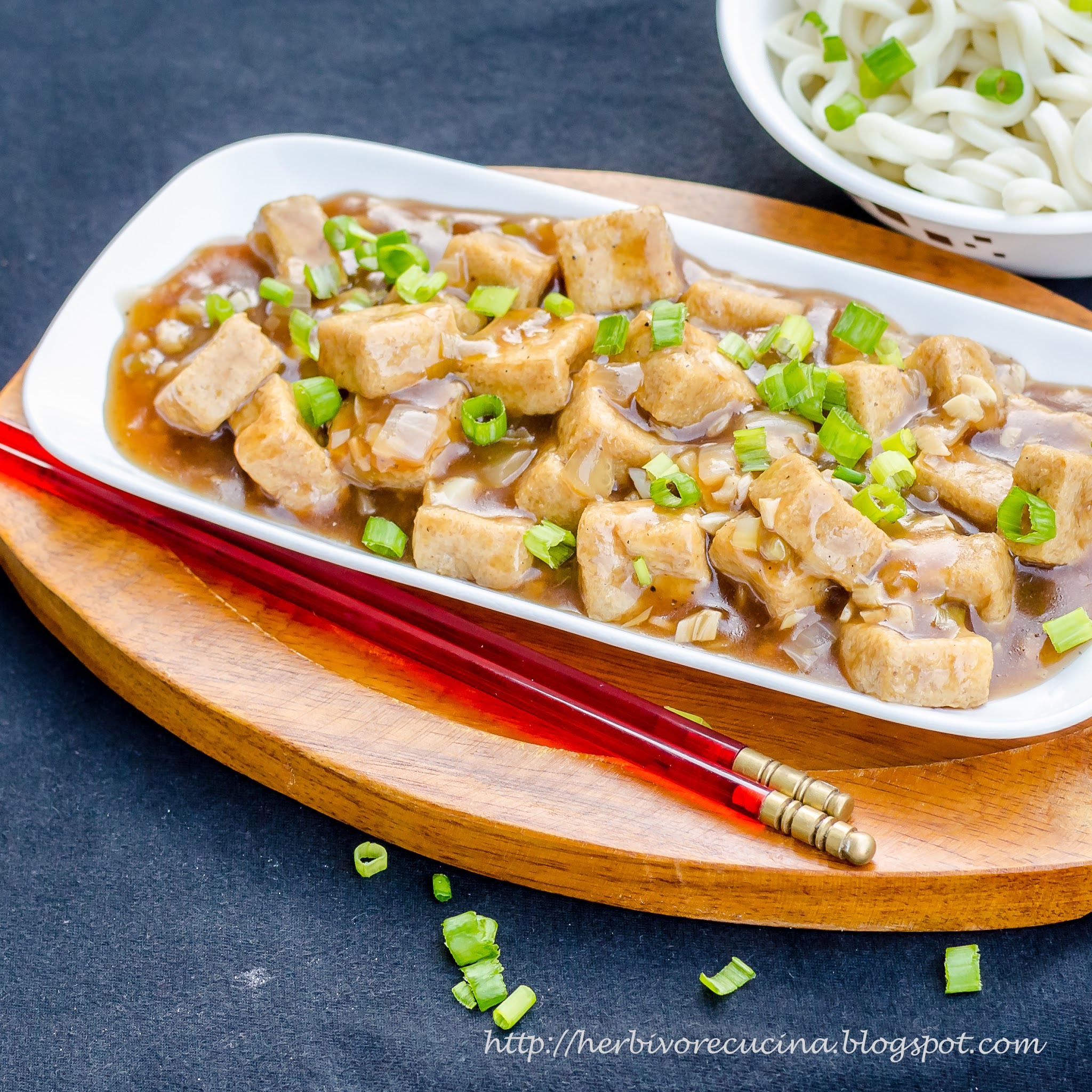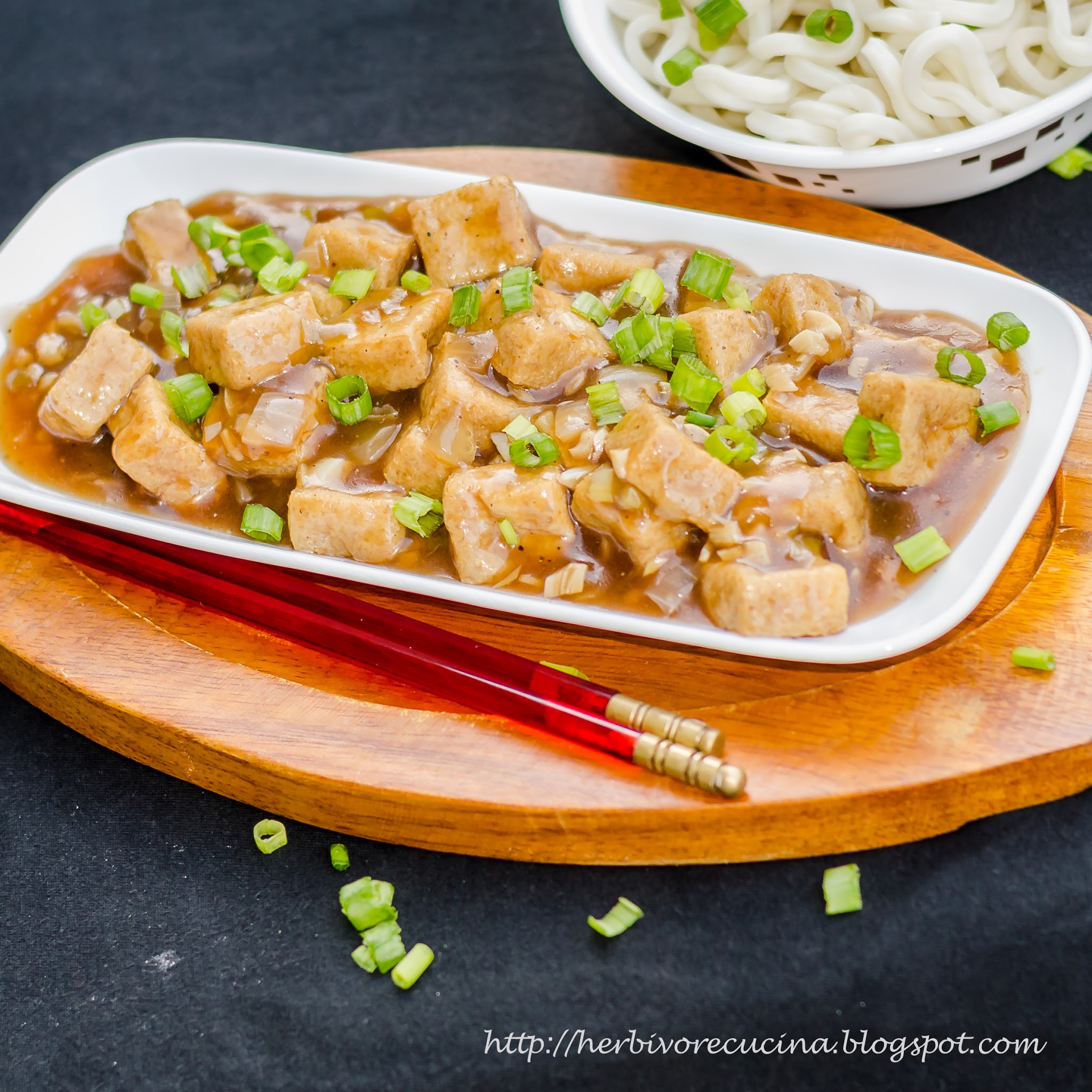 For many other Indo-Chinese recipes, click here.