Chakli is a savory snack originating in India. It is a spiral shaped, pretzel-like snack with a spiked surface. Chakli is typically made from flours of rice, bengal gram (chickpea) and black gram (udad dal). It has several variations, depending on the types and proportion of flours used. Murukku, a similar snack typically made without the bengal gram flour, is also sometimes called chakli. Whenever I make a list of Indian snacks and sweets for Diwali, Chakli is probably at the top of the list. It is also on my list of snacks to bring to the US on every trip to India and on my shopping list for the Indian store. Such is my love for these cute rounds of rice flour.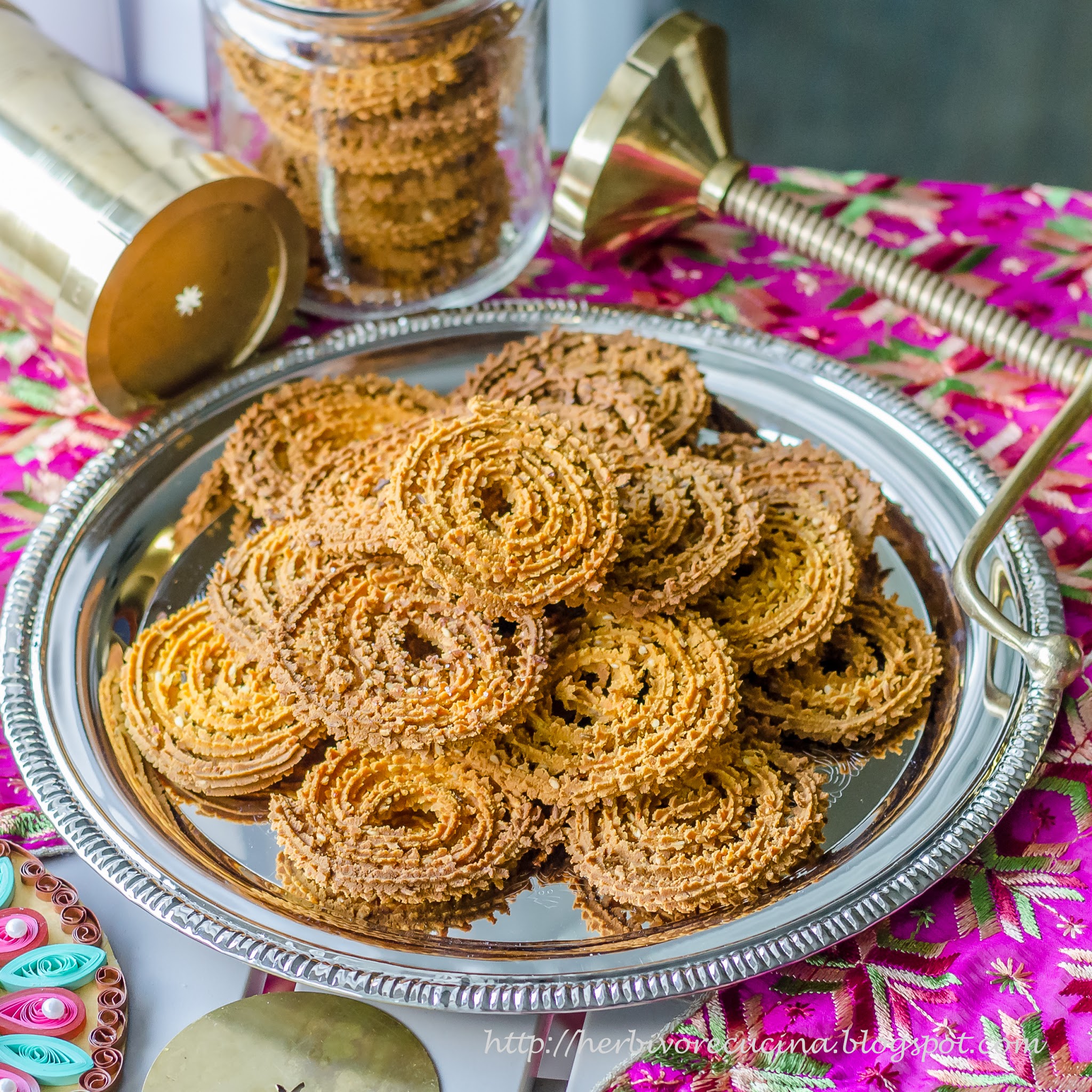 The only thing I probably dislike about chakli is that it is fried! The amount of oil that is required to make them and the amount of oil that is consumed in each disc is probably too much. So as a healthy alternative, I decided to bake these beauties. I started with rice flour, yogurt, butter and spices. Then I added some besan to get the crunch and to absorb the extra moisture out of the flour.
I made these baked chaklis with just a couple of spices and some sesame seeds and cumin seeds. If you like, you can also add a teaspoon of green chili and garlic paste to enhance the flavor. Also, being an ardent fan of Amul butter, I made these chaklis with 3 tablespoon of butter (compromised a little on the calories here!). However, it can be replaced with ghee if you prefer that.
The same recipe can be used to prepare fried chakli too. Make the flour mixture as per the steps below. Heat oil in a broad pan and using the flower design in a chakli press, drop the rounds of flour directly in the oil. Ensure that the temperature is not too high or too low else the chakli will not be crisp as desired!


Ingredients
Rice Flour 2 cup
Besan 2 tbsp
Yogurt ¾ cup
Butter/ Ghee 2-3 tbsp
Sesame seeds 3 tbsp
Cumin seeds 3 tbsp
Red Chili Powder 2 tbsp
Turmeric powder 1 tsp
Salt 1 tbsp
Sugar a pinch
Warm water 1 cup
Method
Mix the flour and besan with all the other dry ingredients in a large mixing bowl. Add the butter or ghee and make a crumbly mixture. Add yogurt, mix well and then add water as required to make a soft dough. Knead the dough well and make it smooth. Cover the dough and let it rest for 20-30 minutes.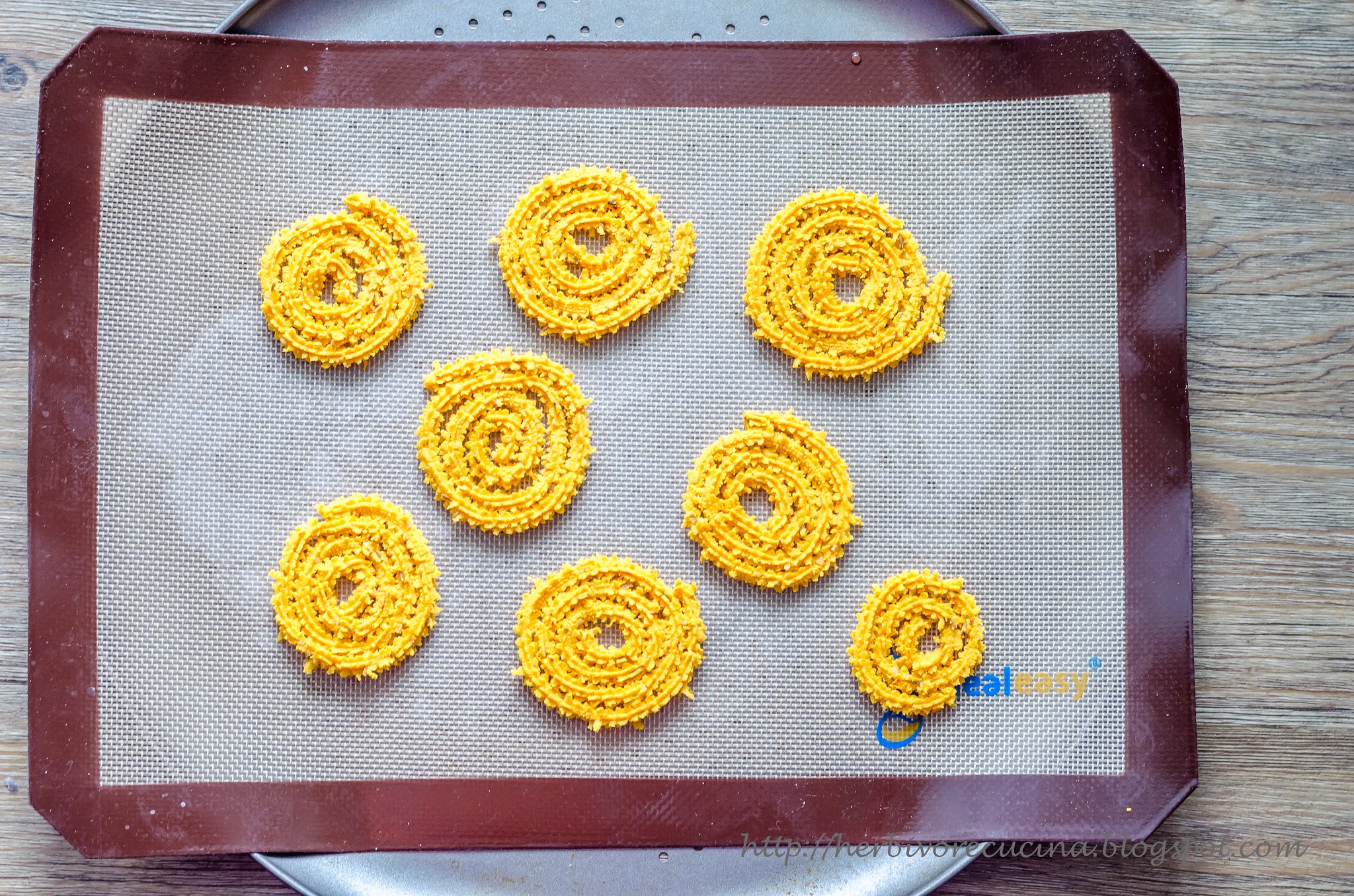 Preheat oven to 375 F/ 200 C. Knead the dough again and divide into 3 parts. Put one ball in the chakli press and using a star jaali, make round chaklis on a baking mat. If you do not have a baking mat, line a piece of aluminium foil with oil and spread it on a baking tray. Leave a little space between the chaklis. Bake for 12-14 minutes and turn them over. Bake for another 10-12 minutes till the top is golden brown.
Remove the chaklis once done and let them cool on a cooling rack. Store in air-tight container and enjoy with a cup of Masala Chai. Serve them as a Diwali snack and surprise all your guests with this low calorie snack!