Can you all imagine that Diwali is around the corner! Like, really. Were not we celebrating Ganesha just a few days ago? This realization has led me to start thinking of what all I want to include in my Diwali menu this year. Every year I like to make something for everyone around me depending on their choice.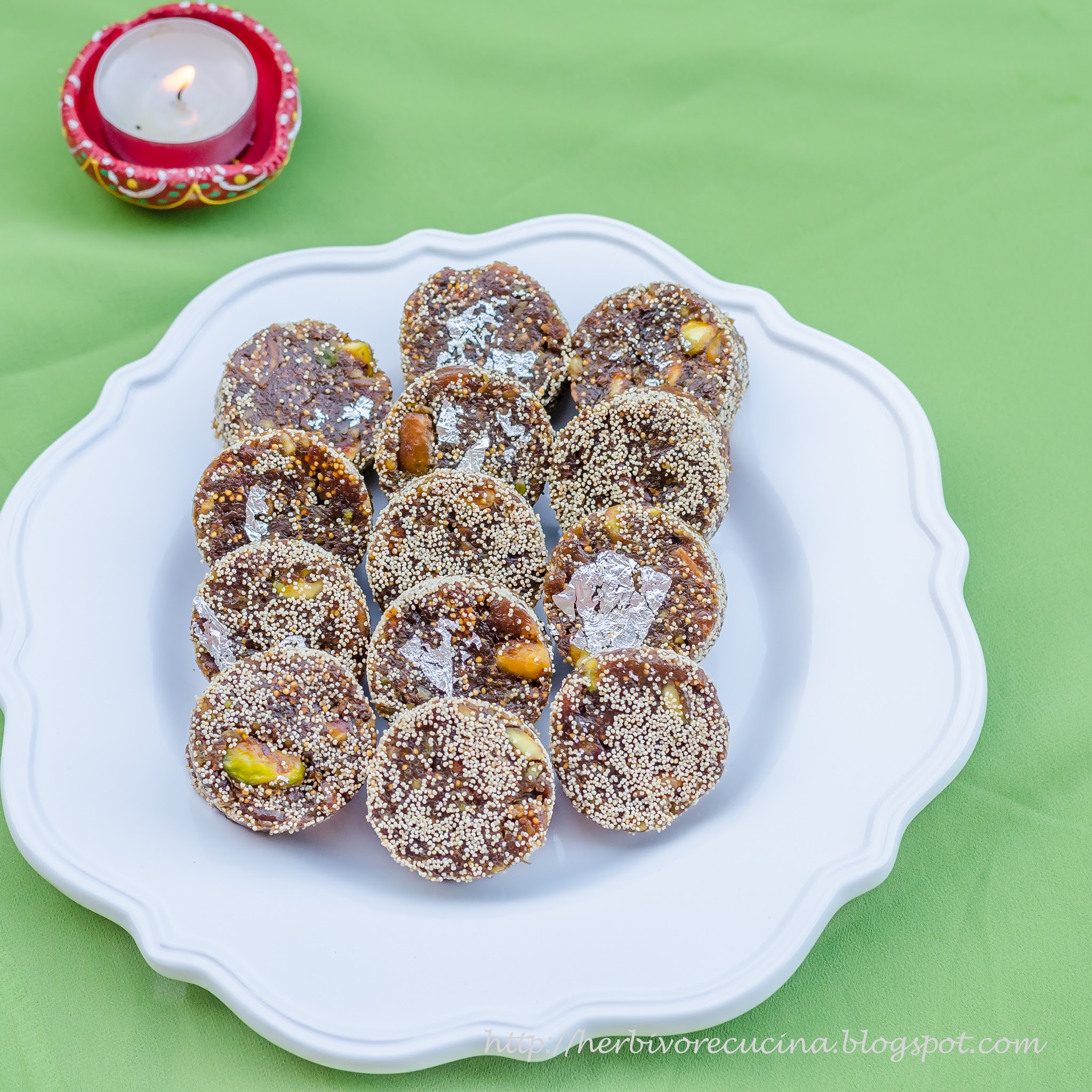 Over the years a few of my loved ones have started avoiding sweets with sugar. It is the right thing to do during festive season. We are almost always bombarded with sweets that have a lot of sugar from friends and family and it is rude to turn them down and too much for us to consume! Those are the times when we wish we probably should have fewer relatives, or at least few of these pushy ones!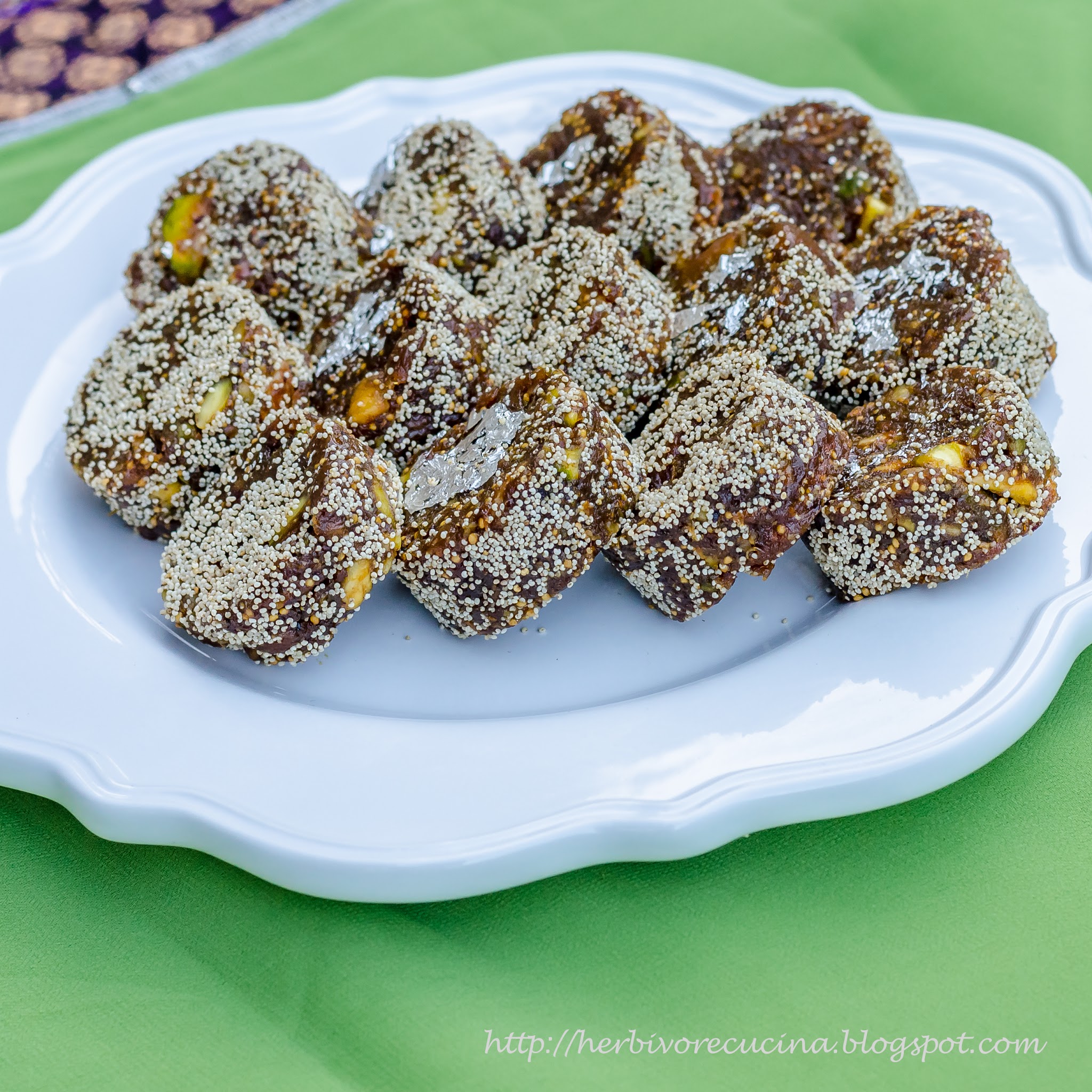 Now turn the discussion around to put yourself in the relatives place and them in your shoes. It pains me to think that a dear one turns down my request to have a sweet that I took so much pain to make just because it has too much sugar. So to overcome that problem, I thought of making this sugarless sweet for Diwali this year.
Yes you read it right, this sweet has zero added sugar, it only has the natural sweetness from figs/anjeer. The addition of dry fruits and poppy seeds gives it a great texture and the greatest advantage besides the sugar is that it is made just TWO TEASPOONS of ghee!! Yes that is all you need to make this sweet. So finally you can make your friends and relatives smile when see a plate full of these rolls and enjoy them without guilt too! Read on to find out how. Do leave your thoughts and comments at the end of the recipe.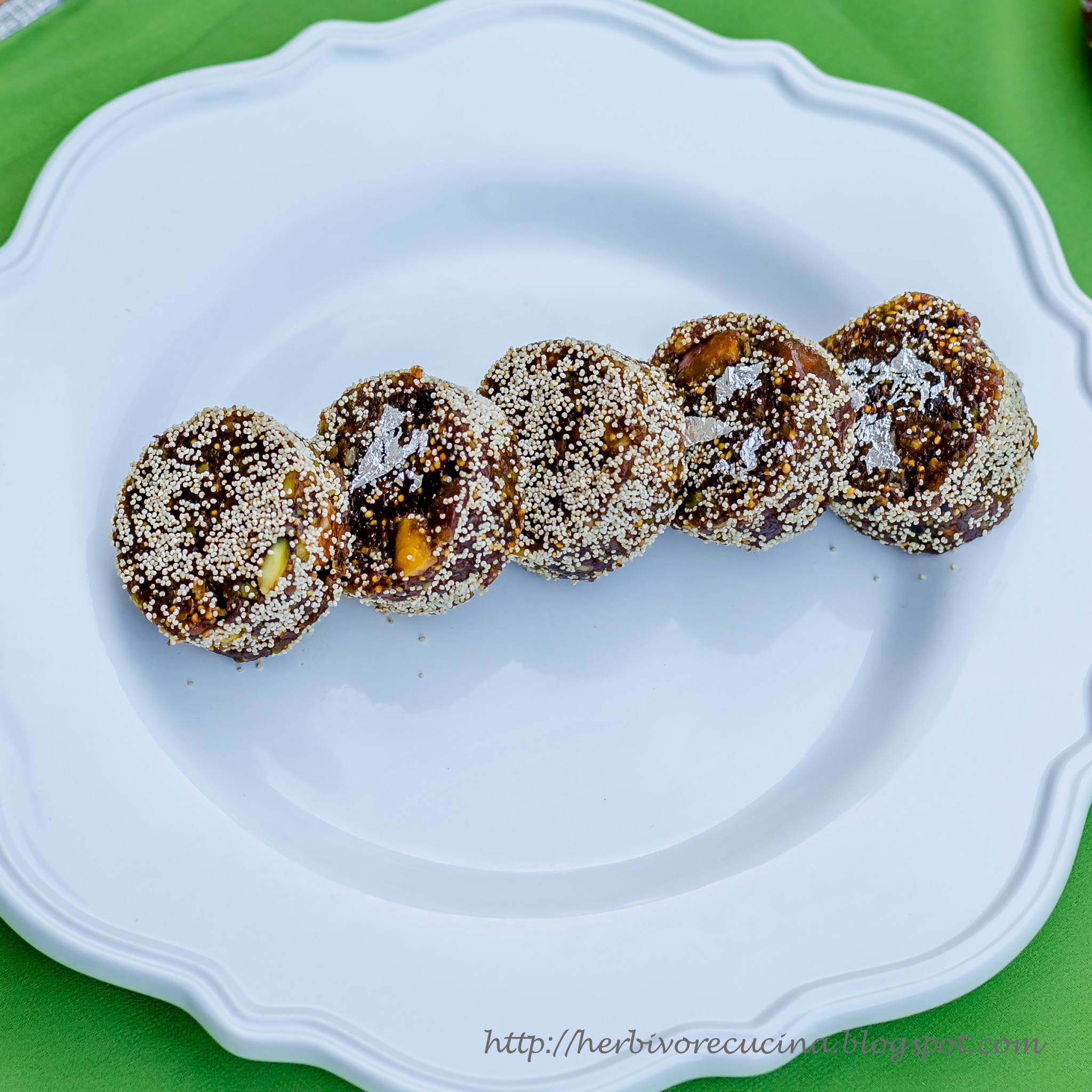 Ingredients
Anjeer/ Dried figs 2 cups
Almonds ¼ cup
Cashewnuts ¼ cup
Pistachios ¼ cup
Poppy seeds 2 tbsp
Ghee 2 tsp
Edible silver varak (optional)
Method
Soak the dried figs in warm water for 15-20 minutes. Once soft, blend to a coarse paste in a food processor. Set aside. Roughly chop almonds, cashew and pistachios. Dry roast them in a pan till fragrant but not changing color. Set aside and roast poppy seeds in the pan for a minute, and add them to the nuts. Once cool, pulse the nuts and poppy seeds to a coarse mixture. You can choose how coarse you want the nuts to be.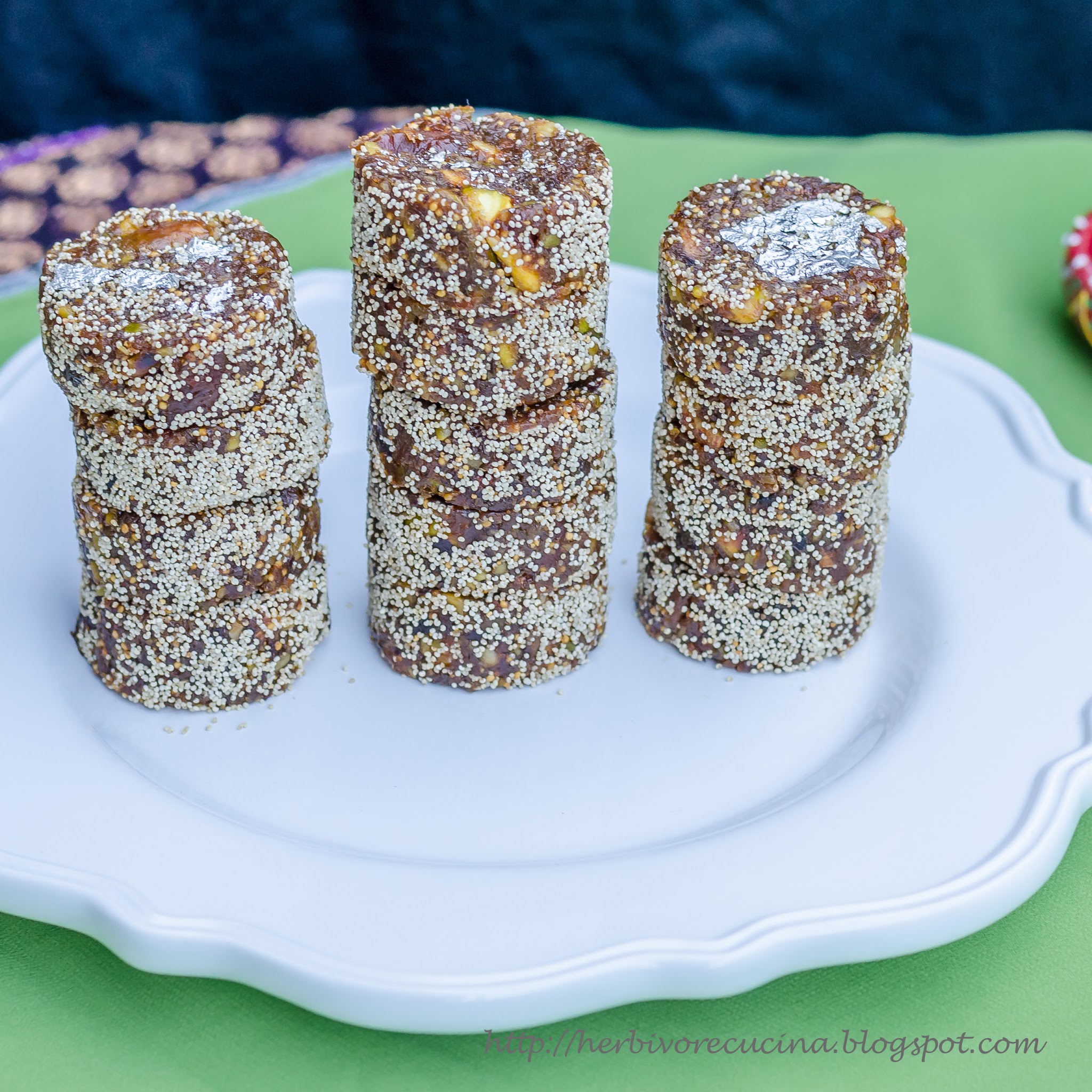 In the same pan, heat ghee and add the anjeer paste and the poppy seed and nuts. On medium heat cook till it all forms a thick mass. Do not leave the mixture unattended else it might burn. After about 5-7 minutes when the mixture comes together. Shut off the gas and let the mixture cool till it can be handled with bare hands.
The shape of the final product completely depends on you. If you want cubes, pour the mixture in a greased tray and once little cool, cut them to squares. If you want balls, take 1 tbsp. of the mixture, shape it like a ball with greased hands and coat it in poppy seeds. I made rolls out of the mixture. To do so, divide the mixture into two parts and form a roll out of each part. Press the roll into a plate filled with roasted poppy seeds and refrigerate for 10-15 minutes. Remove and slice them with a sharp knife into discs of 1 cm thickness. Add some silver varak if desired. Tasty and sugar-less sweets are ready!
If you prefer to make the same out of dates, see this recipe here: Sugar-free dates modaks.