To welcome the Elephant God, this Ganesh Chaturthi I thought of making some tasty modak, different from the regular ones that are made from coconut and rice flour. Also, I needed something quick and simple that would not require a mould.
Finally I narrowed down to these sugar-free dumplings, made from dry-fruits and has the sweetness from raisins and dates. This sweet can be made in any form, cubes of dates and dry-fruits, balls coated with poppy seeds or like I have done; modaks without a mould!! The recipe is enough to make 20 modaks and is a quick one, taking just about half an hour.
Ingredients
Dried Seedless Dates 2 cups
Raisins ¼ cup
Almonds ¼ cup
Cashewnuts ¼ cup
Pistachios ¼ cup
Poppy seeds 2 tbsp
Ghee 2 tsp
Method
Roughly chop almonds, cashew and pistachios. Dry roast them in a pan, one after the other for about 2-3 minutes each. Remove from pan and allow them to cool. Roast poppy seeds in the same pan for a minute, and add them to the nuts. Once cool, pulse the nuts and poppy seeds to a coarse mixture. You can choose how coarse you want the nuts to be.
In the same pan, heat ghee and add the chopped dates and raisins. On medium heat cook them together till they form a thick mass. Do not leave the mixture unattended else it might burn. After about 5-7 minutes when the mixture comes together, remove from heat and cool. Whip this in a food processor or blender to a coarse paste.
Transfer the dates raisins mixture to the pan and add the crushed nuts. On medium flame homogenize the mixture till it all comes together to form a thick mass. This should take about 10 minutes. Shut off the gas and let the mixture cool till it can be handled with bare hands.
The shape of the final product completely depends on you. If you want cubes, pour the mixture in a greased tray and once little cool, cut them to squares. If you want balls, take 1 tbsp. of the mixture, shape it like a ball with greased hands and coat it in poppy seeds. I made modaks by scooping 1 tbsp. of the mixture and shaping it with my hands.
Tasty and sugar-less sweets are ready!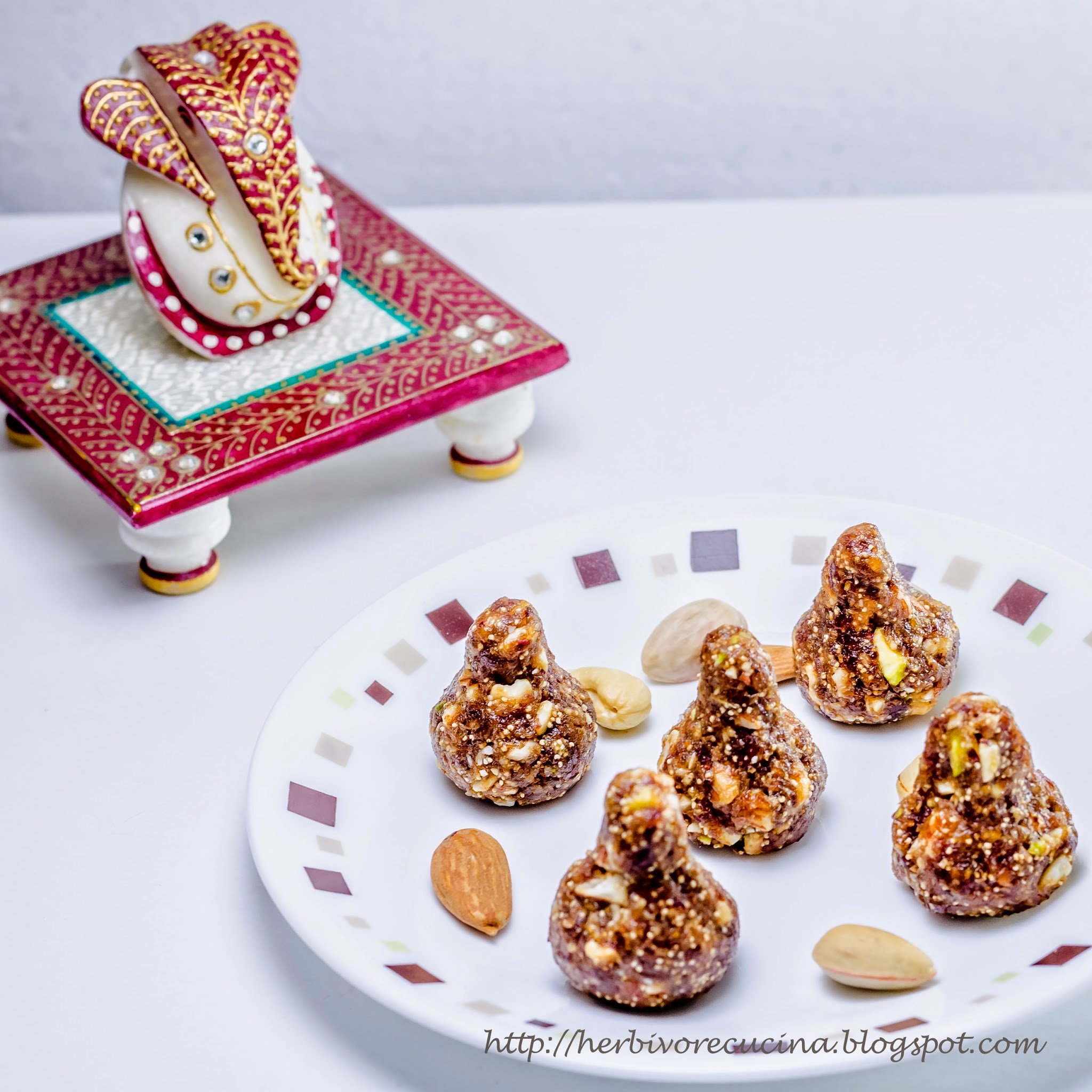 Ganpati Bappa Morya!!
Also try the Sweet Vermicelli for offering to Lord Ganesha.