This is a sponsored post on behalf of iHerb and I have been compensated. All opinions are 100% my own.
An easy one pot weeknight meal; this Thai Curry Noodle recipe in the Instant Pot comes together in under 30 minutes and is addictive!


Some of the links below are affiliate links, meaning, at no extra cost to you, I will earn a commission if you click through and make a purchase.
Thai cuisine is one of our favorites to order at restaurants and to make at home. Bold flavors of curry paste, creaminess of coconut milk and colors from the vegetables added; Thai cuisine goes a long way in terms of flavor and taste.
While making traditional Thai dishes is always a great idea, there are times I want to make one pot meals that have all the elements of the cuisine. This Thai Curry noodles is one such dish.
Video Recipe
Instead of making Thai Curry and Noodles separate; I add everything in one pot, making a creamy recipe that has noodles, curry, vegetables and sauces. I have been using a stove top method to make this recipe for a long time and now I adapted the recipe to make in the Instant pot. The result has been amazing and now this recipe features on our menu very often.
Thai Ingredients are a CLICK away!
A lot of my readers LOVE to make Thai recipes but often complain that they have to visit multiple stores to get all the ingredients. This post should solve that for everyone!
Almost all the ingredients I used in this post are from iHerb; a California based superstore. They are global leaders in bringing the best overall value in products to their customers all over the world. iHerb guarantees that all products are authentic brands sold in the U.S. market. They are committed to providing quality assurance for the products and ship directly from climate controlled warehouses.
My experience with ordering and getting the products was awesome. I got everything I needed for this dish in just ONE click and cannot wait to try them again!
If you are looking for a service like this; use this link to order and you get 5% off on the entire order!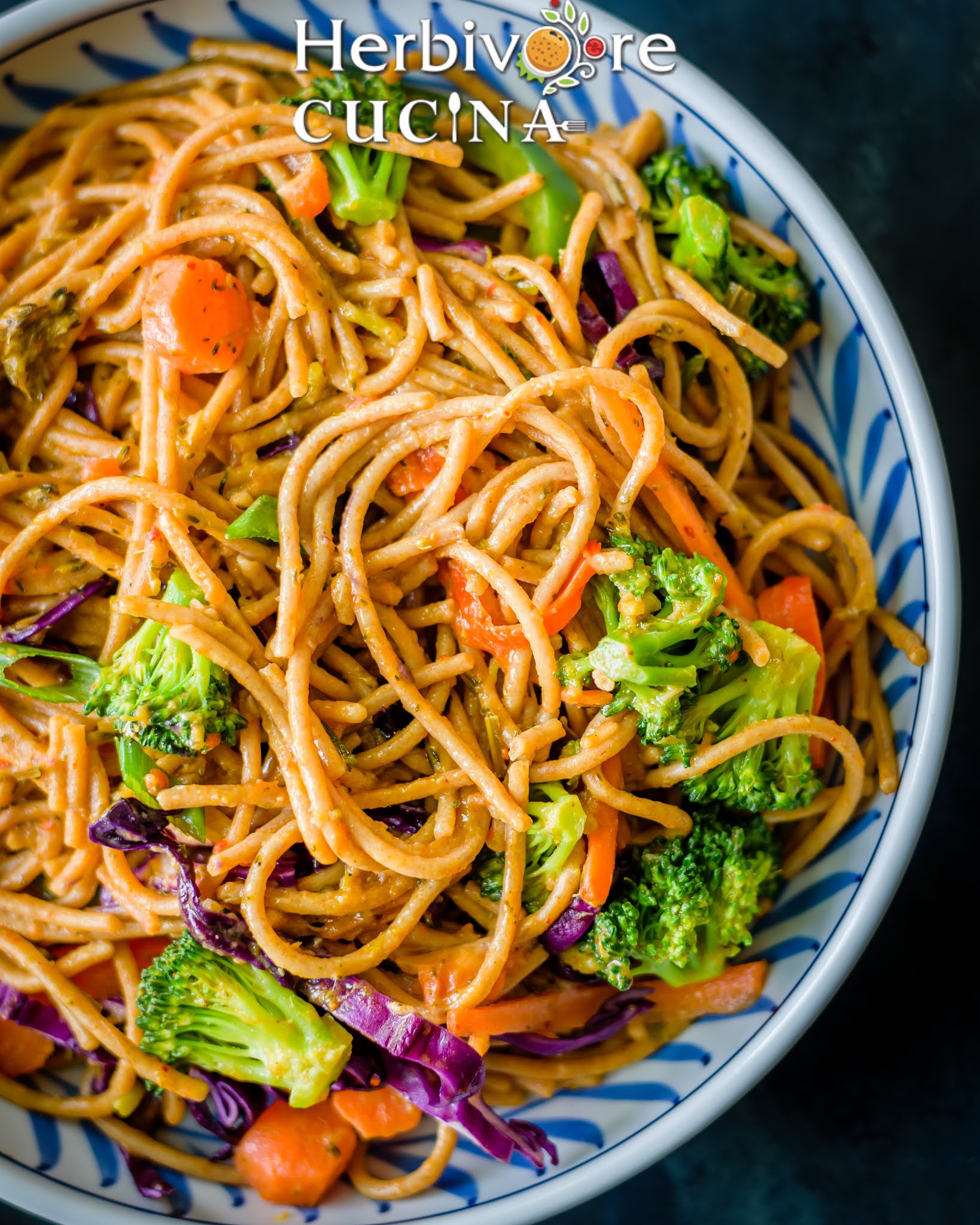 Why make this in the Instant Pot?


This recipe has quite a few elements and if made separately; it will need a LOT of utensils to get together. A pan to boil the noodles, a pan to sauté the vegetables and another to make the sauce.
Instead; using the Instant Pot needs just two utensils; one to mix the sauce ingredients and the Instant pot itself! The recipe needs just 30 minutes from start to finish and is SUPER easy, I promise.
Overall; here are the reasons to try this recipe:
It is Vegan friendly and can be modified to add meat/ protein

One pot meal; means less utensils

Perfect for weeknight dinner and weekend brunch

Comes together in 30 minutes and can be customized very easily!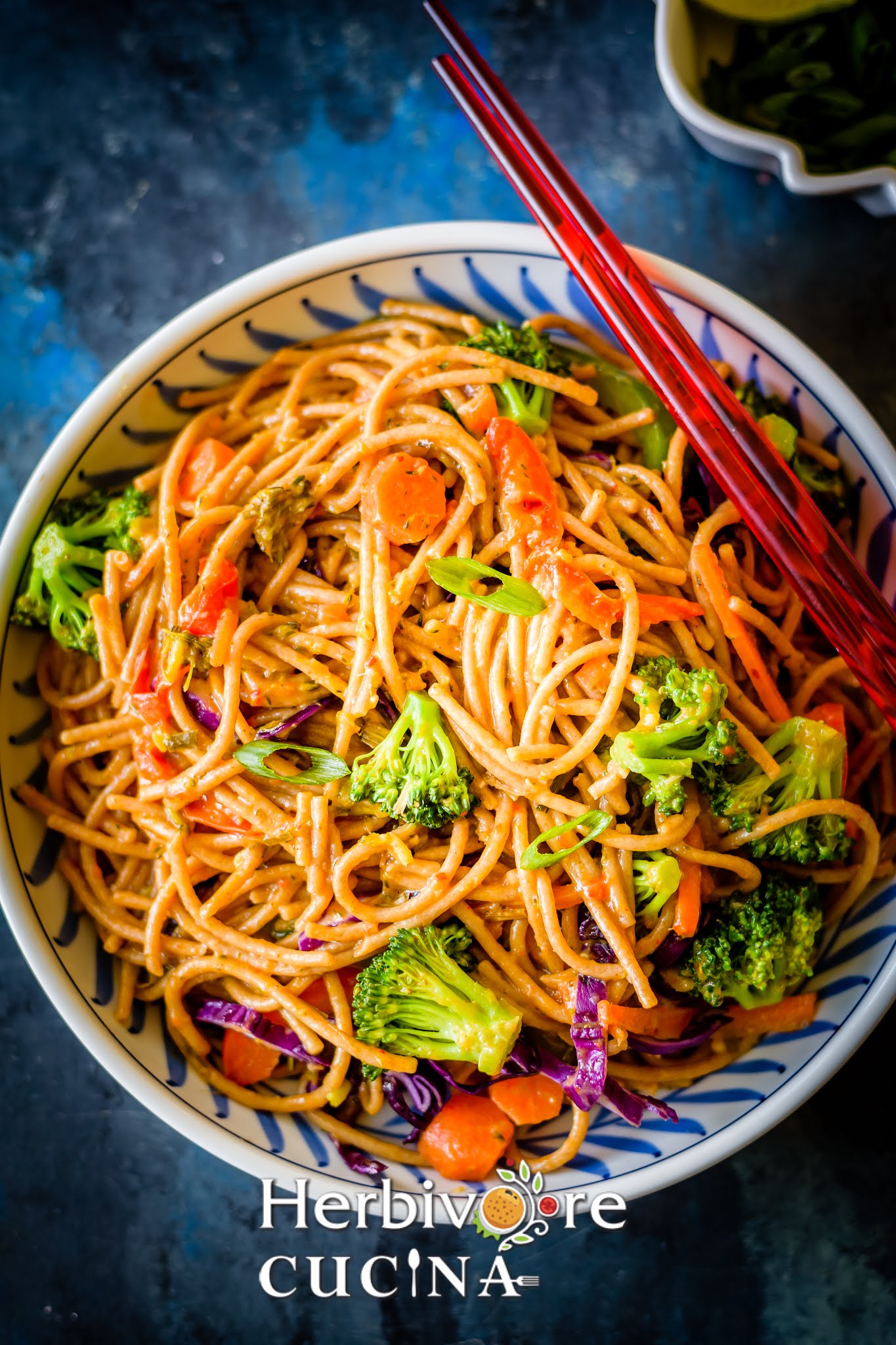 How to get the recipe right EACH time?

A lot of people wonder if it is okay to cook spaghetti in the Instant Pot. The most common mistakes are using super thin noodles that disintegrate while cooking. I like to use Wheat spaghetti; it is healthier and stays perfect through the cooking process.
The recipe is Vegan and to ensure it remains that, make sure you get red curry paste that is Vegan friendly. I got this one and it was PERFECT. If you are not making a vegan version, pick your favorite brand and use it.
The important factor in the success of the recipe is the amount of water/vegetable stock. Make sure the ingredients are submerged in the liquid before cooking. If it is not submerged, the noodles will stick and be a mess. If there is excess water, you will end up with a soup!
I added just a few vegetables to the recipe. However, adding tofu and more vegetables is a great idea too. I served this recipe with a tofu dish so skipped the protein in this.
The other ingredients that SHOULD NOT be skipped here are Peanut butter and coconut milk. They both make sure the noodles are saucy, delicious and do not feel dry. If you are allergic to nuts, use sunflower butter. That makes the noodles creamy too!

The other ingredients can be modified very easily. So now, look no further and get started on making this one soon!
Ingredients
Wheat Spaghetti 8 oz
Red Curry Paste 2 tsp
Coconut Milk ½ cup
Carrot 1 medium, chopped
Green Pepper 1 medium, sliced
Red Pepper 1 medium, sliced
Broccoli 8-10 florets
Red Cabbage 1 cup, shredded
Garlic 2-3 cloves
Galangal/ Ginger 1 tsp, shredded
Lemongrass 1 tsp
Coconut Oil 1 tsp
Chili Oil 1 tsp
Water/ Vegetable Stock 1 cup
Green Onions and lemon juice to top
For the sauce
Peanut Butter 2 tbsp
Soy Sauce 1 tsp
Salt 1 tsp
Pepper Powder 1 tsp
Garlic Powder ½ tsp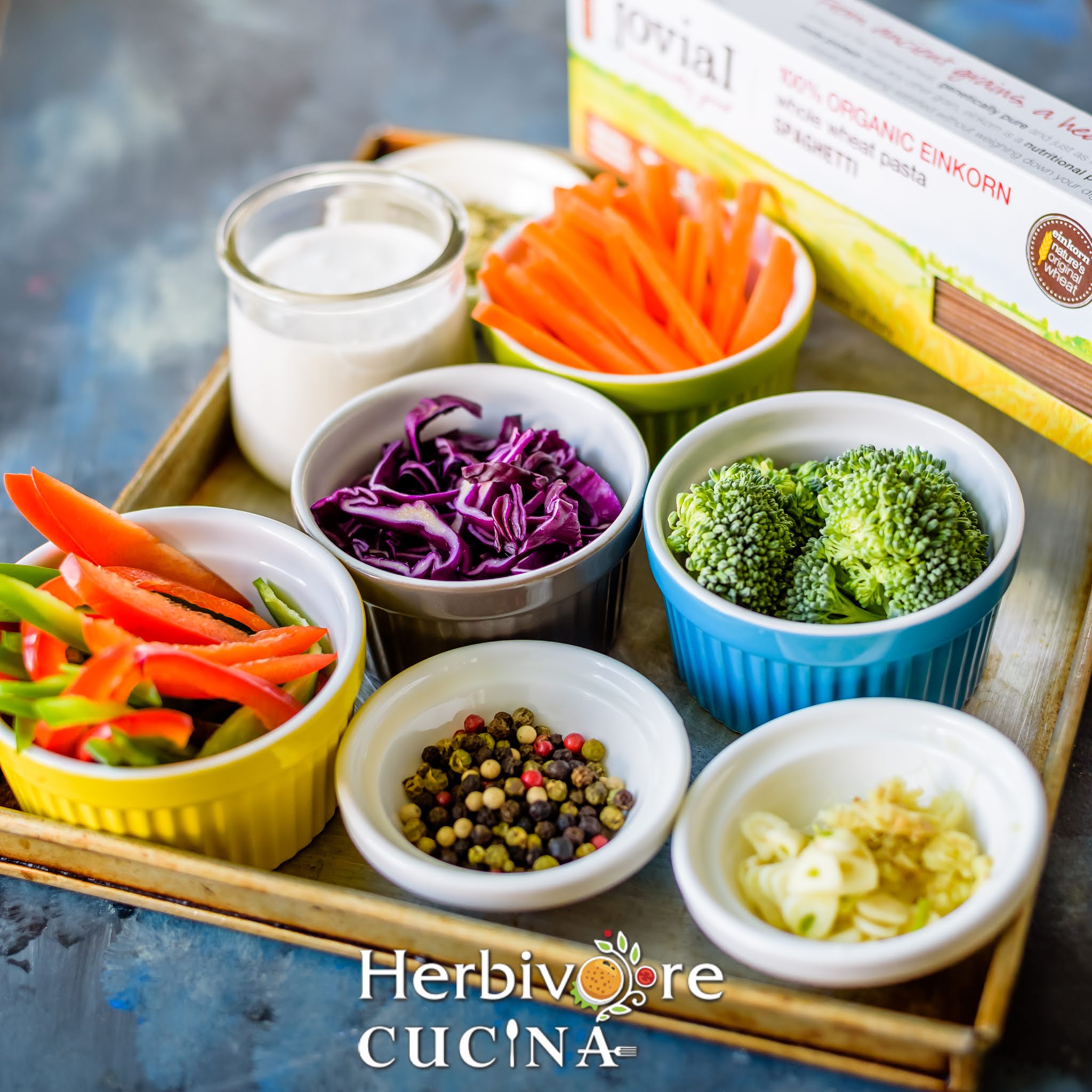 Method
To make the sauce, mix all the ingredients under sauce ingredients. Add some water if required to make the sauce thin. Set aside.
Press the 'Sauté' button on the Instant Pot. In the inner pot add coconut oil and chili oil. Once hot, add garlic and galangal. Sauté for a few seconds.
Next add the peppers. Stir and let them cook for a minute. Add broccoli and carrots and mix.
Next add the lemongrass and water/vegetable stock. Add the prepared sauce and Red Curry paste. Then stir in coconut milk and salt.
Break the spaghetti in half and add it to the pot. Add vegetable stock/ water (if required) till the spaghetti is submerged in the liquid.
Press 'Cancel' on the Instant Pot and press 'Pressure Cook'. Set timer to 4 minutes and vent to sealing. Let the spaghetti cook.
Once the Instant pot beeps; move vent to venting and release all the pressure.
Open the Instant Pot and add in red cabbage. Let the spaghetti stand for a couple of minutes. Mix well and serve immediately.