A popular street food from India, pav bhaji is a mix of vegetables and a special blend of spices; served with toasted dinner rolls. This Instant Pot version is easy and quick without compromising the taste!

Some of the links below are affiliate links, meaning, at no extra cost to you, I will earn a commission if you click through and make a purchase.
What is better than Pav Bhaji made from scratch? A recipe that makes it in one pot! The Instant Pot is the BEST way to make the recipe really quickly without compromising on the taste! Once you try this recipe; you will not go try another recipe; I promise.
Mumbai style Pav Bhaji is a great weekend dinner recipe. Made with a lot of vegetables, pav bhaji masala, butter and spices; this recipe is colorful, tasty and makes a great meal with toasted pav (Indian dinner rolls).
Video Recipe
What is Pav Bhaji?
Those who have visited Mumbai in India would know that Pav Bhaji is a dish that is served all over the city. From roadside trucks to fast food restaurants and from fine dine to fusion restaurants; everybody serves a variation of this dish. People of all ages enjoy this and most people have their own knack of making it PERFECT.

The dish involves two parts; Pav meaning Indian dinner rolls and Bhaji which is a made from vegetables, masala and lots of butter. There are restaurants that boast of using over 100 grams in every plate of bhaji and those who claim they were the inventors of the dish.
Not just restaurants; this dish is enjoyed by making it at home too. A popular recipe for weekend dinner, get togethers, birthday parties and so on; every household has their version of the dish.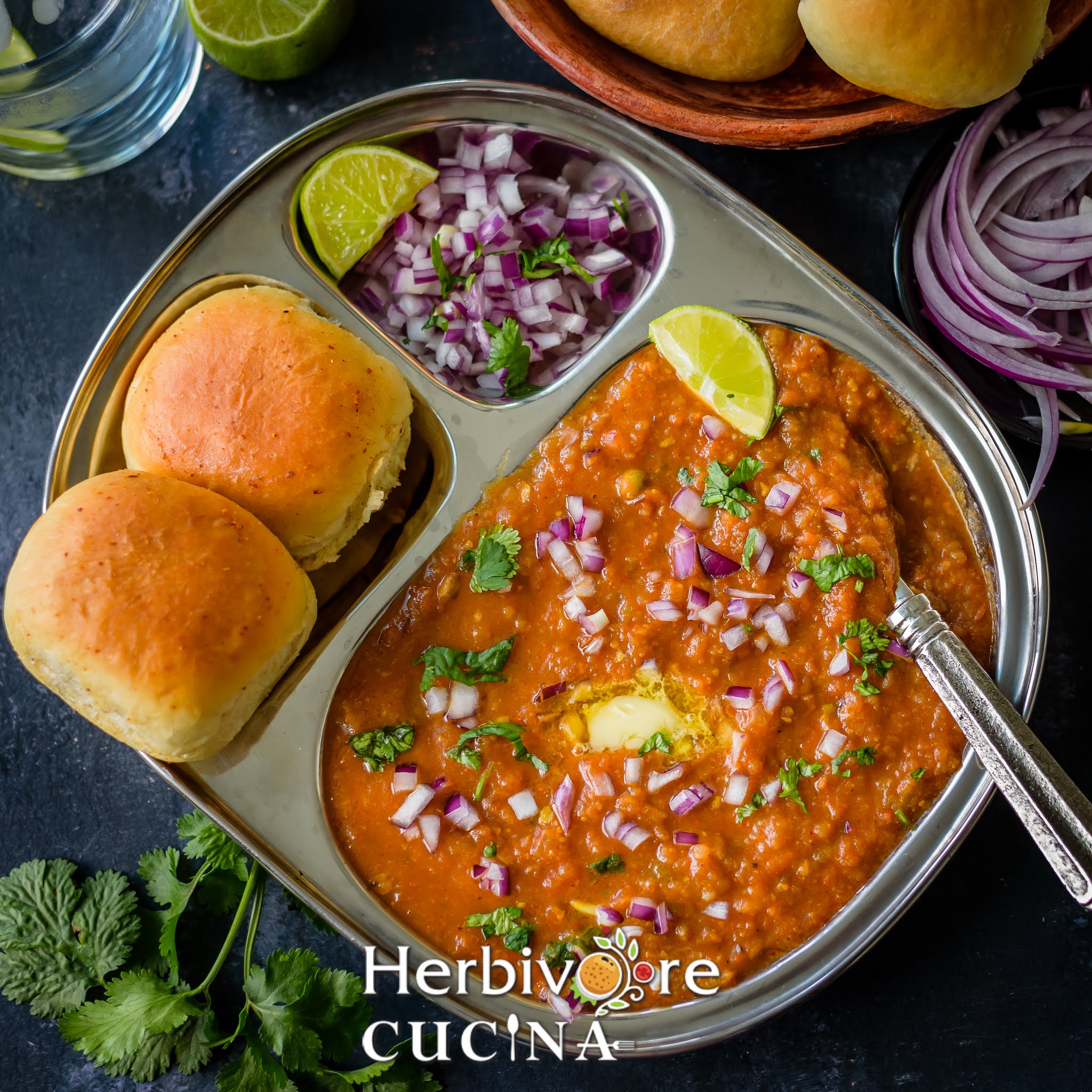 Why make Pav Bhaji in the Instant Pot?


The traditional recipe to make pav bhaji is on a pan or on a large tava. However, that recipe involves a lot of steps like boiling the vegetables, sautéing everything in butter and seasoning with spices. Instead, the instant pot version needs just one pot and the recipe has a cooking time of just about 30 minutes.
Another reason to make it in the Instant Pot is to make it far less messier. While making in a shallow pan or tava, the bhaji splutters around a lot and makes quite a mess. The instant pot is deep and avoids the bhaji from spluttering out.

There are several recipes for pav bhaji using a pressure cooker. The recipe is similar to this version made in the instant pot. So one can use a stove top cooker to make the same recipe. Only change would be the time required; which would be more in the pressure cooker.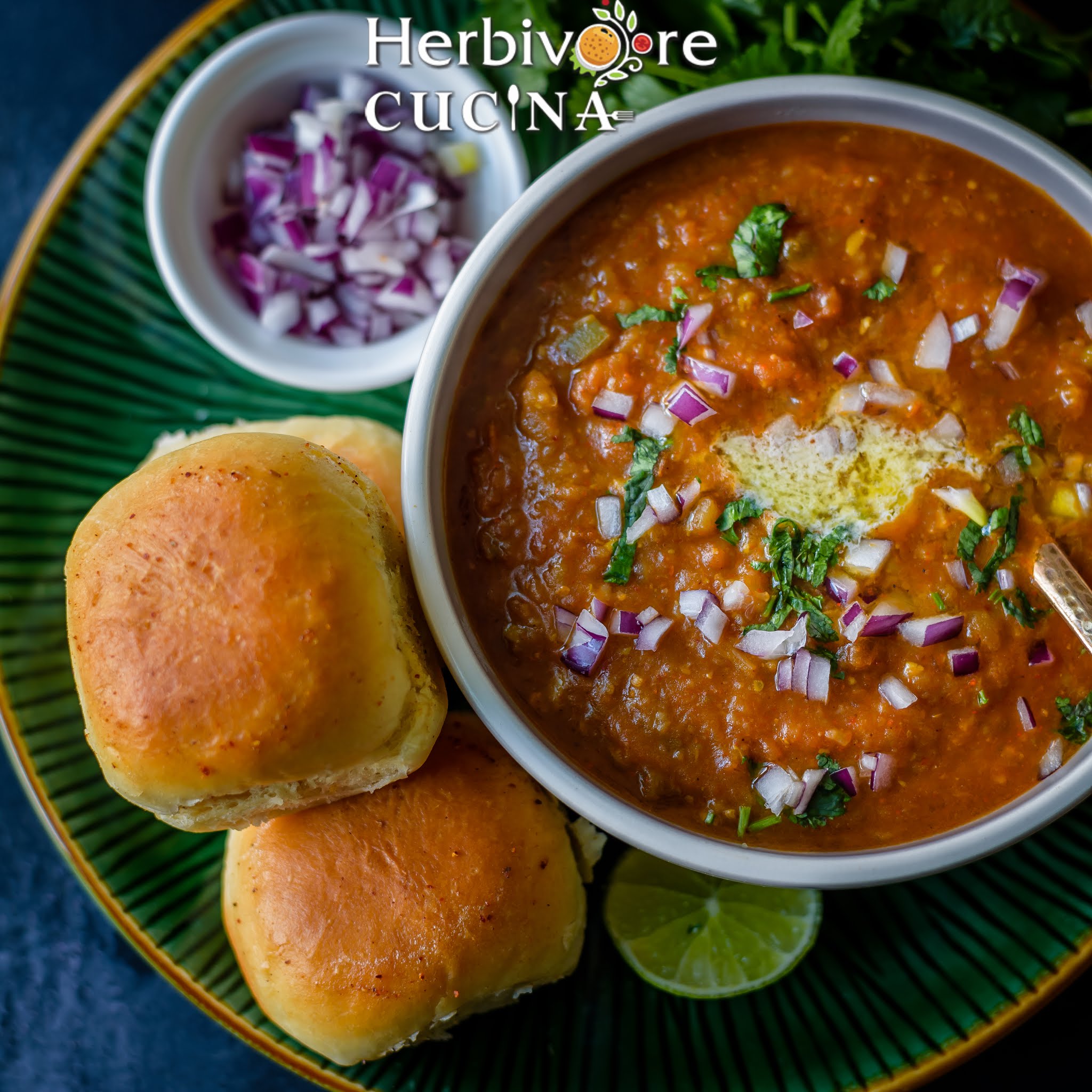 Making restaurant style Pav Bhaji


Pav Bhaji has a few ingredients that are mandatory. Potatoes (or a starch like raw bananas), tomatoes, butter and a special spice blend called Pav bhaji masala. The other ingredients are optional and can be substituted. Apart from the mandatory ones, I use green peas, onions, peppers, garlic, ginger and cauliflower.
Restaurants serve a version that is bright red. Most places add food color to get that tinge. However, I do not add any color. Instead I use a special kind of chili called Kashmiri chili that gives a bright color without adding a lot of spice. Besides, the SECRET to get the color right is adding a little bit of Beetroot. Once cooked, the pink beet turns red/brown giving the bhaji the required color! You can add that or red color to get the bright bhaji. You can skip them both too and yet get a flavorful bhaji.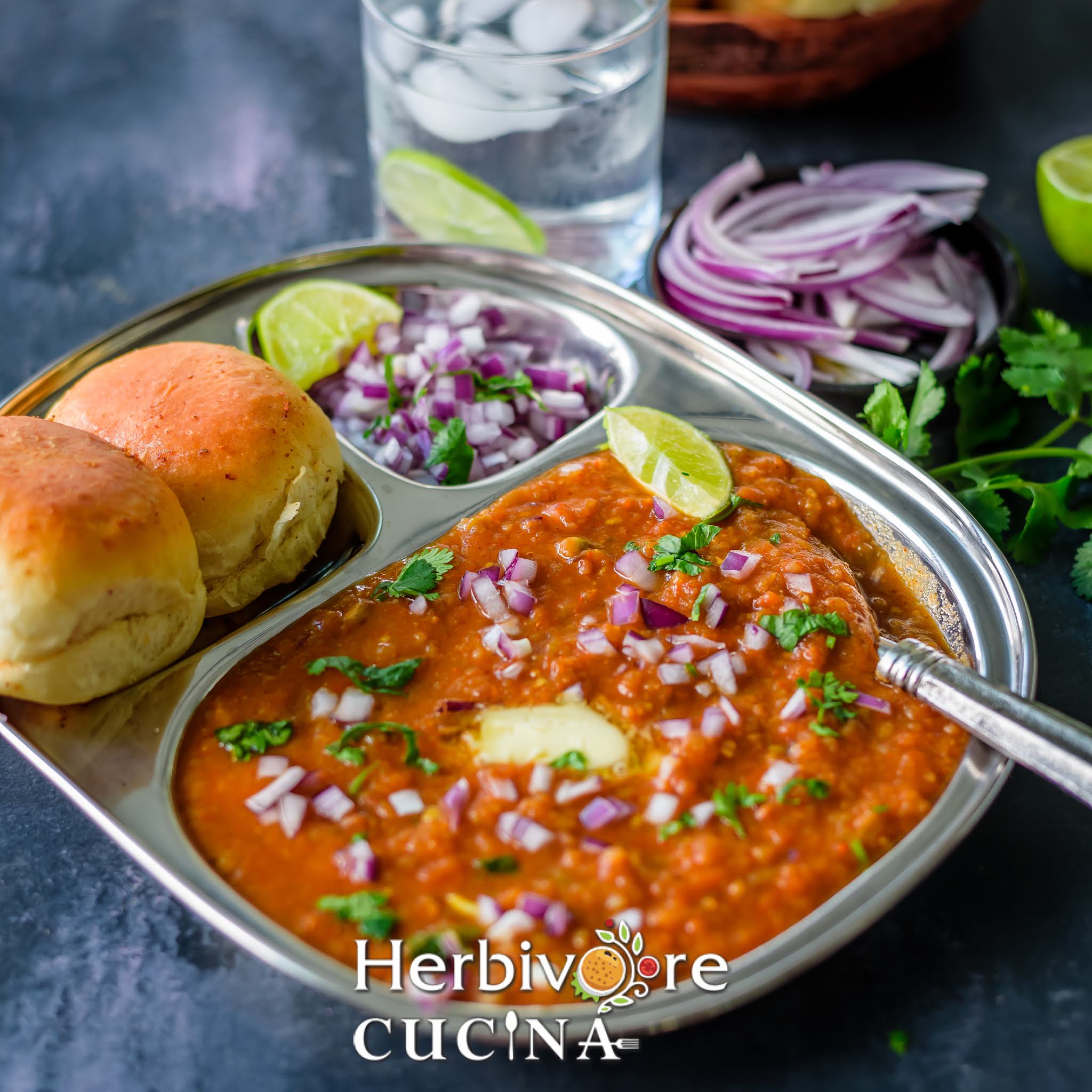 Bhaji is a mix of various ingredients that absorb flavor over time. The best way to make pav bhaji taste awesome is to make it a few hours before serving. Make the bhaji and let it stand for some time. The flavors deepen, the consistency becomes awesome and the bhaji tastes even better compared to the time it was made.

The proportion of vegetables in the recipe is important. If there is too much potato then the bhaji will be be super thick and taste bland with the spices in the recipe. Adding a lot of peas will sweeten the bhaji if the peas are sweet. And lastly, adding extra tomatoes will yield a watery bhaji that is not the best version. So make sure you have the proportions such that you like the final result.
I served these with pav made from scratch. I like to make them at home using this recipe. They are perfectly spongy and taste just like the pav from Mumbai!
Ingredients
Vegetables
Onion 2 medium
Green pepper 2 medium
Potatoes 2 medium
Green Peas ½ cup
Cauliflower 3-4 florets
Tomatoes 3 medium
Ginger 1 inch piece
Garlic 3-4 pods
Beetroot 2 inch piece
Other Ingredients
Pav Bhaji Masala 2 teaspoon (My favorite one here)
Kashmiri Red Chilli Powder 2 tsp
Butter 3 tbsp
Salt 1 ½ tsp
Onion ½ medium to top
Cilantro a handful
Lime ½ to top
Pav to serve (recipe here)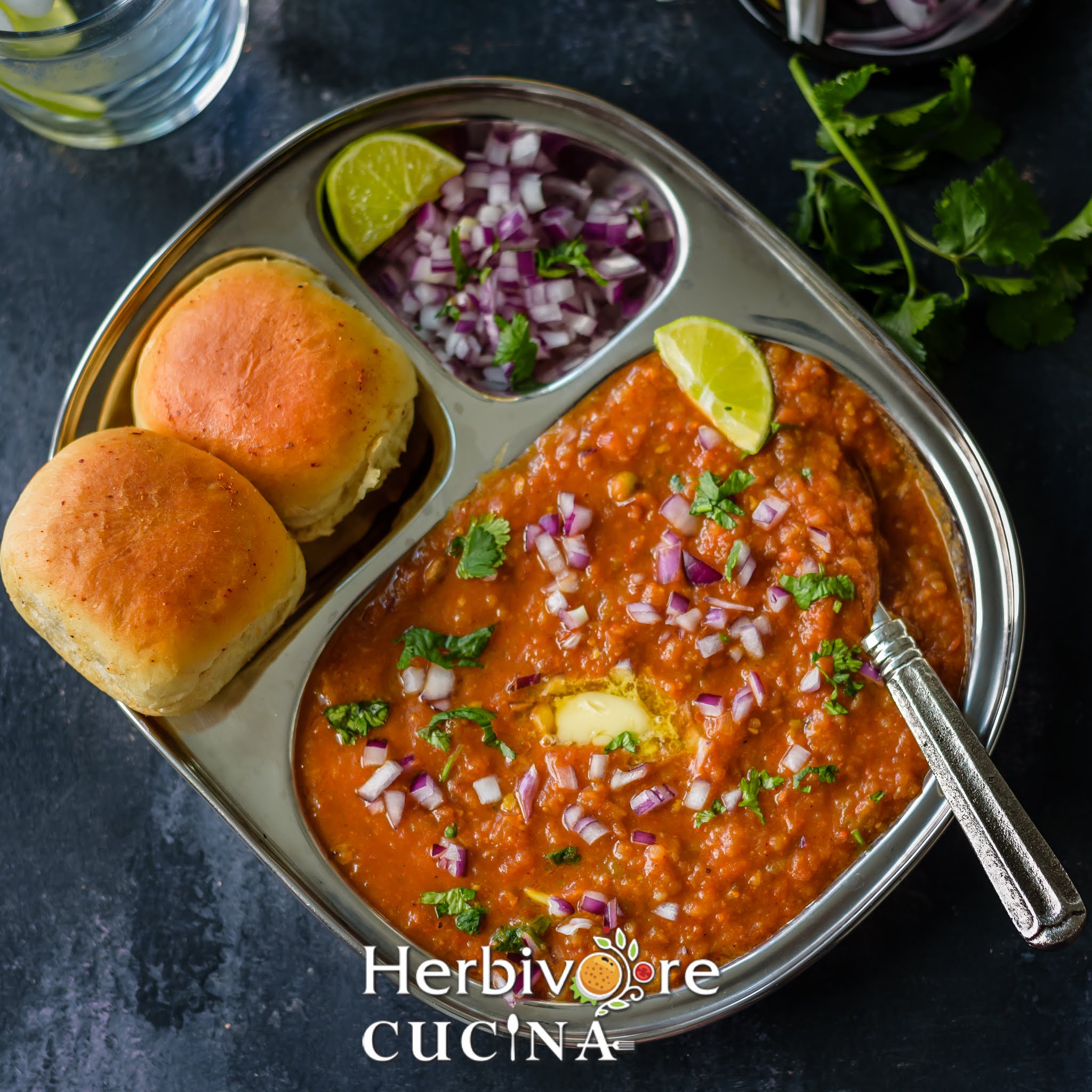 Method
In a blender process the ginger and garlic to a smooth paste. Chop the onions and peppers into small bits. Puree the tomatoes or chop to small pieces. Grate the beetroot. Boil or pressure cook the peas till soft. Roughly chop the remaining vegetables and set aside.
In the base of the Instant Pot add 1 tablespoon butter. Set the mode to 'Sauté' and normal. Once the butter starts to melt, add onions and peppers. Mix and cook for 3-4 minutes.
Once the onions and peppers are soft, move them to the side and add 1 tablespoon of butter. Add the processed ginger garlic paste, 1 teaspoon red chili powder and pav bhaji masala. Mix well and cook till the garlic loses it's raw flavor. Stir everything.
Next add in tomatoes and mix well. Cook for another 4-5 minutes. Deglaze the pot by adding 1 cup water.
Now add the chopped vegetables, grated beetroot and salt. Mix and press 'Cancel' on the Instant Pot.
Set mode to 'Pressure Cook', pressure level to 'High' and time to 6 minutes. Close the lid and move valve to sealing.
Once the Instant Pot beeps, let the pressure release for 10 minutes. After that release the remaining pressure by moving valve to venting. When the pin drops, open the Instant Pot and mash everything using a potato masher or immersion blender.
Set the mode back to 'Saute' and add the remaining butter and remaining red chili powder. Cover using a glass lid to avoid the bhaji from spluttering. Let the bhaji boil for 2-3 minutes and press 'Cancel'. The bhaji will cook further from the heat of the pot.
Open the lid, mix well and serve topped with chopped onion, cilantro and lime juice. Add some more butter if desired. Serve with this Pav bread.
DISCLOSURE: WE ARE A PARTICIPANT IN THE AMAZON SERVICES LLC ASSOCIATES PROGRAM, AN AFFILIATE ADVERTISING PROGRAM DESIGNED TO PROVIDE A MEANS FOR US TO EARN FEES BY LINKING TO AMAZON.COM AND AFFILIATED SITES.