A super flavorful and delicious snack, Dabeli is very popular on Indian streets. Dinner rolls stuffed with potato filling and chutneys, this one's a keeper!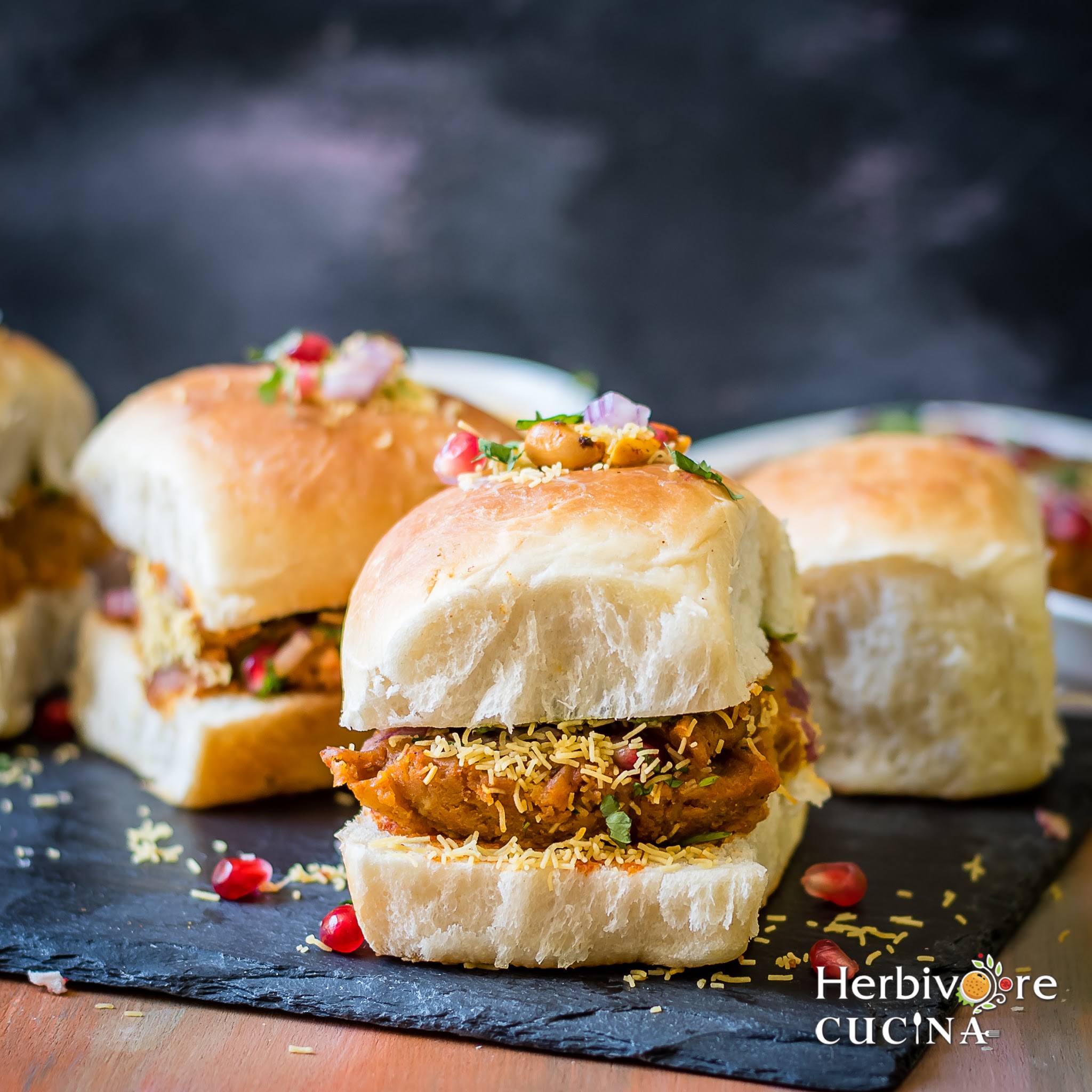 Who does not like something that is sweet, spicy and tangy all at once? When you are craving something like that, Kutchi Dabeli is a perfect answer! An appetizing and delicious Indian snack, Dabeli originating in the Kutch region of Gujarat; a state in India.
A very common street food in Gujarat, this dish is now spreading to other parts of the country as well. This appetizer or snack gets its name from the Gujarati equivalent of Pressed i.e. Dabeli. The snack is made by 'pressing' stuffing into a plate and then transferring the stuffing to a pav or dinner roll. That is how it gets its name.
Still not clear what I am saying? Do not worry, just read on to know more about this Indian equivalent of burger!
This dish consists of three main parts; pav or dinner rolls that are either home-made or store-bought; a sweet and spicy potato filling and finally add-ins like chutneys, onions and cilantro. To make this dish, one needs to make the stuffing and press it all down into a deep platter. That can be done upto 24 hours before serving the dabeli.
When ready to serve, slit open a pav/ dinner roll, apply chutney, transfer the stuffing on it and crisp the top and bottom on a tava with Amul Butter! Why Amul butter you wonder? Amul is a very popular Indian salted butter that has a characteristic taste and flavor. Most street vendors have dabeli roasted in amul butter, giving it the same flavor!
The potato mixture that is filled in the bun is essentially boiled potatoes, mixed with a characteristic masala called Dabeli Masala. A mixture of different spices, this masala is available at most Indian stores. Apart from potatoes, the same stuffing can be made using boiled green bananas as well.
Nest are the add-ins that go into the dabeli. This dish has a characteristic garlic chutney that is used. Apart from that, there is green cilantro chutney and sweet tamarind and dates chutney. Plus, masala peanuts, chopped onions and cilantro are also added. Not to forget the pomegranate seeds and sev. Some vendors also add tutti-frutti to it, making it nice and sweet!
The pav in dabeli can be store bought or home-made. I like to use a slightly larger size bread for this recipe, so I made my own. Store bought dinner rolls can be used too. If you cannot find either, use burger bredas. They are great too!
I made this dish after a really long time and took enough time to shoot it. Not very popularly made for lunch, I made this over the weekend for lunch to make sure I shoot it! And boy, I must say I am happy how much I have improved in two years! I shot the new ones, deleted the old pictures and finally this post got brand new bright images. See my before and after below.
Ingredients
Pav bread/ burger bun 4-5 (Get the recipe here)
For the potato filling
Potato 2, boiled
Dabeli Masala 3 tbsp
Salt ¼ tsp
Sugar ½ tsp
Lime Juice ½ tsp
Oil
Finely diced onions
Masala peanuts
Pomegranate seeds
Sweet Dates-Tamarind Chutney
Spicy Garlic Chutney
Spicy Cilantro Chutney
Sev (Indian fried snack)
Cilantro
Butter
Method
Potato Filling
Heat oil in a pan, add dabeli masala and let it cook for a couple of minutes. Mash the boiled potatoes and add to the pan. Add all the other ingredients under potato filling and mix well. Let the mixture cook for a few minutes and turn down the flame. Set aside.
Using a deep plate or bowl, press down the potato mixture. Spread masala peanuts, sev, onions, cilantro and pomegranate seeds on it. Press it all down and keep ready till making the dabeli.
Sweet Dates-Tamarind Chutney
Take 2 cups of dates, with pits removed. Mix with 1 cup of tamarind, half cup jaggery, a pinch of cumin seeds and 2 cups of water. Pressure cook the mixture till 3-4 whistles or till the mixture is cooked. Cool the mixture, and make a thick paste. Add Chat Masala and ground Roasted Cumin powder. This can be stored for several days by freezing the mixture.
Spicy Garlic Chutney
Churn together 8-10 cloves of garlic, 2 teaspoon red chilli powder, salt and lime juice. Add some cilantro, black pepper powder, roasted cumin powder and water as required, to churn the mixture to a smooth paste. Remove and set aside.
To assemble the Dabeli
Slit the burger from the centre and separate the two halves. Apply butter on the inside of the bun slices. On the lower slice, apply the spicy garlic chutney and sweet chutney. Place a spoonful of the potato filling. Press everything down firmly. Apply the spicy cilantro chutney on the upper bun and place it on the potato mixture. Roll the dabeli in a plate filled with sev.
On a tava, add butter and place the dabeli. Once the lower portion browns, turn it over and let the top part brown. Gently press down to ensure everything inside the bun sets together. Remove and serve warm.
Check out the Blogging Marathon page to see what the other Blogging Marathoners are doing for this BM.