Indian meals are almost never complete without a dal. Every state in India has it's own way of preparing it using different dals: Pigeon peas, Moong, Yellow split peas etc. Gujarati dal is one of the famous items that feature on the menu of a Gujarati Thali. Made from split pigeon peas, this dal is characterized by its Sour (khatti) and Sweet (Meethi) taste. This flavorful mixture of lentil and spices is the staple food of Gujaratis.
The ingredients that make it sour are either Amchur (Mango powder), Tamarind, Kokum or lemon. The sweet taste is generally from Jaggery. Sometimes sugar is also added. Gujarati dal is generally little thick and can also be modified to make another famous dish Dal Dhokli, Wheat dumplings in dal. Here is a quick recipe using Lemon and jaggery.
Ingredients
Split pigeon peas 1 cup
Peanuts, a handful
Spices: Bay leaves 1-2 , Cloves 3-4, Cinnamon stick 1 inch
Dried Red Chilli 2-3
Tomato, ¼ cup, diced
Green chilli 1 slit lengthwise
Curry leaves 3-4
Jaggery 1 tbsp
Condiments: Mustard seeds ½ tsp, Cumin seeds ½ tsp, asafoetida a pinch, Turmeric powder 1 tsp, Red Chilli powder 2 tsp, Salt
Juice of 1 lime
Cilantro to garnish
Ghee 2 tbsp
Method
Was and pressure cook pigeon peas with 1 ½ cup water and some salt and turmeric. Ensure that it is completely cooked. Open the cooker and completely mash the dal. Set aside.
In a pan heat 1 tablespoon ghee and add sesame seeds and let them pop. Then add asafoetida and cumin seeds. Add the spices in a couple of seconds and then add curry leaves, red and green chilli. Mix well and add tomato and peanuts. Let the tomatoes cook for a few minutes. Combine the mashed dal in the pan and add a cup of water. Season with jaggery, salt and lemon juice. Add Red chilli powder and turmeric powder and mix well.
Let the dal cook covered and on medium flame for ten to fifteen minutes, stirring occasionally. Once it is completely cooked, turn down the flame and garnish with cilantro. Add a dollop of Ghee to enhance its flavor ( however, this is optional). This dal tastes best with plain Steamed Rice or Jeera Rice.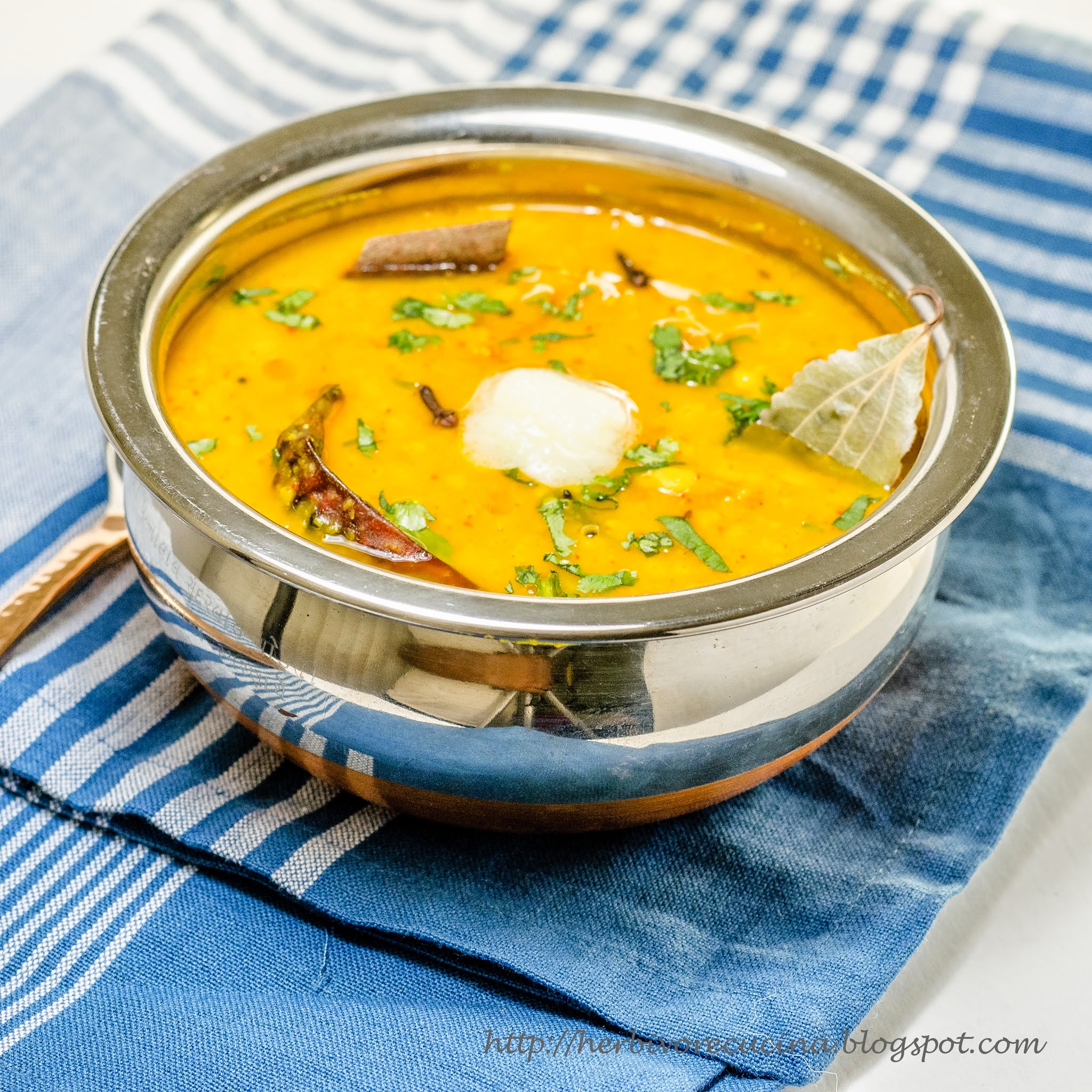 Another dish prepared from Gujarati Dal is Dal Dholki. This one pot dish is actually a meal by itself!