Blogging Marathon #68 Week 3 Day 6
Theme: Entree
Dish: Vegetables and Tofu in Gochujang Sauce

Today is the last day of this week's theme in the Cooking Carnival. I have been posting entrees from different cuisines. Today it is time for a Korean style stir-fry with vegetables and tofu. This recipe is based on Korean Chilli paste or Gochujang. It is fermented pungent sauce made from red chillies. The paste has a distinct flavor that is really yummy.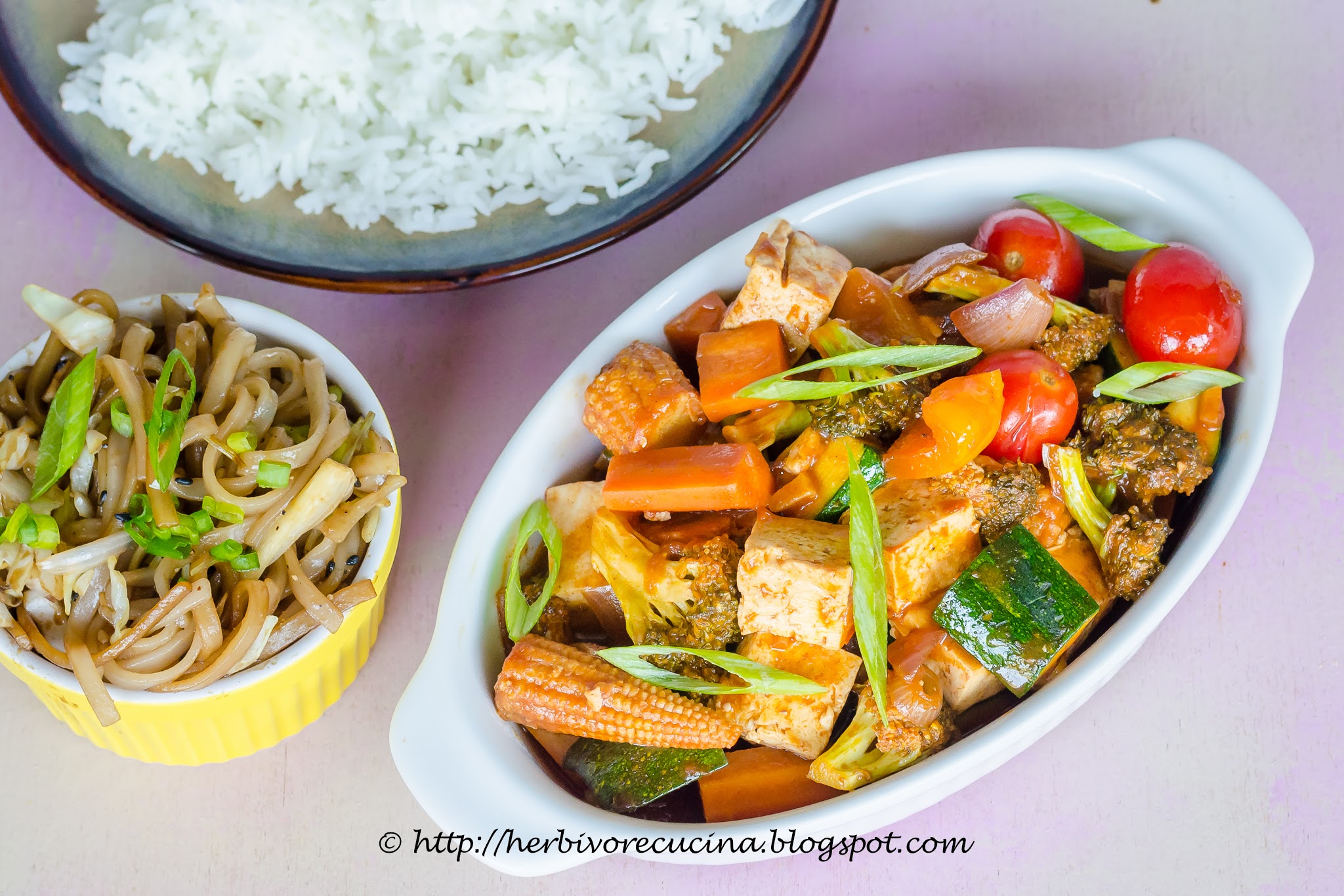 I have had a lot of this paste in the Korean restaurants. We loved the flavor and taste so much that I ended up buying a big box of this paste from the Asian store. Over the past we have made only the Korean style soup from the paste. However, lately I started exploring the cuisine and ended up making a stir fry using tofu and chilli paste. Then I saw this recipe for a vegetable and tofu based entree. Inspired by that, I added vegetables to the tofu and the result was awesome!

For dinner we made this spicy vegetable and had it with steamed jasmine rice and Korean Rice Noodle salad. The bold flavors of Gochujang along with the subtle flavors of jasmine rice was a balanced combination. Though we loved this, I am going to make this with pineapple fried rice. I am sure the sweet and spicy combination will be awesome!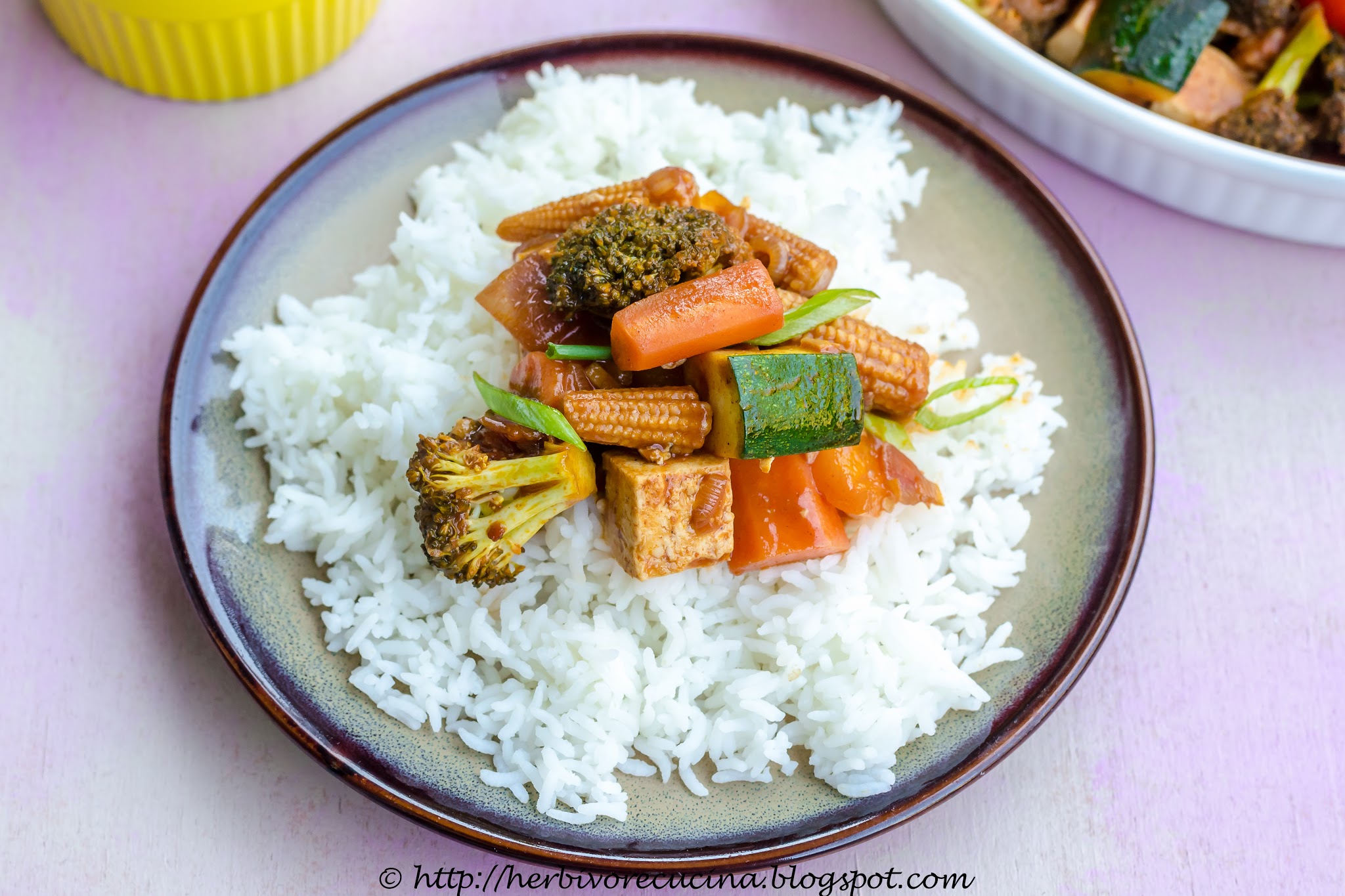 Coming to the recipe, the ingredients are just like any other Asian dish. Gochujang paste is easily available in all Asian stores. That along with vegetables of choice, tofu and seasoning yields a bowl full of goodness! The entire thing comes together in under 10 minutes and should be enjoyed right away. Serve it with a rice of your choice and have a spicy weekend dinner that is so simple to make! This is the last recipe in the entree series, come back on Monday for another category and six new recipes!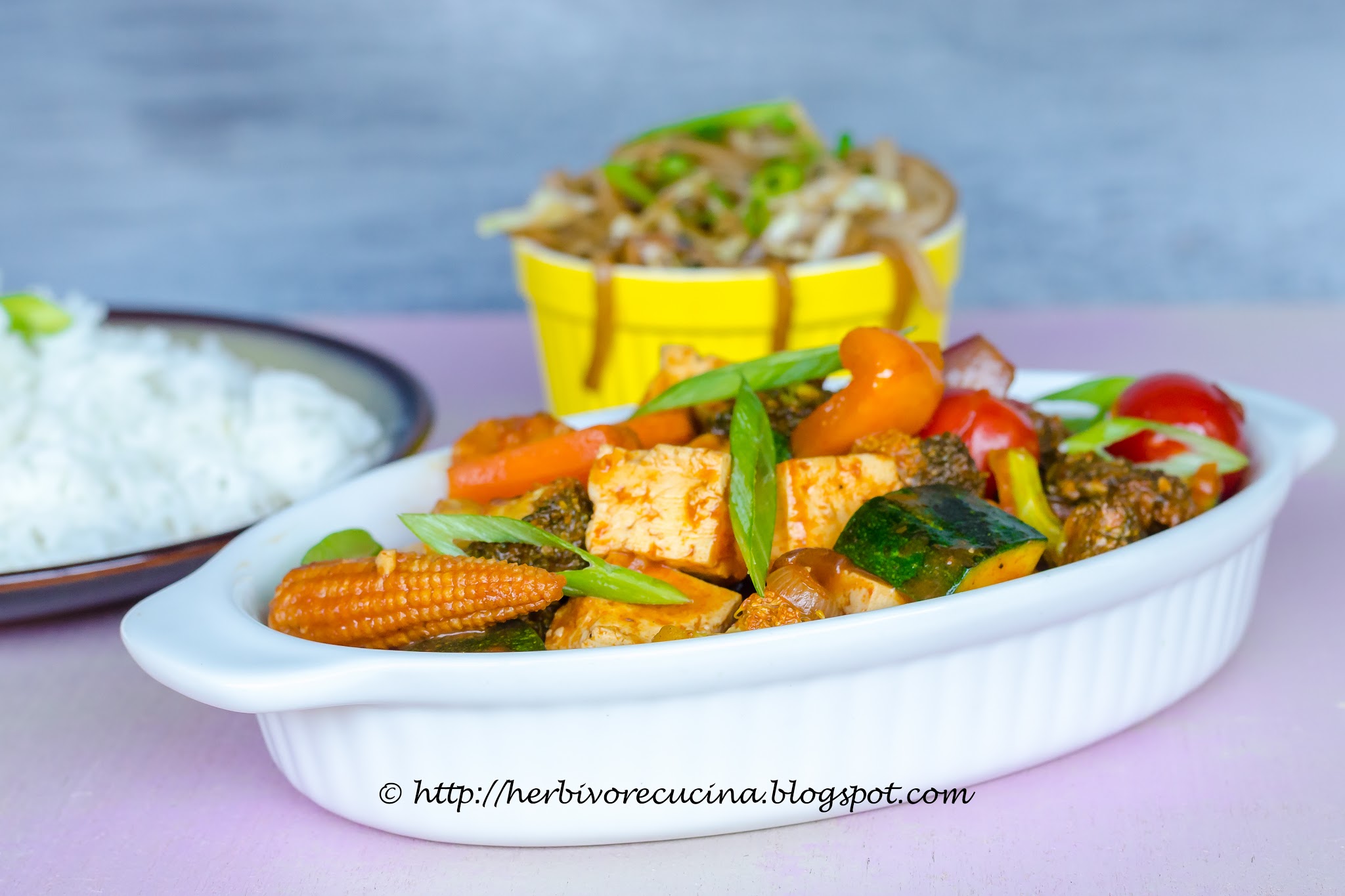 Ingredients

Vegetables 1 ½ cup( Broccoli, Baby Corn, Cherry Tomatoes, Zucchini, Carrots)
Firm Tofu 1 box (14 oz.)
Onion 1 medium
Green and Orange/Yellow Peppers 1 each
Garlic 2-3 pods, minced
Ginger 1 inch piece, minced
Spring Onions 2-3 stalks
Gochujang Paste 2 tbsp
Chilli Oil 1 tsp
Vegetable Oil 1 tsp
Salt and Pepper to taste
Method


Chop all the vegetables to equal size pieces. Also, drain the water from the tofu by pressing between kitchen towels and dice to 1 inch cubes. Set aside. Boil water and drop the broccoli and baby corn till partly cooked. Drain and set aside.

In a pan heat the oils and add minced garlic and ginger. Saute till the raw flavor vanishes. Then, add onion and peppers. Saute them till onion is translucent. Then add the chilli paste and saute for a minute. Then, add Broccoli, Baby Corn, Zucchini and Carrots. Add salt and pepper to taste. Mix and cook for 3-4 minutes. Add some water if the mixture feels too dry. Then add the tofu pieces. Cover and cook for 5-6 minutes. Last, add the cherry tomatoes and mix well to coat with the chilli paste.
Turn down flame and serve topped with spring onion greens. The vegetable tastes really good with steamed jasmine rice or plain steamed rice. And I love to serve it with Korean style rice noodles.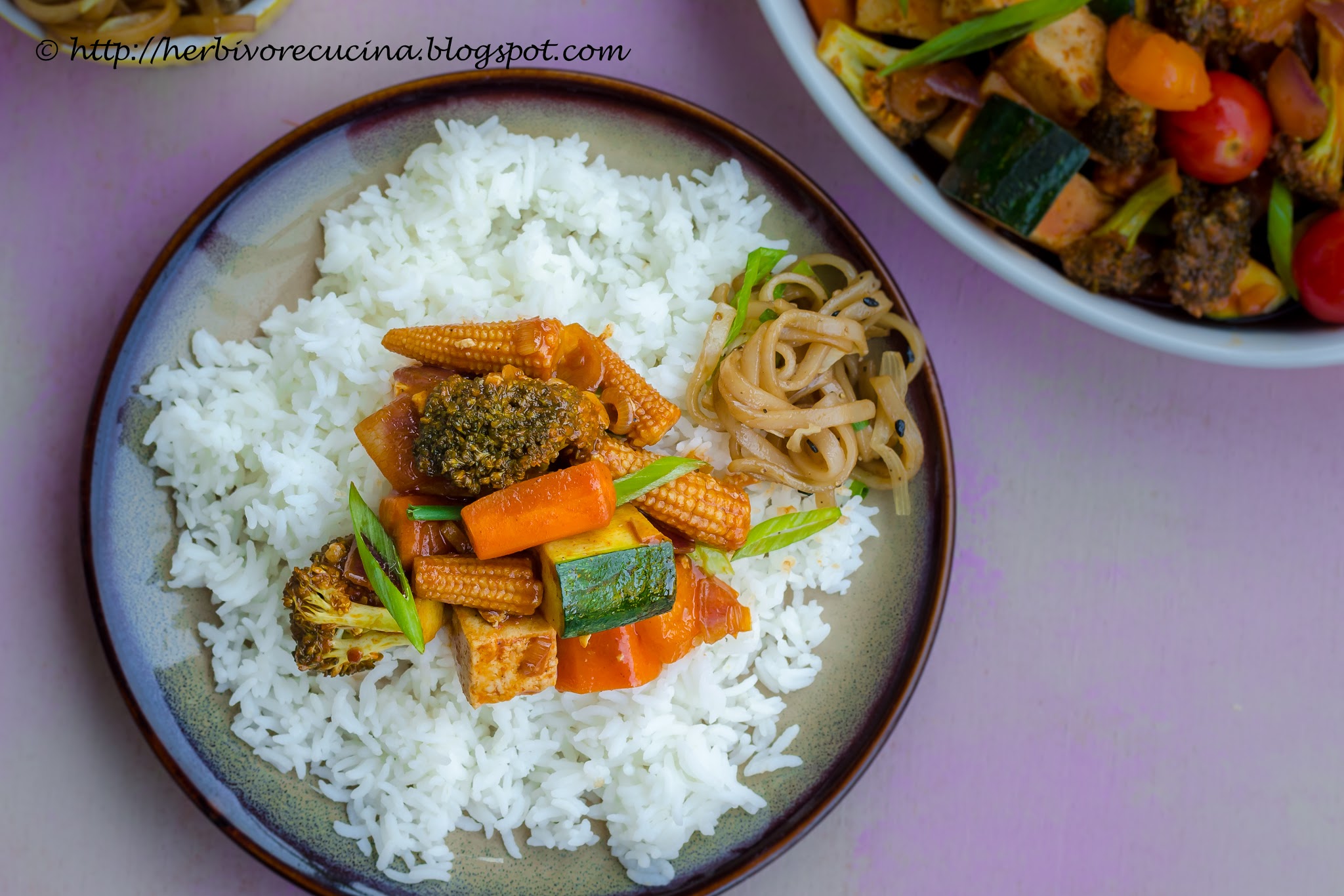 Check out the Blogging Marathon page for the other Blogging Marathoners doing BM# 68