One Pot quinoa and lentil khichdi; this weeknight dinner recipe is flavorful, tasty and easy to make. A great way to get the family to eat vegetables too!
Some of the links below are affiliate links, meaning, at no extra cost to you, I will earn a commission if you click through and make a purchase.
I love one pot meals that come together easily and are delicious. Pressure cooker or Instant Pot meals fit the criteria and are amazing each time. The popular term for such meals are 'dump and start'' meaning you add all the ingredients in the pot and let them cook. These recipes are popular, easy to make and come in handy for busy weeknight.
Khichdi; a mix of rice and lentil is a popular dish for weeknight dinner. This recipe is a variation of the traditional khichdi, using quinoa instead of rice and sticking to the traditional moong dal as the lentil. I added some vegetables to make the recipe filling. This when served with a bowl of yogurt and some Indian papad; it makes a great dinner recipe.
Quinoa is a grain that makes awesome dishes. I use it pretty often in MANY recipes. From main dishes to a substitute for rice in several recipes, quinoa has a permanent spot in my pantry. If you are a quinoa lover too, try one of these:
30 Minute Vegetarian Quinoa Enchilada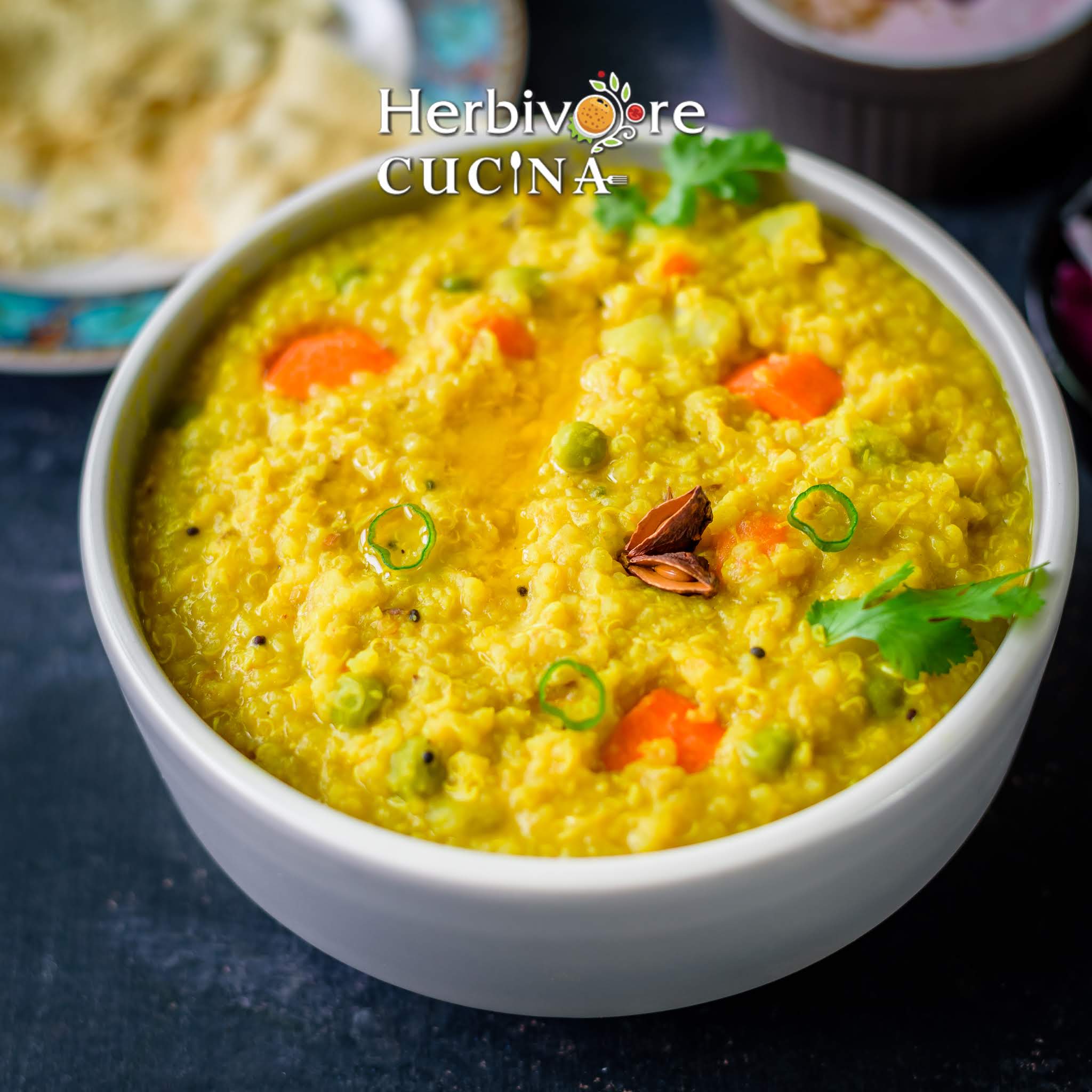 Why make Quinoa in the Instant Pot?
Making quinoa in the Instant Pot is super easy. Whether it is making just quinoa or using it in a recipe; the timed recipe is PERFECT each time. Super fluffy quinoa that has each grain separate, I love to make my quinoa recipes in the Instant Pot.
These recipes are filling, nutritious and easy to make. Most recipes with quinoa come together pretty quickly and are great to enjoy fresh or as a lunch box recipe the next day.
If you want to make the khichdi in the evening, you can mix together everything before you leave for work and set a delayed timer. The khichdi will be piping hot by dinner time!
How to make Quinoa Khichdi
This recipe is inspired from the traditional Indian Khichdi. I substituted rice with quinoa here. Plus, I added some vegetables to the recipe. Making the recipe without the vegetables is a great idea too. It can then be served with mixed vegetable raita or even a vegetable curry.
I added carrots, peas, potatoes and some tomatoes. Add the vegetables you have in the refrigerator or skip them. I sometimes add a LOT of spinach to the recipe and make it into spinach khichdi.
While other ingredients in the recipe are Vegan, ghee is the only ingredient that keeps the recipe from being a Vegan one. If you need vegan version, replace ghee with any neutral oil.
If you want to add more lentils in the recipe, you can add some moong dal or moong beans. They go really well with the recipe.
The spice level of the dish is medium spicy. If you need a bland version, skip the green chili. It will reduce the spice level. On the other hand if you are a spicy food lover, add some more chili or serve the khichdi with Indian style mango pickle. They make a great combination.
With all this information, I hope you try this recipe in the Instant Pot. If you are looking for more Instant Pot recipes; do not forget to join this Facebook group: Instant Pot Recipes Community.
Video Recipe
Ingredients
Quinoa 1 cup, washed and drained
Moong Dal ½ cup, washed and drained
Onion ½ cup, diced
Carrot 1 medium, diced
Green Peas ½ cup
Potato ½ medium, diced
Tomato ½ medium, diced
Garlic 2-3 cloves, chopped
Ginger 1 inch piece, grated
Green Chili 1
Mustard seeds 1 tsp
Cumin seeds 1 tsp
Asafetida a pinch
Cinnamon 2 inch pieces
Cloves 4-5
Turmeric Powder 1 tsp
Red Chili Powder ½ tsp
Salt 1 tsp
Ghee 1 tbsp
Water 2 cups
Lime juice ½ tsp
Cilantro to top
Method
Set the Instant Pot mode to 'Saute' and Normal. Add ghee and let it heat. Then add mustard seeds and let them pop. Once they pop, add asafetida and cumin seeds, bay leaves, cinnamon and cloves.
Once they sizzle, add garlic, ginger and green chili. Sauté till the raw flavor vanishes. Then add onion and sauté for a minute. Then add potatoes, peas and carrots. Mix and let them cook for a couple of minutes.
Next, add the drained quinoa and moong dal. Mix well and let them sauté for a couple of minutes. Then add turmeric powder, red chili powder and salt. Mix well.
Add 2 cups water and mix. Add the tomatoes on top and do not stir. Close the lid of the Instant Pot and press 'Cancel'.
Press 'Pressure Cook' and set time to 6 minutes. Set pressure to 'High'. Move the vent to sealing and let the khichdi cook. Once the timer is zero, let the pressure release naturally for 5 minutes. Then release the remaining pressure and open the Instant Pot.
Add cilantro and lime juice. Mix well and serve with a side of raita, yogurt, papad or Indian Mango pickle.
DISCLOSURE: WE ARE A PARTICIPANT IN THE AMAZON SERVICES LLC ASSOCIATES PROGRAM, AN AFFILIATE ADVERTISING PROGRAM DESIGNED TO PROVIDE A MEANS FOR US TO EARN FEES BY LINKING TO AMAZON.COM AND AFFILIATED SITES.