Fried Rice is probably the most common Indo-Chinese dish made after Hakka Noodles. The taste of Fried Rice differs, based on where you have it. Every restaurant has it's own style of making it, therefore there is nothing like an authentic recipe for it. Having tried Fried rice at various places, I have figured that the recipe has rice, assorted vegetables depending on which region you are in (and what is cheap in the market at that time) and a few sauces. This generally gives you your own version of the Fried Rice!!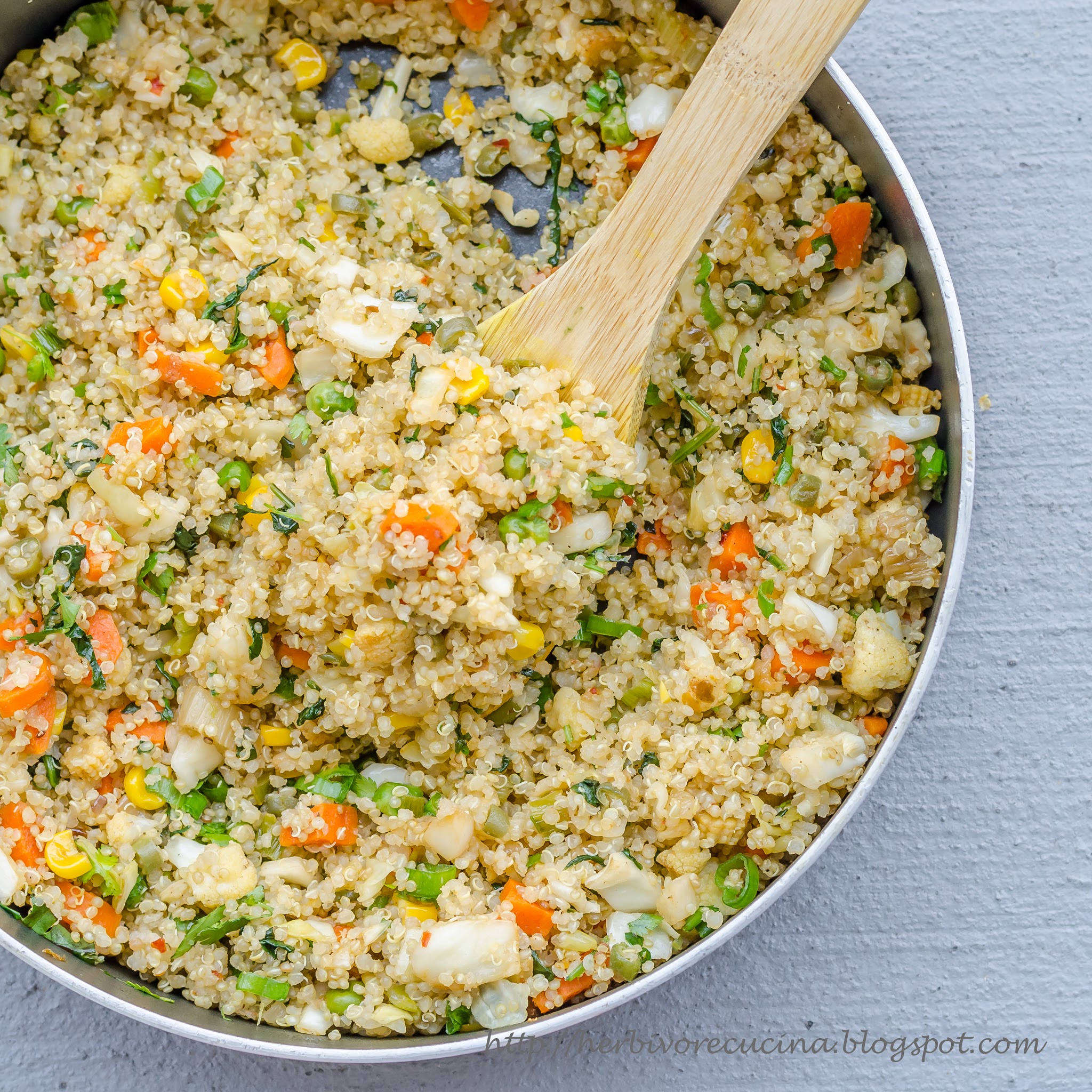 In this recipe, I decided to switch the rice with quinoa and keep all other elements same. This way you can enjoy the amazing taste of Indo-Chinese rice in a healthy version. Lately I have seen that quinoa is becoming a hero in the kitchen, and I decided to join the bandwagon too! I have used white quinoa, but you can use the red quinoa mixed with white quinoa too. That combination gives a unique earthy flavor that may be enjoyed by few people. Try this recipe today and forget the take-out dinners forever.
Ingredients
Quinoa 1 cup, uncooked
Mixed Vegetables 1 ½ cup diced
Chili Oil 1 tsp
Vegetable Oil 1 tsp
Sriracha Garlic Sauce 1 tsp
Soy Sauce
Vinegar
Salt, pepper powder
Method
Preparing the quinoa
There are four steps to get perfect quinoa every time!! Here they are:
Rinse quinoa thoroughly with water. This process is very important to get the bitter taste out of the husk of quinoa. Once you have rinsed a few times, bite into a grain to confirm it is not bitter anymore.
In a pan add the uncooked quinoa and 1 ½ cup water. Some recipes call for 2 cups of water for every 1 cup of uncooked quinoa, but I like to take 1 ½ cup as it results in perfectly cooked quinoa that is not mushy.
Turn on the gas and let the quinoa cook for 10-12 minutes. Add a pinch of salt if you like. The secret here is NOT to peek into the pot to see how the quinoa is doing. After 10-12 minutes, turn down the flame and let the quinoa stand for 5 minutes. Again, NO peeking!
After 5 minutes, use a fork to fluff the quinoa. Do it softly as the quinoa will be soft and you do not want to crush it. Do not use a ladle or spoon that can crush the quinoa.
Just like rice, quinoa is best if made ahead of time and used once it cools. This gives the best quinoa that is not at all mushy.
Preparing the fried rice
Now that we have perfectly made Quinoa, lets move on to the main dish preparation.
Heat vegetable oil and chili oil in a broad bottom pan or wok. Add sriracha garlic sauce, onions and peppers and saute on high flame for a couple of minutes. Next add other vegetables like french beans, carrots, broccoli, corn, peas etc. You can add whichever vegetables you and your family like! Add some salt and pepper powder and let the vegetables cook for a couple of minutes.
Now add the fluffed quinoa and mix well. Add vinegar and Soy sauce and mix. Top with Spring Onion greens and serve hot.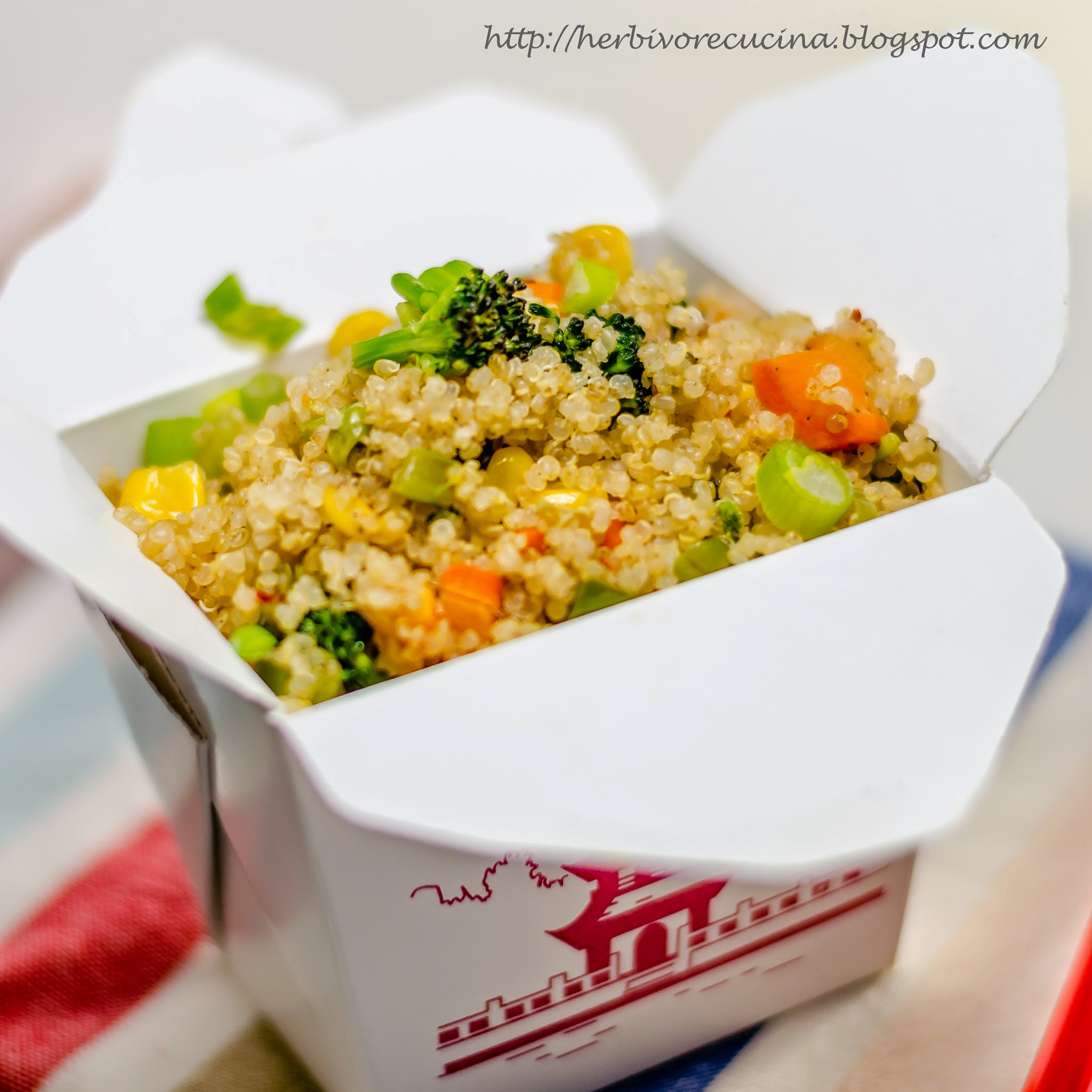 Still crave for the traditional Vegetable Fried Rice? Find the recipe here.