Blogging Marathon #77 Week 2 Day 2
Theme: Weekday Lunch Recipes
Dish: One Pot Pineapple Fried Quinoa
Quinoa, Pineapple and Vegetables in ONE! This recipe is a healthier version of Thai Pineapple Fried Rice.


Quinoa was once upon a time my favorite ingredient to work with. Then I started exploring other ingredients like little millet, different cereals, balsamic vinegar and what not! And poor quinoa was left out. Now I am back to quinoa thanks to Valli's theme of Healthy Weekday lunch this week.
Coming to the topic of lunch, I thought every dish should have the right mix of everything healthy and yet be super easy to make. And what better than a one pot meal? I have posted a couple of recipes using quinoa that needed the grain to be cooked first and then mixed into the other ingredients. I understand it takes long to do so.
So I came up with this one pot recipe. This is not exactly a dump and go recipe, but it is pretty easy to get everything together in the morning. Plus it is a recipe that one can customize as per their choice and availability of ingredients. Being a pineapple quinoa recipe, those are the only two ingredients that NEED to be there. Everything else can be modified.
I love Thai food, especially Pineapple Fried Rice. I always make the rice from fresh pineapple. Not only does it taste better, it also gives me a pretty pineapple to serve the prepared rice. However, I did not have fresh pineapple this time around and had a can of pineapple slices I recently got to make a cake I never made, so decided to use it up.


A word of caution


The rice or quinoa tastes really good when you add some pineapple juice to it along with the pieces of pineapple. My canned pineapple was slices in it's own juice and so I poured out the juice into the quinoa. If you are using fresh pineapple or canned ones in heavy syrup, just puree the pieces. The heavy syrup will make the quinoa SUPER sweet.


Variations


The same recipe will work with white rice, jasmine rice, brown rice and little millet. I have seen millets taking over the quinoa space and intend to make that next! Being a one-pot recipe, adjust the time required to cook everything based on the grain you are using.
Not a fan of Pineapple? Make a yummy Basil fried Quinoa using the same recipe, replacing pineapple with fresh basil. I would suggest you try this recipe once before making a decision on the pineapple though!
Lastly, if you want a dish that has even more protein, add some diced tofu to the quinoa. It makes the dish filling and rich in protein.
The quinoa is perfect to serve as is or with an accompaniment like this Quick Green Curry or Garlic Tofu.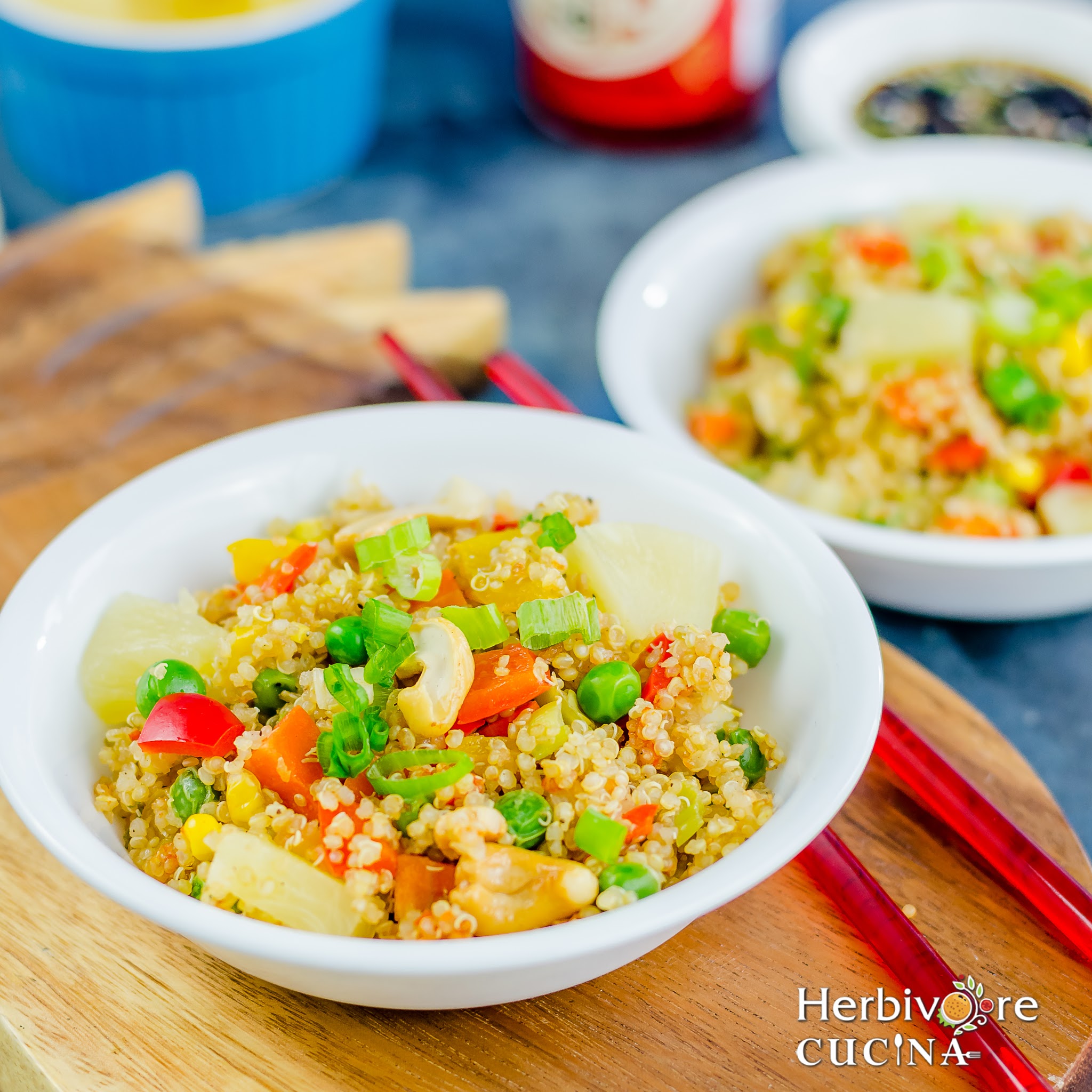 Ingredients

Quinoa 1 cup
Pineapple (canned or fresh) ½ cup, chopped
Diced Vegetables ( Green Peas, Corn, Carrots, French Beans) 1 cup
Spring Onion 2-3 stalks, chopped
Peppers ½ cup, diced
Garlic 1-2 cloves, minced
Ginger ½ inch piece, grated
Soy Sauce 1 tsp
Vinegar ¼ tsp
Chilli Sauce 1 tsp
Salt, Pepper to taste
Sesame/ Vegetable Oil 1 tbsp
Cashewnuts 3-4

Method

Wash and drain quinoa. Set aside. Also set aside 2 tablespoon juice from the pineapple can or puree a couple of pieces of fresh pineapple to get the required juice.

In a pan heat oil and add the cashewnut pieces. Sauté for a minute and remove them. In the same oil add garlic. Sauté till the raw flavor vanishes. Add ginger, onions and peppers. Mix and sauté for a minute. Then add the remaining vegetables, and season with ¼ teaspoon salt. Mix and cook covered for 4-5 minutes.

Open the lid, add the quinoa, 1 ½ cup water and ½ teaspoon salt. Also season with ½ teaspoon pepper powder. Cover and cook for 12-15 minutes, till all the water is absorbed and quinoa is cooked. For more tips on cooking quinoa, read this post.

Once the water is absorbed and quinoa is cooked, add pineapple juice, soy sauce, chilli sauce and vinegar. Also adjust the salt and pepper content. Fluff the quinoa with a fork and turn down the heat.

Remove in a bowl, top with spring onions and cashewnuts. Serve!

Check out the Blogging Marathon page to see what the other Blogging Marathoners are doing for this BM.
Want more quinoa recipes? Try this Quinoa Kofta in Makhani Gravy, Quinoa Fried Rice or Quinoa Sabudana Khichdi.