A quick Green Curry with vegetables and tofu that comes together in under 15 minutes. Served with Jasmine Rice, it makes a PERFECT Thai dinner!!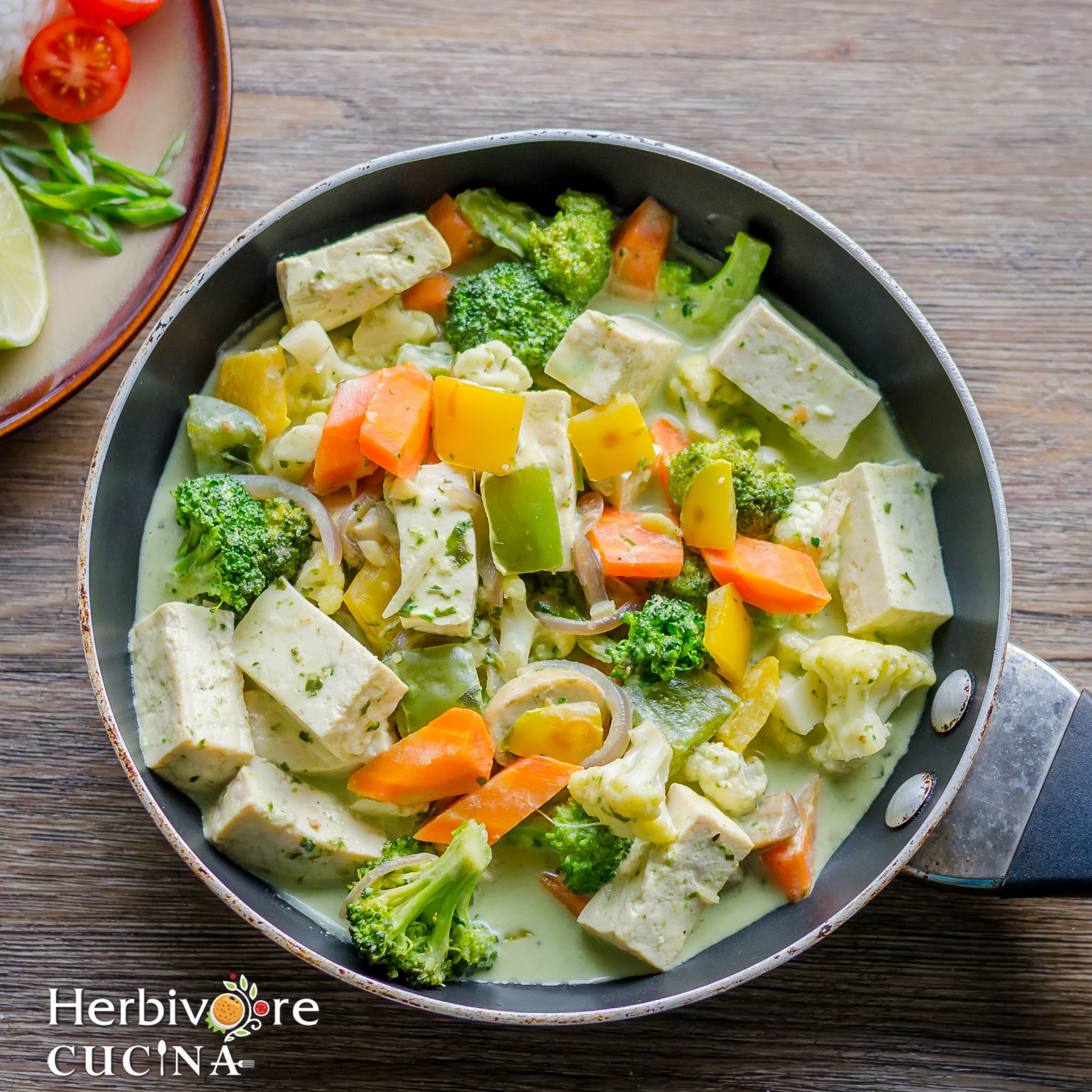 Dinner time means something yummy and healthy on the table, that can be made really quickly. For a while we have fallen in LOVE with quick Thai Curries and Jasmine Rice. The delicately flavored rice make a perfect accompaniment for all Thai dishes.
I started off making Thai with ready to use curry pastes. Over time, I stopped using them and switched to making my own. I made a red curry paste and panang curry last month and now this green curry.
The most important part of Thai cooking is probably how fresh the herbs are. And as we all know, basil is not something we get the best quality all year round. I do preserve some basil in my freezer but it is never enough to last the entire year!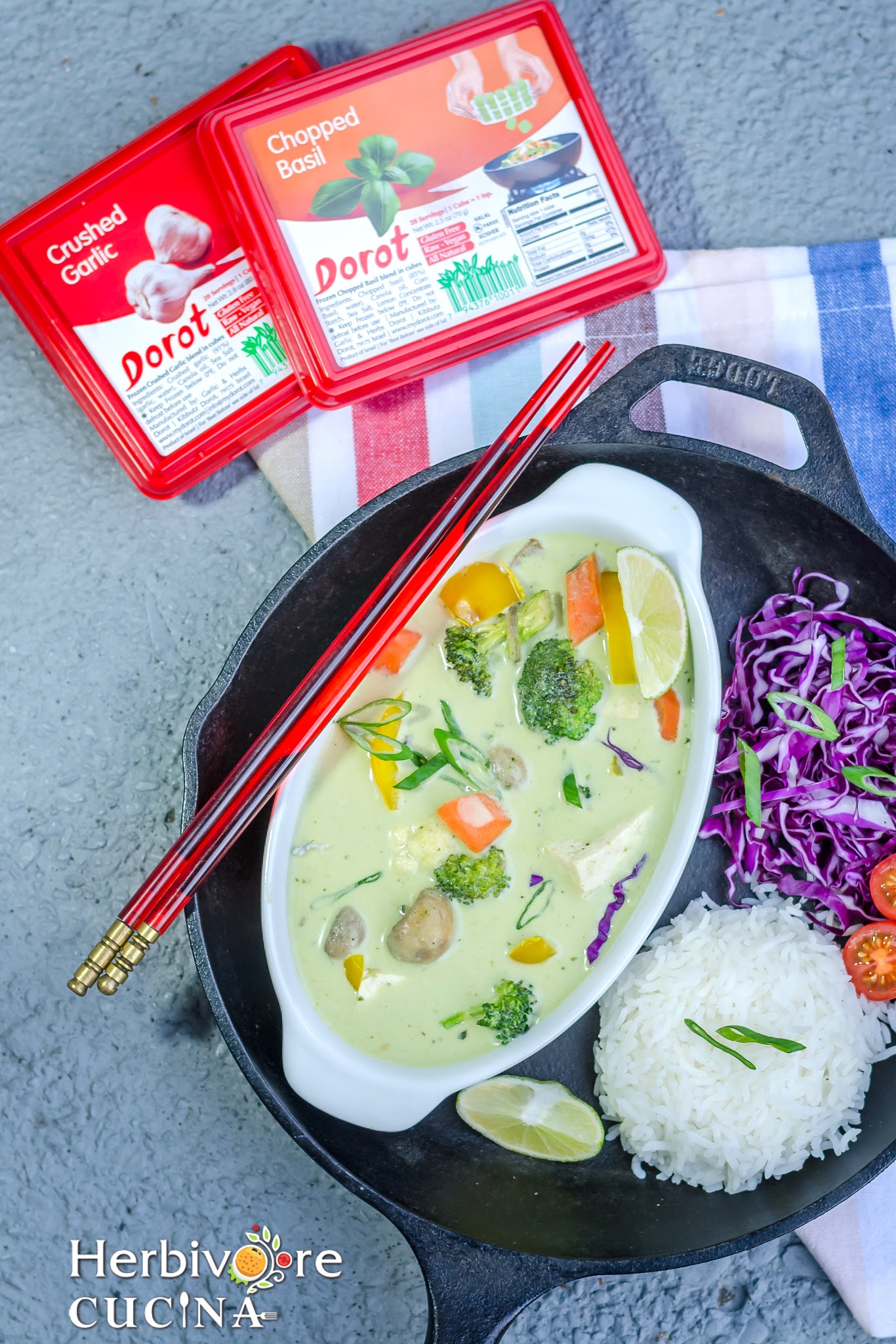 A few days back I was introduced to Dorot's Frozen herbs and crushed garlic and ginger. These tiny cubes are packed with flavor and perfect for quick recipes. They have a really long shelf life of two years and really easy to pop a cube into the recipe.
I got a tray of basil and garlic from my local Whole Foods. The bright red colored trays are really easy to spot in the frozen aisle. The trays have 20 cubes, enough to last a long time if you are cooking for two! Want a bonus, here is a $1 off coupon on these wonderful herbs.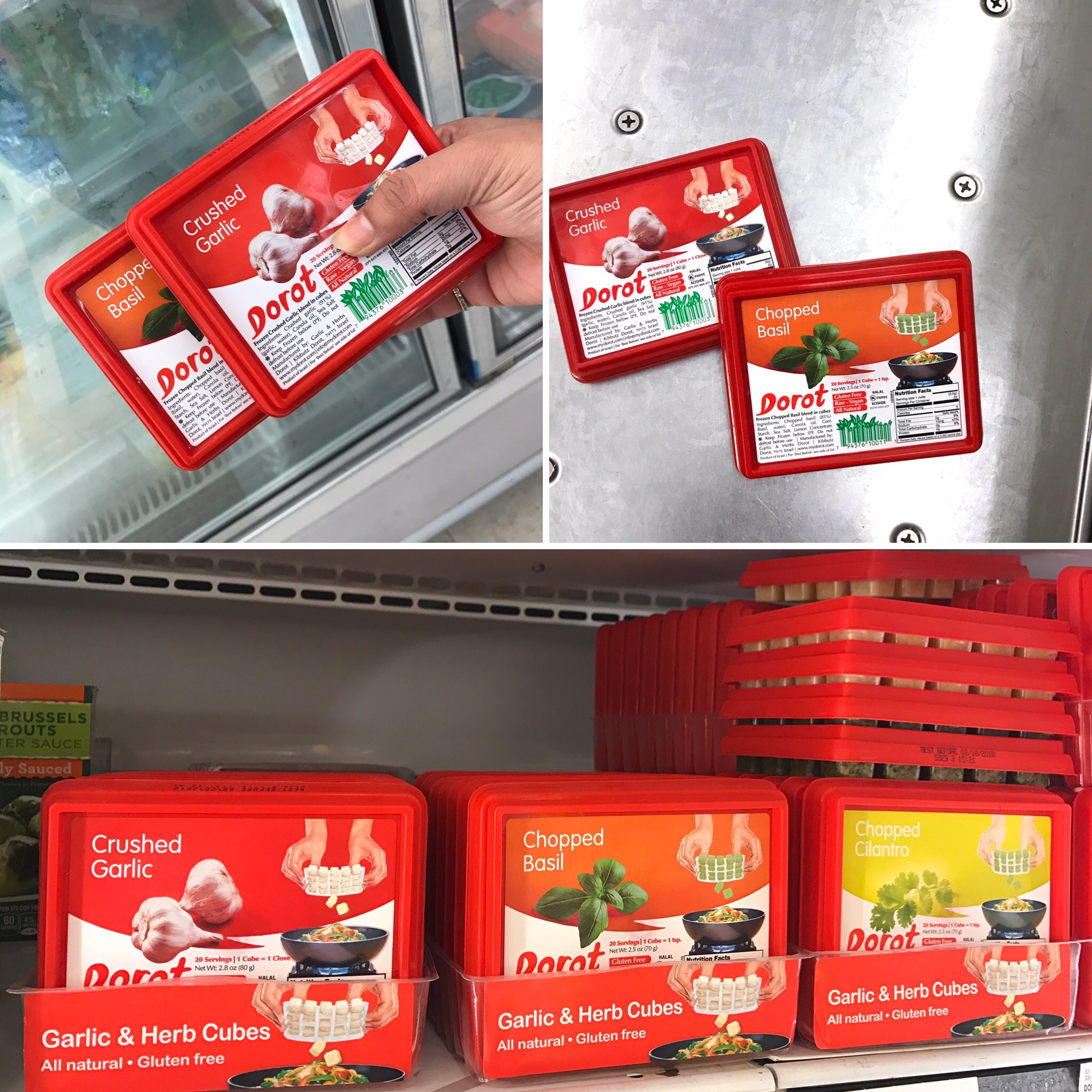 Coming to the recipe, this quick green curry needs just a few ingredients; vegetables, tofu, coconut milk, chopped basil and a few condiments. From start to finish, it all comes together in under 15 minutes.
For a cold winter night, I made this curry and steamed jasmine rice. Together with some chopped cabbage and fresh lemon juice, we had perfectly delicious Thai bowls. Next time I am going to try some yellow curry from scratch. Can't wait to use some more of the herbs in Italian cooking and of course, some Indian cooking!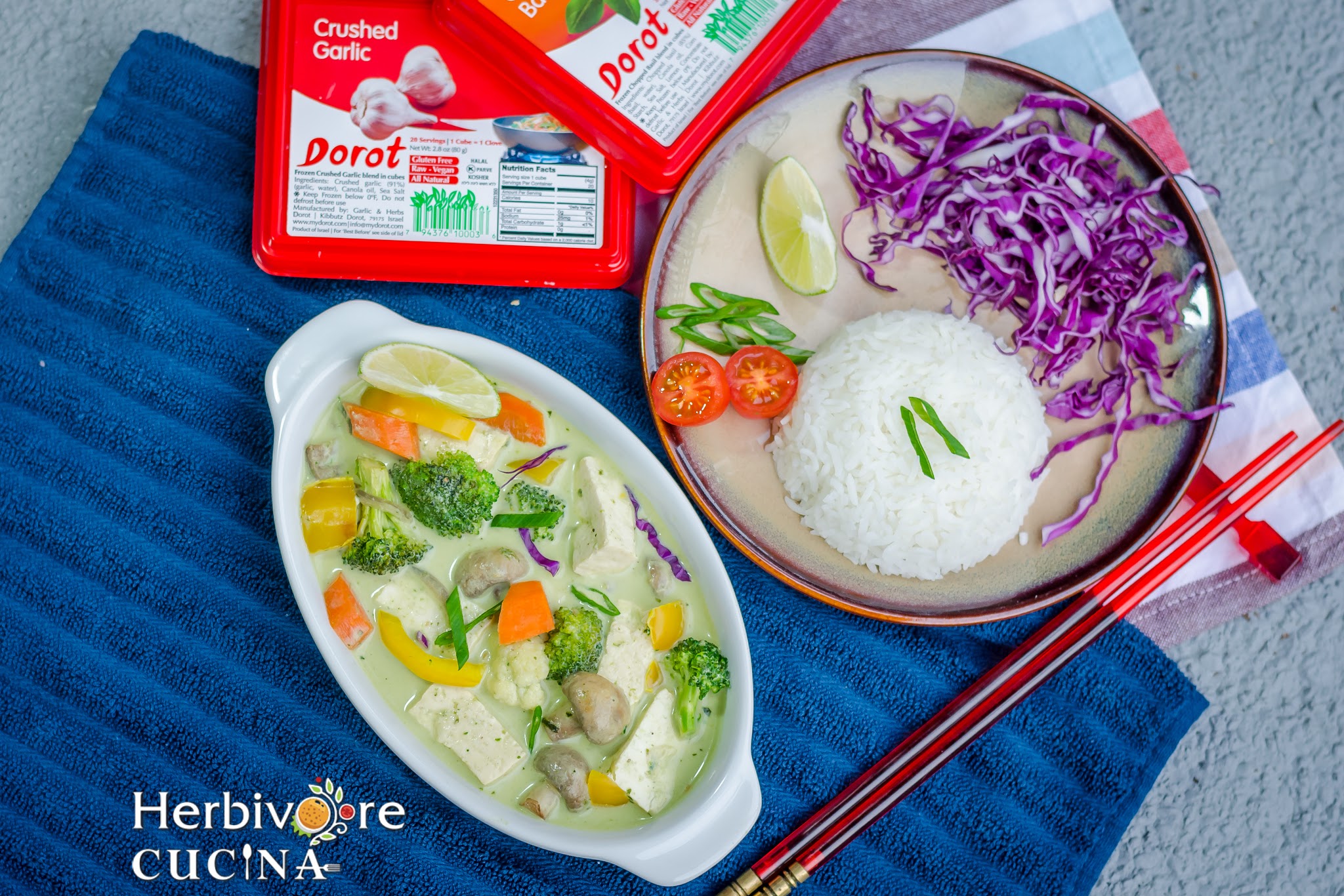 Read on to find how to make this yummy green curry. And yes, don't forget to get the $1 off coupon on these yummy herbs.
Ingredients
Firm Tofu 1 cup, diced
Broccoli ¼ cup, florets removed
Carrots 1 medium, diced
Green and Yellow Peppers ½ cup, diced
Onion ¼ cup, diced
Cauliflower ¼ cup, florets removed
Dorot Crushed Garlic 3 cubes
Oil 1 tbsp
Spring Onion 1-2 stalks
For the curry
Coconut milk 1 ½ cup
Dorot Chopped Basil 4 cubes
Ginger/ Galangal 1 tsp, minced
Lemongrass 1 tsp, minced
Green Chilli 1, minced
Lemon Zest ¼ tsp
Salt 1 tsp
Pepper ½ tsp
Method
In a pan heat oil. Add onion, pepper and crushed garlic. Saute till fragrant and the onions are pink.
Next add cauliflower and carrots. Cover and cook for a couple of minutes. Then add broccoli and tofu. Mix well and Cook for a couple of minutes.
Finally, add all the ingredients under curry. Mix well and simmer for a few minutes.
Remove from heat, add some chopped spring onions and serve warm with a side of steamed Jasmine Rice or Jasmine Fried Rice.