Blogging Marathon #77 Week 2 Day 1
Theme: Weekday Lunch Recipes
Dish: Healthy Vegetable Pasta Casserole
Can pasta be made 'healthy' and 'yummy' at once? If you do not believe me, you need this recipe. It has everything that is good for you!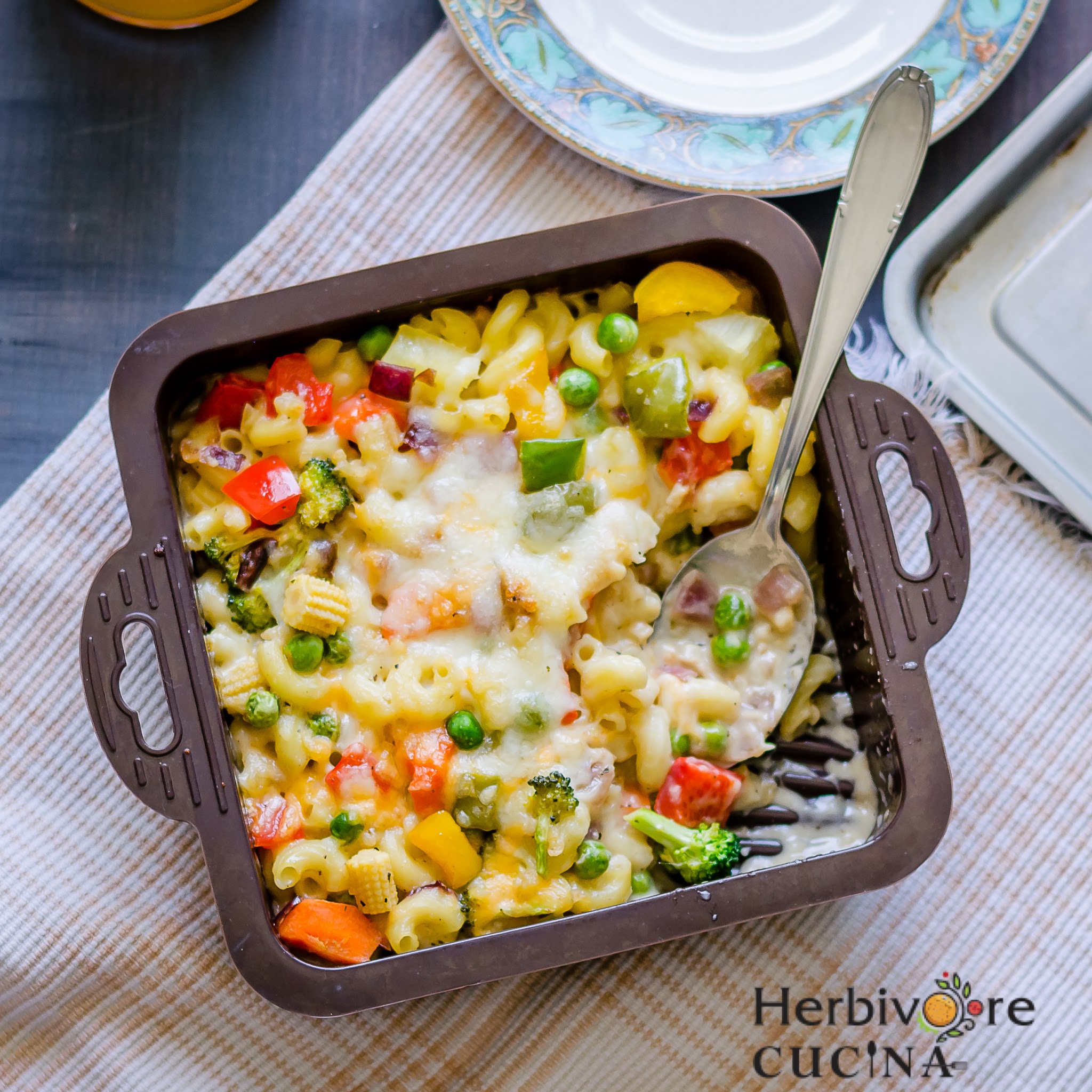 Pasta and vegetables in one dish is something I love. The yummy taste of pasta, colorful vegetables and oregano come together so well! I am really partial towards any kind of white sauce that is loaded with cheese. But given how heavy they are, I tend to avoid them.

For the longest time I have only made pasta sauce using all purpose flour and regretting soon after. Lately I almost switched to pesto pastas in restaurants. I have had red sauce pastas that are just canned tomatoes mixed with oregano! Since then I tend to avoid all things 'Marinara'!

A few days ago I was craving a bowl of pasta, especially the white one. But I did not want to pile on calories. So I made this SKINNY version of pasta.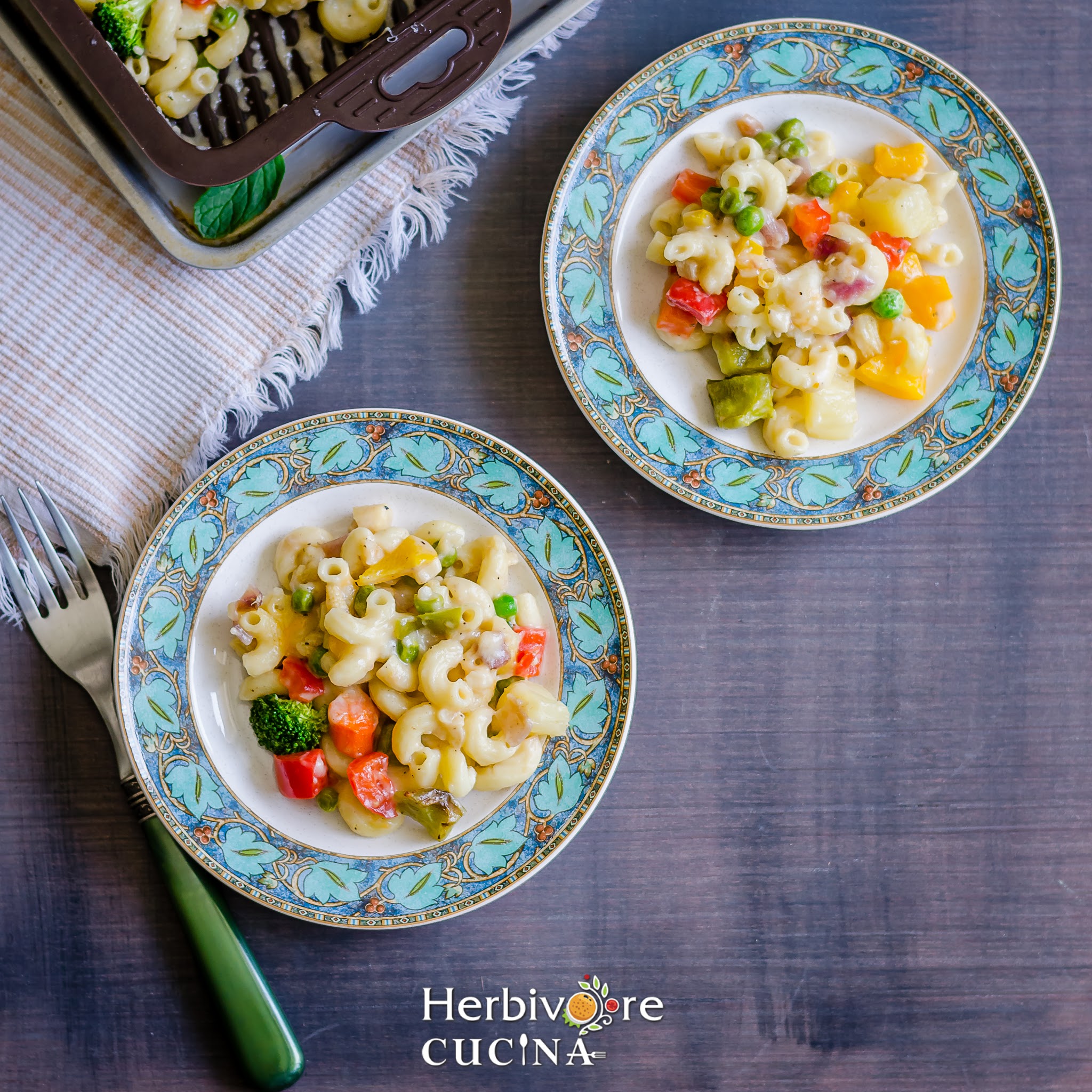 How is it 'Healthier'?

This dish has vegetables, wheat pasta, wheat flour based sauce and just a sprinkle of cheese. When Valli put up the theme of 'Healthy' Lunch recipes for this Blogging Marathon, I had to shoot the pasta I made!

The taste of the sauce is not very different from the APF version. It does not have cheese and I used 2% milk. Yet it is super delicious. And yes, I have not been a fan of Wheat pasta ever. I always felt it had a weird taste. Now I get them and put a TON of vegetables to mask the taste of pasta! That way it becomes healthy and amazing.


Perfect Lunch Recipe

This recipe is perfect for weekday lunch at home or to be packed. Better still, it can be made a day before and packed for lunch. Plus, the leftover freezes well. I sometimes make a big batch and we enjoy it for two meals. The best accompaniment with this bake is Garlic Breadsticks or Roasted Tomato soup.
This recipe is also good for parties and as a side for BBQ evenings. I like it because it is light, easy to make and delicious. So if you also have a non lover of wheat pasta, you have to try this version. It can instantly change them to lovers of 'healthy pasta' and agree that pastas can be indeed made healthy!


Variations


If you still want to have the traditional version, just change the following: Wheat pasta for regular pasta, olive oil for butter, wheat flour for all purpose flour and finally 2% milk for whole milk and a drizzle of cream. Plus, increase the amount of cheese to make it sinful!


I added the vegetables I had in my refrigerator. Add the vegetables as per your taste. Plus, add some paneer or tofu if you like. It makes the paste even more tasty. Baking the pasta is optional. You can just mix it all on the stove and serve directly from there!

Ingredients

Wheat Pasta 1 cup (I used Macaroni)
Mixed Vegetables (Baby Corn, Green Peas, Carrots, Broccoli, Onion, Peppers)
Garlic 1-2 cloves, minced
Wheat Flour 2 tbsp
Olive Oil 1 tbsp
Milk ¾ cup
Oregano 1 tsp
Salt and Pepper
Shredded Mozzarella Cheese 2 tbsp

Method

Heat 3 cups water in a pan with ½ teaspoon salt. Once it comes to a boil, add the pasta. Boil as per the package instruction. When they are just done, add chopped baby corn peas and broccoli florets.

In a minute after adding the vegetables, turn down the flame and drain the pasta and vegetables. Set aside.

In a saucepan heat oil and add garlic. Sauté till the raw flavor vanishes. Then add onions and peppers. Sauté till they cook.

Next add the flour, and cook till the flour begins to brown. Add the milk, ½ teaspoon salt, oregano, ½ teaspoon pepper and mix well. Cook till the sauce thickens.

Add the pasta and vegetables, mix well and turn down the flame. Transfer to an oven-proof bowl. Sprinkle the cheese and bake for 10 minutes in a preheated oven at 350 F/ 180 C.

Remove and serve with a side of toasted bread or soup.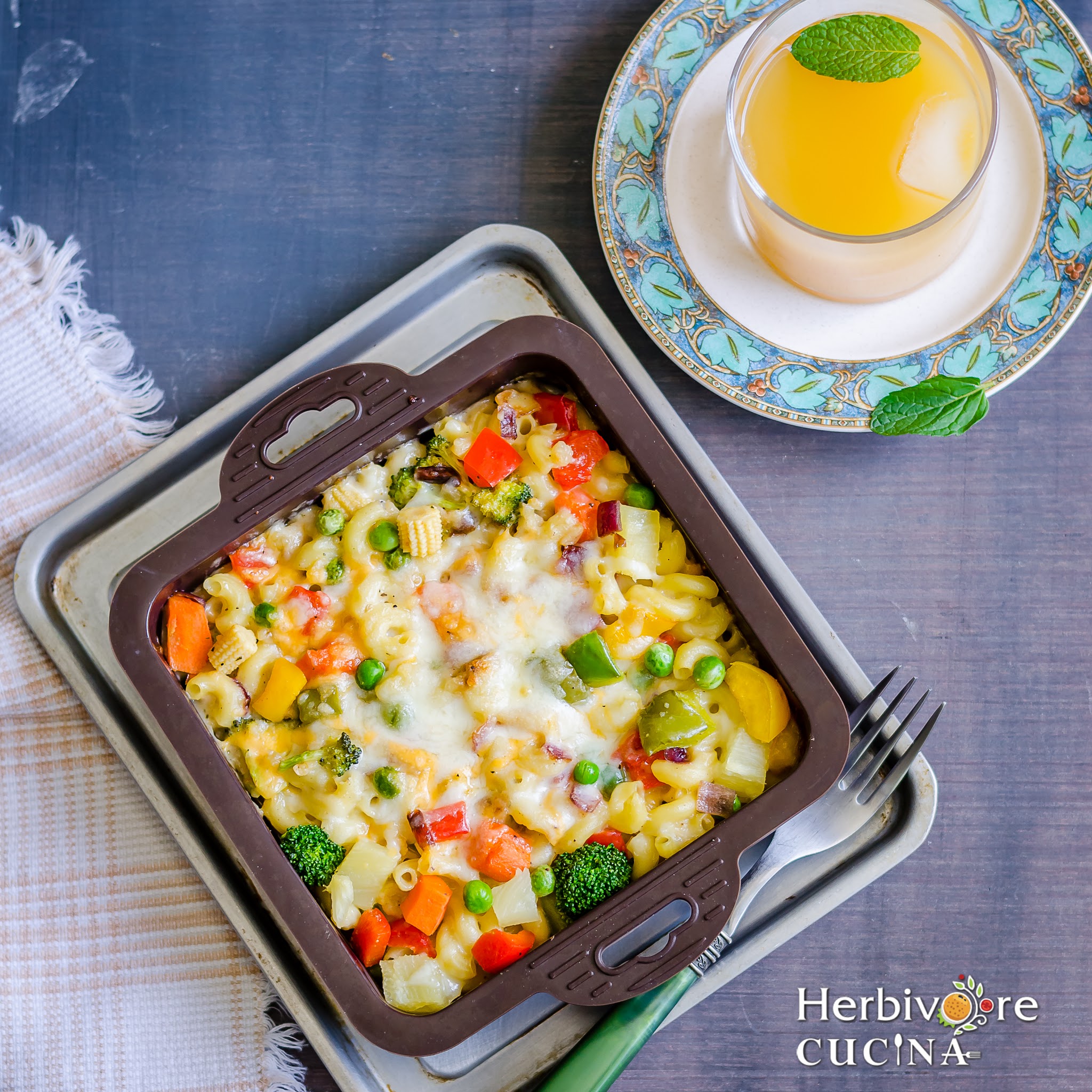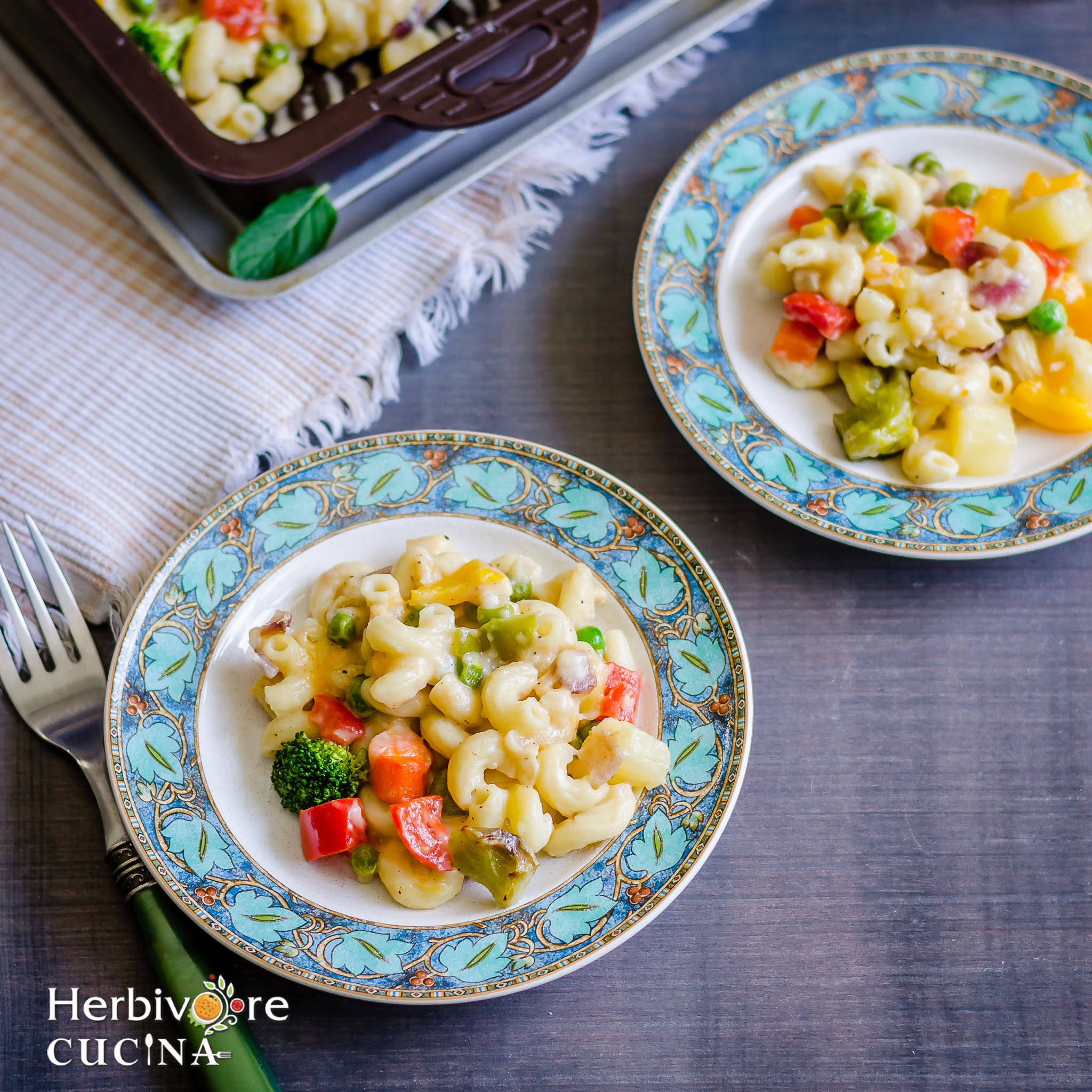 Check out the Blogging Marathon page to see what the other Blogging Marathoners are doing for this BM.