What is your favorite bread? What's your family's favorite? The answer to both the questions for me is simple: Garlic Bread! We love our garlic breads in all forms; Italian style garlic knots, Pizza Hut's Garlic Bread rounds, Papa John's Garlic breadsticks or Dominos Garlic bread. Apart from these, we love Olive Garden Garlic Breadsticks.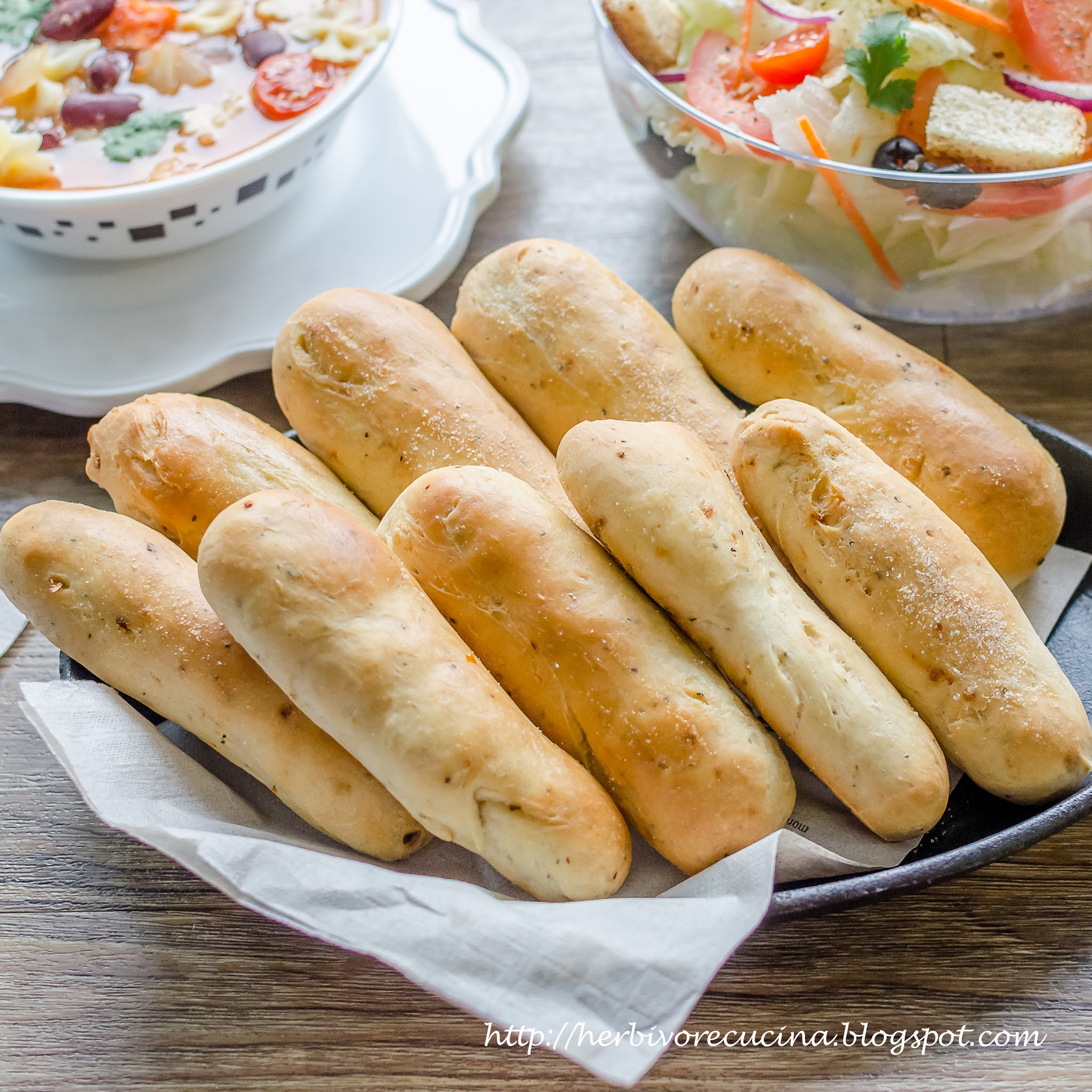 For the ones who have visited Olive Garden, you know what I am referring to. For the ones who don't, here is a simple way to put the garlic bread sticks: They are logs of freshly baked dough, mixed with garlic salt and lightly buttered with italian seasoning and garlic. Yummy, isn't it? Though we enjoy basketfuls of these yummy breads when we visit the restaurant, making them at home is always a prefered option.
Last month, we had a girls meetup and Shital from the famed Shital's Kitchen made fresh garlic bread sticks. It was post that meet-up that I craved the sticks at home. So, one day when I was absolutely creative and ready to sweat it out in the kitchen, I made everything served at Olive Garden at home. It turned out to be quite a treat! I made Vegetable Minestrone Soup, these breadsticks and the famed Italian salad (recipe coming up soon).
The recipe is pretty similar to the Garlic Breadsticks from Dominos. Make the standard dough for breads; flour, water, yeast and unsalted butter. Add garlic powder and Italian seasoning to the dough and make the logs once the dough rises once. Then bake them to perfection, brush additional butter on top and enjoy the sticks! Though one can serve a dip or even Marinara Sauce with the bread sticks, we devoured the garlic bread just off the baking tray! Simple recipe that is now frequently made in our home!


Ingredients
All purpose Flour/Maida 3 cups
Active Dry Yeast 1 sachet (2 ¼ tsp)
Unsalted Butter 4 tbsp
Italian Seasoning 1 ½ tbsp
Salt 1 ½ tsp
Sugar ½ tsp
Garlic Powder 1 tbsp
Warm Water 1 cup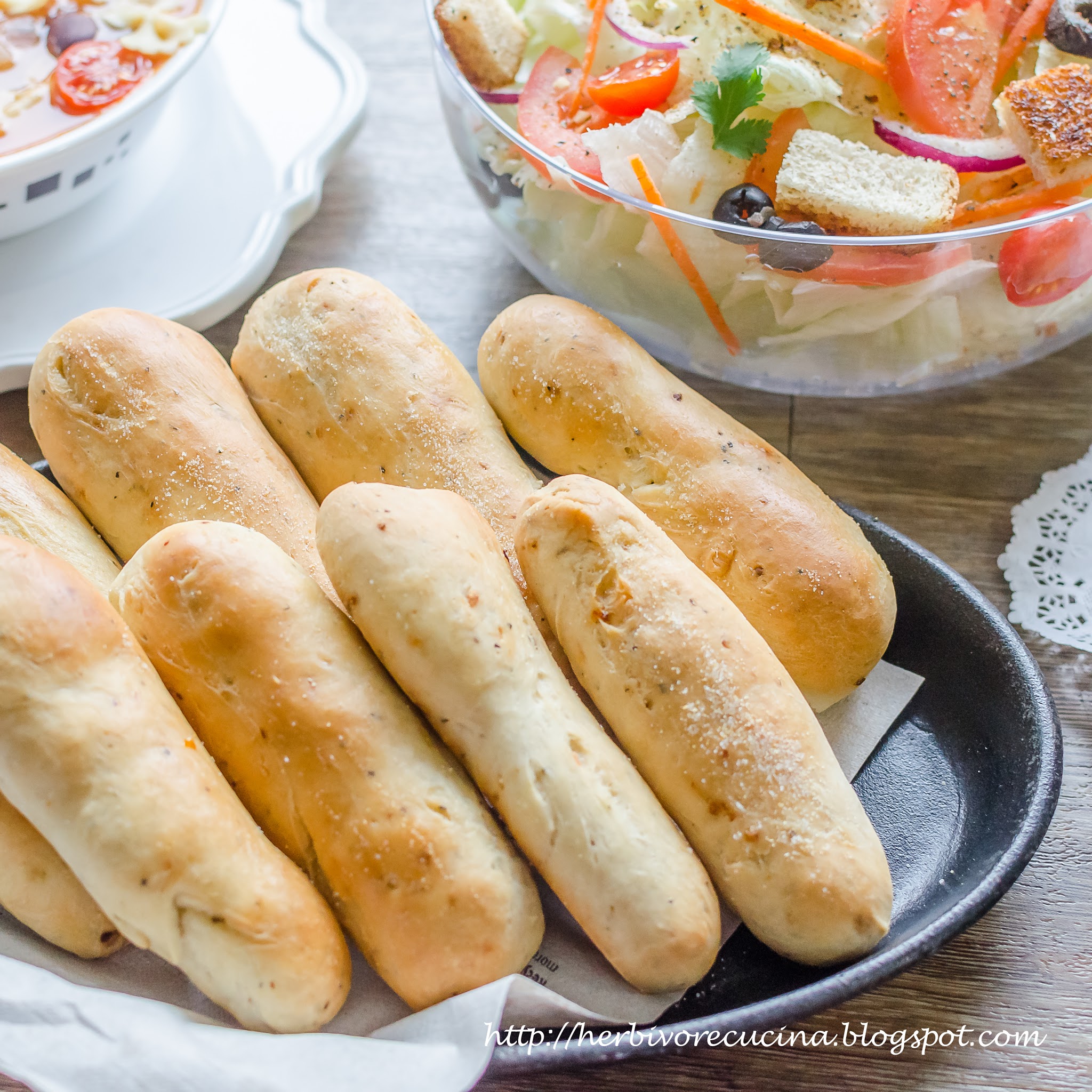 Method
In a cup add water, sugar and 1 teaspoon salt. Warm the water to 100-110 F, add yeast, mix and let the mixture stand for ten minutes till the yeast blooms. In a large mixing bowl, mix flour, 3 tablespoon unsalted butter, 1 tablespoon garlic powder and 1 tablespoon italian seasoning. Pour the frothy yeast mixture into this mixture and make a soft dough. Add little water if required and knead well. The mixture may be sticky at first, knead it well till it converts to a soft dough. Apply little oil over the dough and place it in a large bowl, cover it with a moist cloth and let stand for 45 minutes.
After 45 minutes to an hour, the dough will be almost double it's size. Punch down the dough and knead it for 5 more minutes. Now line a cookie tray with nonstick spray or oil. Make long logs of about 4-5 inches length and an inch in thickness. Place them in the tray leaving some space between them. Let the tray rest for 20-25 minutes till they rise. Preheat oven to 400 F/ 200 C. Place the tray in the preheated oven.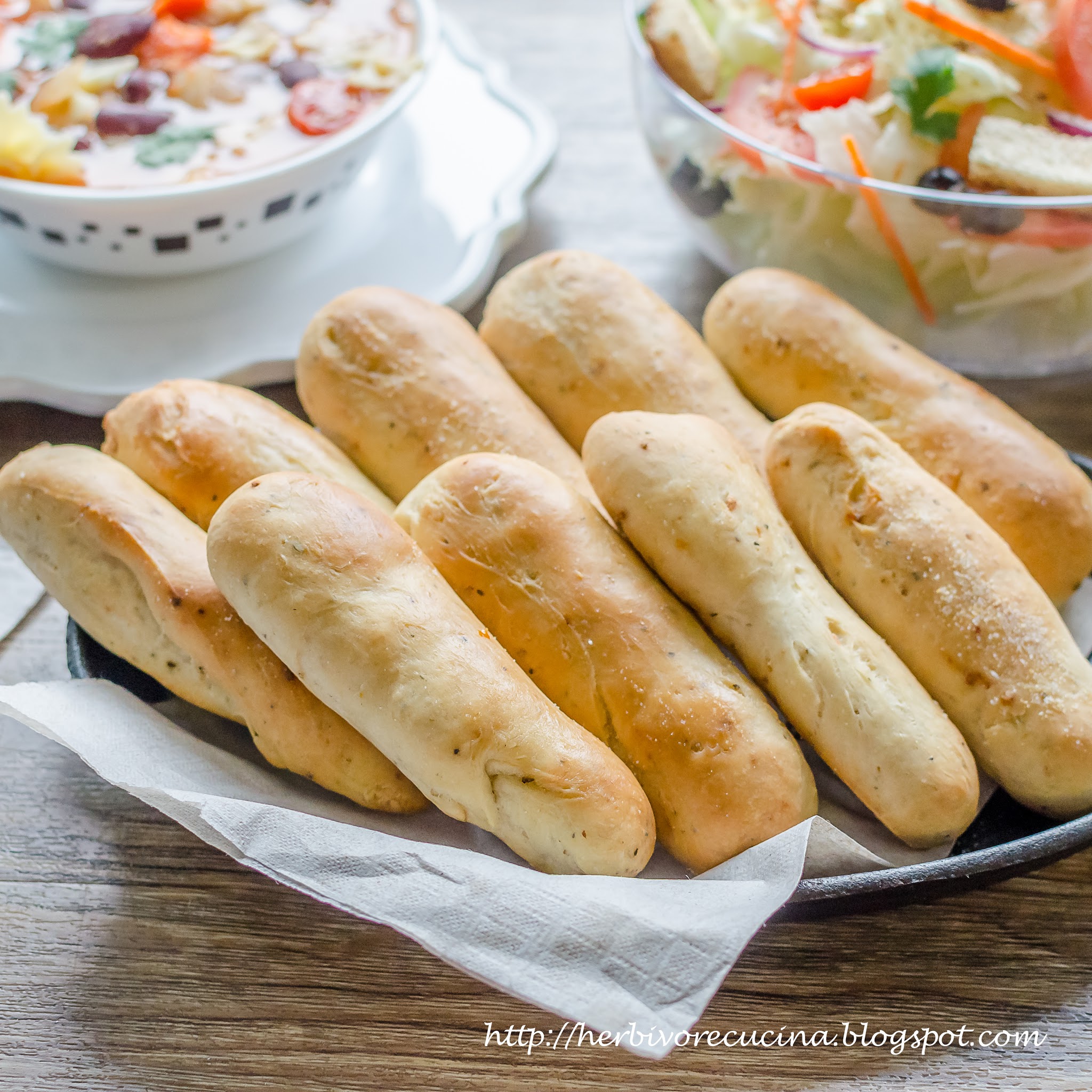 Bake for 8-10 minutes till the tops are a little brown. Meanwhile, in a small bowl, mix the remaining unsalted butter, salt, garlic powder and seasoning. Once baked, remove the garlic bread sticks, brush them with the seasoned oil and serve hot.
The breads are best enjoyed Olive Garden style with a side of this Minestrone Soup.