Every order of pizza from Domino's Pizza is generally accompanied with a side order of Garlic Breadsticks. Assessing the demand for sides the company introduced various sides ranging from Stuffed Breadsticks to Cinnamon sticks, but the classic Garlic Breadsticks remains our favorite. 'Breadsticks baked to a golden brown, seasoned with a savory blend of garlic, Romano cheese and parsley. Served with a side of marinara' absolutely describes the dish!!
After making pizza from scratch at home, there was a sudden urge to replicate the Breadsticks recipe at home and complete the Domino's Dinner Menu. So here is the recipe to make Garlic Breadsticks, almost like Domino's.
Ingredients
Allpurpose Flour/Maida 3 cups
Rapidrise Dry Yeast 1 sachet/ 2 ¼ spoon
Olive Oil 2 tbsp
Mozzarella Cheese 4 tbsp
Dried Herbs
Salt 1 tsp
Sugar ½ tsp
Garlic Salt 2 tbsp
Warm Water 1 cup (100-110 F)
Butter 1 tsp
Method
In a cup of warm water, add Yeast, sugar and 1 teaspoon salt. Let the mixture stand for ten minutes till it foams. In a large mixing bowl, mix flour, half the garlic salt, Olive Oil and dried herbs. Pour the frothy yeast mixture into this mixture and make a soft dough. Add little water if required and knead well. The mixture may be sticky at first, knead it well till it converts to a soft dough. Apply oil over the dough and place it in a large bowl, cover it with a moist cloth and let stand for 45 minutes.
Preheat oven to 400 F/ 200 C. After 45 minutes, the dough will be almost double it's size. Punch down the dough and knead it for 5 more minutes. Divide the dough into four parts and from each part roll out a round disc of about ¼ inch thickness. Place some shredded cheese on one side of the dough and fold dough to form a half circle. Place this in a greased baking tray. Sprinkle some Garlic Salt on top and lightly cut the sticks, so that it is easy to separate the sticks once cooked.
Bake for 8-10 minutes or till the crust turns golden brown. Remove from oven and transfer to a cooling rack. Apply some butter on top and serve warm with Marinara Sauce.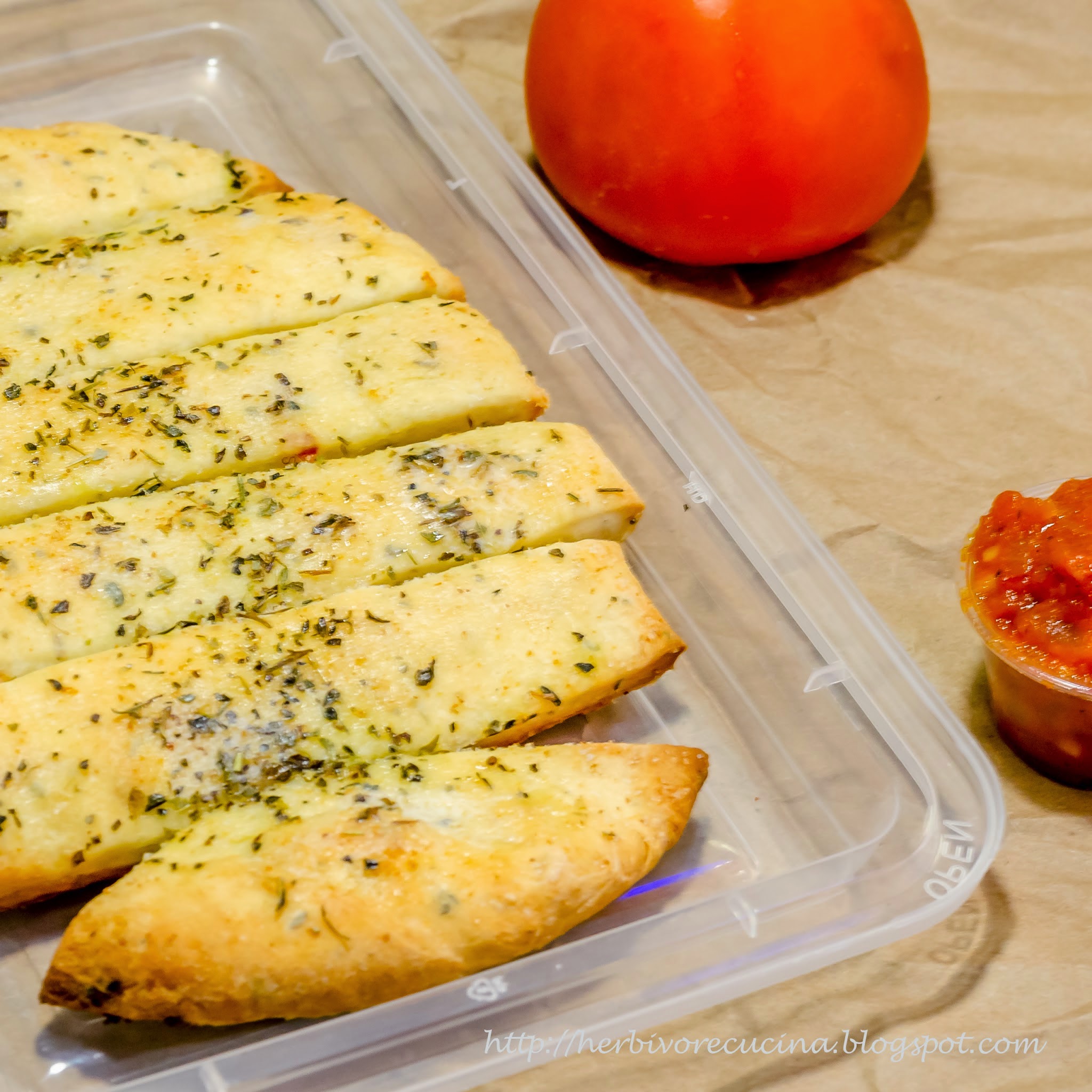 Enjoy this Garlic Breadsticks with homemade Veggie Pizza and Creamy Tomato Carrot Soup!!