Cream of Tomato Soup is probably the most ordered soup in India. When you cannot make up your mind on what soup you want at a restaurant, you just order a tomato soup. Different places have a different way to prepare it, but most restaurants end up doing a good job! Some serve the soup with fried bread croutons, some with basil leaves and few with complimentary bread sticks or a slice of garlic bread.
Adding carrot to this famous soups does a couple of good things: helps reduce the acidity of the tomatoes naturally, tastes better and gives a cute orange red color. Served with guilt free baked garlic croutons and thickened without any corn starch, this soup is definitely comfort food!!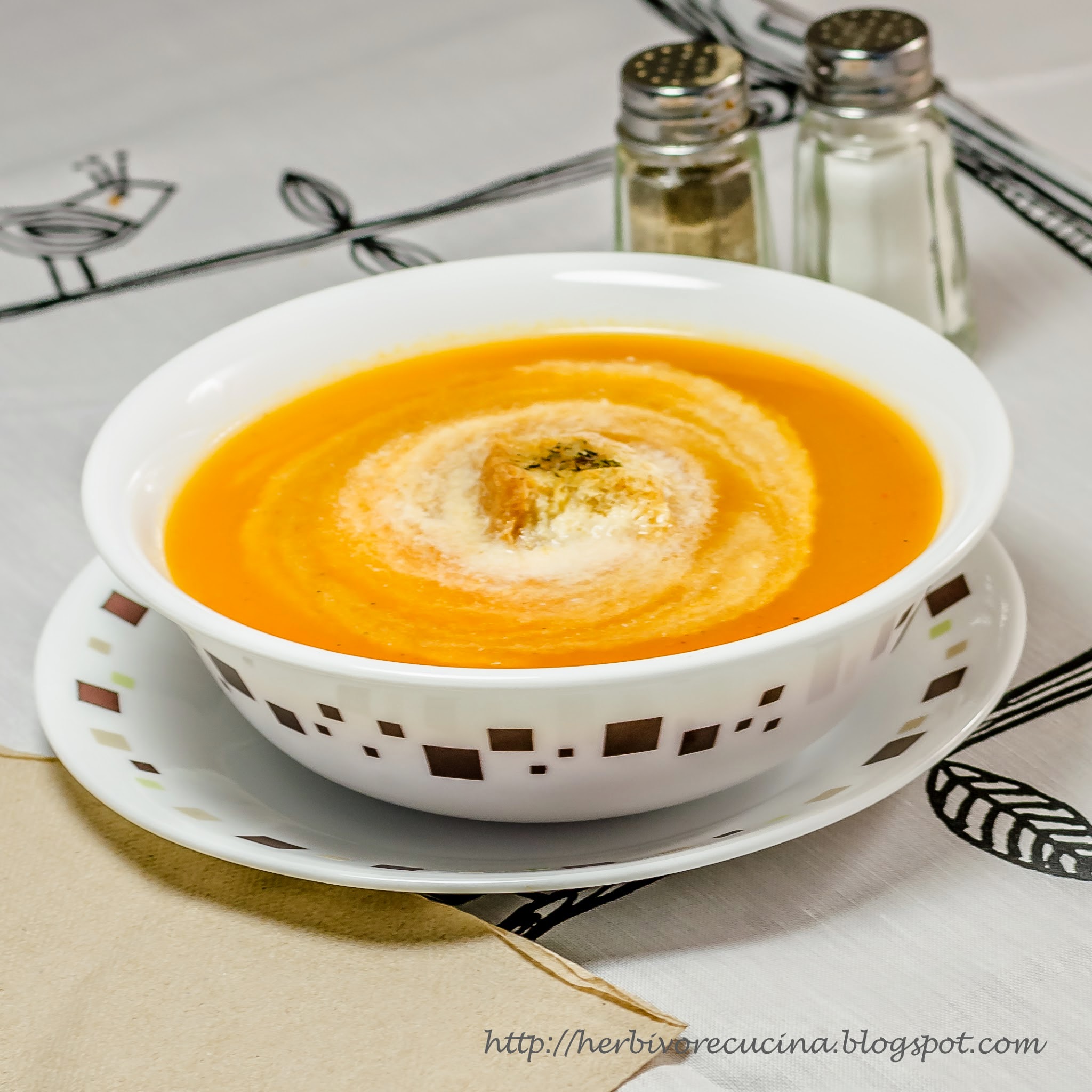 Ingredients
2-3 large ripe tomatoes
2 Carrots
½ Onion
2-3 cloves Garlic
1 inch piece of Ginger
½ Potato
Bay leaf
Black Pepper
Salt
Sugar
Water
Butter
Cream(Optional)
Method
In a heavy bottom saucepan sauté garlic and ginger in ½ tsp. butter. Add diced onion and sauté. Add black pepper and bay leaf to the onions. Next add the peeled and diced potato and mix well. The potato helps thicken the soup without adding any corn starch! Cover and cook for 3-4 minutes. Once the potato is soft, add diced tomatoes and chopped carrots. Add 2 cups water, 1 tsp. salt and 1 tsp. sugar, mix well and cook till tomatoes are soft.
Cool the mixture, remove the bay leaf and blend to a smooth paste. Seive the mixture back to the saucepan and bring to a boil. The soup is ready to serve!
Top with cream if you like. Serve hot with guilt-free baked garlic croutons, Garlic bread and soup sticks!
Turn the soup to a perfect dinner option by teaming with this vegetable lasagne or Veggie Pizza made from scratch!