Pizza was created by the Italians—or maybe by the Greeks, who brought it to Naples. Right now it justly belongs to USA. Americans care more about it. They eat more of it, and unlike the Italians, Americans appreciate it at dinner, at lunch, and at breakfast. Italians think of it as knife-and-fork food, best after the sun goes down.
Pizza isn't as fundamental to Italy as it is to America. Over there, it plays a secondary role to pasta, risotto, and polenta. To be candid, I think they could do without it. Not Americans. Over here, it's one of the few foreign foods we've embraced wholeheartedly, made entirely our own.
This pizza recipe makes the base from scratch, top with fresh vegetables and cheese, and bake it to perfection. The measurement are enough to make three pizzas, 12 inch and moderately thick. If you like thick crust pizzas, you could divide the dough into two parts and make two large thick pizzas too. I have used vegetables of my choice like onions, peppers, olives, artichoke hearts, spinach, tomatoes and jalapenos. You can add vegetables of your choice and leave out the ones you do not like. The cheese on top is shredded mozzarella, but a three cheese blend tastes equally great.
To complete the meal, team this pizza with a pitcher of coke or lemonade and these amazing Domino's style Garlic breadsticks made from scratch!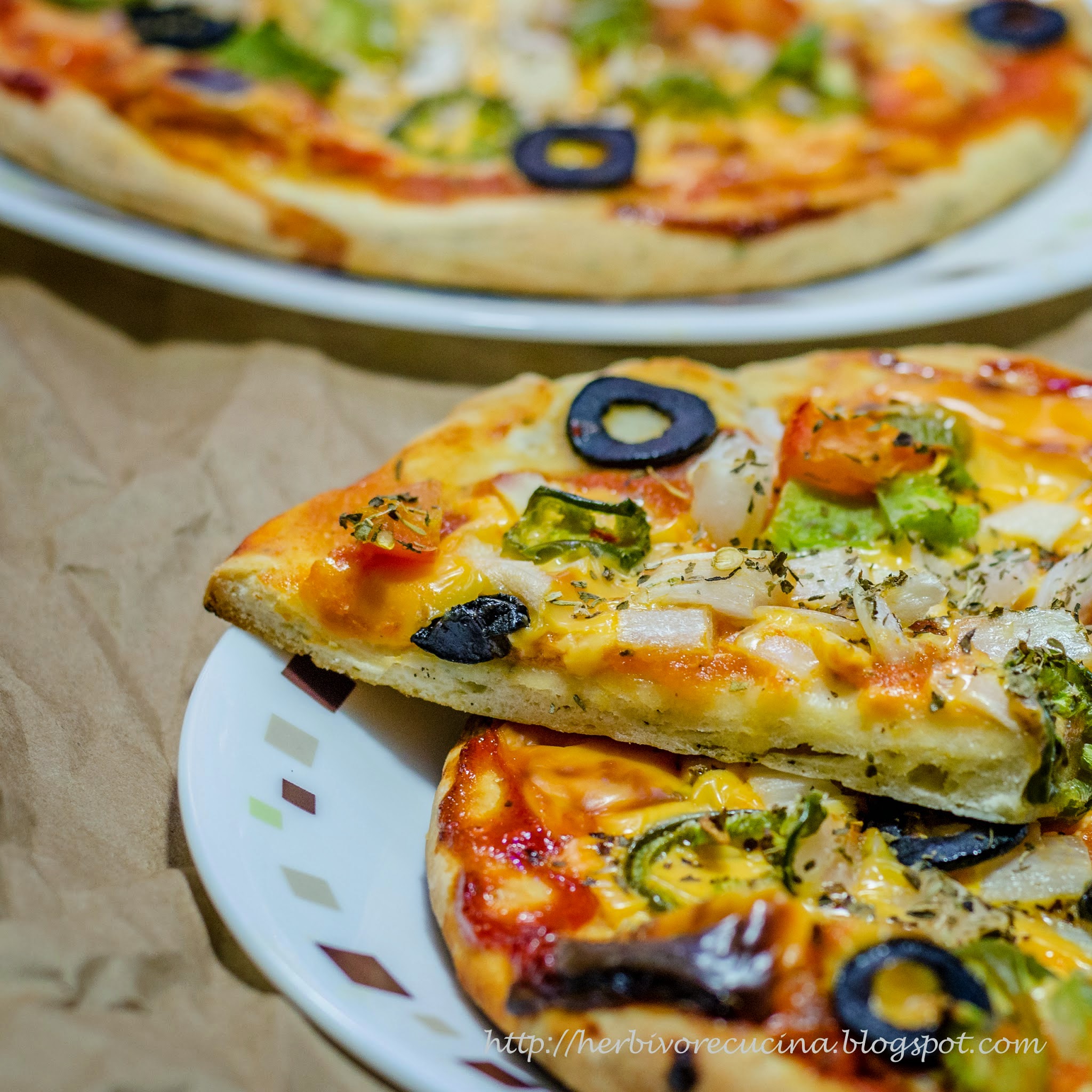 Ingredients
For the base
3 cups All purpose flour
1 packet Rapid Rise yeast
1 ½ tsp. salt
Seasoning like Oregano, Thyme, Basil
1 cup warm water, 100-110 F
2 tbsp. Olive Oil
For the sauce
3 Ripe large tomatoes, diced
3-4 cloves Garlic
½ diced Onion
½ diced Carrot
Black Pepper
Olive Oil
Sea Salt
Orgeno
For the topping
Diced vegetables of choice (Onions, colored peppers, Olives, Jalapeño, Tomatoes, Artichoke hearts, Spinach)
Shredded cheese (Three cheese blend or Mozzarella)
Method
Making the base
Heat a cup of water for 30-45 seconds in the microwave. Add a teaspoon of salt and a teaspoon of sugar and mix well. Add the yeast and give it a stir. Let the yeast stand in a warm place for 10-15 minutes till it becomes frothy. If the yeast refuses to bleem, there are a few reasons; either the water is too cold to activate it or the water is too hot and killed the yeast or that the yeast is too old. If that happens, discard the liquid and repeat with a fresh batch of water and yeast. Mix all the ingredients of the base except oil and yeast in a large mixing bowl. Mix well. Add the oil and the activated yeast and form a soft dough. If more water is needed to bring the dough together, add it.
Knead the dough several times till a soft ball forms. Keep the formed dough in a bowl, apply little oil on it and cover it. Let it rest for about thirty to forty five minutes. After that time, the dough becomes very soft and pliable. Make three parts of the dough and make small balls of each part. Take one ball, roll it out with a rolling pin or hand on a lightly floured surface. The base can be made of desired thickness and size. Let the base rest for another 20 minutes.
Preheat oven to 350 F. Spray cooking spray or oil on a pizza stone or pizza plate. Put the base on it and bake it for 5 minutes.
Making the Sauce
Heat olive oil in a pan. Sauté minced garlic and Onion. Add carrots and Tomato and mix well. Let the mixture cook. You might need to add ¼ cup of water to the mixture. Once cooked, add sea salt, Oregano and pepper. Cool the mixture and churn to a coarse paste.
Assembling the pizza
Take the half baked pizza base. Spread the sauce on the base. Spread cheese and put the vegetables on it. Sprinkle Oregano and bake at 350 F for 10-12 minutes, till the cheese melts and base is crisp. Remove and serve with a tall glass of Lemonade!
Enjoy this Veggie Pizza with Domino's style Garlic breadsticks made from scratch!