Tomato soup is probably the most common of all the vegetarian soups available. Restaurants serve it, moms make it, wedding dinners have it and people of all ages enjoy it! The name of the soup remains the same, but the taste is different everywhere. No two chefs will make the soup that tastes exactly alike. Some people add carrots, some add cream and some add fried croutons to this soup before serving.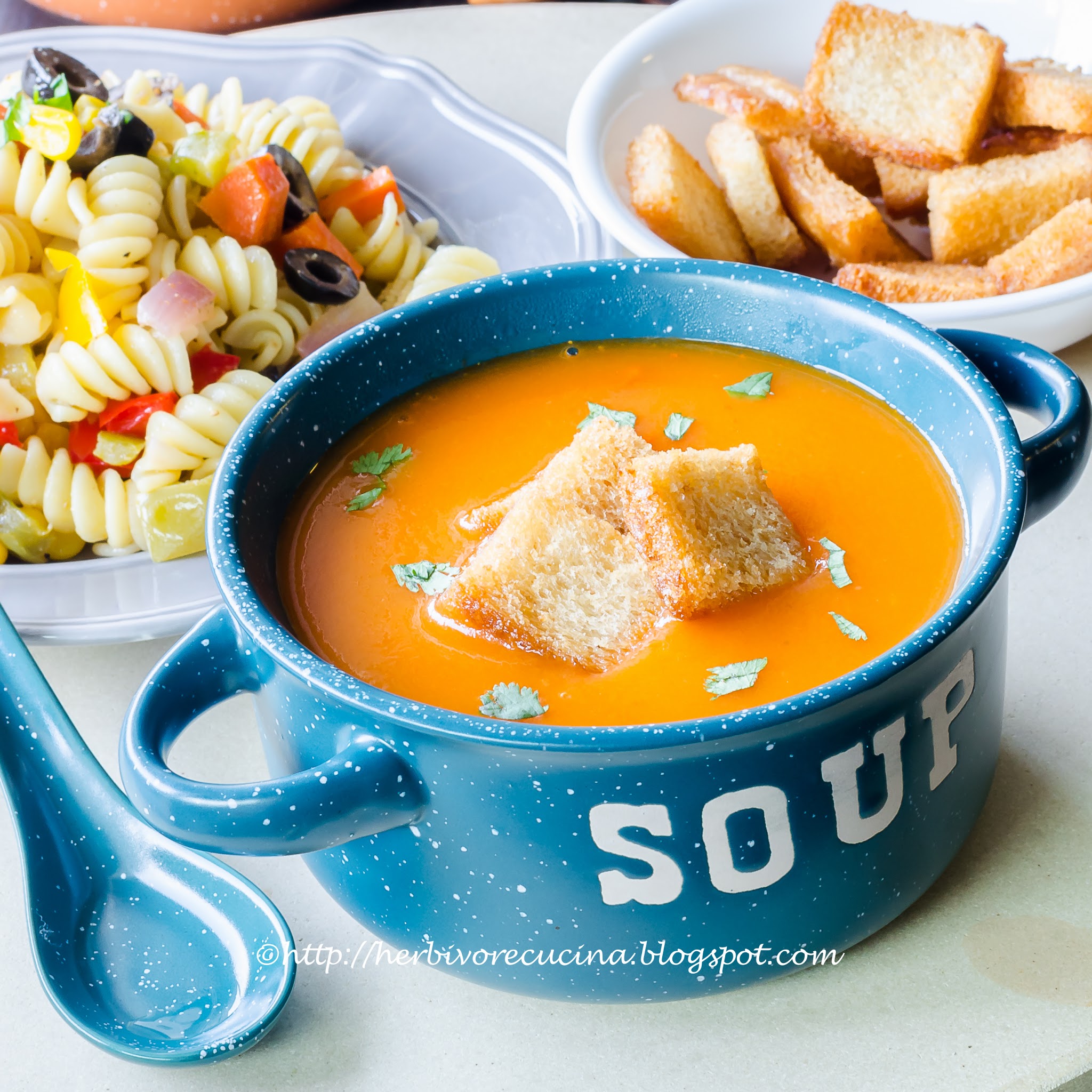 While tomato soup is made by cooking garlic, ginger, onions and tomatoes and pureeing it before boiling, another variation is this Roasted Tomato soup. The recipe is a close cousin of the Cream of Tomato Soup. Made from oven roasted tomatoes, onion and garlic, this soup gives a rustic flavor to the classic. It is difficult to say that this one is better than the traditional Tomato Soup, but I can surely say it is just as good!


Tomato soup is considered a comfort food in Poland and United States. In the USA, Grilled Cheese Sandwich is considered a natural accompaniment of the soup. A lot of restaurants here serve this soup topped with Sour Cream, quite different than the Indian way of serving Tomato Soup with fried croutons. A healthy alternative to the fried croutons is this recipe of baked garlic croutons. We enjoyed this soup with the guilty version of fried croutons and a simple pasta salad. Comfort food at its best!


Ingredients
Tomatoes, 3-4 large ripe and red
Onion 1 medium
Garlic, 2-3 cloves
Black Pepper, Salt
Water
Olive oil
Method
The first step is to roast the vegetables. In order to do so, wash and cut the tomatoes into half, onion into quarters and garlic into half. Lay them in a baking tray in a single layer and sprinkle some salt, pepper and olive oil on the vegetables. Place the baking tray in a preheated oven at 300 F/ 200 C and roast for 20-25 minutes, until the flesh of the tomatoes is soft. Remove from the oven and separate the skin of the tomatoes. Reserve the liquid that is at the bottom of the baking dish.
Transfer the onions, tomatoes and garlic to a blender and blend to a smooth paste. Sieve the mixture back to the saucepan and bring to a boil. The soup is ready to serve! Serve this soup in Homemade Bread Bowls topped with some fresh cream or sour cream or bread croutons.