This za'atar (sesame-thyme-sumac) Manakish is a Lebanese Flatbread that makes a great breakfast or dinner flatbread! Serve it with Falafel and Hummus for a great meal.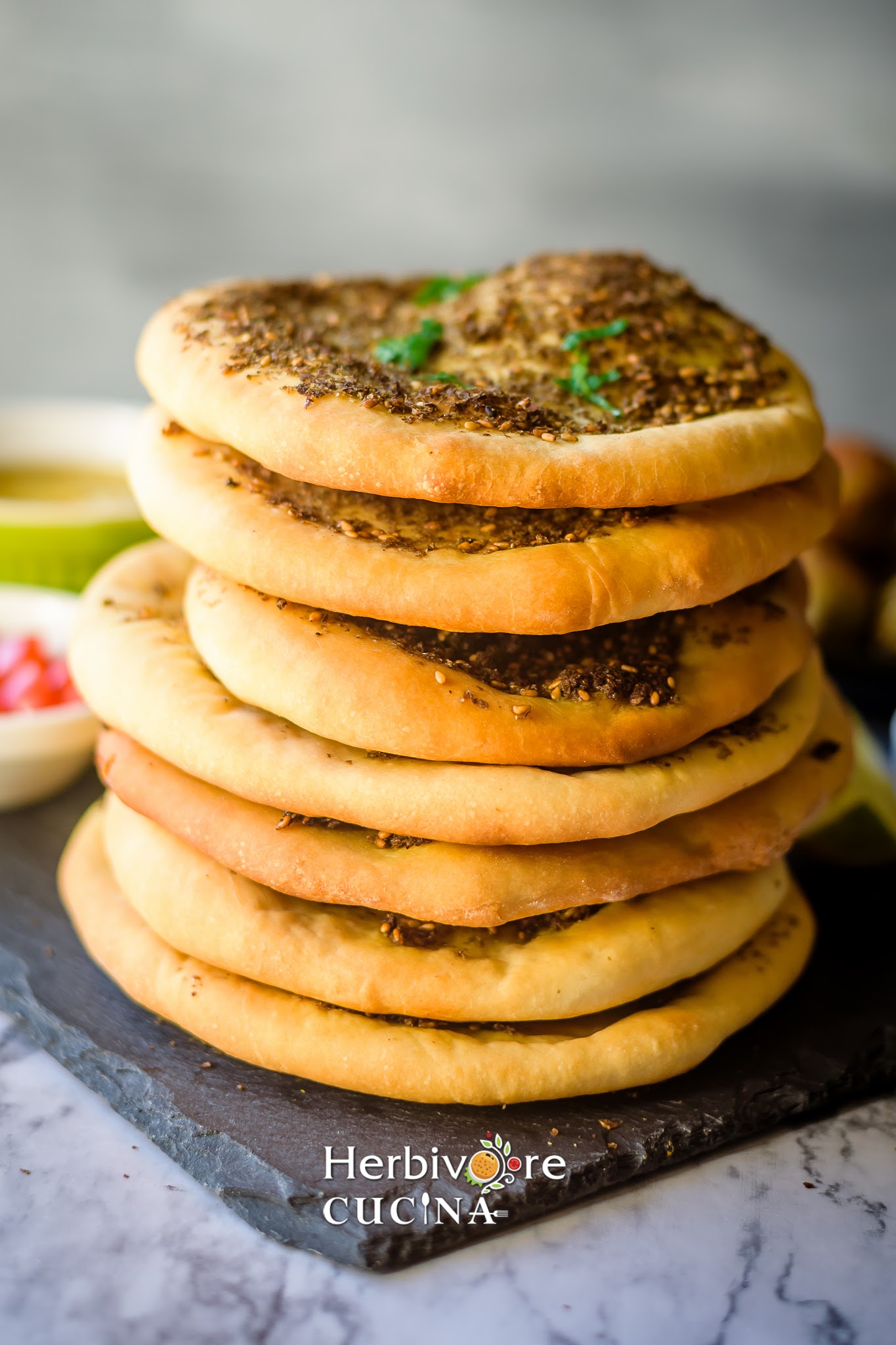 I realized that it has been a while since I added a yeast bread recipe on the blog! I have not been baking breads for a while, as I concentrate on other quick breads and muffins.
For this month's Bread Bakers event the theme is flatbreads with yeast or starter. So I picked up the MAGICAL yeast again and made a Greek meal including Manakish Za'atar. Thanks to our lovely hostess Sonia Gupta of Sonlicious who picked this theme.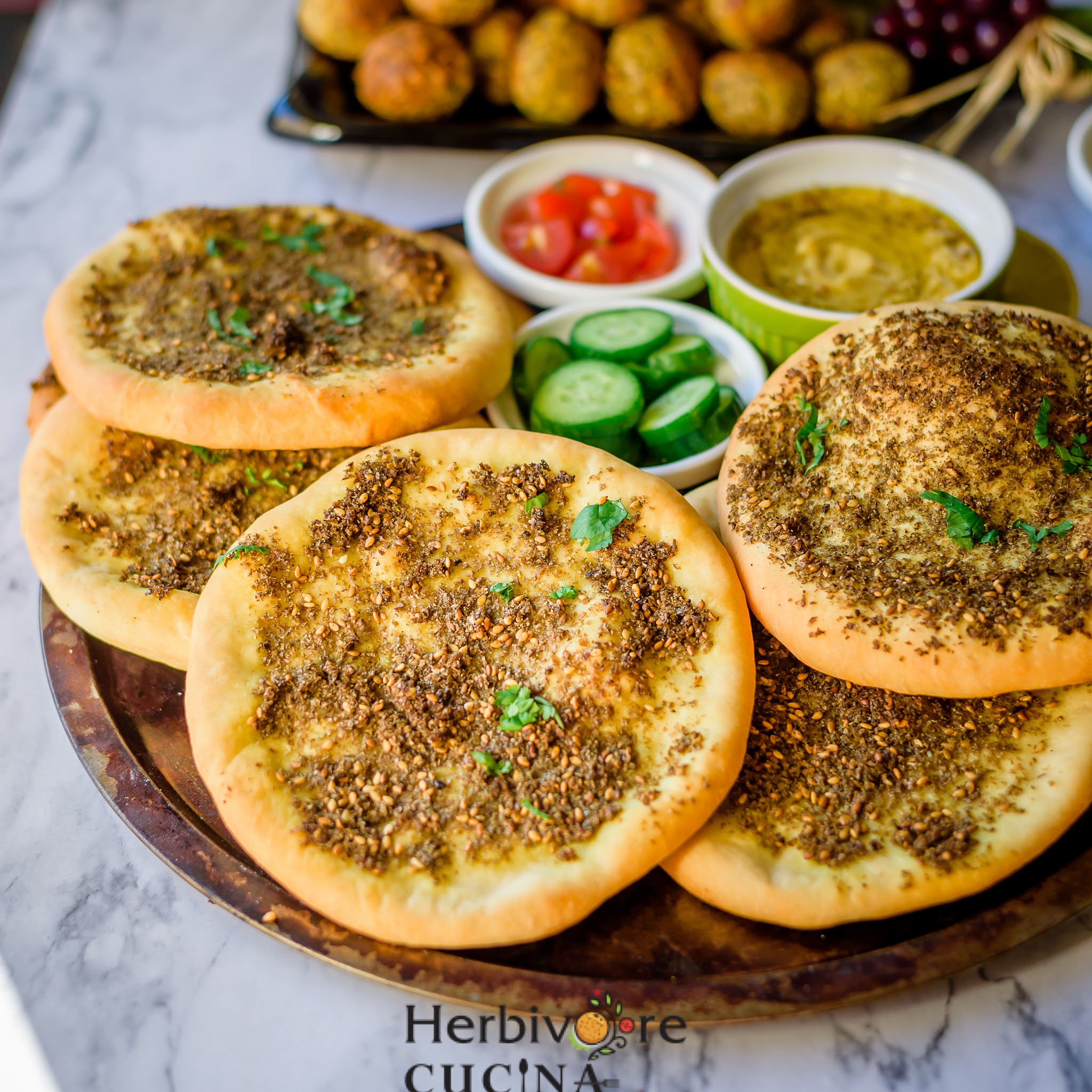 The common flatbreads with yeast include Pita, Focaccia and Naan. But I have atleast one of each of these on the blog already. So I decided to do something beyond these. That is when I remembered Manakish; a popular Levantine food consisting of dough topped with thyme, cheese, or ground meat. Similar to a pizza, it can be sliced or folded, and it can be served either for breakfast or lunch.
I have made Manakish earlier but was never sure it came out good. Maybe my last trip to Middle East shook my confidence; given how lovely these breads are in that region. Every morning I had some Manakish there and then I started feeling my version is not as great!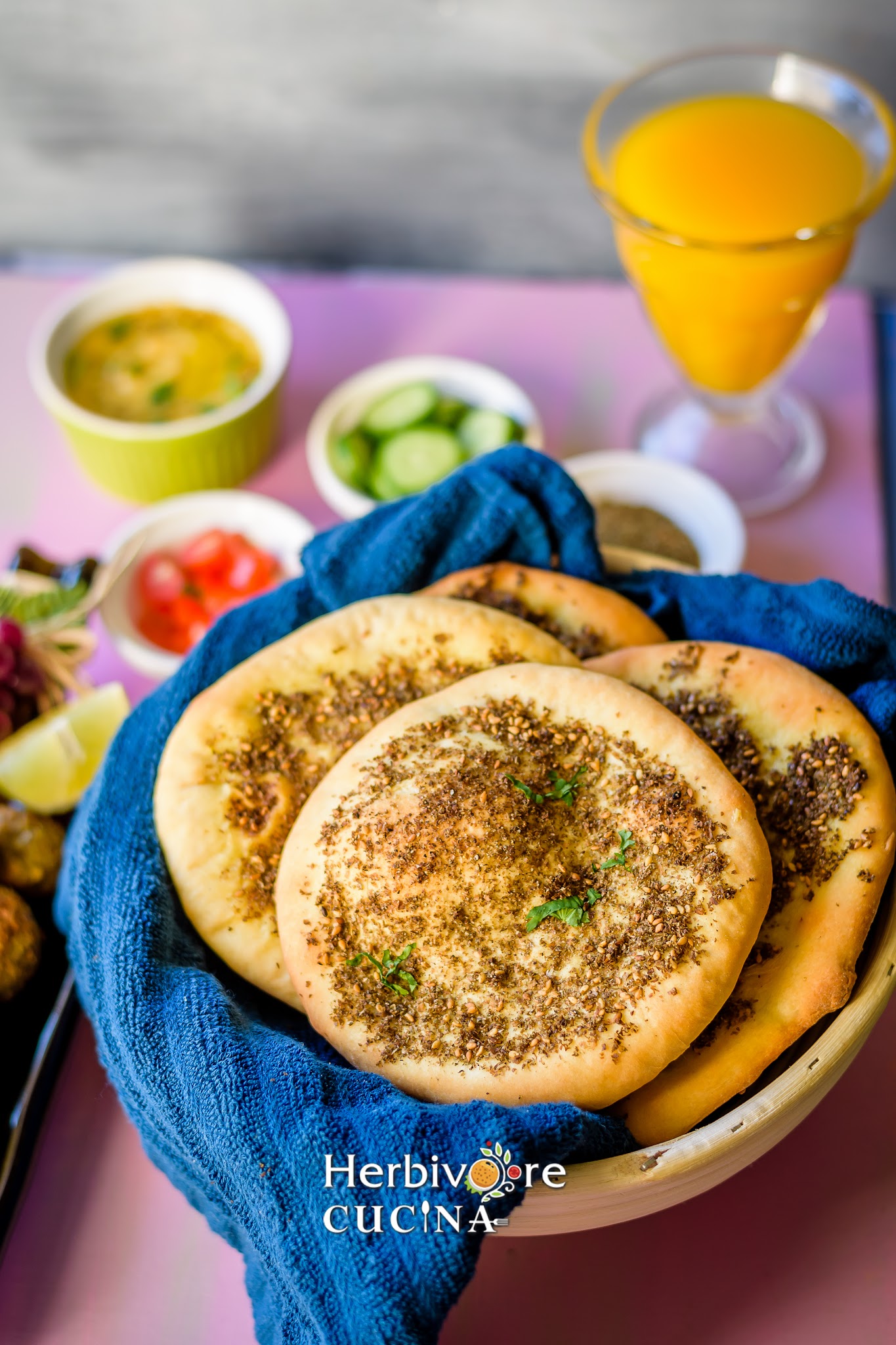 With a few modifications and variations in technique I figured out how to get it right. There are a few parameters to keep in mind: Use Olive Oil instead of Butter, bake them on a pizza stone and make sure the oven is SUPER hot before placing them on the stone.
Following these methods I have managed to get consistent results and the recipe makes it to the blog! This time I served this with all the yummy Mediterranean dishes we love. With Baked Falafels, Hummus made from scratch and cucumber and tomato salad; we had a great meal last weekend.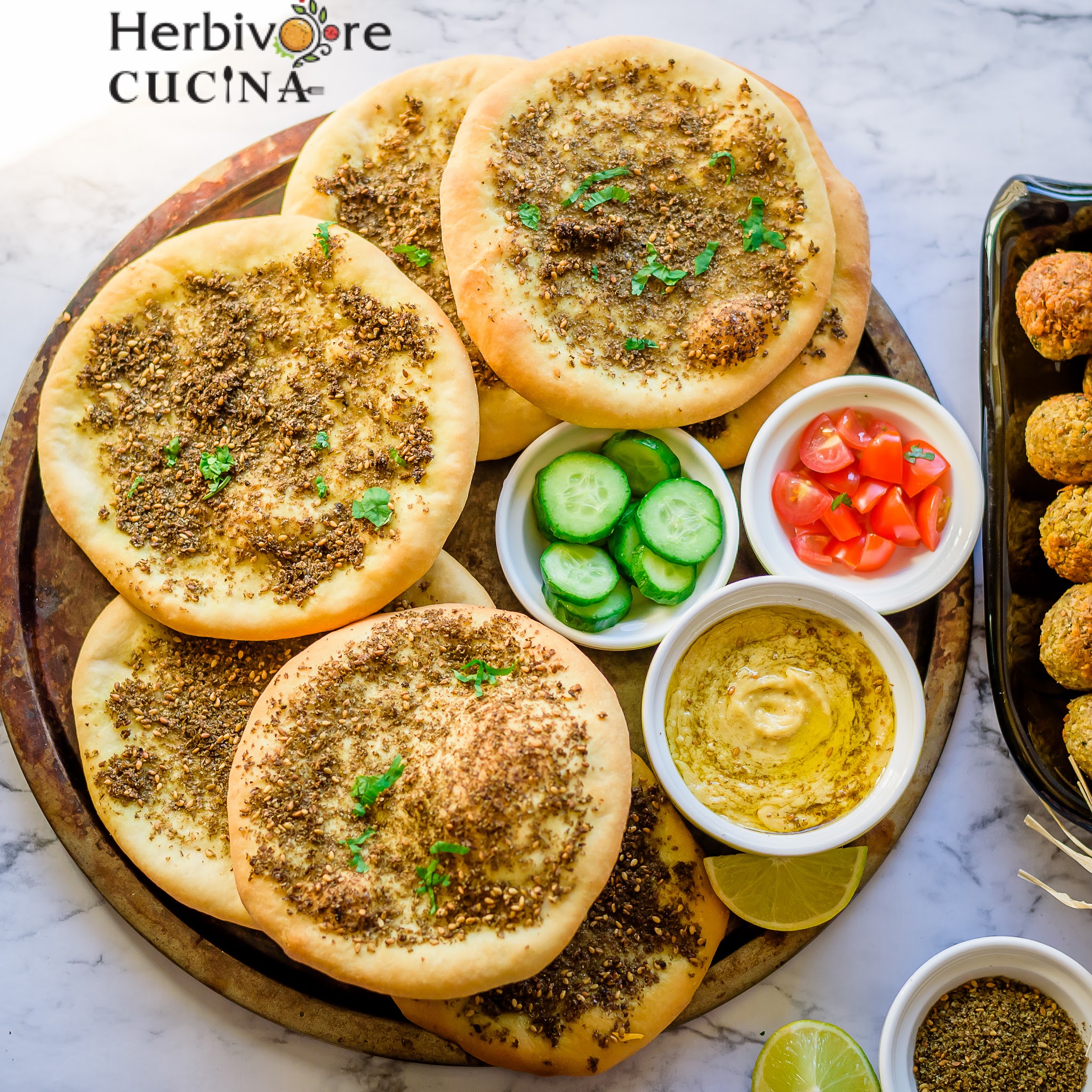 I have been a fan of Greek food and so is my husband. The day I plan to make a meal like this, I try and make all the components; though it takes a while to get it together! The end result is so satisfying that I am perfectly okay doing all the effort.
These Manakish breads were topped with a flavorful spice called Za'atar. This is a condiment made from dried hyssop leaves, mixed with sesame seeds, dried sumac, and often salt, as well as other spices. Used widely in Levantine cuisine, both the herb and spice mixture are popular throughout the Middle East. I got a bulk of this on my trip and I have been loving the flavor since!
So I topped the breads with a mixture of Olive oil and Za'atar. The flavor of baked bread with the spice is amazing. Especially when you top the dough with the spice and let them bake. The flavor spreads throughout the bread and makes it super delicious.
Love Flatbreads? Then you must definitely try one of these: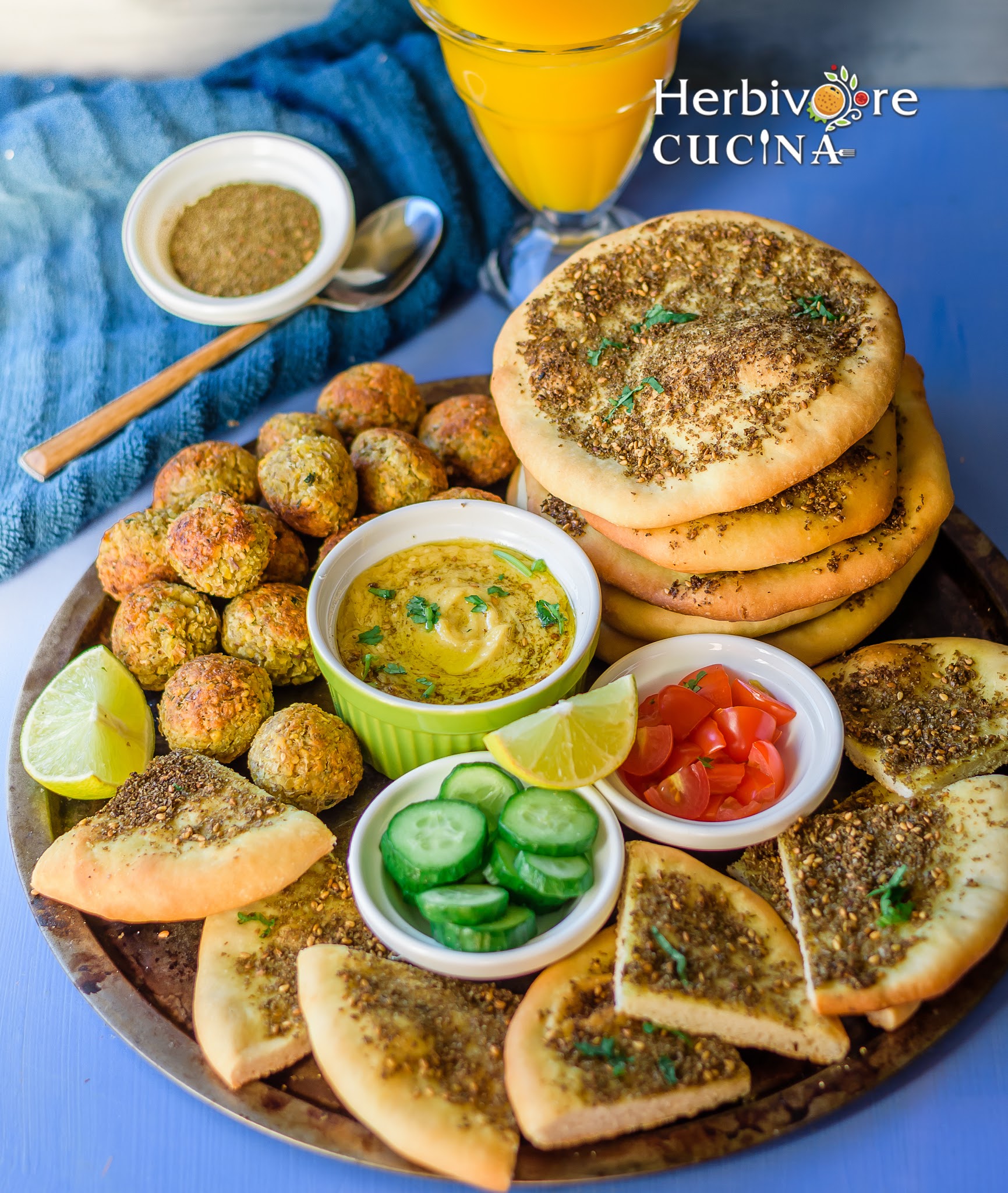 Variations
The version I made this time was with Za'atar Spice. If you cannot get that make yours with cumin powder or sesame seeds. It tastes great with some Feta Cheese on top too.
If you consume meat, you can use these breads as an accompaniment to the meat. Else, Falafels are great to serve with these!
The easiest way to make these is to pick up a bag of frozen Pizza dough and make the breads. Though they taste a little different, they are usually super quick compared to making from scratch.
Ingredients
All Purpose Flour 3 cups
Olive Oil 5 tbsp
Sugar 1 tsp
Dry Active yeast 1 sachet (2 ¼ tsp)
Salt 1 ½ tsp
Water ¾ cup
Za'atar Spice ¼ cup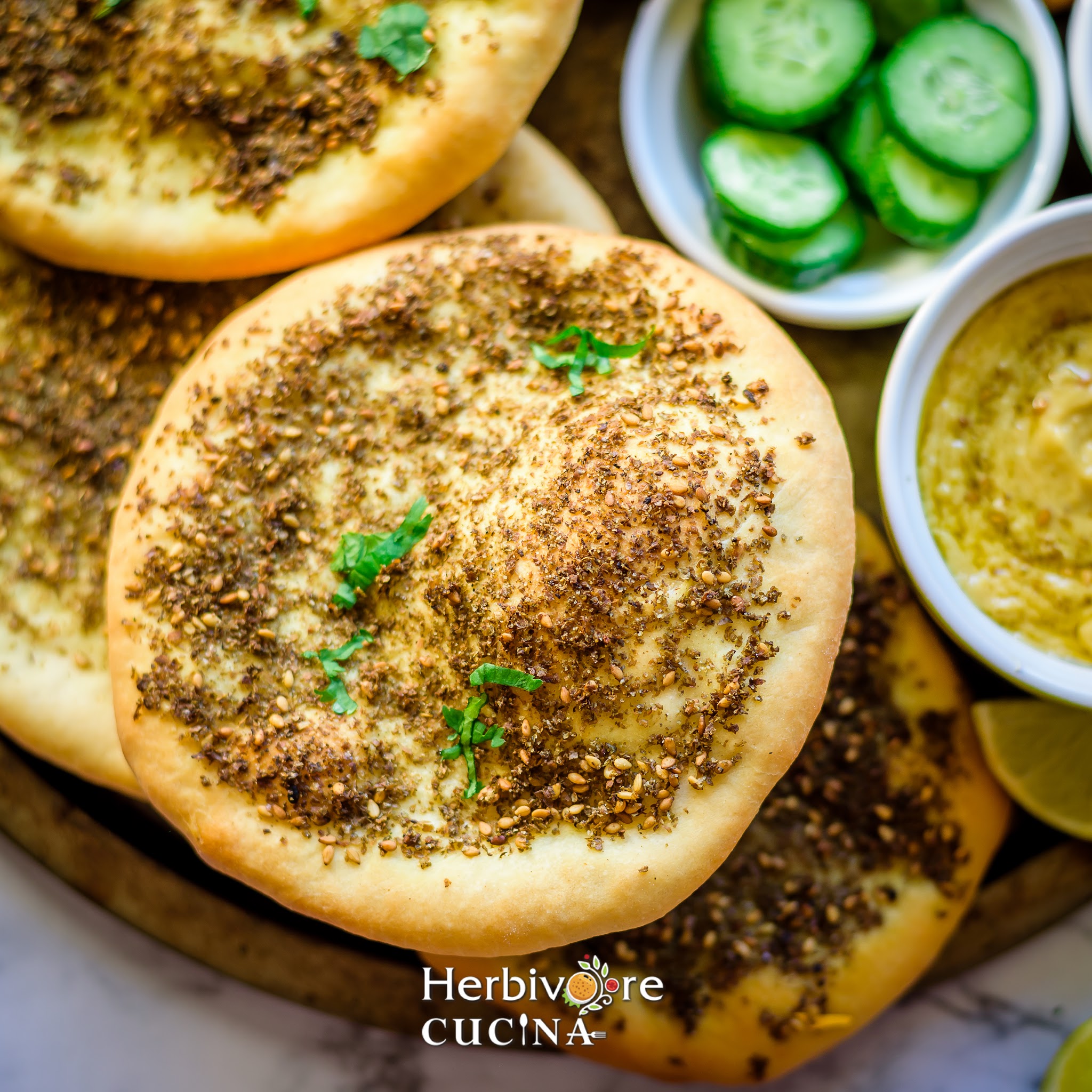 Method
In a bowl heat the water. When just warm (105-110 F), add sugar, 1 teaspoon salt and the yeast. Let the yeast bloom for 10 minutes.
In a large bowl, add the all purpose flour, ½ teaspoon salt and 3 tablespoon Olive Oil. Mix everything together and add the bloomed yeast.
Using a stand mixer or with your hands knead the dough for 8-10 minutes till it comes together and is soft. Coat the dough with some oil and place it in a bowl.
Cover the dough and rest in a warm area for an hour till it doubles in size. Line a baking tray with parchment paper or with non stick spray. Set aside.
Mix together the remaining Olive oil and the Za'atar spice. Add more oil if required to make a wet mixture.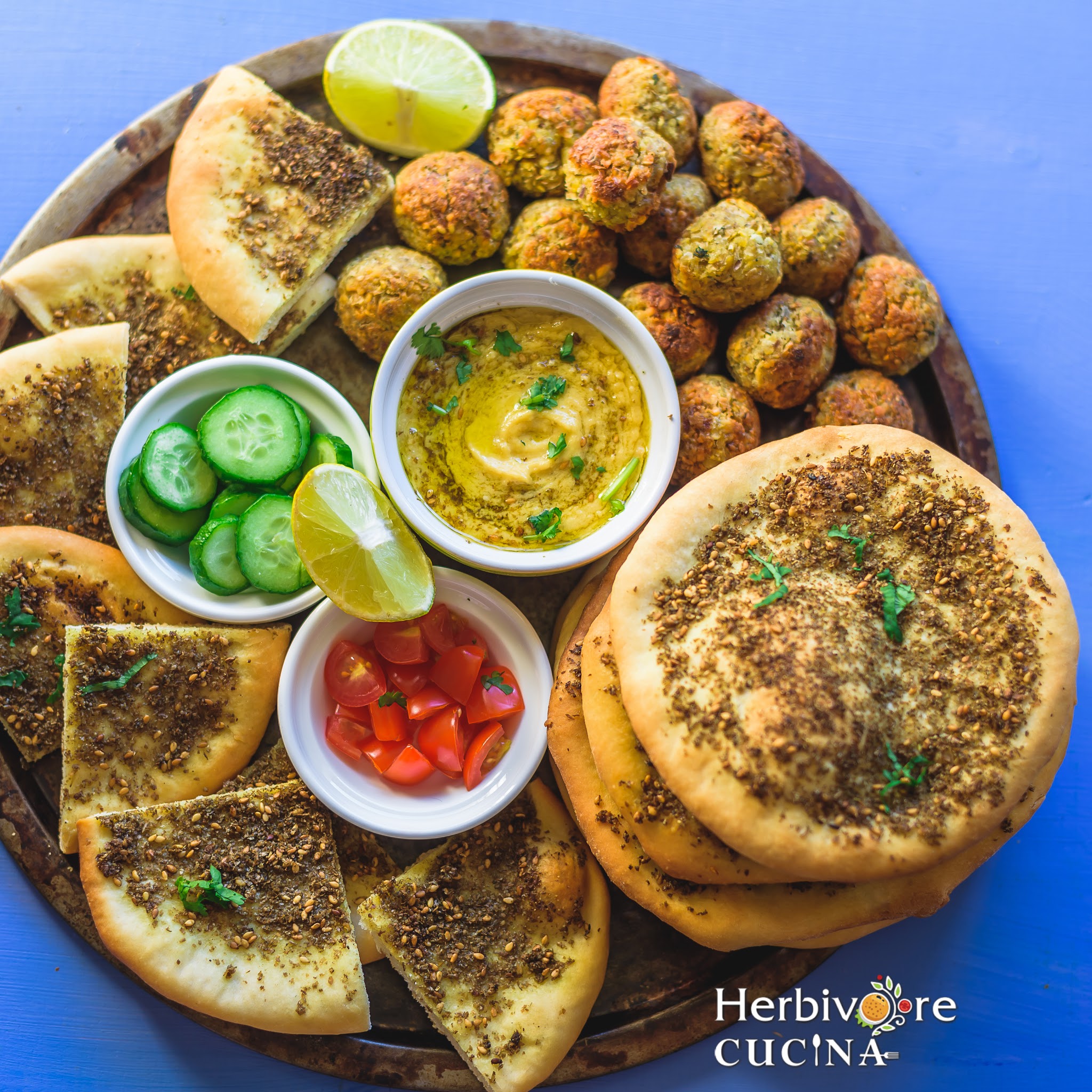 After the dough has doubled, punch down and knead for a couple of minutes. Divide the dough into 6 parts. Using each part roll out a round of ¼ inch thickness. Press your fingers into the bread to make the surface uneven. Spread some Za'atar Spice on each of the Manakish such that the spice sticks to the dough.
While the breads are kept to rise for 10-12 minutes, preheat the oven to 450 F/ 230 C. Place a pizza stone in the center and let it heat.
Once the oven is hot, use a pizza peel to carefully transfer the breads on to the pizza stone. Bake for 8-10 minutes, till the bottom of the breads are light brown and some bubbles form on the surface.
Remove and serve with Baked Falafel, Butternut Squash Hummus and Roasted Beetroot Hummus.
Pin for Later



#BreadBakers is a group of bread loving bakers who get together once a month to bake bread with a common ingredient or theme. You can see all our of lovely bread by following our Pinterest board right here. Links are also updated after each event on the #BreadBakers home page.
We take turns hosting each month and choosing the theme/ingredient. If you are a food blogger and would like to join us, just send Stacy an email with your blog URL to foodlustpeoplelove@gmail.com.
Check out the flatbreads with yeast or starter that our fellow #BreadBakers have prepared this month: