Roasted Butternut Squash adds flavor, color and amazing taste to the ordinary 7-ingredient hummus!
This recipe is part of Bonelli's Fine Foods' bloggers contest. By posting this content I have been entered in their contest. I have not been compensated for this content, however received free product samples. All opinions are my own.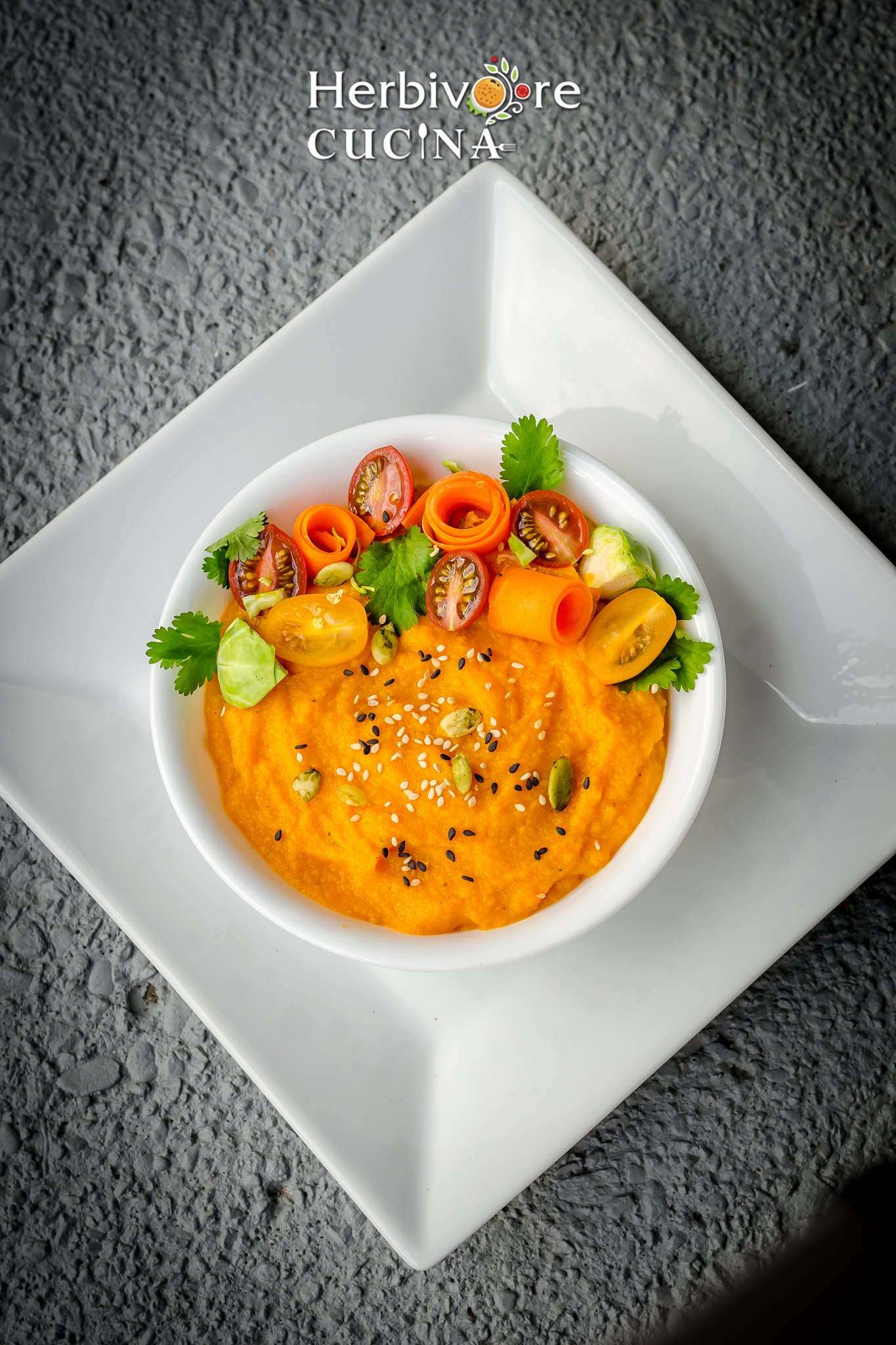 The days are getting super cold and dull and I am hating all the monochrome around me. To make things a little better, I am making colorful dishes. They not only brighten up things around me, they are perfect in following a diet inspired by the rainbow!
Latest in my kitchen is this Butternut squash hummus. I was sent three jars of Simply Sesame spreads to use in any recipe. So for this recipe I decided to try out the creamy roasted sesame paste instead of sesame seeds and tahini. The result was a delicious and creamy hummus that was so easy to make.
For the longest time I have been making tahini to use in hummus. However, after using this ready paste, I was super impressed. The hummus making is now just one step; add all the ingredients in a food processor and mix it all. That it is!!
I had 3-4 butternut squashes. These orange beauties are perfect for making anything creamy and buttery. Every time I bake a bread or something, I usually bake a squash as well. Storing the roasted pieces in a ziplock bag and freezing it makes it really simple to use the squash in multiple recipes.
Yesterday I did just that. Grabbed a bag of roasted squash, added the other ingredients and made a dip in under 10 minutes. To serve, I decorated the hummus with sliced carrots, cherry tomatoes, cilantro and brussel sprouts.
On my last trip to India I got some lattice potato chips. I quickly fried them and served them with the hummus. The combination was perfect. The creamy hummus and the crisp potato chips would make a great snack and a perfect game-day appetizer as well.
You can find out more about Simply Sesame Spreads by visiting them on their website and following them on Facebook, Twitter and Instagram!


Ingredients
Chickpeas ½ cup
Butternut Squash 1 small
Simply Sesame Roasted Sesame Paste 1 tbsp
Lime Juice 1 tsp
Garlic 2-3 pods
Olive Oil 4-5 tbsp
Salt 1 tsp
Toppings including sesame seeds, carrots, tomatoes and cilantro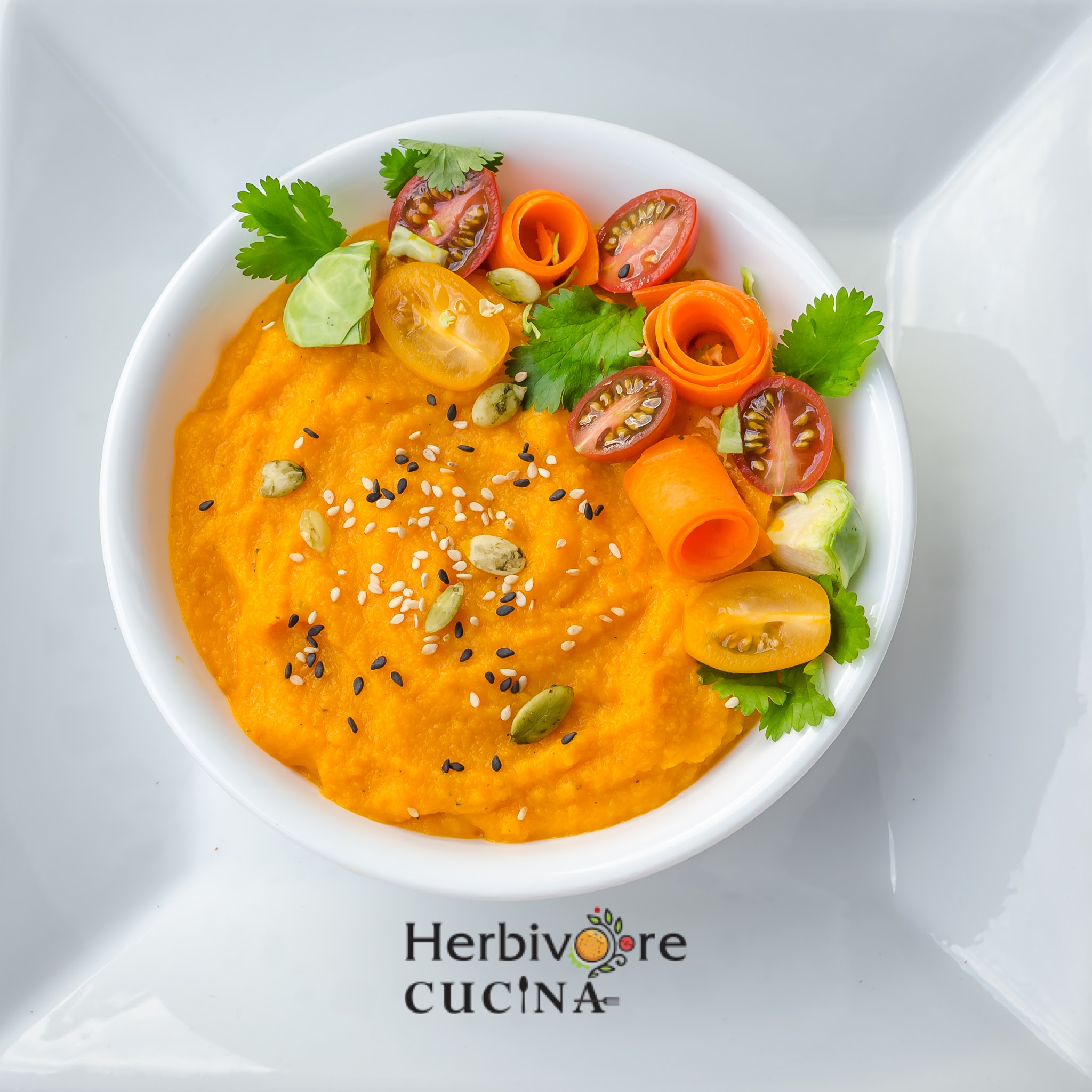 Method
Soak and pressure cook the chickpeas in 1 cup water. Reserve the water. If using canned chickpeas, just drain the liquid and set aside.
Peel and chop the butternut squash into pieces. Coat with oil and salt. Roast them in a preheated oven at 350 F for 10-12 minutes. Remove from oven and let them cool.
In a food processor, add the garlic and roasted butternut squash with salt. Crush well to a smooth mixture. Add some liquid from the chickpeas if required.
Once the mixture is smooth, add the chickpeas and sesame paste. Process to a smooth paste using olive oil as required.

Once the required consistency is achieved; add lime juice and mix well. Top with some sesame and pumpkin seeds, thinly sliced carrots and cherry tomatoes. Serve with chips, baked falafel, pita breads or toasted pita triangles.