Blogging Marathon #68 Week 2 Day 2
Theme: Appetizers
Dish: Baked Falafel


Falafel, those round balls of goodness made from chickpeas and a few other ingredients have always been on my favorites list! I visit the farmer's market in my area many times just because I want to enjoy the falafel sandwich from a local vendor who comes to the market every week. There are a lot of places I love for falafels, but try not to indulge too much, given that they are actually deep fried rounds of goodness!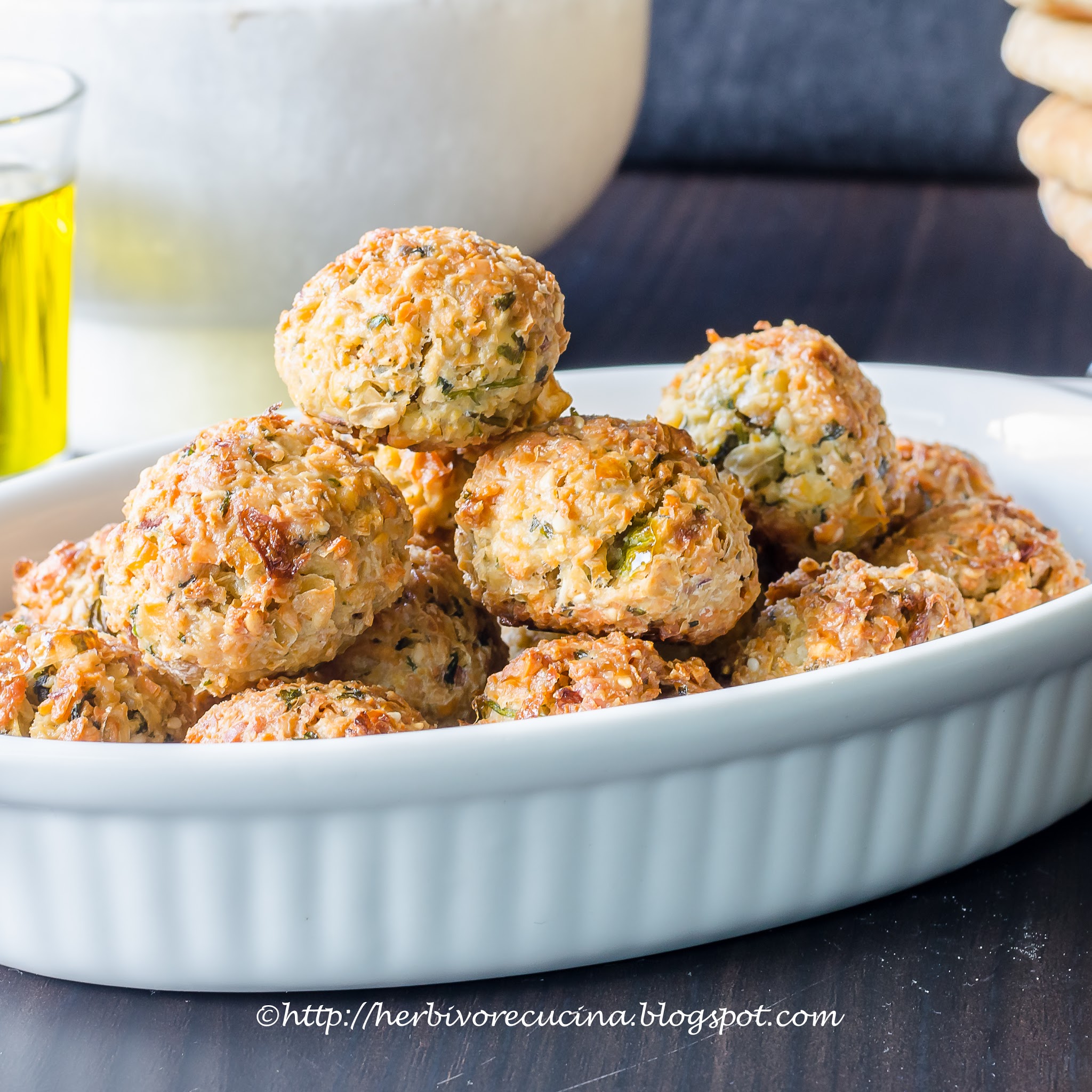 I have made falafel at home many times. I started off frying them as I wanted to get the proportions right first. Once I managed that, I started experimenting. Paniyaram stand, my best friend was used a few times. And baking instead of frying was next. Most of the tries were successful and I shot these baked falafels some time back. That was the day I had made a complete Greek meal from scratch; Pita Breads, Roasted Beetroot Hummus, Lime Cilantro Hummus and these falafels. These pictures never made it to the blog, and finally I decided to include them in this month's Marathon.

Falafels are really versatile. They taste great when served with a couple of Greek dips as appetizer. They are great in Pita sandwiches, wraps and perfect for a quick falafel salad. Plus, they can be dunked in a gravy of your choice to make a main course. A local Greek place in our area specializes in Tabsi Falafel; a preparation of falafel dunked in eggplant tomato gravy served with almond rice. The combination is perfect and I really want to try it at home soon.

This recipe is for the baked version of falafels. I made them round, but many people prefer to make them like patty, flat on both sides. The same recipe can be used to make the fried ones too, just limit the use of water in making the mixture. Also, use the same dough to make them in a paniyaram stand, they will be perfect. So enjoy this one and come back tomorrow for another appetizer recipe.

Ingredients


Chickpeas 1 cup, soaked overnight
Pink Onion ½ medium
Sesame seeds 2 tsp
Garlic 2-3 cloves
Cumin Seeds 1 tsp
Green Chilli 1 medium
Cilantro a few stalks
Salt 1 tsp
Olive Oil 1 tsp
Lemon Juice ½ tsp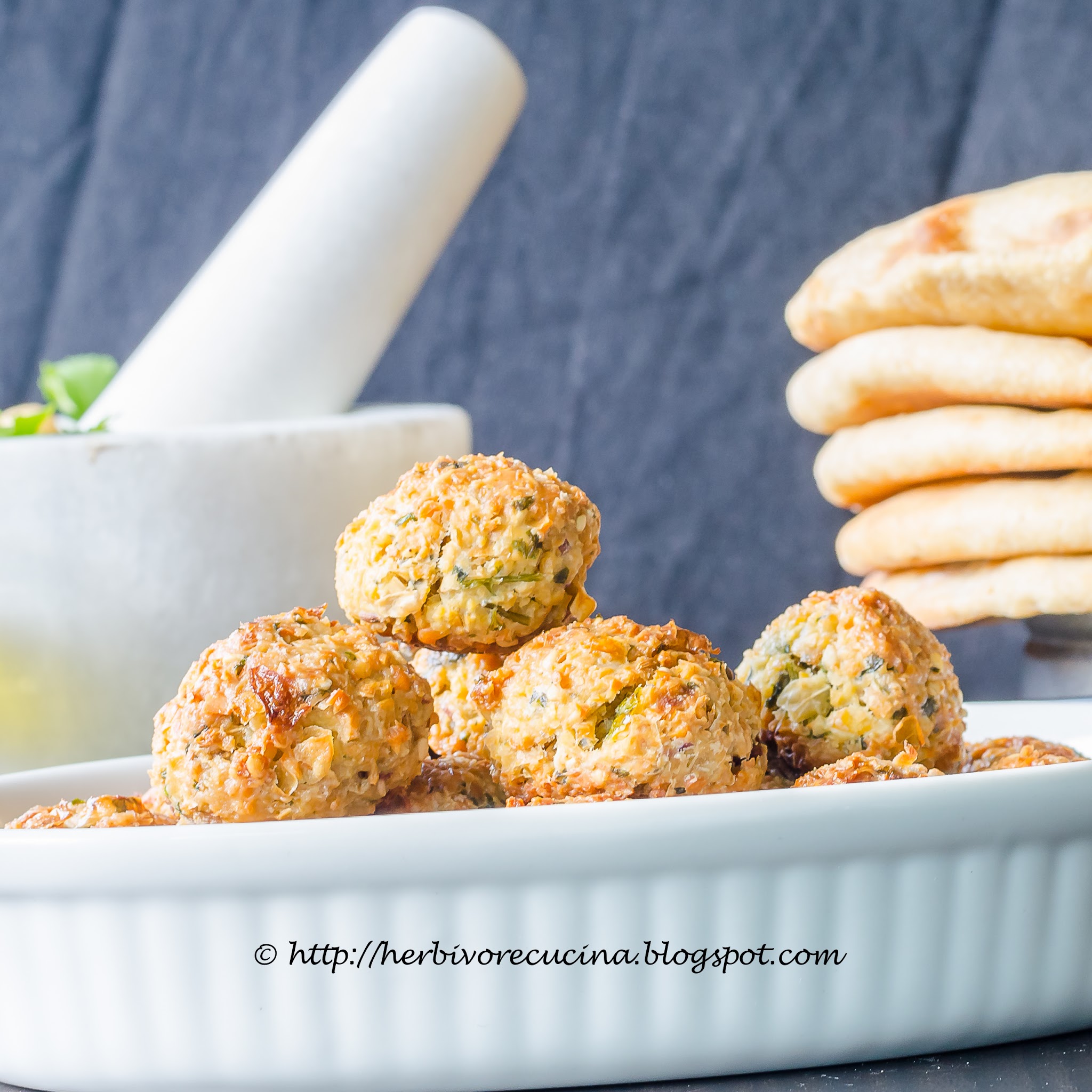 Method


Soak the chickpeas overnight or atleast for 4-6 hours. Drain and set aside. In a food processor add chopped garlic, onion, green chilli and sesame seeds. Process till it is lightly crushed.

Next, add chickpeas, cumin seeds, cilantro, salt and lemon juice. Process to a mixture that is not very smooth. If it does not process easily, add some water and olive oil. But do not add too much else the falafels will fall apart on baking. We love our falafels slightly coarse. However, you can process for a couple of minutes more to get a smooth mixture.
Preheat the oven to 400 F/ 210 C. Line a baking tray with parchment paper. Drop equal sized rounds of the mixture on the parchment paper. Brush some olive oil on them. Place the tray in the oven and bake for 18-20 minutes till golden brown. Flip them over once, somewhere at 9-10 minutes.
Remove from oven once baked well. Serve warm with lime cilantro hummus or beetroot hummus. We love it with pita breads and a spicy dip too.