Focaccia, a flat oven-baked Italian bread product is similar in style and texture to pizza. A popular side dish in Italy, Olive Oil is a key ingredient in this bread, apart from flour and yeast. It may be topped with herbs or other ingredients like vegetables, cheese or meat. The general way of preparing this one is to mix the ingredients, make a thick flat bread and bake to a golden brown tinge. Top it with olive oil and serve!
I have made these mini Focaccia in the past, and this time around I wanted to make a fully loaded Focaccia, topped with everything that is generally in a pizza. I so loved the concept of making a pizza focaccia. So I made the dough with italian herbs, topped it with onions, colored peppers, tomato slices and olives. I served this bread with a side of marinara sauce and a cheese dip. This completed the ingredients list for a pizza! I wanted to make a focaccia that was topped with crispy vegetables, so i sliced them really thin. You can do the same or make thick dice if you like them softer and without burnt edges.
This focaccia turned out so good that my husband and me gobbled the entire tray down! I made this on a cold winter evening and a humble pumpkin soup to go with it. Such a comforting meal that combination made! We had a great evening and so I am sharing the recipe here too. I love Focaccia because it is such a versatile bread. Make the base, top it with vegetables or even fruits of your choice, add cheese if you so desire and bake the whole thing to a golden tinge. Pour some olive oil on top, and you have a big lot of tasty goodness. I have never tried a fruity pizza, but am pretty curious to try one soon, and so a cranberry topped one is on the top of my mind. Till I try that, enjoy this focaccia recipe for dinner!
Ingredients
Allpurpose Flour/Maida 3 cups
Rapidrise Dry Yeast 1 sachet (2 ¼ tsp)
Olive Oil 3 tbsp
Italian Seasoning 1 tbsp
Salt 1 tsp
Sugar ½ tsp
Onions, Colored Peppers, Tomatoes and Olives
Warm Water 1 cup (100-110 F)
Butter 1 tsp
Method
In a cup of warm water, add yeast, sugar and 1 teaspoon salt. Let the mixture stand for ten minutes till it foams. In a large mixing bowl, mix flour, 2 tablespoon Olive Oil and italian seasoning. Pour the frothy yeast mixture into this mixture and make a soft dough. Add little water if required and knead well. The mixture may be sticky at first, knead it well till it converts to a soft dough. Apply oil over the dough and place it in a large bowl, cover it with a moist cloth and let stand for 45 minutes.
Preheat oven to 400 F/ 200 C. After 45 minutes, the dough will be almost double it's size. Punch down the dough and knead it for 5 more minutes. Now line a cookie tray with nonstick spray or oil. Spread the dough to cover the entire tray. Press down sliced onions, peppers, tomatoes and olives. Sprinkle some seasoning on it. Let the tray rest for 20-25 minutes and then place in the preheated oven. Here is how it looked in the oven light.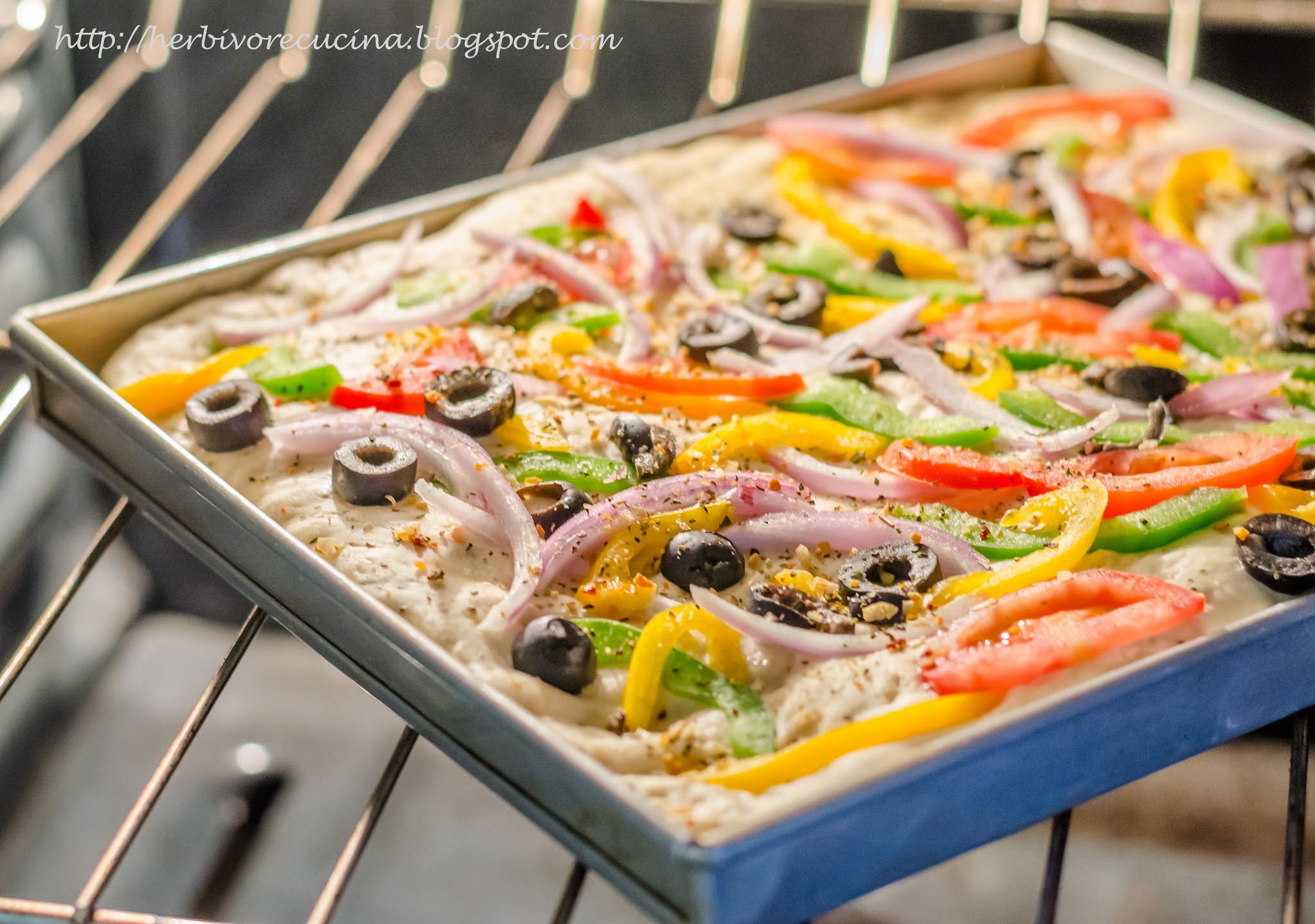 Bake for 12-15 minutes or till the crust turns golden brown. Remove from oven and quickly pour the remaining Olive Oil on top. The bread will absorb all the oil and taste very good. Transfer to a cooling rack. Serve warm as a side to soups or pastas. Make two focaccia of similar size and convert it to a panini.