Everyone's classic favorite Mac & Cheese gets a makeover with the addition of Spinach and marinated Artichokes. Plus it is made super fast & easy in your Instant Pot!
Instant Pot; that wonderful addition to the kitchen that is making cooking more interesting and one pot! I have been using the IP for a few months now and I am completely LOVING it! From Indian curries to rice and from desserts to yogurt; I use it to make it all.
Following the recipes that are all around Facebook and Instagram, all my friends now own one of these wonderful pots. So, they urge me to update more recipes using instant pot and I find myself reaching out for the pot almost every weeknight.
For those who do not have the Instant Pot, I would urge you to get one soon. If you are not a fan, you can make the same recipes using the traditional pressure cooker. Remember; 3 minutes on Instant Pot corresponds to one whistle in traditional pressure cooker.
This week I made FOUR different Instant Pot recipes and shot them all! So they will appear on the blog really soon. Here is the first recipe I shot this week; a yummy variation to regular Mac and Cheese. When the delicious Mac and Cheese weds the creamy Spinach Artichoke dip; it makes an awesome weeknight dinner recipe. This dish was relished by us for dinner and for lunch the day after!
Mac n Cheese is definitely a great comfort food. But for days when you want to enjoy a variation to it; this recipe works great. With just a few ingredients, an easy to follow recipe and of course just one pot to wash; this recipe can easily become a family favorite.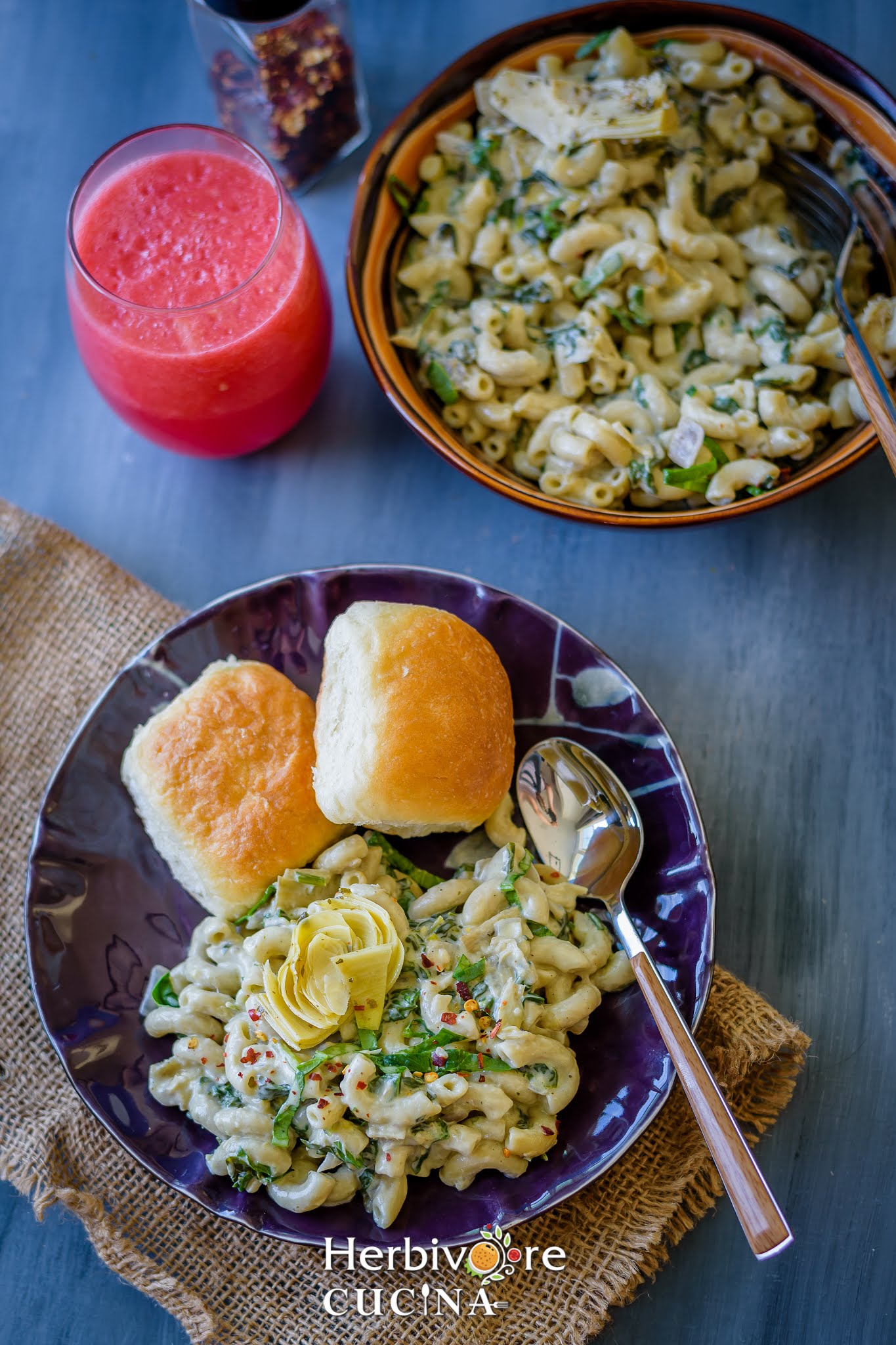 Variations
This recipe is something I tried several times using different combinations of ingredients. This final version is my favorite and the basic recipe works well for any kind of pasta shapes. I used elbow as I had a ton of those in my pantry. Any pasta shape can be used, just use more stock/water if using larger or thicker shapes.
As we were making this only for the two of us, we added quite a bit of Jalapeno. However, the same recipe tastes awesome even without it. Again, garlic is an optional ingredient and can be skipped if you want.
The artichokes I used were the marinated hearts. I love how they are super flavorful but fresh hearts or the canned ones work equally well. Last; use sour cream in place of mayo if you desire and if you want to make a skinny version; use half and half in place of whipping cream.
This recipe works perfectly in the Instant Pot. But can be modified to work with pressure cooker or stove top. Just adjust the water as needed for stove top as more water evaporates when cooked open.
Hope you enjoy this one and try it yourself! If you bought an Instant Pot; here are a few YUMMY recipes to try:
Pin for Later
Ingredients
Elbow Macaroni 1 ½ cup
Baby Spinach 2 cups, roughly chopped
Artichoke Hearts 1 cup, chopped
Garlic 2-3 cloves, minced
Pink Onion ½ medium, diced
Jalapeno 2 tsp, minced
Olive Oil/ Unsalted Butter 2 tbsp
Whipping Cream ½ cup
Mayonnaise 2 tbsp
Mozzarella Cheese ¼ cup, shredded
Vegetable Stock/ water 1 ½ cup
Red Chilli Flakes 1 tsp
Dried Oregano 1 tsp
Salt and Pepper to taste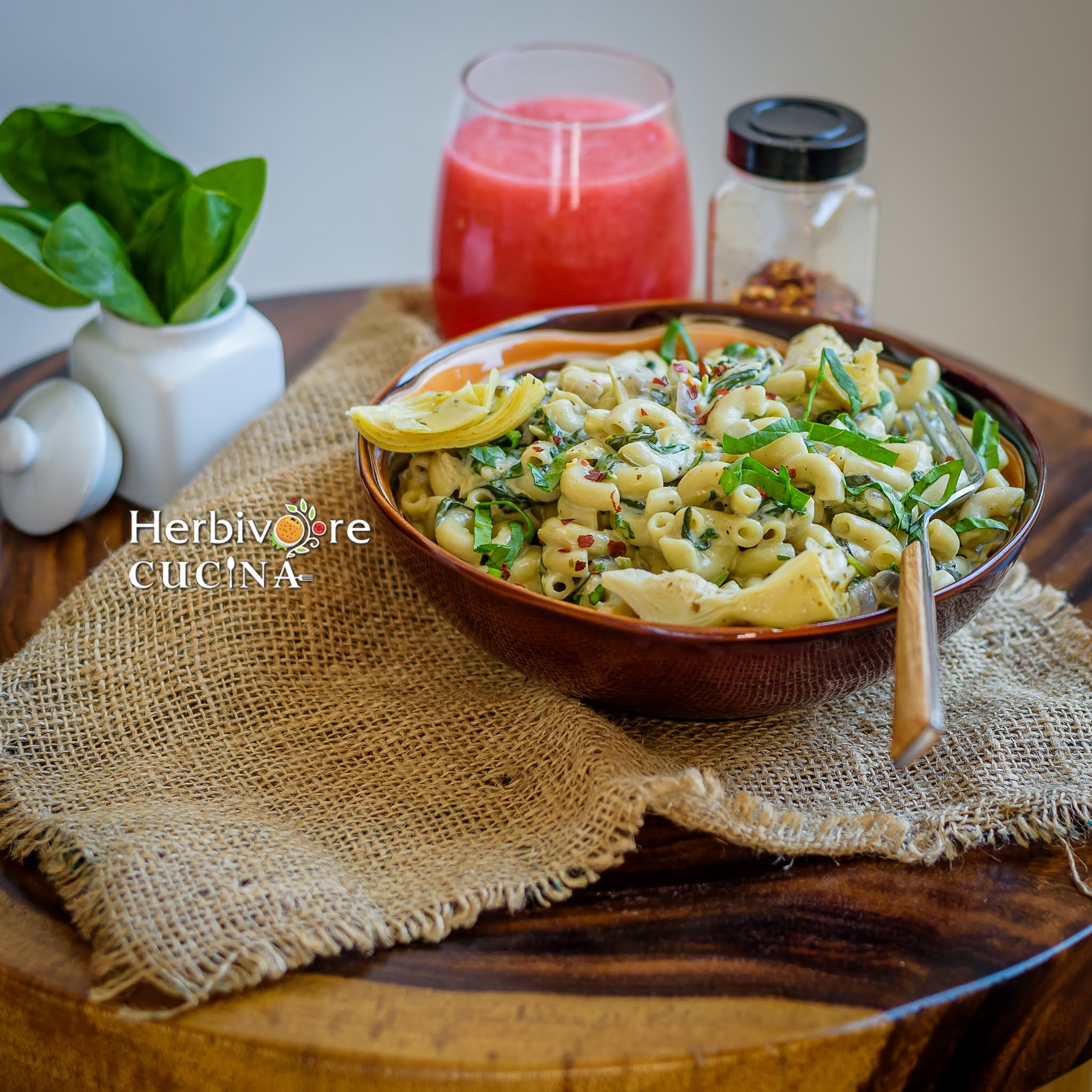 Method
Turn the Instant Pot mode to 'Sauté' and set to normal. Add olive oil or unsalted butter and wait till it shows Hot.
Add minced garlic and sauté for a minute. Once the raw flavor vanishes, add onions. Cover using a glass lid and let them cook for 2-3 minutes. Uncover, mix and add minced jalapeno and artichoke hearts. Mix well and cook for another 2 minutes.
Season with salt, pepper, oregano and chilli flakes. Mix well and add uncooked elbow macaroni. Add 1 cup of broth or water and mix well. Make sure all the macaroni is below water. If not, add some more water.
Press Cancel on the Instant Pot. Close the lid and press 'Pressure Cook'. Set time to 4 minutes and pressure to high. Make sure the vent is in sealing position and let the macaroni cook.
Once 4 minutes are up and the Instant Pot beeps, do a quick release. Open the pot and set the mode to 'Saute'. Add in baby spinach, mayonnaise, whipping cream and cheese. Mix well and add more water if required.
Let the mac and cheese sauté for a couple of minutes, turn the Instant Pot off and serve with Garlic Bread or any bread of your choice.