A Vegan friendly version of Lettuce Wraps; this Instant Pot recipe is SUPER yum, easy and great for two or a crowd!
Do you LOVE lettuce wraps? Looking for an easy way to make them at home? Plus a vegetarian version that is super yummy? Bring out you Instant Pot and make a batch right away!
I have been a fan of lettuce wraps for a while. Having tried it at various restaurants I have a few things I like about them as a dish: A super yummy saucy appetizer that everyone on the table likes, the truckload of lettuce I consume not realizing how 'boring' I thought salad was, the simplest appetizer to pull of for a party that can be made in advance and the guests do a DIY serving them!
Given all these advantages I like to make a BIG lot of the tofu and mushroom filling and use it several times in the week. The biggest problem with that happened to be how uneven the tofu cooks in regular woks. I thought my instant pot would cook it all evenly and YES, that actually happened! I made the dish with diced tofu instead of crumbled and the result was fabulous! I have been using my IP to do this ever since, bye bye wok!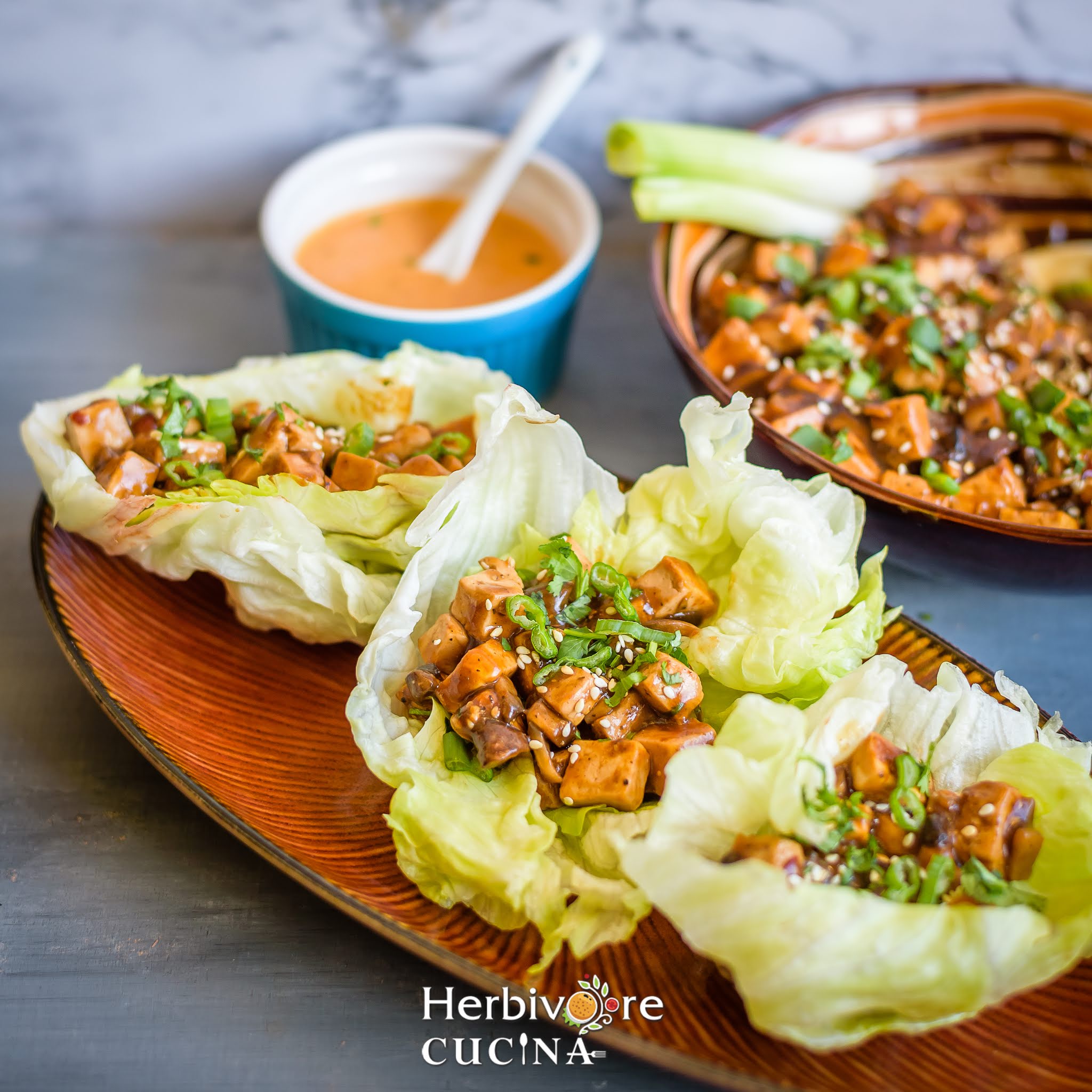 My love story with the dish has been rather strange. The FIRST time we ordered this at a restaurant I was thinking they would serve it like Vietnamese Spring Rolls. But when the platter came to the table it was JUST a bowl full of tofu, a stack of lettuce leaves and dipping sauce! I was so surprised that it was a DIY that I was not sure I like it.
However, it tasted SO good that now this dish makes an appearance in my parties, for weeknight dinner and restaurant visits! And with me wanting to perfect the recipe using the IP, I made it SO MANY TIMES! But who's complaining? We ate more lettuce with this recipe than ever before!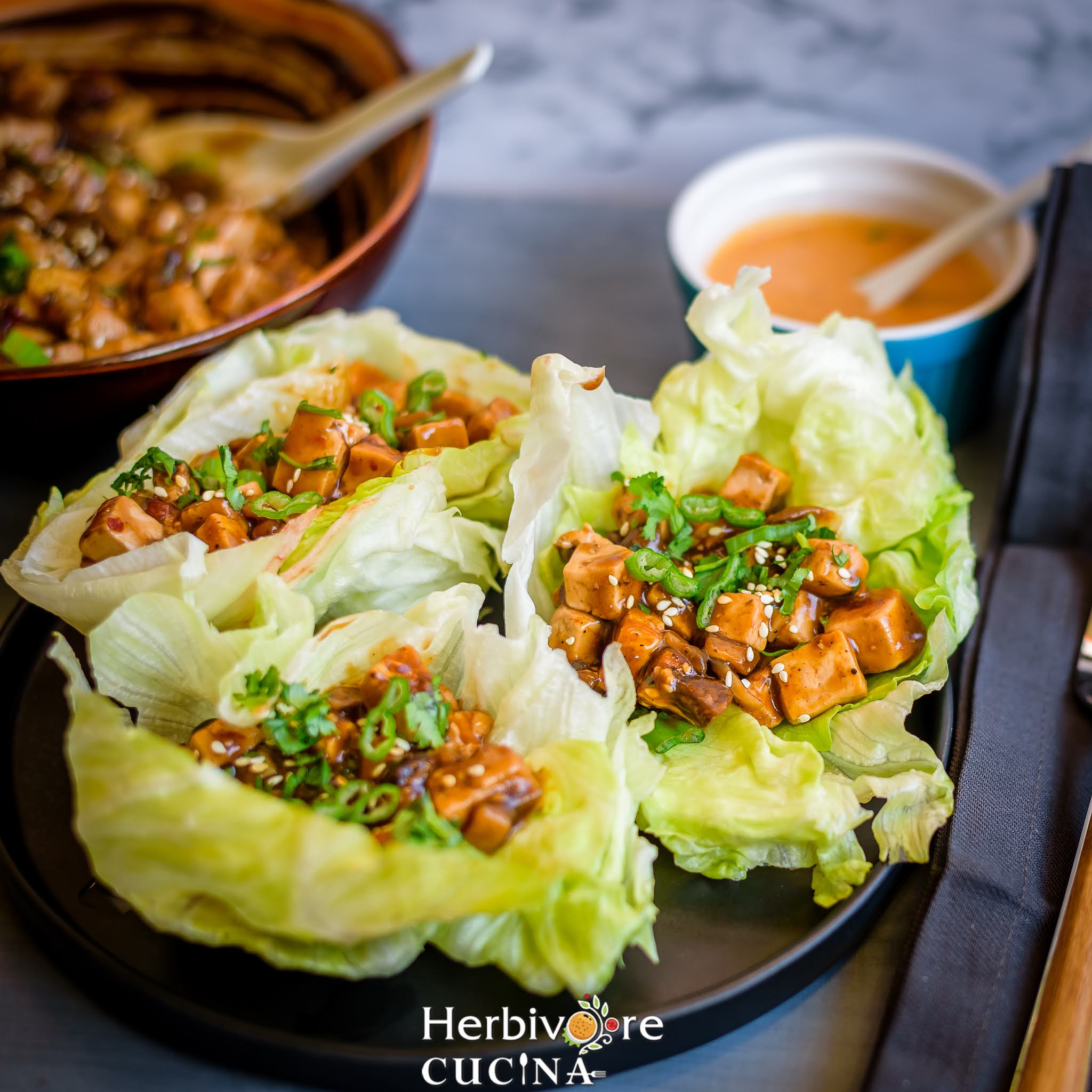 Variations


Coming to the recipe, I have made a few changes from the regular wrap recipes. First, this has diced tofu and not crumbled. Next I pressure cooked the entire batch to get that PERFECT melt in the mouth tofu. I added mushrooms for a meaty texture and they work really well. Not a fan? Just skip them and make the recipe. If using, I recommend using the brown ones. They are super good, I promise!
The sauce I used is from peanut butter. It is not one of the jarred ones. It is purely crushed peanuts in a food processor till they are almost perfectly smooth. I use that in my recipes as both of us are not very big fans of the bottled ones.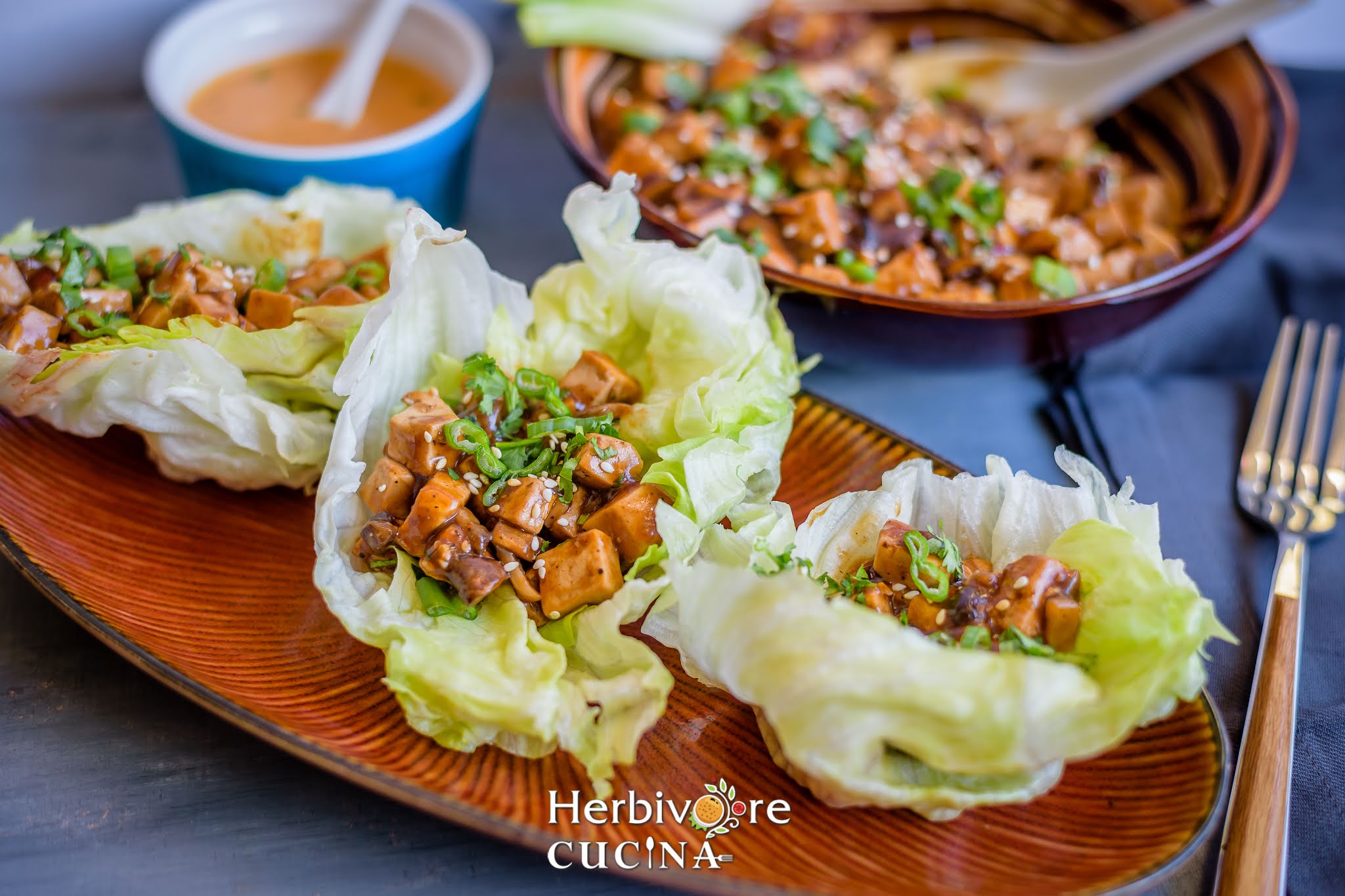 You can make the same recipe using your favorite meat too. I want to try it using paneer or seitan once! If you are a tofu fan like me, here are some more recipes that you will love:


Do not have an Instant Pot?


While I must say this is my favorite gadget, if you are not on the bandwagon yet, do not worry. Make the same recipe in a wok and cook covered for 10-12 minutes on medium flame. If you like your tofu pieces browned up, increase the flame a little bit.
I have made the same recipe in the wok several times before I got the Instant Pot and it does work pretty well!
Have an Instant Pot?


If you are looking for more IP recipes, here are a few from my blog. I hope you enjoy them as much as I like posting about them!
Pin for Later

Ingredients
For the Wraps
Firm Tofu 1 block (14 oz)
Brown Mushrooms 7-8, diced
Peanut butter 2 tbsp
Garlic 2 cloves, minced
Ginger 1 piece grated
Spring Onion whites ¼ cup, chopped
Tamari (Soy Sauce for non vegan) 1 tbsp
Rice Vinegar 1 tsp
Chilli sauce/ Sriracha ½ tsp
Vegetable/Sesame Oil 1 tsp
Chilli oil 1 tsp
Salt 1 tsp
Sugar ¼ tsp
Lettuce leaves a bunch
Spring Onion Greens and cilantro to top
Sesame seeds as required
For the dipping sauce
Peanut Butter 2 tbsp
Vinegar ¼ tsp
Chilli sauce ½ tsp
Tamari (Soy Sauce for non vegan) ¼ tsp
Sugar ¼ tsp
Method
Press the firm tofu between paper towels and remove all the water. Dice into small cubes. Set aside.
In a small bowl mix together the ingredients under the wrap; soy sauce, chilli sauce, peanut butter, vinegar, salt and sugar.
In the base of the Instant Pot add vegetable oil and chilli oil. Set the mode to Saute and Normal. Add garlic and ginger, mix well. Saute for a couple of minutes till the garlic is flavorful.
Add the spring onion whites and mushrooms. Saute for a minute. Add the diced tofu and mix well.
Pour in the mixed sauce and ½ cup water. Mix the sauce well.
Press cancel on the Instant Pot. Set mode to pressure cook or manual. Set pressure level to low and time to 3 minutes. Set the vent to sealing and let the tofu cook.
While the mixture cooks, make the dipping sauce. To do so mix together the ingredients of the dipping sauce in a bowl. Dilute with 3-4 tablespoon of water. Set aside. If you like it spicy, drizzle some chilli oil in it.
Once the Instant Pot timer is done, do a quick release. Open the pot and add cilantro, spring onion greens and sesame seeds. Mix well.
To serve, separate the leaves from your favorite type of lettuce and keep them in ice cold water for 10-15 minutes. Add a couple of spoons of the tofu mixture and drizzle some sauce. Fold and enjoy the wrap!