Blogging Marathon #68 Week 3 Day 1
Theme: Entree
Dish: Palak Tofu | Spinach and Tofu Curry

Today is the beginning of a new week of the Cooking Carnival, a month long non stop blogging Marathon and my theme for the week is Entree. Over the next six days I shall be posting curries from different cuisines. These curries are best enjoyed with breads specific to the cuisine or rice from the cuisine.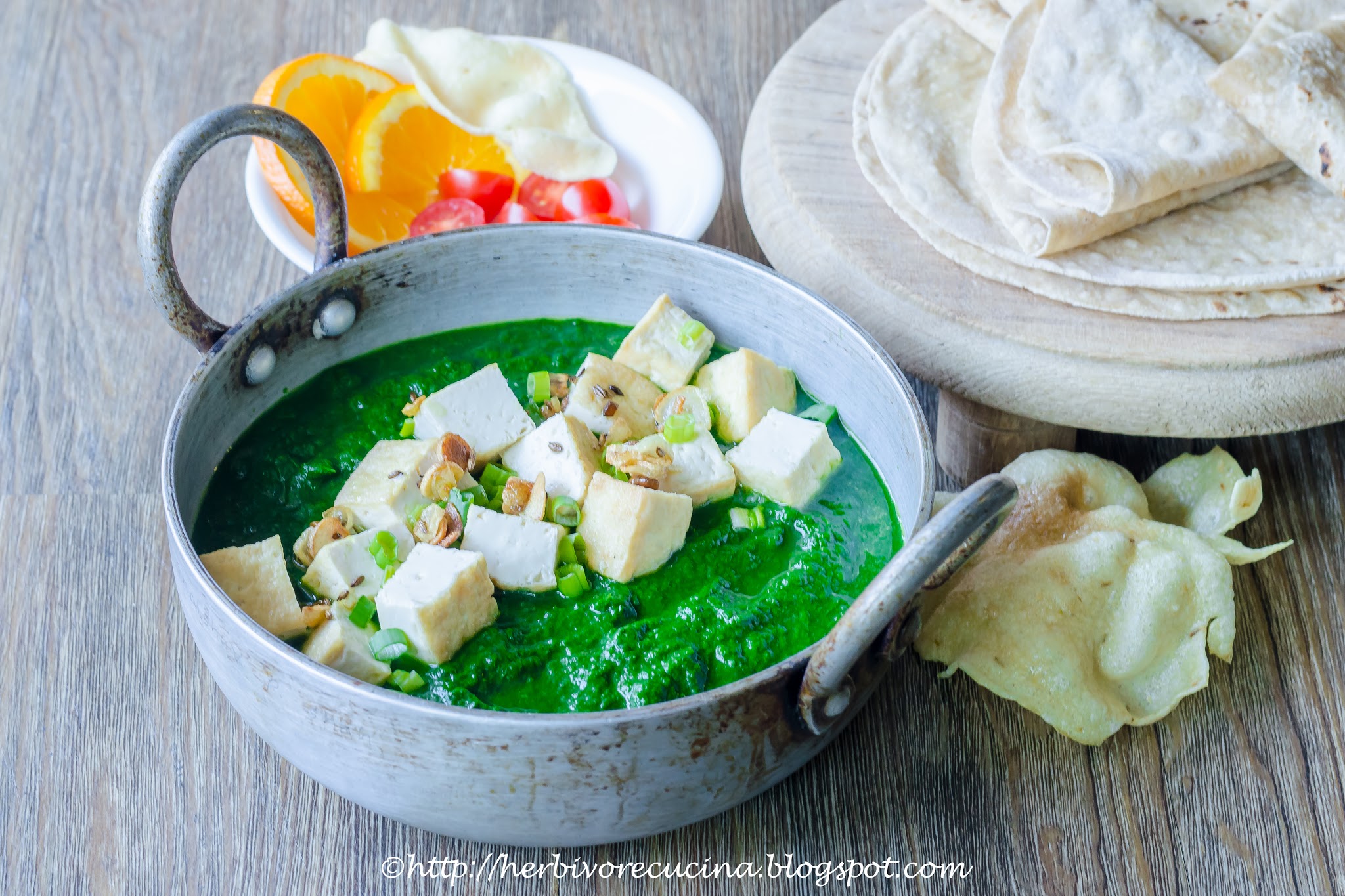 For the first day, here is a simple yet indulgent curry; palak tofu. This curry is Indian but can be classified as fusion as tofu is not inherent to Indian cooking. Paneer, the milk based protein is used widely in Indian kitchens and Palak Paneer is one of the most famous dishes from Northern India. This recipe is a modern take on the traditional.
In my kitchen, I love to start off with a traditional recipe and modify it to suit our taste and calorie preference. Substituting frying with baking, rice with quinoa and making use of the appam stand wherever I can is common. This recipe stems from one such thought as well. We enjoy paneer sometimes, but like tofu more. So I added tofu in the palak and made the curry.
The first time I made this one, we liked every aspect of it, except that the tofu tasted rather bland. This is because we always like our tofu marinated in some kind of sauce. That was not possible in this curry. So instead of marinating, I added sauteed garlic and cumin to flavor the tofu. This ensures that the pieces of tofu do not taste bland. Once the tofu, garlic and cumin mixes with the spinach puree, the result is perfect. I like to prepare the curry a couple of hours before serving. This ensures the flavors are absorbed by the tofu and the curry tastes awesome! Serve it with roti, paratha, naan or just steamed rice. It is a great meal!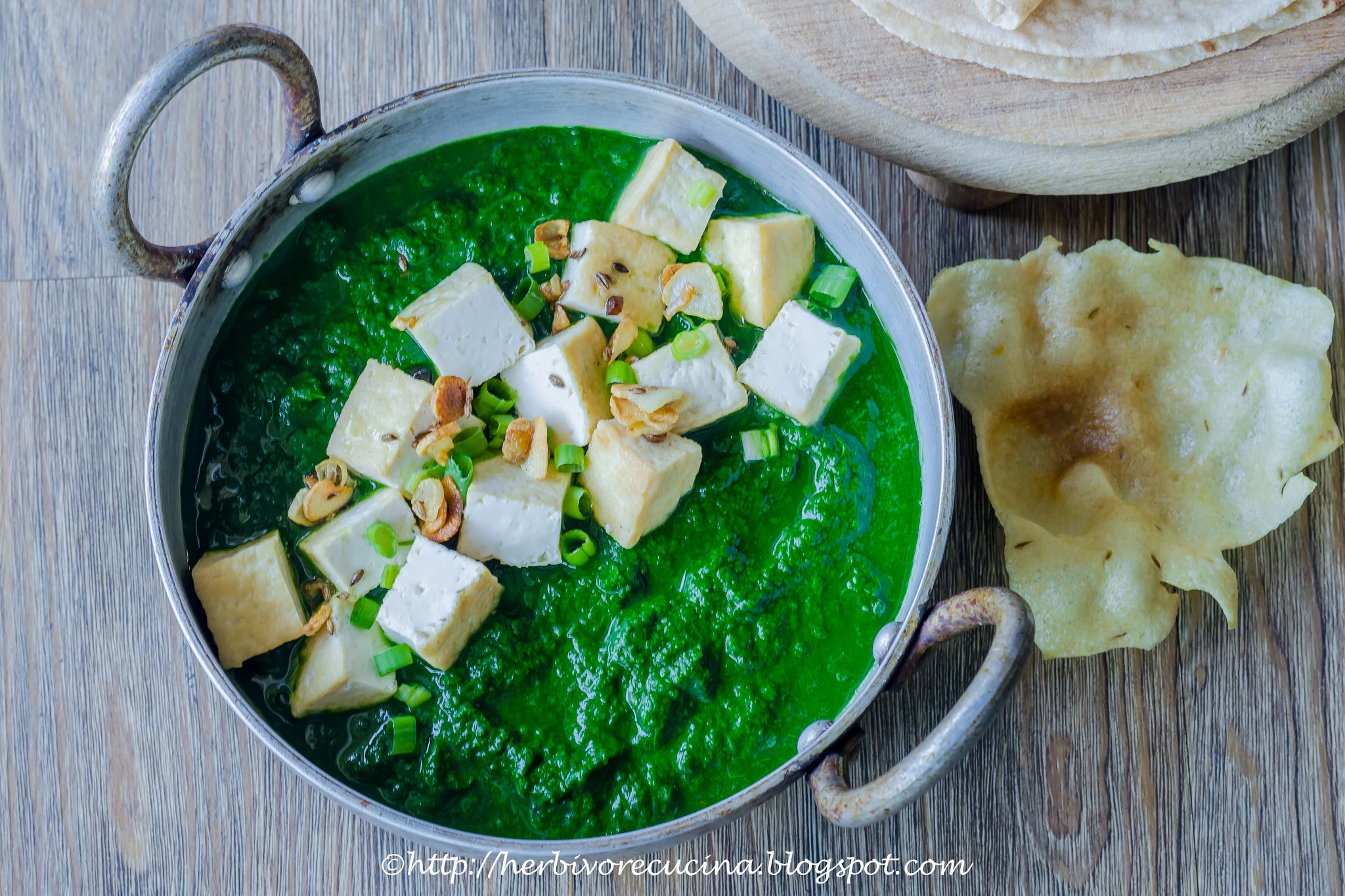 Ingredients


Spinach 1 bunch
Firm Tofu 1 box (14 oz)
Garlic 2-3 pods
Onion 1 medium
Ginger 1 inch piece
Green Chilli 1-2
Garam Masala 1 tsp
Mustard Seeds 1 tsp
Asafoetida a pinch
Cumin Seeds 2 tsp
Dhania Jeera Powder 1 tsp
Oil 2 tbsp + 2 tbsp
Salt as required
Lemon Juice ½ tsp
Spring onion and garlic to garnish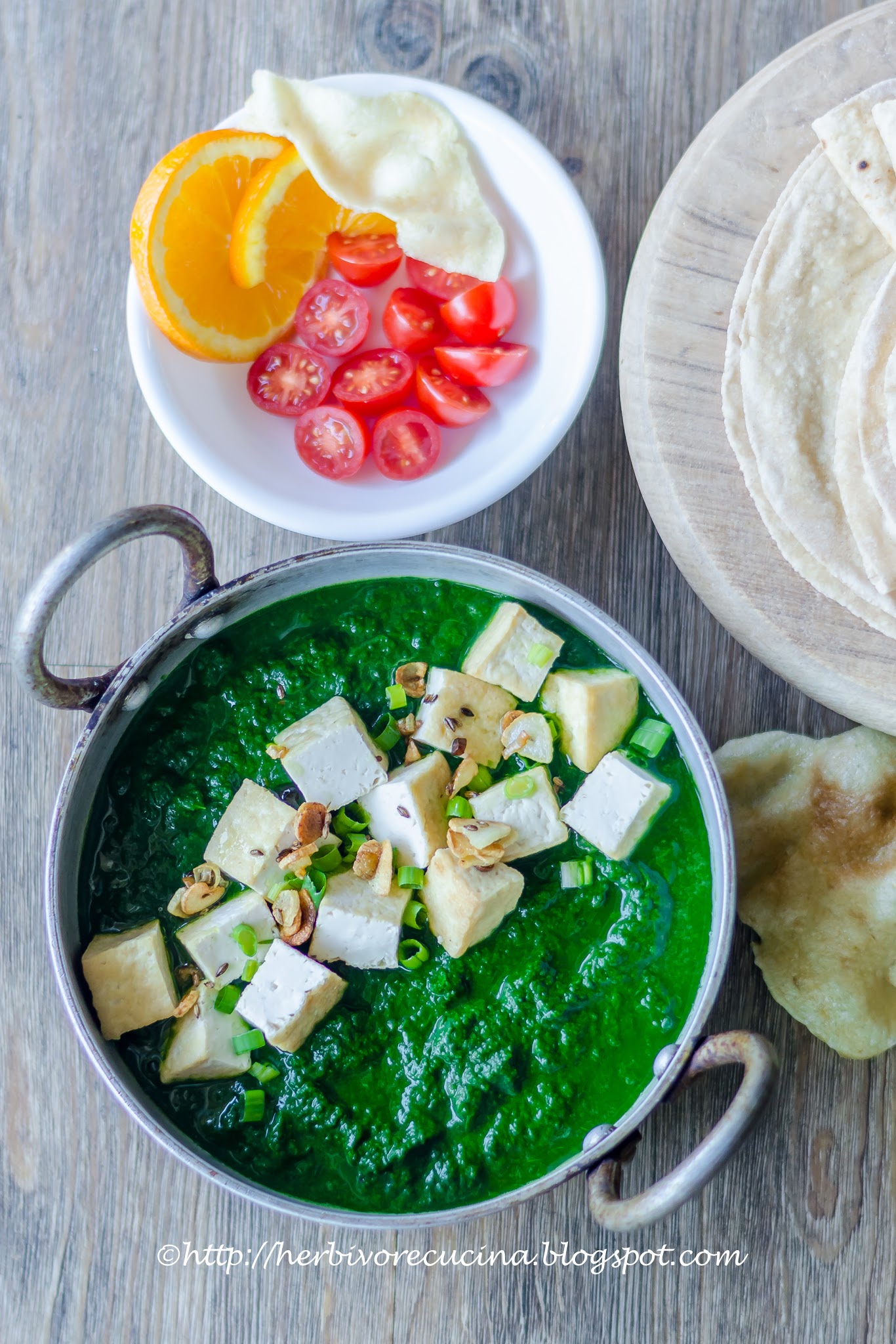 Method
Remove tofu from the box and press between paper towels to remove all the water. Once drained, dice to pieces and set aside. Heat a tablespoon of oil and saute the tofu till crisp on all sides. Once done, remove and soak in water with half a teaspoon of salt.

In a pan add 1 teaspoon oil and add minced garlic, green chilli and ginger. After it gets fragrant, add diced onions and cook for a few minutes. Turn down the heat and cool. Meanwhile, heat water in a large pan, add some sugar and salt. Once it boils, add the spinach and cook for 1-2 minutes. Remove and immediately drop in cold water. Once cool, puree the spinach along with the onion garlic ginger and green chilli to a smooth paste.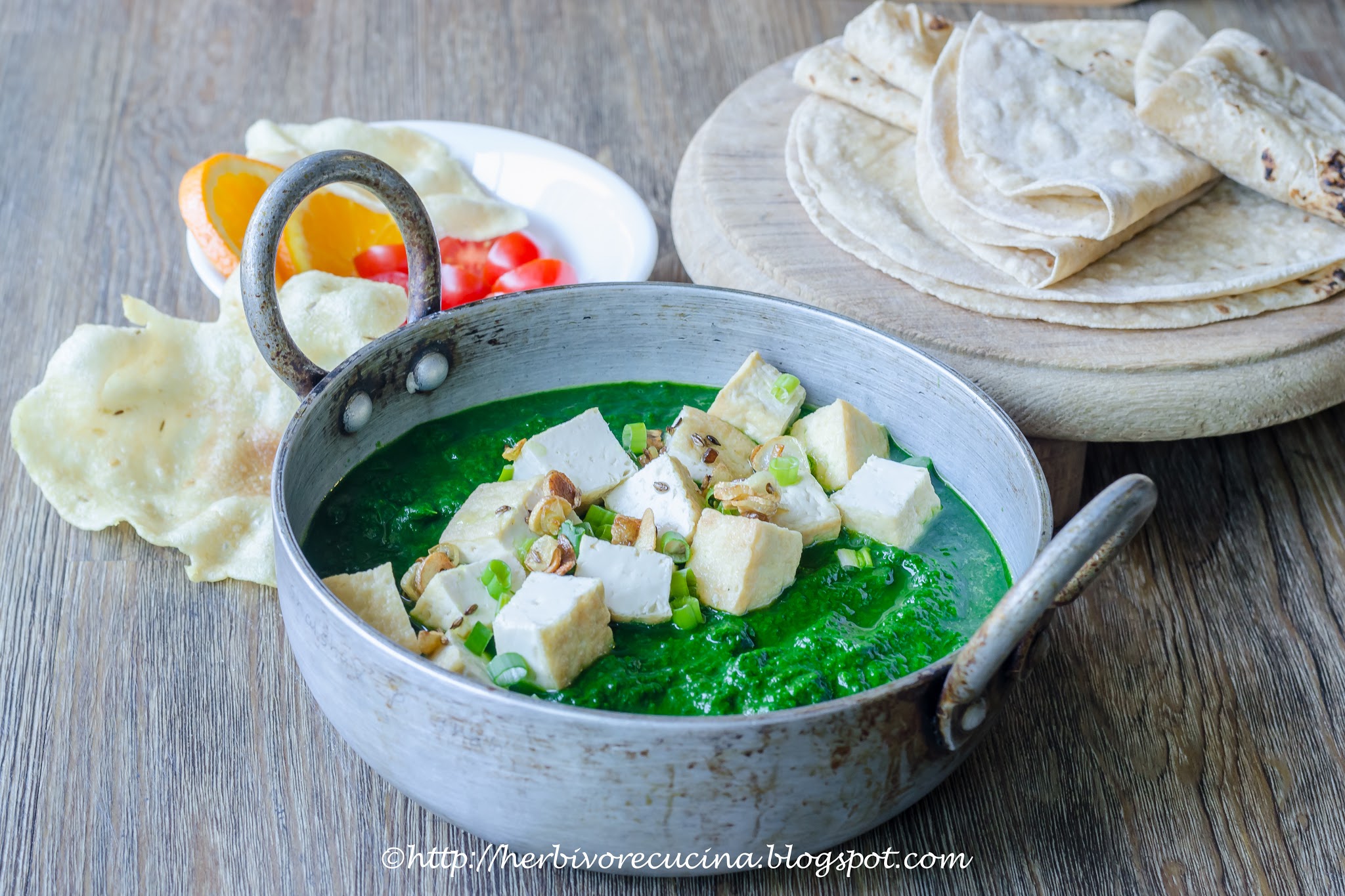 In the same pan, heat 1 tablespoon oil and add the mustard seeds. Once they splutter, add asafoetida and a teaspoon of cumin. After it splutters, add the spinach puree, garam masala and salt if needed. Mix and cook for a few minutes. Once it starts to boil, add dhania jeera powder and turn down the flame. Add the lime juice and mix well.
Remove tofu from water and set aside. To make the garnish, heat 1 teaspoon of oil. Add remaining cumin seeds and 1 garlic minced. Once the garlic begins to turn brown, turn down the heat and pour it on the tofu pieces. Add the tofu pieces to the palak gravy and add the spring onion greens. Mix well and enjoy.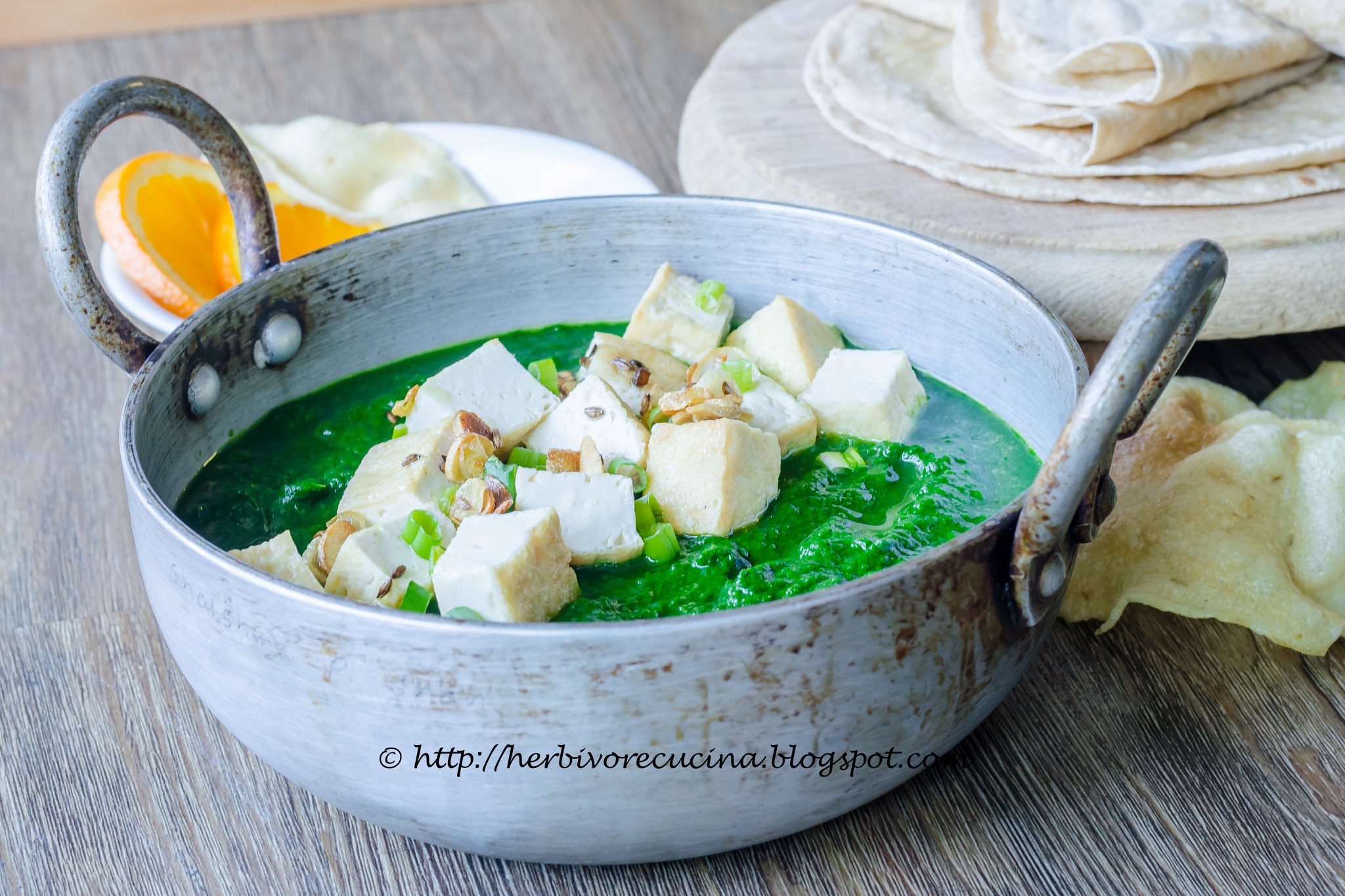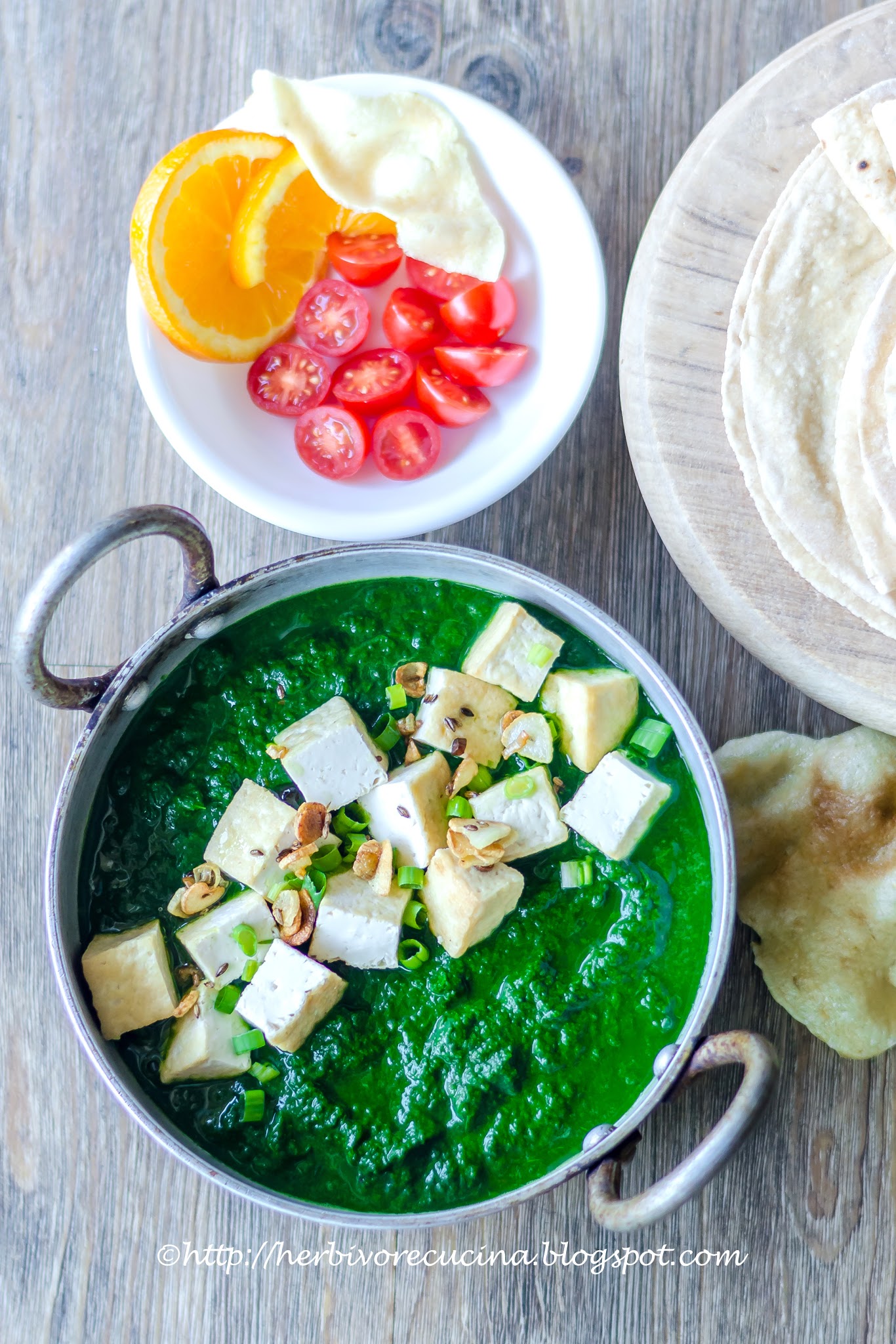 Check out the Blogging Marathon page to see what the other Blogging Marathoners are doing for BM# 68