Go to any restaurant that serves Indian food. The first option for most people to order will probably be Paneer Mutter or Vegetable Makhanwalla. Both these famous Indian curries are tomato based sabjis made with paneer pieces and cubed vegetables respectively. If you ever want a break from the red gravy, there are generally two ways to go:White or green. If you plan to order something green, Palak Paneer is the answer!!
Cubes of paneer dunked in thick green colored palak curry makes this dish. The method of making this varies from place to place and restaurant to restaurant. Some like to fry the paneer pieces and dip it in palak gravy, while others cube the raw paneer and add it. Whichever the method, palak paneer tastes great by all means.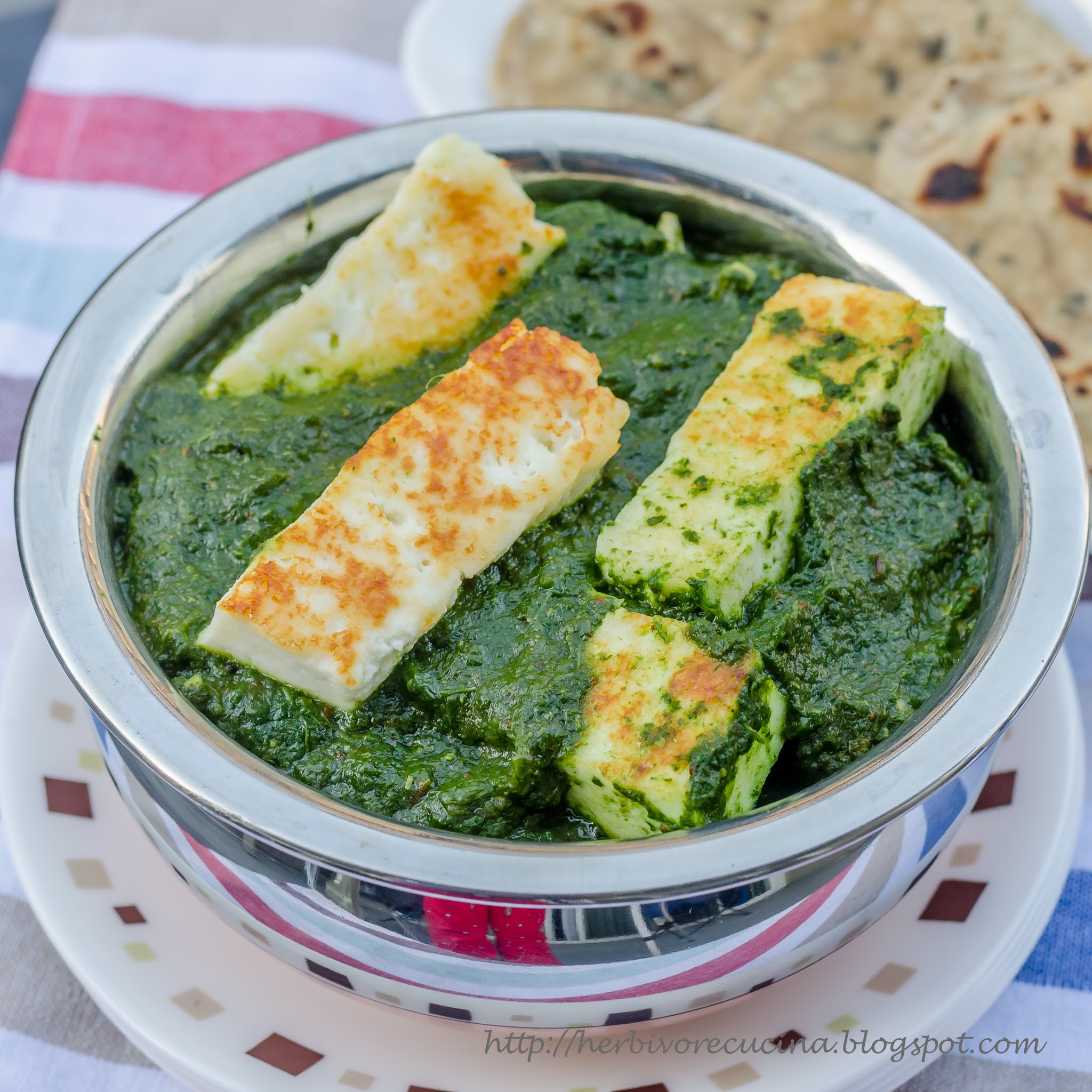 This recipe is somewhere mid-way between the two recipes mentioned above. I generally do not like to fry paneer in recipes for daily lunch or dinner. Instead, I prefer to saute the paneer cubes in little oil. This makes them slightly crunchy on the top while remaining soft inside. Dip these paneer pieces in warm water to keep them soft. Make the green gravy using spinach and then dunk the paneer cubes in it. Serve the Palak Paneer with a side of Naan, Garlic Kulcha or Paratha. To make it a complete meal, you can serve Palak Paneer with Dal Makhani, breads and steamed or Jeera Rice.




Ingredients
Paneer 14 oz block
Baby Spinach 3 cup
Garlic 2 cloves, minced
Ginger, ½ inch piece
Green chili 2-3
Onion 1 medium, diced
Spices (Bay leaves, Dried Red Chili)
Condiments (Mustard seeds, Cumin seeds, Asafoetida, Red chili powder, Turmeric powder, Dhania powder, salt, sugar)
Kasuri Methi 1 tsp
Oil/Butter
Cilantro, Lime juice
Method
Thaw the paneer block for a couple of hours on the kitchen counter and cut it into equal size dice or logs. Meanwhile, heat two cups of water in a pan and add a pinch of salt and sugar to it. Drop the baby spinach in the water and boil them for a minute. Turn down the flame and drain the spinach and reserve the water. Add them in cold water to stop the cooking process and retain the green color. Once cool, grind the spinach to a fine paste. Also, grind the chili, ginger and garlic to a fine paste.
In a flat saucepan, add oil and heat. Once hot, place the paneer pieces in it and let them brown on medium to high heat. Once the bottom is brown, turn the pieces over and brown the other side. Take a medium pan and fill it with warm water and add a pinch of salt. Remove each piece of paneer from the pan and dip it in the warm salty water that has been reserved from the spinach. This helps to flavor the paneer and keep it soft till cooking.
In a pan, heat some oil/butter and add mustard seeds. Once they pop, add cumin seeds. Add the bay leaves and dries red chili. Next put in the chili garlic ginger paste and cook until the raw flavor goes away. Add diced onions, and salt and cook till they are transparent. Now, add in the spinach purée and mix well. Let the mixture come to a boil and you will see the oil separating from the gravy. This indicates that the gravy is cooked well. At this stage add the haldi, dhania jeera and red chili powder. However, add minimum amount of red chili so that the green color is not lost. Drain the paneer pieces from water and add to the gravy. Let the mixture simmer on medium flame for 4-5 minutes.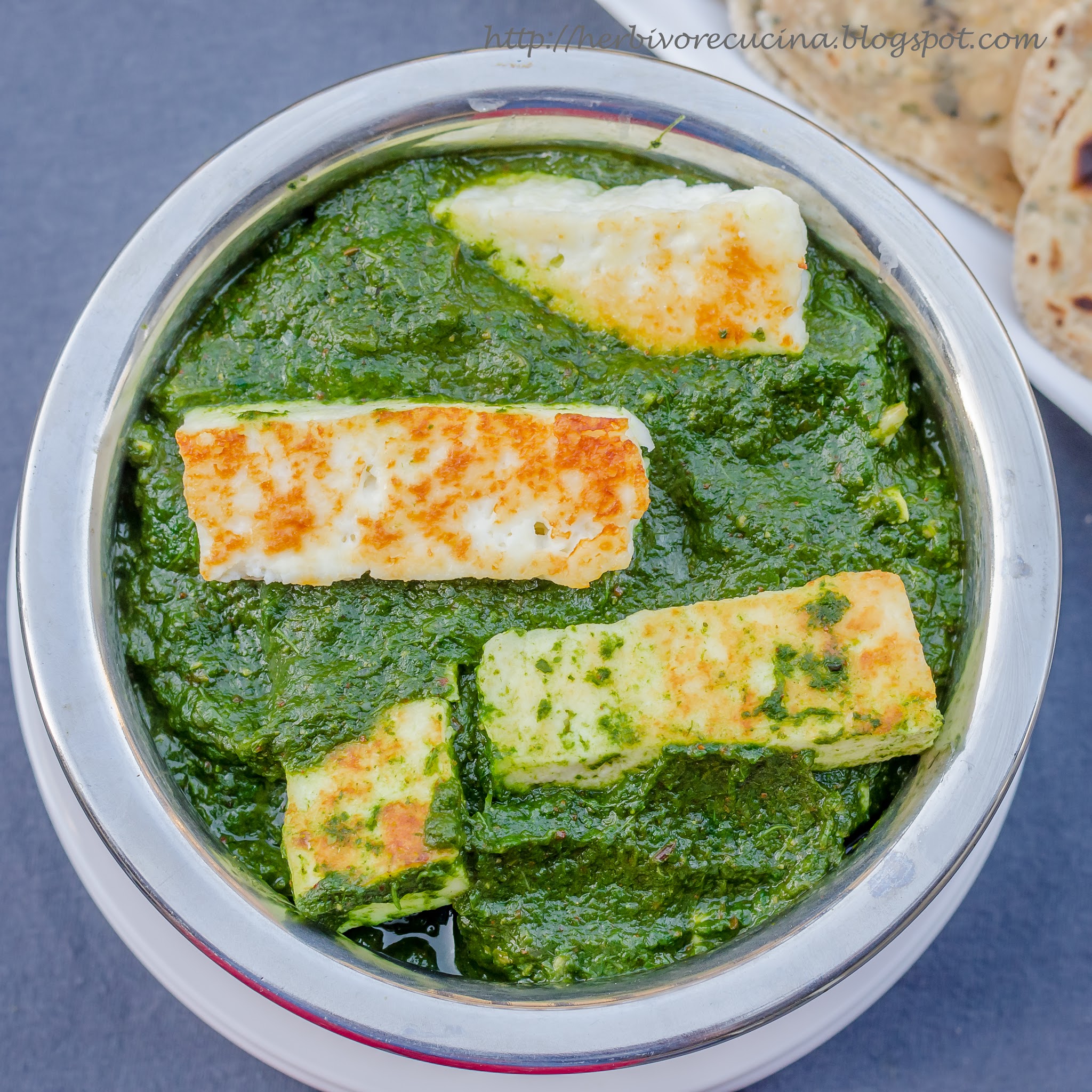 Garnish with chopped cilantro and serve with Indian breads, rice, onion rings, pickle and raita. This tastes good with Naan, Garlic Kulcha as well as paratha. To make it a complete meal, you can serve Palak Paneer with Dal Makhani, breads and steamed or Jeera Rice.