Dal Makhani is one of the famous Punjabi dishes served with Naan or Steamed Rice. A lot of people enjoy it with Jeera Rice. This dal is made from a mixture of Black Udad Dal and Red Kidney beans or Rajma. It can be made nice and creamy by adding fresh cream to it. That is how the name is derived, Dal Makhani; where Dal is the black udad dal and Makhan means butter. A lot of people tend to make Mah ki Dal with these black dals but the main difference between that and this Dal Makhani is the kidney beans. While Mah ki Dal does not have kidney beans, this one does!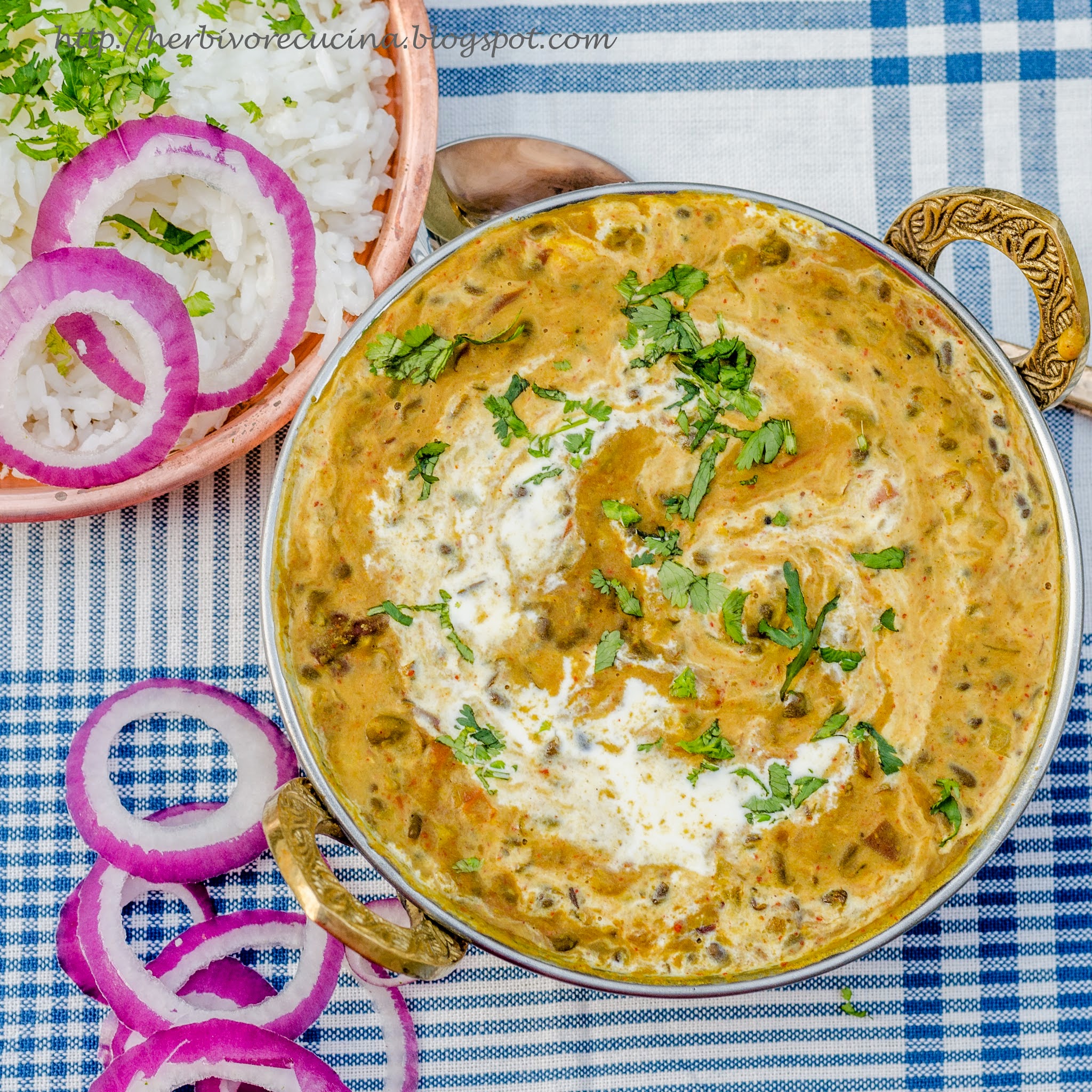 Traditionally, this dal is made slowly simmered in a pot and the earthy flavor that comes from the cooked lentil is remarkable. However, we may not have the right utensil to make this dal or the time to wait for the dal to simmer away. Thus, I have adapted it to modern day method, using a pressure cooker to cook the lentils and then mixing it with onions tomatoes and spices.
This dal is made in a series of simple steps: Wash, soak, boil and cook with onions, tomatoes and a variety of spices. The fragrance and flavors that come from the slowly cooked dal fills the house and makes me hungry. Even before the dal is cooked, I feel like devouring it straight from the pan. The great feeling that comes from mixing this dal with steamed rice cannot be explained. On some week nights, it is perfect comfort food. Dal makhani can either be a part of an elaborate Punjabi meal served with Paneer Mutter, Paratha, Naan and Jeera Rice. Or make it a simple meal by mixing the Dal and steamed rice. Here is a simple recipe to make it at home.
Ingredients
Split Black Gram/ Udad Dal 1 cup
Rajma ¼ cup
Butter/ Ghee 2 tbsp
Spices ( Bay Leaf, Dry Red Chili)
Condiments ( Mustard seeds, Cumin seeds, Asafoetida, Turmeric powder, Dhania Jeera powder)
Onion ½ diced
Tomato 1 diced
Curry leaves
Ginger 1 inch, grated
Garlic 2-3 cloves, minced
Cream ¼ cup
Cilantro
Salt, Lemon Juice
Method
Wash and soak the dal and rajma separately in 2 cups and ¾ cup of water respectively. After about 3-4 hours, pressure cook with a pinch of salt and turmeric powder. Cook till the dal and rajma are soft. Crush them lightly with a ladle and set aside.
In a pan heat butter and add mustard seeds. Once they pop, add cumin seeds and asafoetida. Add Bay leaf, Curry leaves, Ginger, Garlic, red and green chilies and mix well. Next add the onions and saute till they are translucent. Next, add the tomatoes and red chili powder and cook till they are soft. Add the dal and rajma mixture and blend it all well.
Adjust the salt, add the dhania jeera and let the dal boil. Once boiled, press the dal and rajma with a ladle and homogenize the mixture. Turn down the heat and add lemon juice. Beat the cream well and mix it into the dal. Garnish with cilantro and some cream. You can reduce the amount of cream if you do not want the dal to be very heavy. Serve the Kaali Dal with rice or naan.
This recipe appeared in the round-up for 13 best Indian buffet recipes you can re-create at home on Community Table. Check this out: Community Table.