Kulcha is a type of leavened Indian bread eaten on the Indian subcontinent, made from maida (wheat flour). It is particularly popular in India and Pakistan, and is usually eaten with chole. Kulcha is a typical Punjabi recipe. Amritsar, a city in Punjab is famous for its Amritsari kulchas or Amritsari naan. Flour dough is rolled into a flat, round shape and baked in an earthen clay oven until golden brown. When baked, it is usually rubbed with butter, and then eaten with spicy Chole (chickpea curry).
However, here in the US and even otherwise; it is not very feasible to make Kulcha in a clay oven. Thus, here is the recipe for baked Garlic Kulcha, made in the oven. Make these Kulchas and serve them with Chole, Rajma or any other Vegetable of your choice!
This recipe has been adapted from: Shital's Kitchen by Shital Ashar.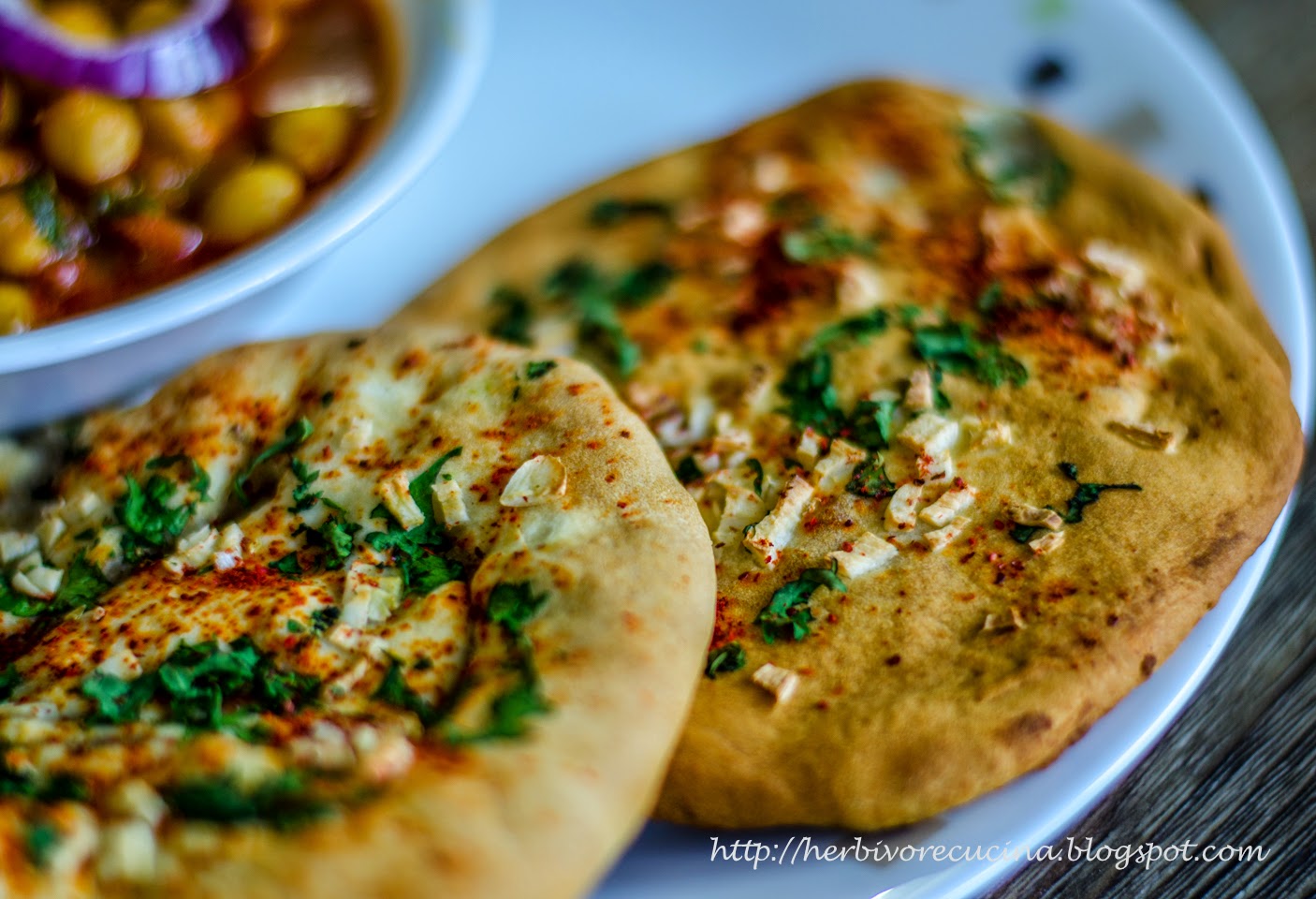 Ingredients
For the dough
3 cups all purpose flour/ Maida
1 ½ tsp. ghee
1 ½ tsp. baking powder
¾ cup yogurt
¼ cup water
salt to taste
4-5 cloves garlic, minced
For the filling
2 potatoes, boiled
1 tbsp. green Chilli, Garlic and Ginger paste
2 tbsp. Garam Masala
Lime Juice
Salt
Cilantro, finely chopped
For Garnish
Cilantro, finely chopped
red chilli powder
Method
Sieve the allpurpose flour with baking powder and salt. Add ghee and yoghurt and mix well. Add water slowly to the dough as required, and form a dough ball. knead several times till the dough is soft, pliable and smooth. Keep the dough in a bowl, cover it and let it rest for half an hour.
While the dough is resting, prepare the filling. In a bowl, mash the boiled potato completely, mix all the ingredients of the filling, and set aside.
Preheat oven to 500 F for 15-20 minutes. After the dough has rested for half an hour, knead it a couple of times. Make equal sized balls out of the dough. Roll out the dough to form a small disc. Put a tbsp. of filling and close the edges (just like any stuffed paratha). Apply little oil to the top surface, and roll it into kulcha of about 6 inches. Apply little oil on it, press garlic pieces, cilantro and red Chilli powder on it. Repeat for the remaining kulchas.
Place about 3 Kulchas on a pizza pan, and bake them for just 5-6 minutes. Do not leave the oven unattended, and as you see them browning, remove them and top with melted butter.
Serve the Garlic Kulchas with Chole, Achaar and onion rings; with Lassi or buttermilk.
Find the recipe of Chole here: Chole.