Super easy, flavorful and delicious recipe for Chole, this Indian curry is made using garbanzo beans and Indian spices. Perfect to serve with puri, bhature or samosas.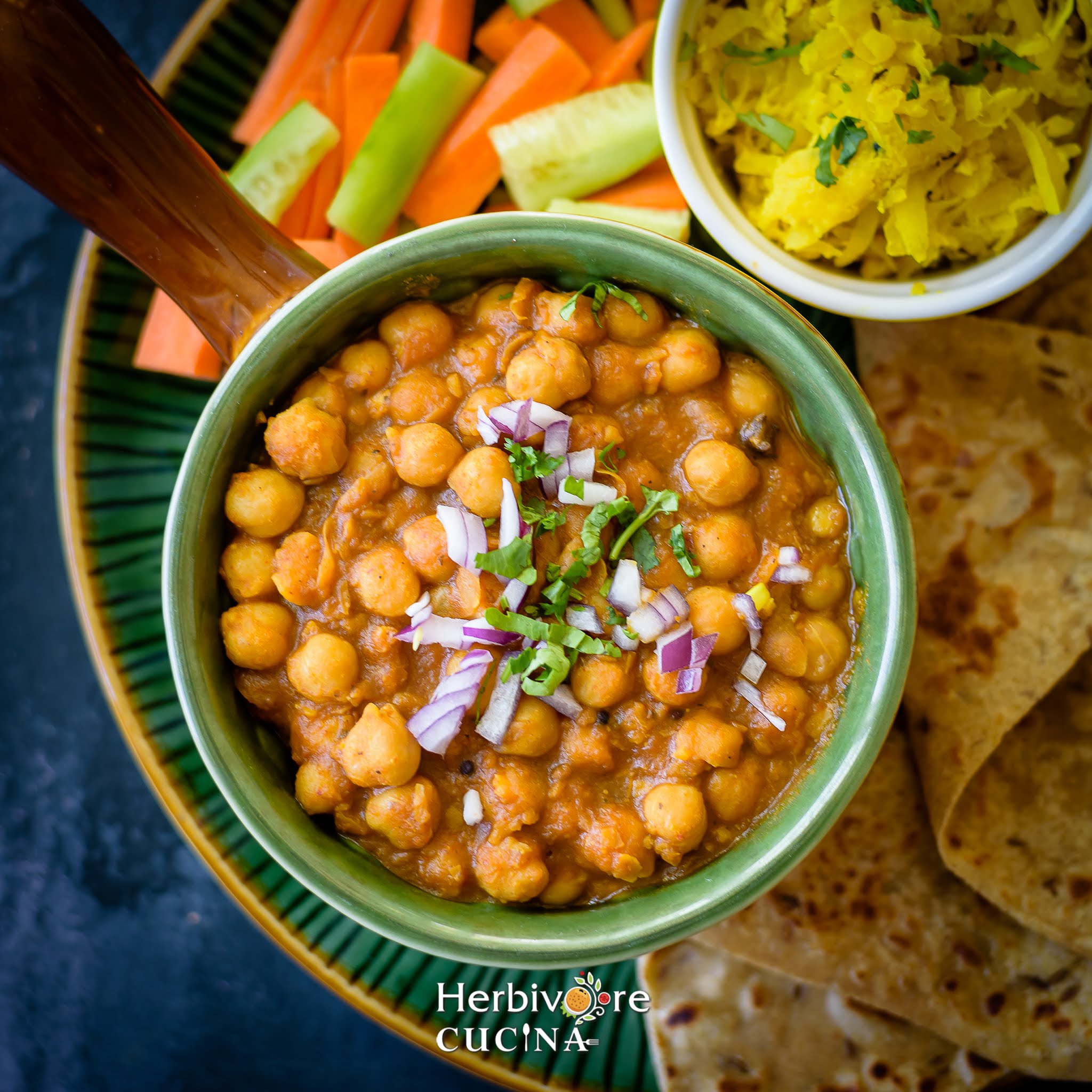 Some of the links below are affiliate links, meaning, at no extra cost to you, I will earn a commission if you click through and make a purchase.
Indian cuisine is super rich when it comes to curries. From simple curries to really complicated ones, there is always a recipe that will be great for any meal.
Chole or Chana Masala or Garbanzo beans curry is a really popular one. From Indian restaurants to Indian weddings and dinner at home, it is made quite often.
Originating from Northern India, this curry is now popular across the globe.
What is Chole?
Garbanzo beans for the base of this dish. Chole is also popularly known as chana or safed (meaning white) chana.
Made using dried or canned chickpeas, onion, tomatoes and spices, this curry is best enjoyed with piping hot puris or samosas.
There are several variations of the recipe using different ingredients. From tomatoes to anardana and from white to dark brown. All of these vary slightly but are all DELICIOUS for sure.
The method of cooking might be different in different recipes too. From being slow cooked to using the pressure cooker or instant pot, these methods can be employed to cook chole.
My method is a combination of what my mother makes, what I have tried at restaurants and some variations of my own.
How to make Chole perfectly each time?
For me perfect chole would mean a flavorful thick gravy with chole that is firm but tender to bite.
The flavorful gravy is the result of well cooked onions, tomatoes and spices. Choose tomatoes that are ripe and pulpy to get the right consistency.
I like to use a combination of whole spices and ground masalas for this recipe. Cloves, bay leaves and cinnamon are used as whole and garam masala and chole masala are the powders used.
I make the garam masala at home and buy chole masala from the store. Get my recipe for garam masala here.
Soaking the chana is an important step in the process. It not only cooks the beans quickly but is also a recommended step for making it easy for digestion. I generally soak chana overnight.
Can canned chickpeas be used?
Most certainly yes! Using canned chole is the easiest and quickest way to make this recipe. No soaking required, make the same recipe with 1 ½ cups of canned chole.
Why use Chana Dal in the recipe?
A lot of recipes indicate mashing some of the chole after boiling or cooking to get a thick gravy. While this works well, I change that up by adding some chana dal to the recipe.
Chana dal when soaked with chole and pressure cooked becomes soft and almost mashed. This when added to the curry gives it thickness without having to overcook the chana or mashing them. However, it can be skipped if you prefer mashing chana instead.
If using canned chole, the chana dal has to be cooked and used or skipped completely. If using, pressure cook the dal for 5-6 whistles and use it. Soaking of the dal can be skipped.




What role does tea play in the recipe?
The chole served at restaurants has a darker shade than the one made at home using garbanzo beans.
In order to get that dark color, we use black tea. The taste of the tea is not prominent in the recipe but it imparts a beautiful color.
Tea bags can be steeped and used or black tea can be brewed and used. Both work perfectly.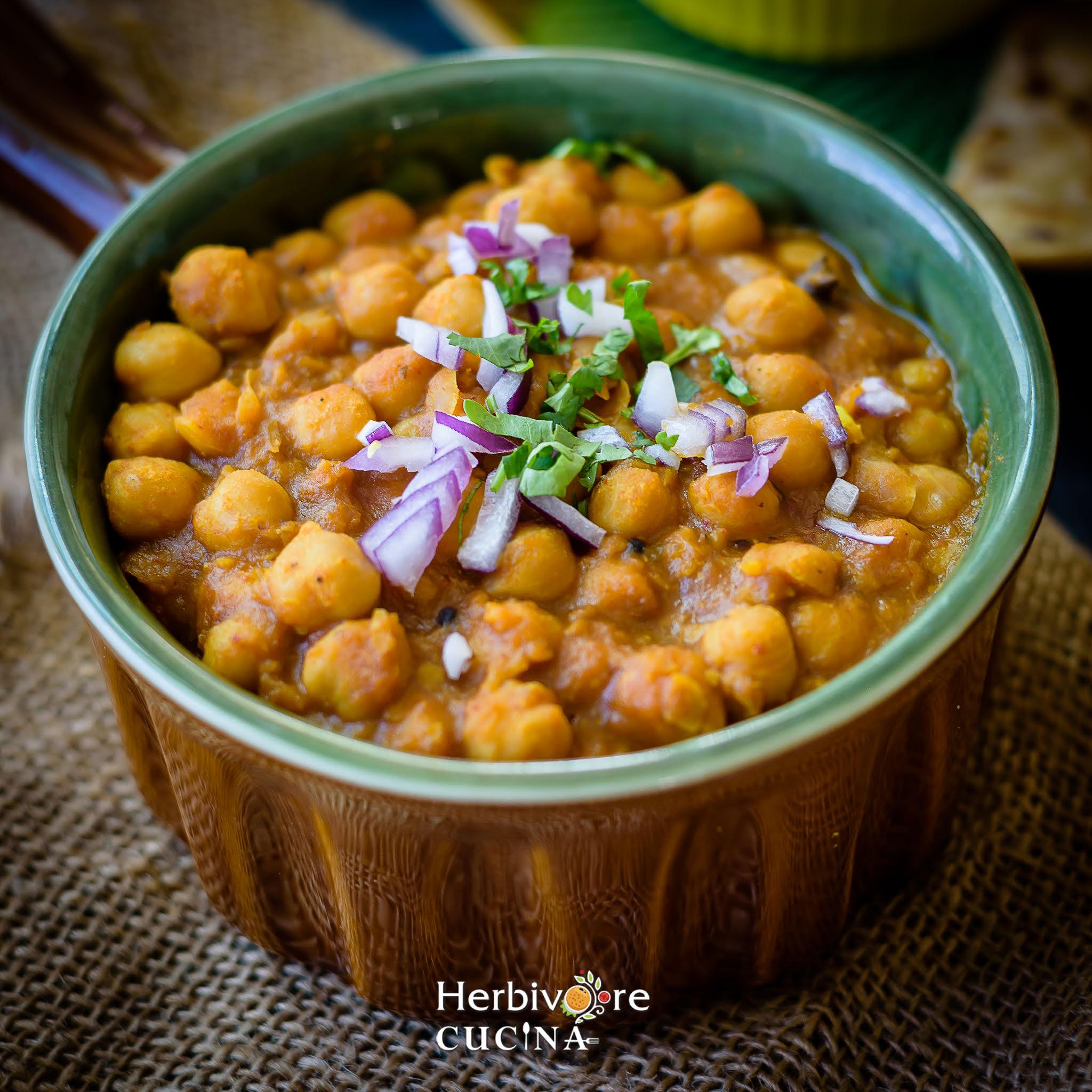 What to serve Chole with?
Chole is a super versatile Indian curry. From serving it with something as simple as naan, puri, parathas or steamed rice to using it in different recipes, it works well.
Enjoy chole in recipes like Chole Naan Pizza, Chole Samosa or Chole tikki.
It freezes really well and honestly it tastes the BEST when it has been standing for a few hours so that the flavors have a chance to soak into the chana.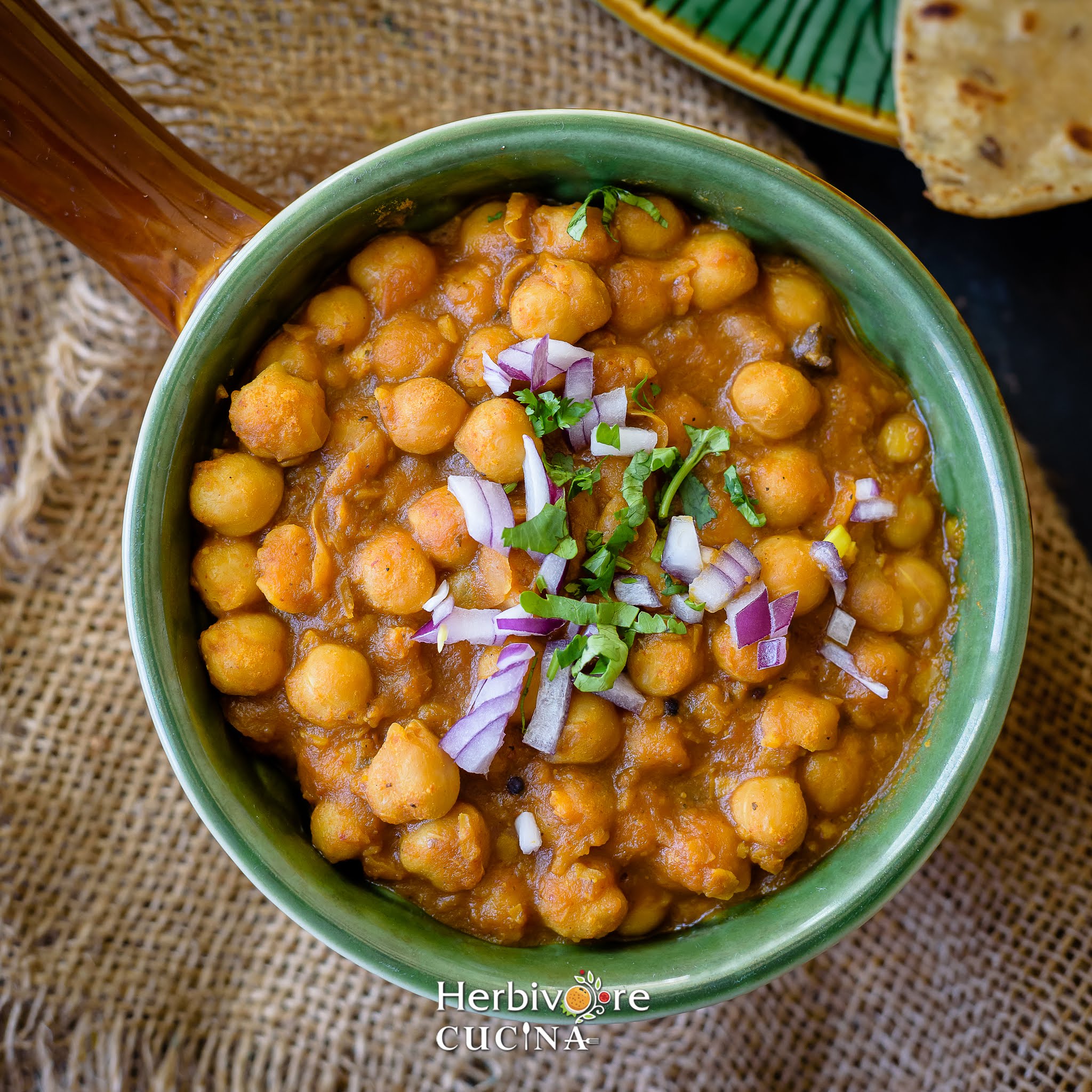 Ingredients
Chickpeas 1 cup
Split Chana Dal 2 tbsp
Onion 1 medium, diced
Tomatoes 3 medium, purée
Ginger 1 inch piece, grated
Garlic 2 cloves, grated
Green Chili 1, chopped
Black Tea 1 bag/ 1 tsp
Red Chili Powder 1 ½ tsp
Turmeric Powder 1 tsp
Garam Masala 1 tsp
Chole Masala 1 ½ tsp
Mustard Seeds ½ tsp
Cumin Seeds ¼ tsp
Bay Leaves 2-3
Cloves 2-3
Cinnamon Sticks 1-2
Kasoori Methi 1 tbsp
Aamchur Powder ½ tsp
Salt 1 ½ tsp
Sugar ½ tsp
Oil 2 tbsp
Ghee 1 tbsp
Lime Juice 1 tsp
Cilantro and onions to top
Method
Soak the chickpeas and split chana dal for 8-10 hours in 4-5 cups of water. Reserve the soaking water to use.
In the pressure cooker or Instant Pot add the chole and chana dal along with 1 teaspoon salt and cloves. Add 2 cups of the soaking water and cook till tender.
I take around 12 minutes in the instant pot or 4 whistles in the stove top pressure cooker.
Meanwhile, heat 1 cup of the soaking water and steep the tea bag in it. Alternately add the black tea and steep for 5 minutes. Filter the water once the tea has steeped. Set aside.
In a pan heat the oil and ghee. Add mustard seeds and let them splutter. Then add cumin seeds, cinnamon and bay leaves.
Add ginger, garlic and green chili. Sauté till the raw flavor of garlic disappears.
Add onion and sauté till it is soft. Add the red chili powder, turmeric powder, chole masala and garam masala. Mix and sauté for a minute. Then add the tomato purée.
Add salt and sugar. Mix well. Cook covered for 10-12 minutes till the tomato purée is deep red in color.
Transfer the chickpeas and dal to the pan, add the tea water, kasoori methi and aamchur. Mix, cook covered for 15-20 minutes so that the flavors mix well.
Uncover, turn down the flame and add lime juice and cilantro. Serve with parathas, puri, bhature or samosas.
DISCLOSURE: WE ARE A PARTICIPANT IN THE AMAZON SERVICES LLC ASSOCIATES PROGRAM, AN AFFILIATE ADVERTISING PROGRAM DESIGNED TO PROVIDE A MEANS FOR US TO EARN FEES BY LINKING TO AMAZON.COM AND AFFILIATED SITES.