Blogging Marathon #66 Week 1 Day 1
Theme: Pizza
Dish: Chole Naan Pizza
It is already July and I keep feeling the year has just begun! I now think in a flash we shall be at the end of the year. A new month brings with it a new edition of the Blogging Marathon and our host Valli keeps us thinking with all the wonderful themes. For this month, we have four interesting themes and I promise you that week 1 of Pizza is the simplest of the themes! In the coming weeks there are super interesting themes coming up!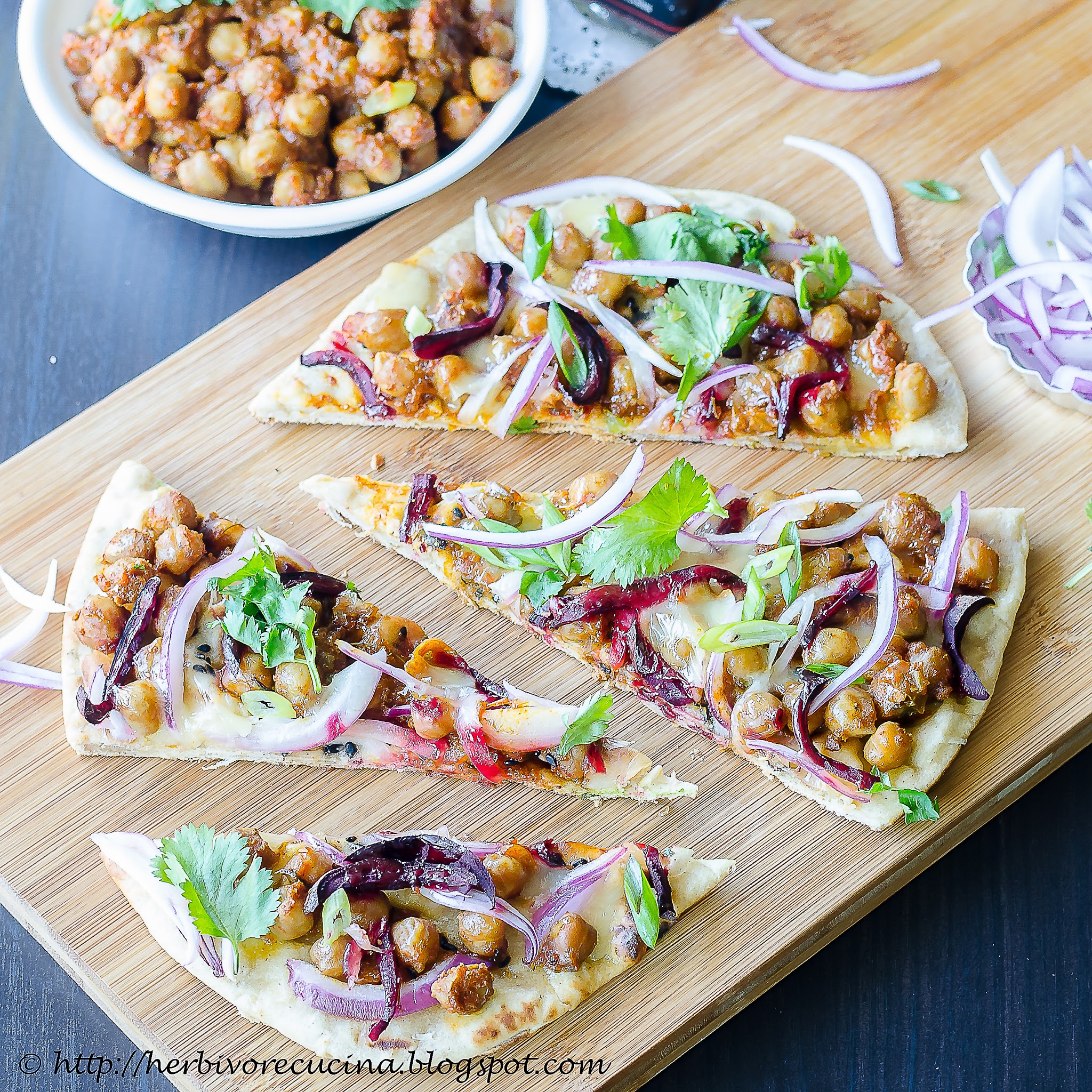 For this week my theme is PIZZA, which means I shall be posting three pizza recipes starting today. When my husband knew this theme, he was in love with it! Simply because he is an ardent pizza fan. I decided meanwhile that I shall post three pizza recipes, but all three will be totally different from each other! It took me a lot of determination trying to steer away from Alfredo and Pesto Pizza as i wanted to post recipes that were different from the pizzas on my blog.
A pizza has three essential components; the base, the sauce and the toppings. The method of making the pizza is probably the last element of pizza making. For the first day, I have a whole wheat naan as base, a tomato and chole curry for topping and the pizza is made on a stove top. No oven required at all, as the naans are made on a stove top too.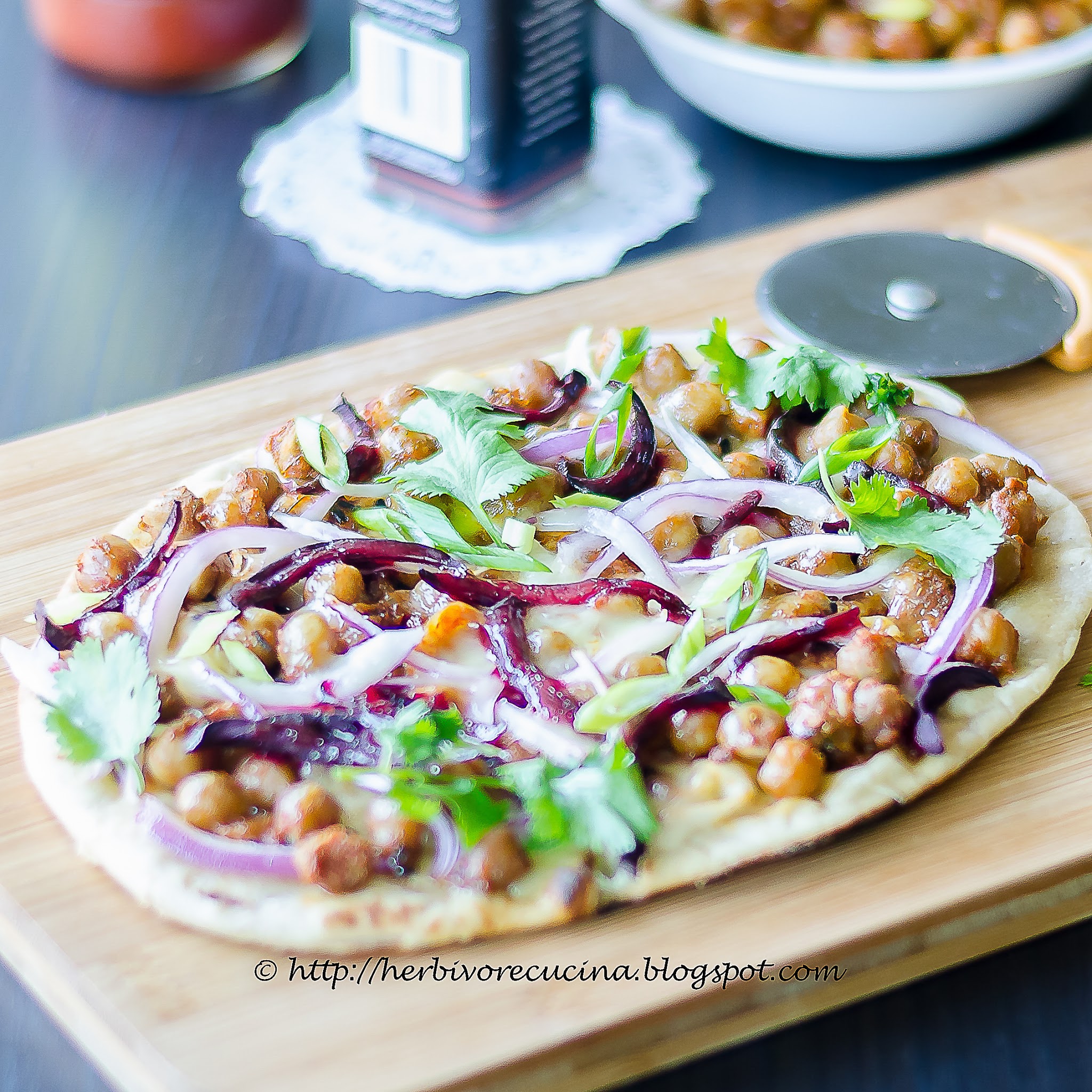 The recipe works really well if you have leftover of any sort; may it be naans or chole. If you have naan from a party that you would like to use in a different way, this recipe comes handy. Also, if you have chole with gravy, just boil them so that they are almost dry and use them as topping. I did not have either, just a plan to make chole and naan that eventually got converted to a yummy dinner with these pizzas or Naaniza as some restaurants call it! Read on to see how you can make them at home, and come back tomorrow for yet another interesting pizza!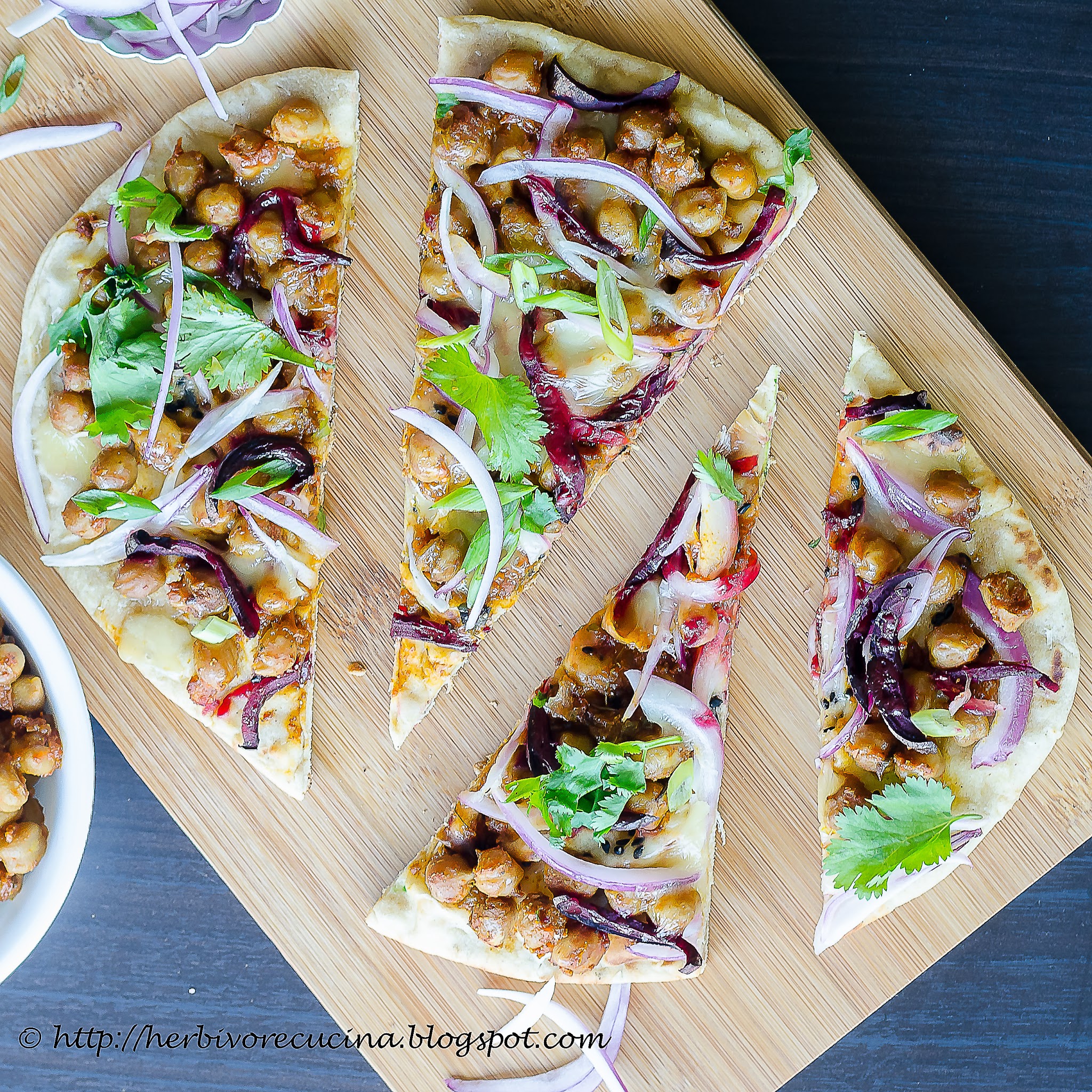 Ingredients
For the Chole
Chole 1 cup soaked and pressure cooked
Garlic Chilli paste 1 tsp
Onion ½ medium diced
Tomato 2 medium pureed
Chole Masala 1 tbsp
Red Chilli Powder 1 tsp
Turmeric Powder ½ tsp
Salt, Sugar, Lime Juice
Mustard seeds ½ tsp
Cumin seeds ½ tsp
Oil
Naan 3
Sliced Pink Onion 1 medium
Sliced Beetroot 1 medium
Mozzarella Cheese ½ cup
Garam Masala
Smoked Paprika Powder/ Red Chilli Powder
Butter
Method
To prepare the Chole
Heat oil in a pan. Once hot add mustard seeds and once they pop, add cumin seeds. Then, add the garlic chilli paste and cook till the raw flavor goes away. Next, add onions and cook till soft. Once they soften, add tomato puree and cook covered for 5-6 minutes till the gravy becomes deep red.
Next, add the boiled chole, masala, turmeric powder and red chilli powder. Mix, and cook till the chole becomes almost dry. Then, add salt, sugar and lime juice to taste. Turn down the heat and set aside.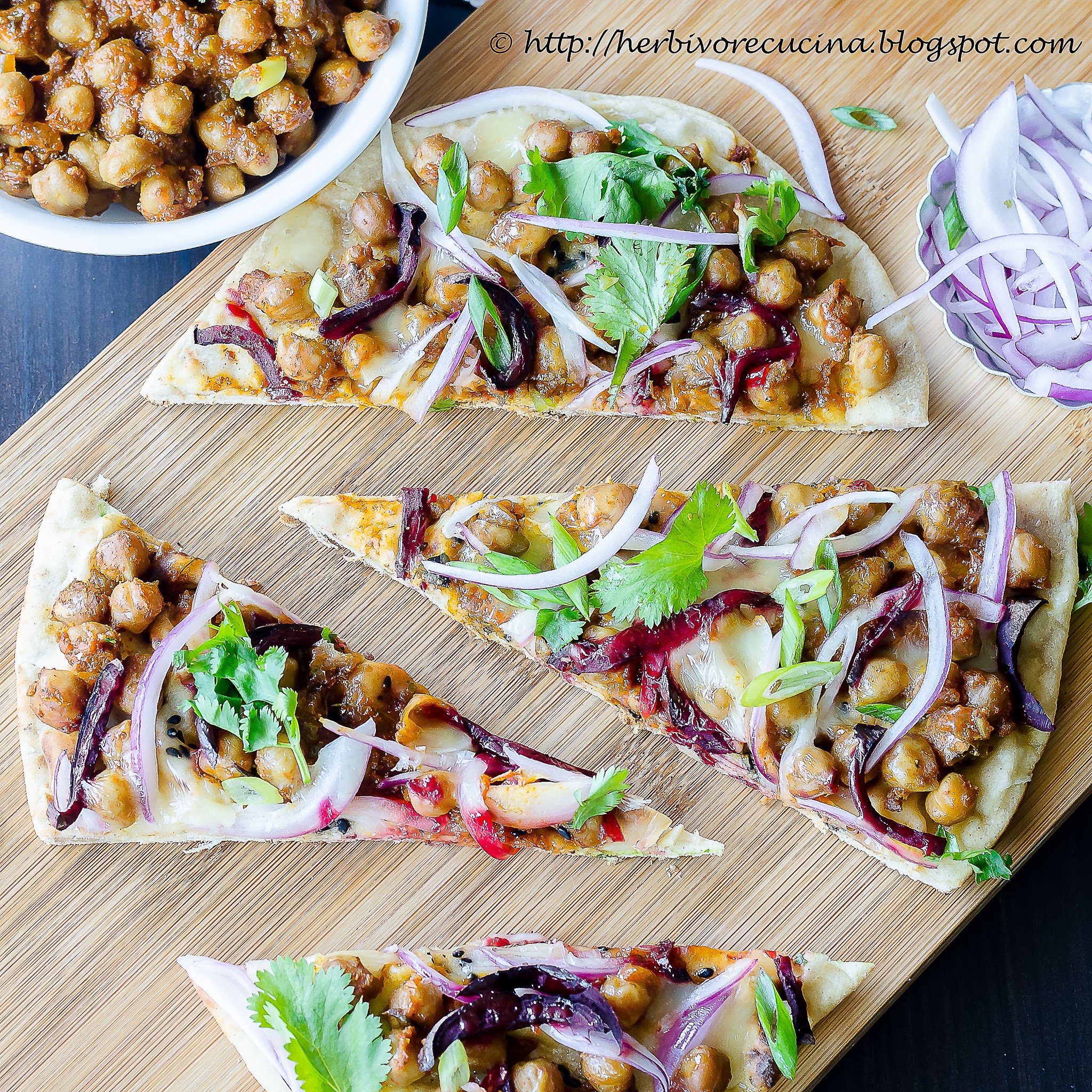 To make the pizza
Make the naans as per this recipe. You can make them in advance and store them. To prepare the pizza, take a naan and spread some butter on it. Then, add a two big spoons of the chole and spread it on the naan. Also add the onions, beetroots or any vegetable of choice. Sprinkle mozzarella cheese and some garam masala and chilli powder.
Heat a tava or pan on stove top. Add some butter and place the naan pizza on it. Cover and cook for 4-5 minutes and then uncovered for another 5 minutes till the cheese melts and the crust browns.
Remove and serve topped with cilantro and spring onions. You can also add grated paneer on top.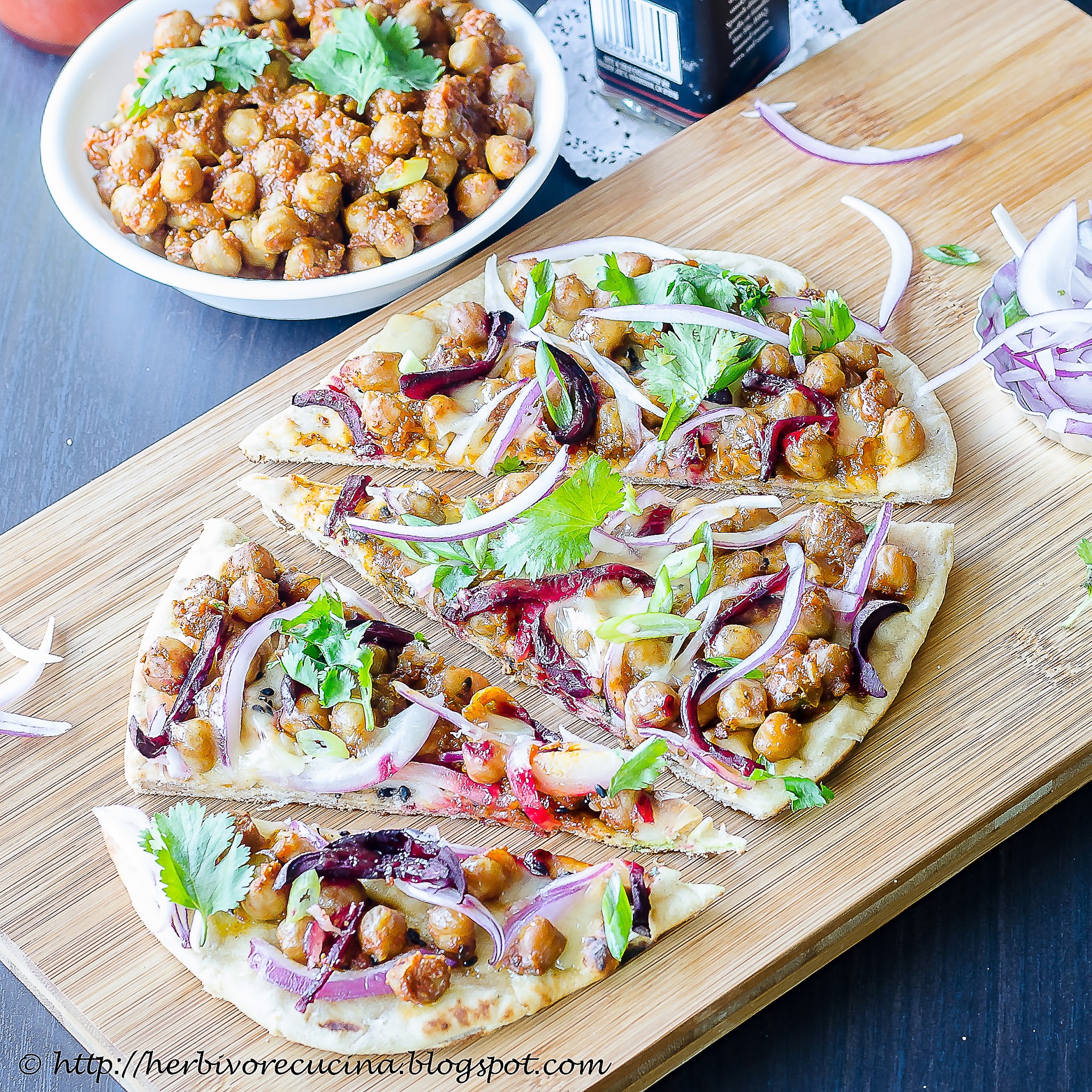 Check out the Blogging Marathon page for the other Blogging Marathoners doing this BM#66